Rosemary-Vanilla Poached Peaches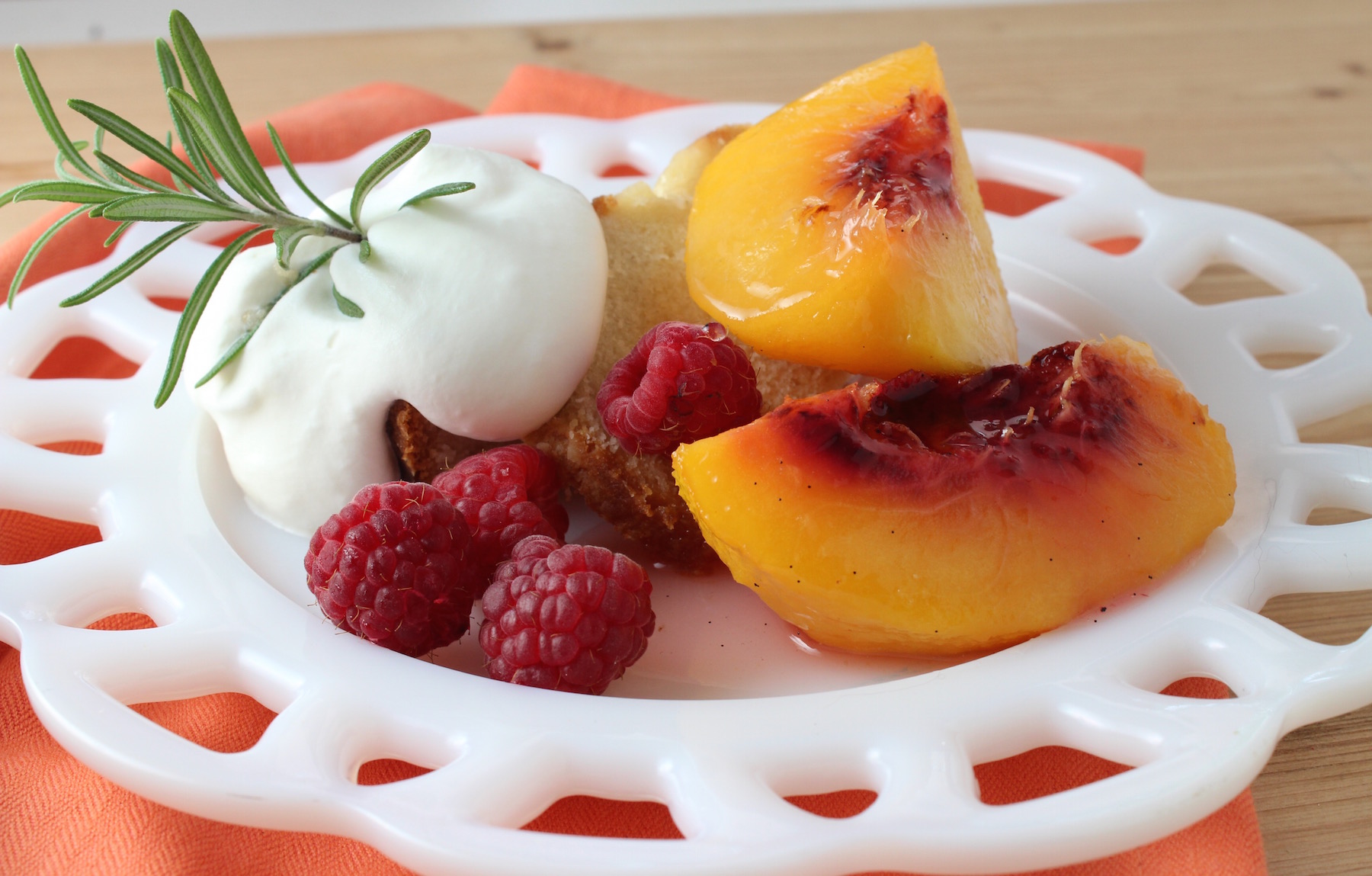 Author:
My Delicious Blog
2 c. water
1 c. sugar
1 Tb. honey
4 strips lemon zest
2 sprigs fresh rosemary
4 whole cloves
1 vanilla bean, split
Juice of half a lemon
1 c. vegetable shortening, room temperature
2 c. sugar
4 large eggs, room temperature
2 Tb. vanilla
2 Tb. lemon extract
1 tsp. almond extract
3 c. all-purpose flour
¼ tsp. baking soda
¼ tsp. kosher salt
1 c. buttermilk, room temperature
Bring a deep pan filled with water to a boil. Slice an X in the bottom of each peach and place them into the boiling water for a few minutes. Transfer peaches to an ice-water bath to stop cooking, and remove skins using a small paring knife. Remove pits and cut into quarters.
Combine all ingredients in a medium sauce pan.
Heat to medium/high to dissolve the sugar, then reduce heat to simmer.
Place fruit into liquid and regularly spoon liquid over each piece (if they're not covered).
Simmer about 10 minutes. Turn off heat and allow to sit for a few minutes. Discard the flavorings.
Serve peaches (and juice) immediately, or refrigerate in an airtight container for several days.
Heat oven to 350 degrees (ensure oven rack is in the middle so cake cooks evenly).
Butter a large non-stick bundt pan (or 10" square baking pan), then sprinkle in some flour to coat the sides. Be sure to remove the majority of the flour by tapping the sides.
Cream shortening and sugar until fluffy.
Add eggs (one at a time) and extracts. Blend until well-combined.
Sift dry ingredients then add to wet mixture in batches, alternating with buttermilk.
When well combined, pour batter into prepared pan.
Bake about 1 hour, until bamboo skewer comes out clean.
Allow to cool for about 10 minutes, then transfer cake to a serving platter (this will be easy to do if you use a non-stick pan!).
Note 1: This makes a large cake. I sometimes make just half the batter and bake it in a loaf pan.
Note 2: To make sweetened whipped cream, beat 1 c. whipping cream with 2 Tb. powdered sugar with an electric mixer until stiff peaks form.
Note 3: This recipe, using 2 large peaches, serves 4. The poundcake itself serves 8-10.
Recipe by
My Delicious Blog
at https://www.mydeliciousblog.com/rosemary-vanilla-poached-peaches/