Cantaloupe, Cuke & Bacon Salad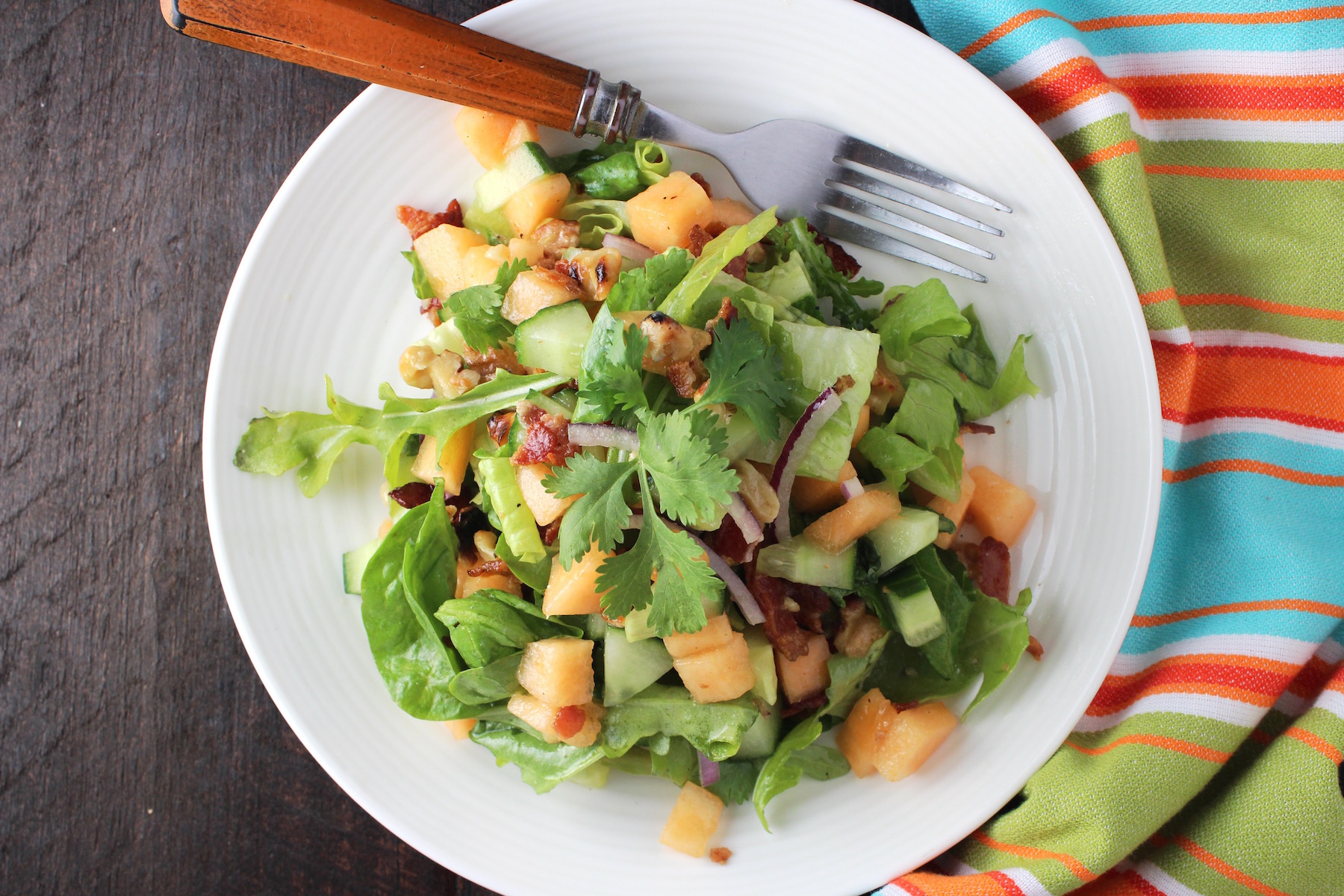 Author:
My Delicious Blog
4 strips bacon
1 c. cantaloupe, small chunks
½ c. pecans or walnuts, toasted & chopped
¼ c. red onion, thinly sliced
Handful fresh cilantro leaves
3-4 c. greens (romaine, baby spinach, arugula - whatever you have)
Handful of fresh feta cheese (optional)
¼ c. fresh orange juice
1 Tb. fresh lemon juice
1 tsp. honey
¼ tsp. kosher salt
¼ tsp. freshly ground black pepper
2 Tb. olive oil
1 Tb. lowfat plain yogurt (add more if you'd like a thicker dressing)
In a small bowl, combine juices, honey, salt & pepper then whisk in the olive oil. When combined, whisk in the yogurt. Refrigerate at least 30 minutes before serving.
Place the bacon strips in a non-stick skillet and cook until crispy. Transfer to paper towel and crumble into small pieces when cool. Set aside until ready to use.
Prepare the nuts, melon and onion. Set aside or refrigerate until ready to use (do not assemble until ready to serve, as the greens will become soggy). Add in cilantro leaves before dressing salad.
You won't use all the dressing, as this makes a good amount. Keep the extra dressing in an airtight container in the refrigerator for another round of salad :)
Recipe by
My Delicious Blog
at https://www.mydeliciousblog.com/cantaloupe-cuke-bacon-salad/