Sri Wasano's Infamous Indonesian Salad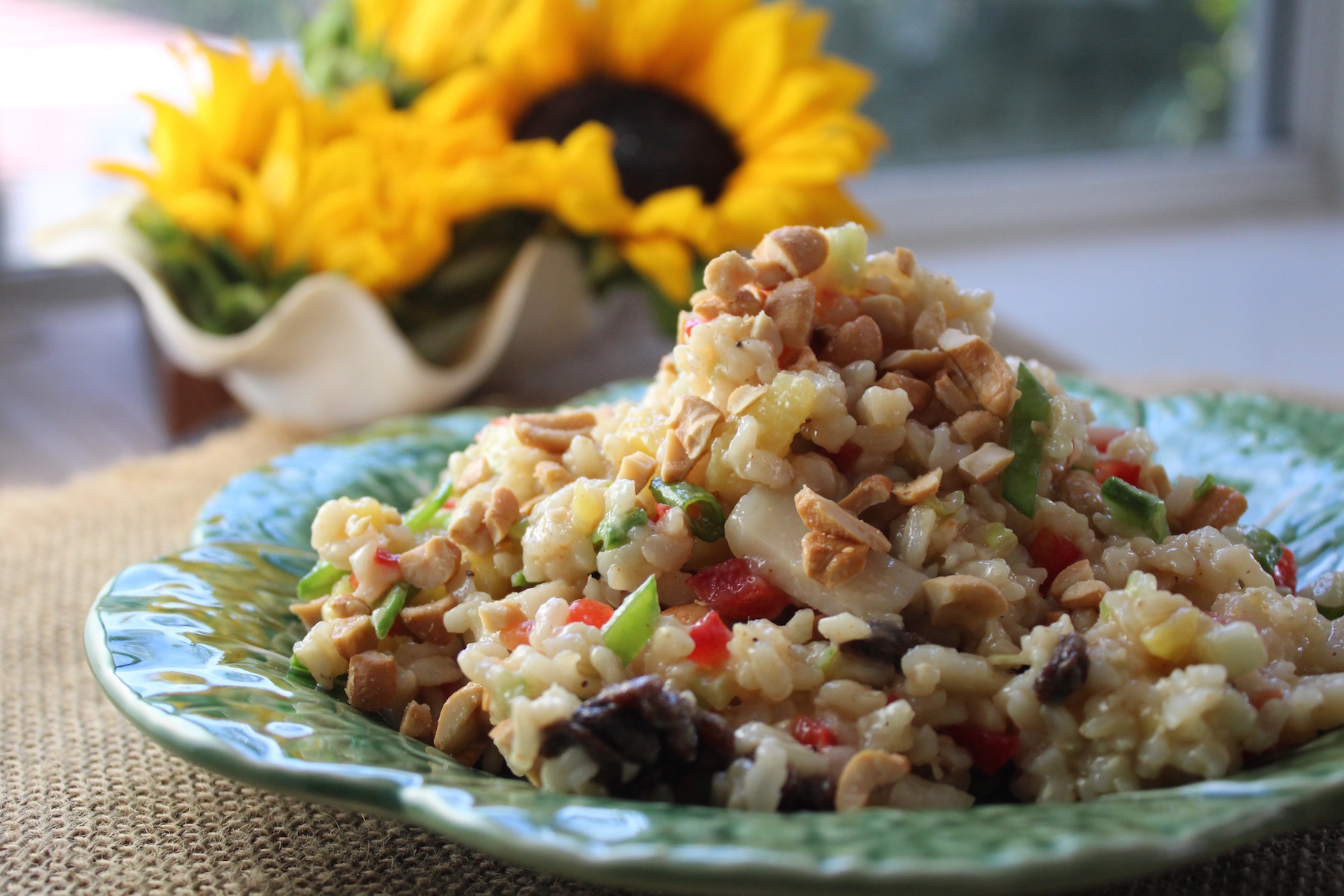 Author:
My Delicious Blog
2 c. brown rice
3 c. water
⅓ c. peanut oil
3 Tb. Chinese sesame oil
½ c. orange juice
1-2 medium cloves garlic, minced
1 tsp. salt
2 Tb. soy sauce
½ tsp. crushed red pepper (to taste)
2 Tb. rice or cider vinegar
1 c. chopped fresh pineapple (also ok to use canned-in-juice crushed pineapple)
3 scallions, finely minced (whites and greens)
1 stalk celery, finely minced
1 medium-sized red or green bell pepper, thinly sliced
1 8-oz can water chestnuts, drained & thinly sliced
½ lb. fresh mung bean sprouts
½ c. (packed) raisins or currants
1 c. coarsely chopped peanuts or cashews, lightly toasted
2 Tb. sesame seeds
Fresh snow peas (optional, for garnish)
Place rice and water in a saucepan. Bring to a boil. Reduce heat, cover and simmer until tender (35-45 minutes).
While the rice cooks, combine the dressing ingredients in a large bowl.
Add the hot rice to the dressing. Mix well. When it has cooled to room temperature, cover tightly and refrigerate until cold. Shortly before serving, stir in salad mix-ins.
1) I ever-so-slightly modified the written 'structure' of this recipe in order to fit my recipe template, but the content is the same as the original recipe :)
2) Please allow more prep time for chilling (about 1 hour more).
3) If you can, use FRESH pineapple or, at a minimum, canned pineapple "bits" since crushed pineapple may make this salad too mushy.
Recipe by
My Delicious Blog
at https://www.mydeliciousblog.com/sri-wasanos-infamous-indonesian-salad/