Roast Pork with Kumquats & Cipollini Onions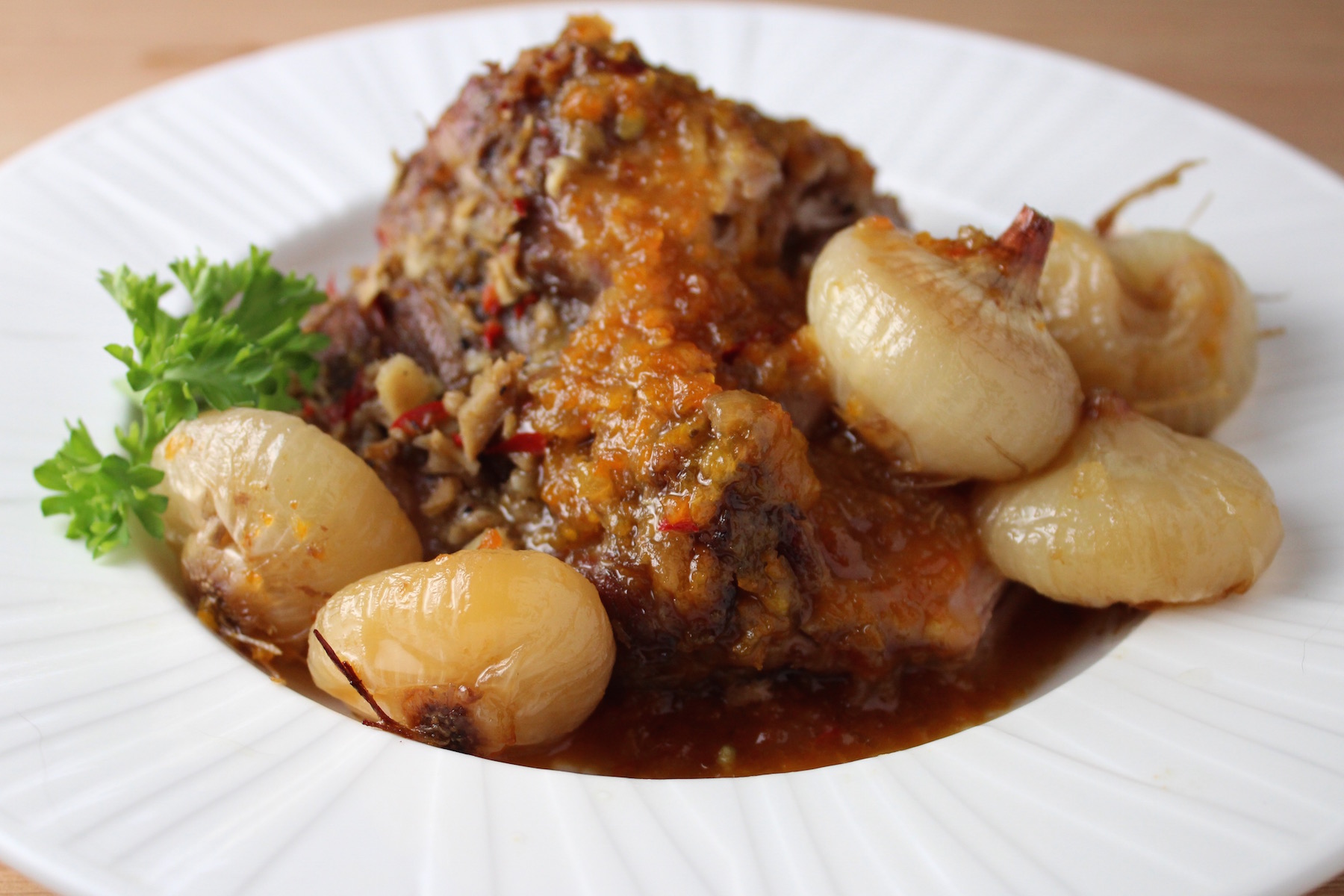 Author:
My Delicious Blog
3-4 lb. bone-in pork shoulder
2 apples, cored and sliced (any variety - I used Macintosh)
1 large yellow onion, sliced
2 Tb. brown sugar
1 garlic clove, mashed
1 Tb. fresh ginger, mashed & chopped
1 tsp. kosher salt
½ tsp. freshly ground black pepper
1 tsp. fresh red chili, seeds removed, minced
1 c. kumquat puree (OR 1 c. sliced/seeded kumquats OR 1-2 sliced/seeded oranges)
12 whole cipollini onions, outer peel removed (don't remove stem)
Unwrap roast and allow it to sit/come to room temperature, approximately 30-45 minutes.
Score outer edges of the roast with a sharp knife.
Combine all ingredients for the Rub in a small bowl. Press the Rub mixture all around the roast, especially the scored areas.
Arrange sliced yellow onions and apples in the bottom of the slow cooker then place roast on top (toss any remaining rub into the cooker as well).
Set the cooker to low (8 hours).
At 6 hours, remove the sliced onions and apples (they've given all they can give!). Into the juices in the cooker, stir in kumquat puree (or sliced kumquats/oranges) and add Cipollini onions.
After another 2 hours, remove meat and place it in a serving dish, allowing it to rest/cool about 10-15 minutes.
Just before serving, remove about 3 cups of the liquid from the slow cooker and simmer it in a small pan for a few minutes to reduce/thicken. Taste for seasoning, then use it as the 'gravy' for the meat/onions when served. Note: If using sliced kumquats or oranges, remove all those large pieces before simmering/thickening the sauce.
Recipe by
My Delicious Blog
at https://www.mydeliciousblog.com/roast-pork-with-kumquats-cipollini-onions/