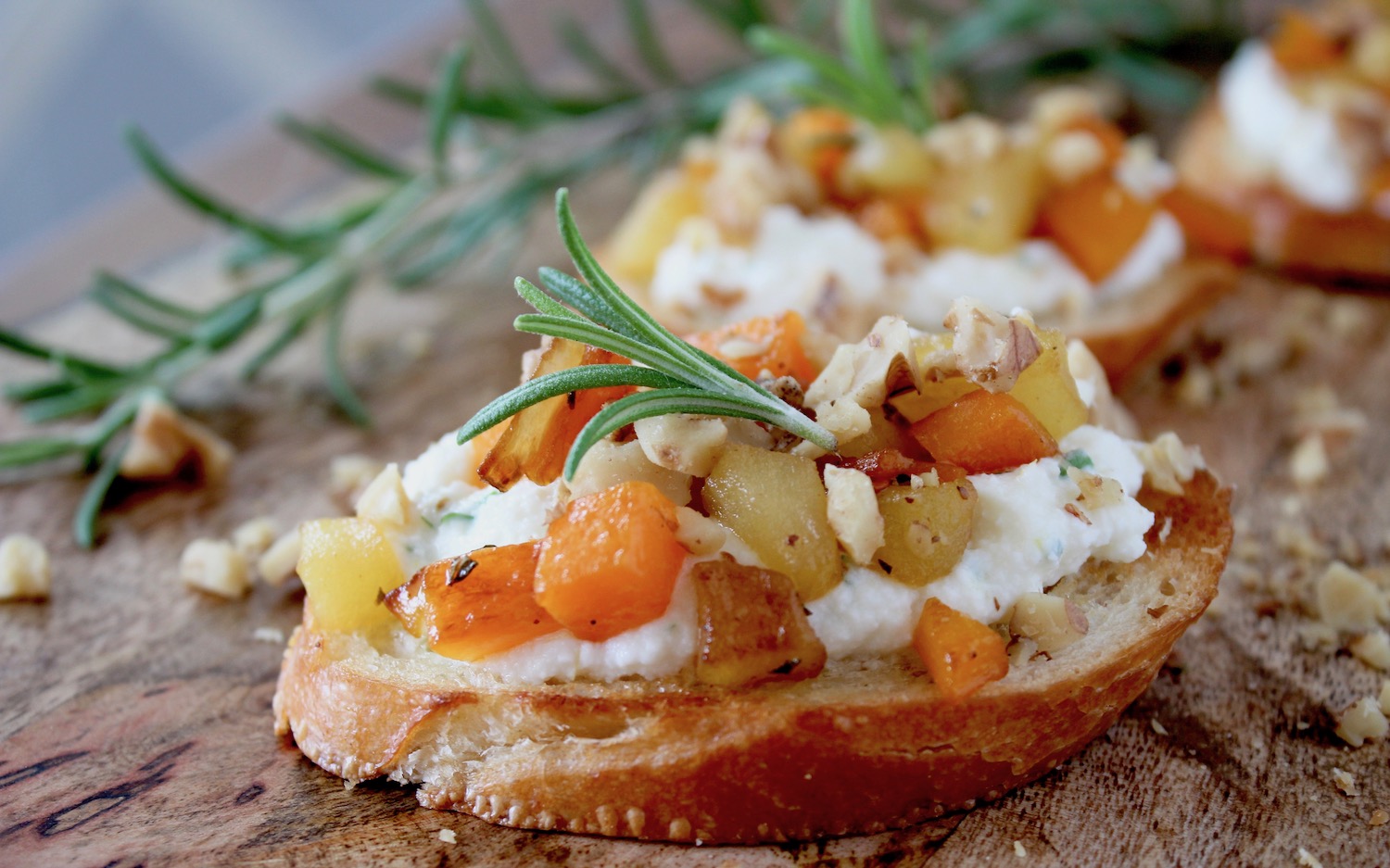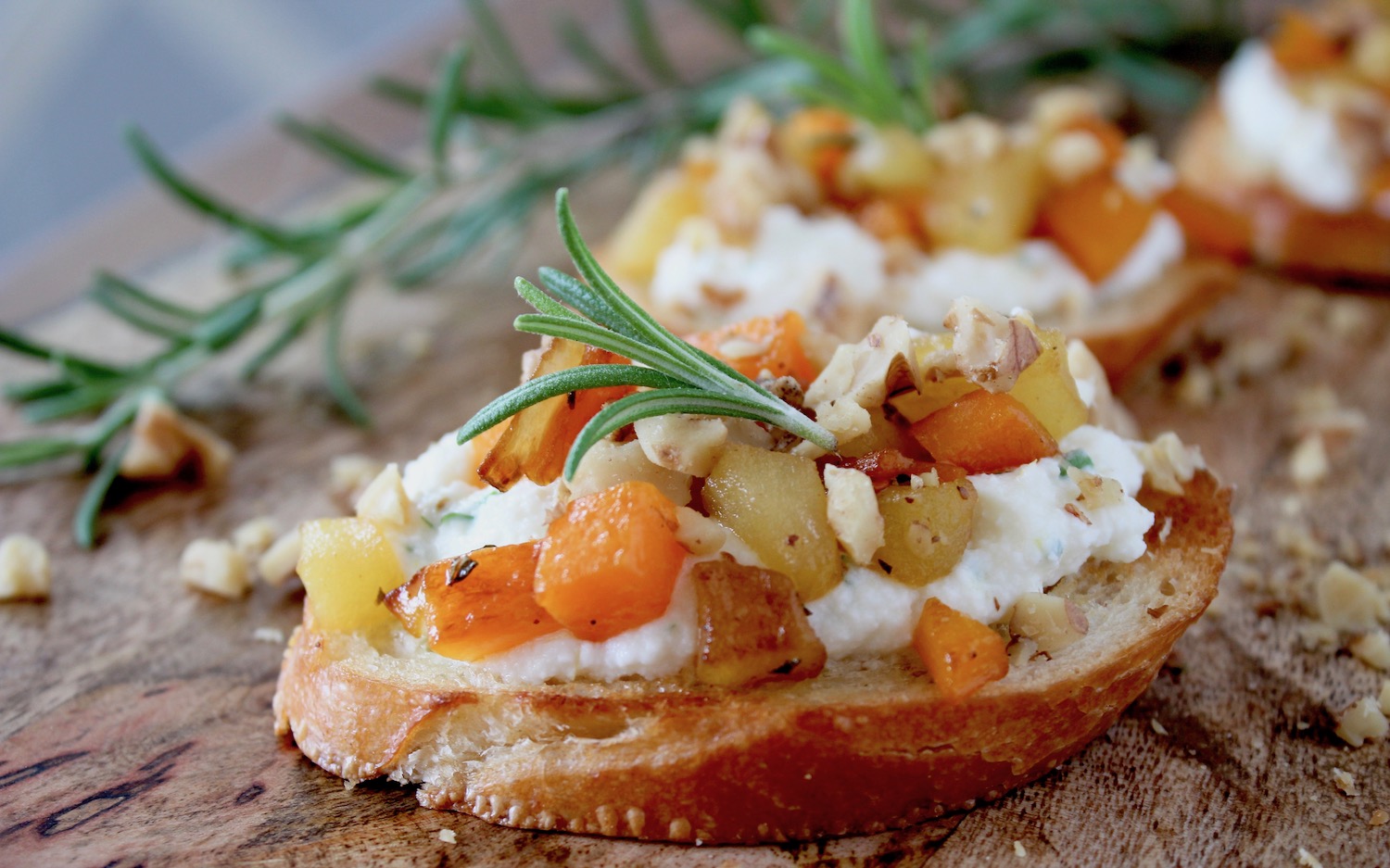 Once Labor Day hits, I go into "Fall mode," despite the fact I live in Florida, where 90 degree temps are still a daily occurrence.
It's the wonderful time of year for hard squashes, apples, pumpkins, cinnamon sticks and other good stuff piled high at markets.  And it all gets us thinking about cooler weather menus, including dishes we might even want to serve at Thanksgiving, which is just around the corner if you hadn't noticed 🙂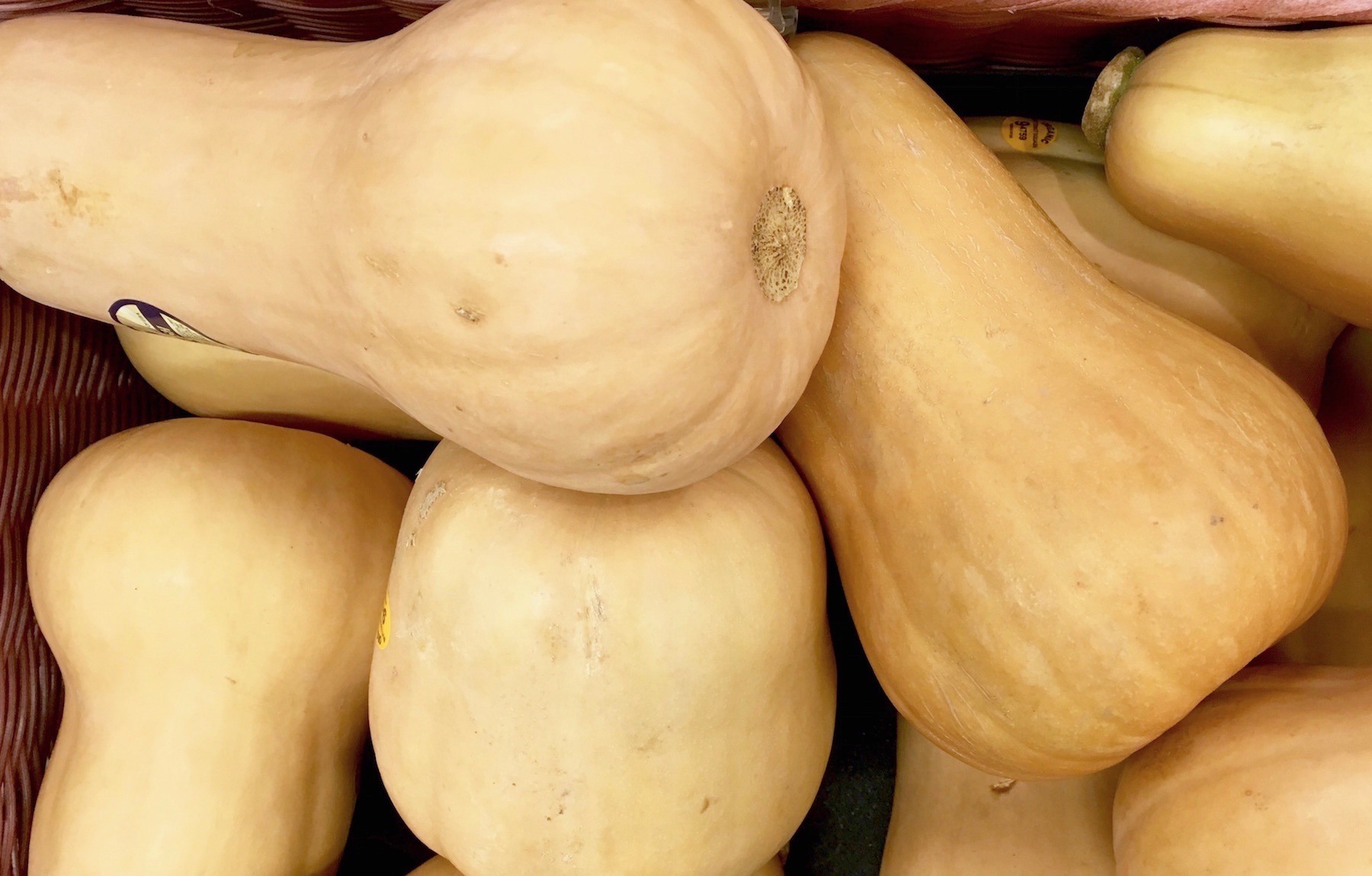 I don't know about you, but during the holidays I love old family-favorite snacks, like onion dip with potato chips, nut-covered cheese balls with crackers, salty cashews, and baked Brie with cranberry sauce.  But I also try to incorporate at least one new snack each year, and I came up with a new crostini dish, because a flavorful topping on a crunchy piece of bread is always a good combo 🙂
You cannot go wrong with ingredients that seem to naturally go together for Fall – crisp apples, sweet Butternut, piney rosemary and earthy sage, sprinkled with floral honey, toasted walnuts and briny salt.  Together, you've got a flavor explosion with lots of textures that work very nicely!
For the recipe, I needed an apple that was sturdy, crunchy and sweet, one to compliment the squash and not fall apart easily when cooked, so I used a new-to-me variety called Envy™ — a cross between Braeburn and Royal Gala, grown in Washington State and New Zealand.  These apples are delicious all by themselves, but I learned that they work well in a variety of preparations.  And while it isn't a top issue of concern for this particular recipe, these apples have a naturally higher level of citric acid, which means they're very slow to brown when cut, which means you don't have to worry as much when making all those pretty cheese and fruit boards for the holidays.  
You can find them at national grocery stores like Publix, Whole Foods, Walmart, Central Market, Wegmans and others, but check out EnvyApple for more information. 
Serve these little babies as appetizers during the holidays, as a light lunch, or as a main course alongside a fresh green salad.  Either way, I think you'll enjoy this tasty combo.
Happy Fall!
(Please note: many of the ingredients used in this recipe, as well as, my time, were compensated by Envy™ apples, but the recipe's concept and execution are all mine, and I wouldn't share it with you if I didn't love it and serve it at my own table!)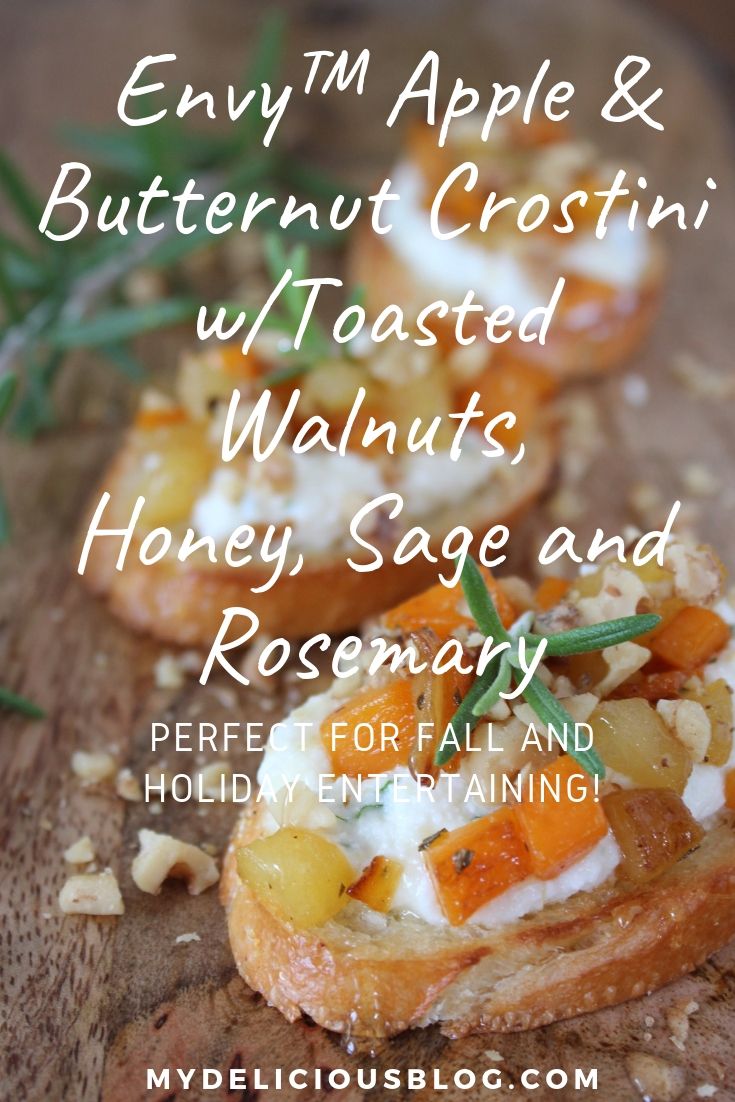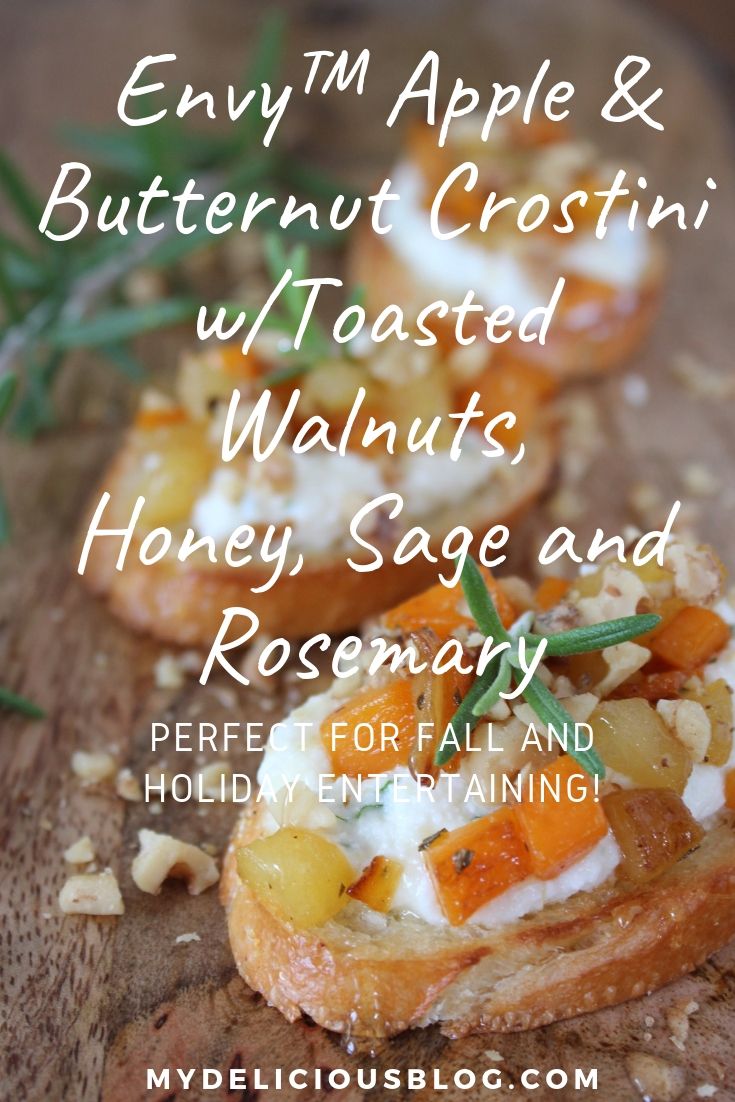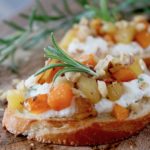 Print Recipe
Apple & Butternut Squash Crostini
Delicious Envy™ apples and sweet butternut squash pair with fresh sage and rosemary, floral honey, toasted walnuts and finishing salt to make a tasty Fall-inspired appetizer.
Ingredients
Crostini
1

medium

baguette, cut into 12 1/2" slices

4-5

Tb.

olive oil

Kosher salt
Ricotta Mixture
1

cup

whole milk ricotta

1

tsp.

lemon zest

1

Tb.

fresh parsley, minced
Apple/Squash Mixture
1

Tb.

olive oil

3

Tb.

unsalted butter

Pinch

red pepper flakes

1

cup

Envy™ apples, cored & peeled, 1/2" dice

(or any crunchy, firm apple will work well)

1

cup

Butternut squash, seeded, peeled, 1/2" dice

1/2

tsp.

fresh rosemary leaves, minced

2

fresh sage leaves, whole

1/2

tsp.

Kosher salt

several grinds fresh black pepper

1

Tb.

honey
Toppings
1/2

cup

toasted walnuts, finely chopped

flaky sea salt or other finishing salt

(for serving)

honey

(for serving)
Instructions
Preheat oven to 375 degrees.

Place bread slices on baking sheet. Brush both sides with olive oil and sprinkle each top with a pinch of salt. Bake 7-8 minutes, turning the sheet halfway through cooking to ensure even browning. OR, place bread slices in a hot grill pan for a few minutes until nicely browned. Remove from oven and allow to cool before serving.

In a skillet over low heat, toast walnuts 5-7 minutes then remove from heat, cool and chop finely; set aside.

In a small bowl, mix ricotta, lemon zest and parsley; cover and refrigerate until ready to serve.

Over medium heat in a skillet, add olive oil, 2 tablespoons butter and red pepper flakes. Add apples, squash, rosemary, sage leaves, salt, pepper and stir to combine. Reduce heat to low and cook 15-20 minutes until squash and apples are fork tender (if the mixture becomes too dry, simply add a few tablespoons of apple cider or water and allow it to cook down).

Turn off heat and remove sage leaves. Add 1 tablespoon honey and remaining 1 tablespoon butter. Taste for seasoning and cool to room temperature.

To serve, spoon a teaspoon of ricotta mixture onto each crostini, top with a teaspoon of apple/squash mixture, sprinkle with walnuts, drizzle with honey and a pinch of salt. Serve immediately.