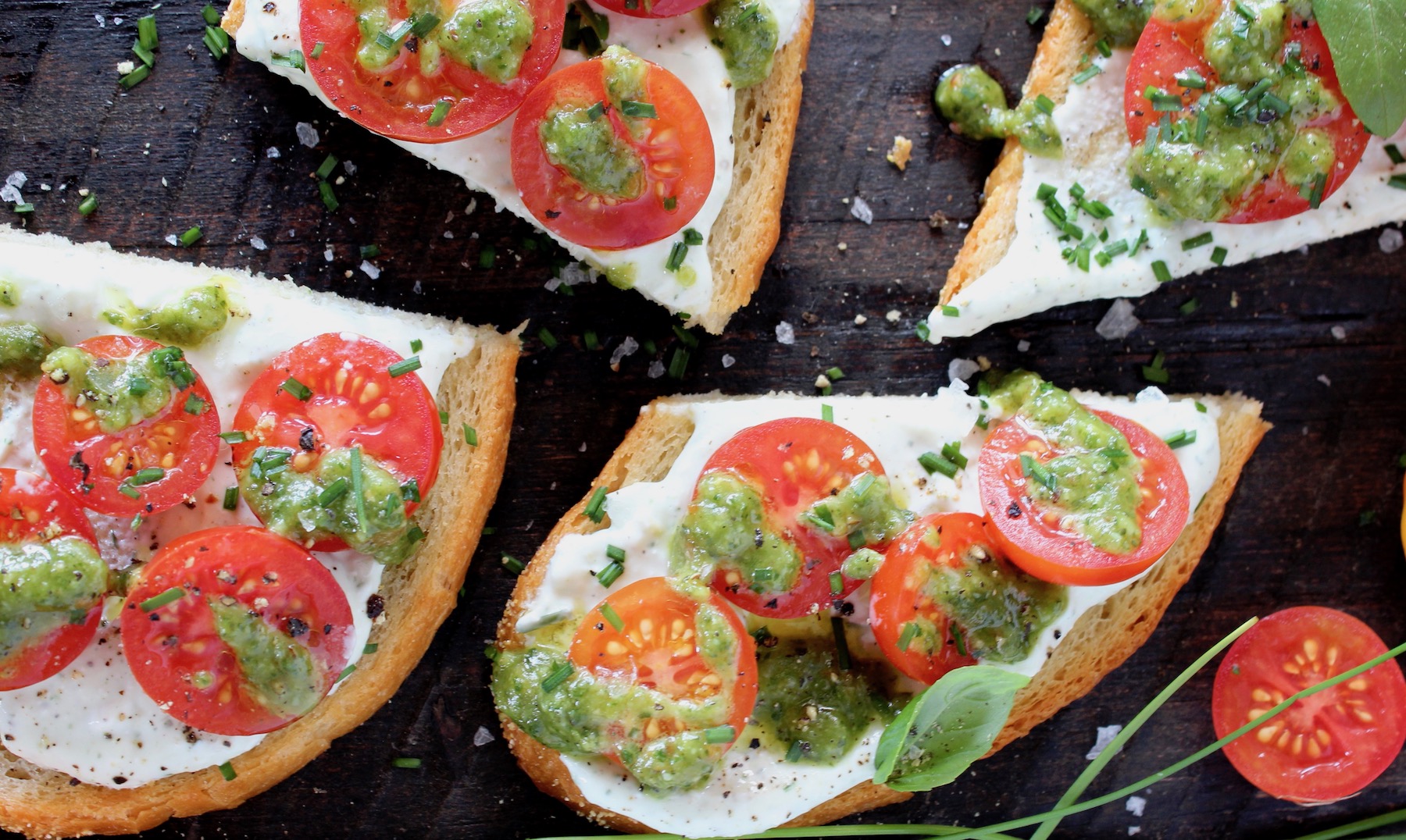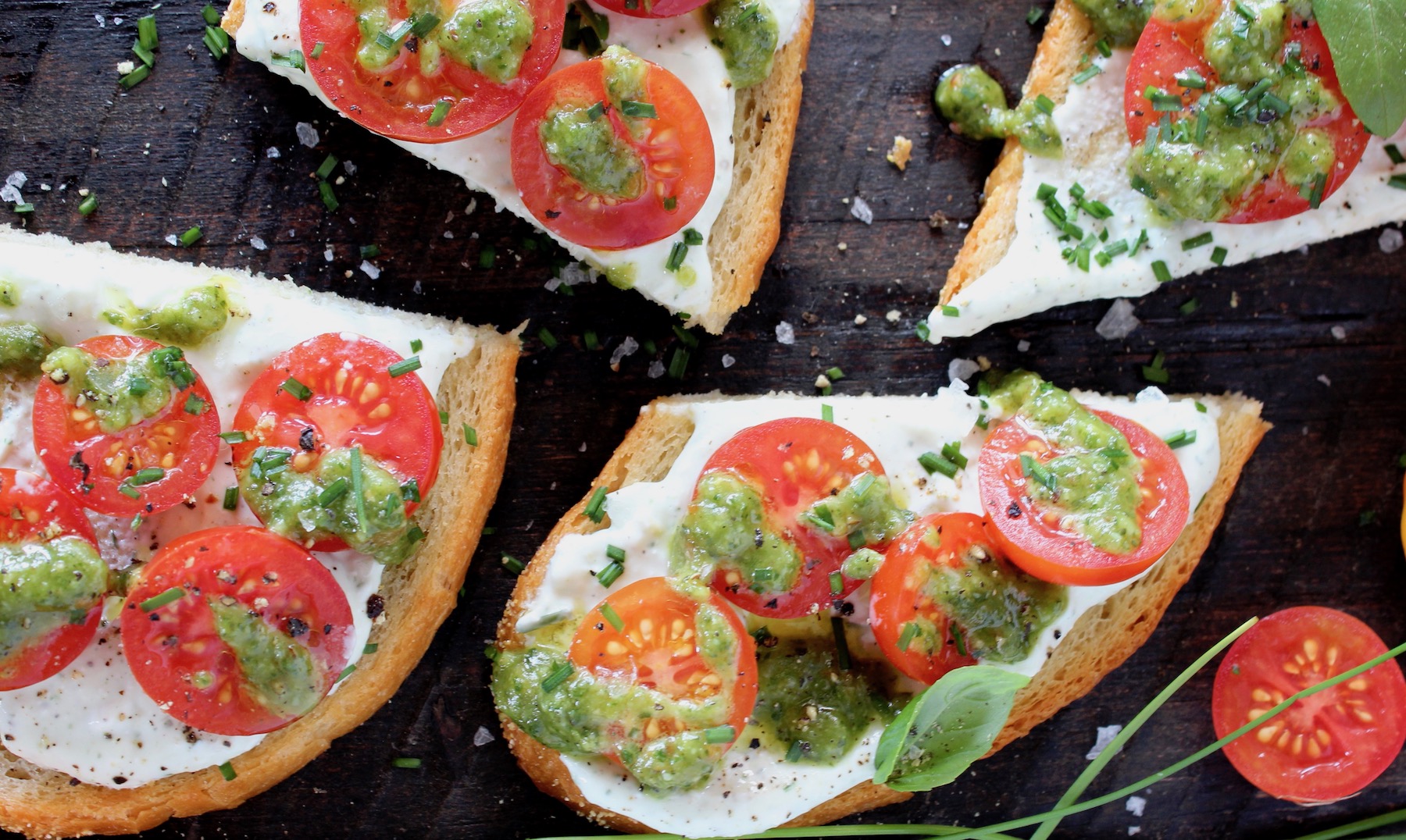 It's Summer!
But for those of you who live in Florida, you know what I mean when I say I'm actually looking forward to Winter. . .
Yes, there are so many great things about living in Florida, but let's be honest, we are having exceptionally hot and humid weather, day after day of torrential storms, and humidity levels that are certainly not friendly to naturally curly hair.  As a matter of fact, my husband told me this week that it looked like my hair was yelling at him. . .
But there are glimpses of gloriousness to brighten the gloom!   I'm talking about tomatoes.  Yes, just about anywhere you are this time of year, you see piles of colorful gems at farmers markets, supermarkets, roadside stands or, in your own garden.  If you're like me, you're always looking for ways to use tomatoes when you have lots of them — soup, sauce, roasted, pickled, salads, whatever.  So, for a light lunch or an appetizer, today's recipe is ready to add to your repertoire.  It's a  simple bruschetta — toasted sourdough bread topped with a creamy/garlicky cheese, fresh tomatoes, and drizzled with basil pesto.  All flavors and textures that go perfectly together 🙂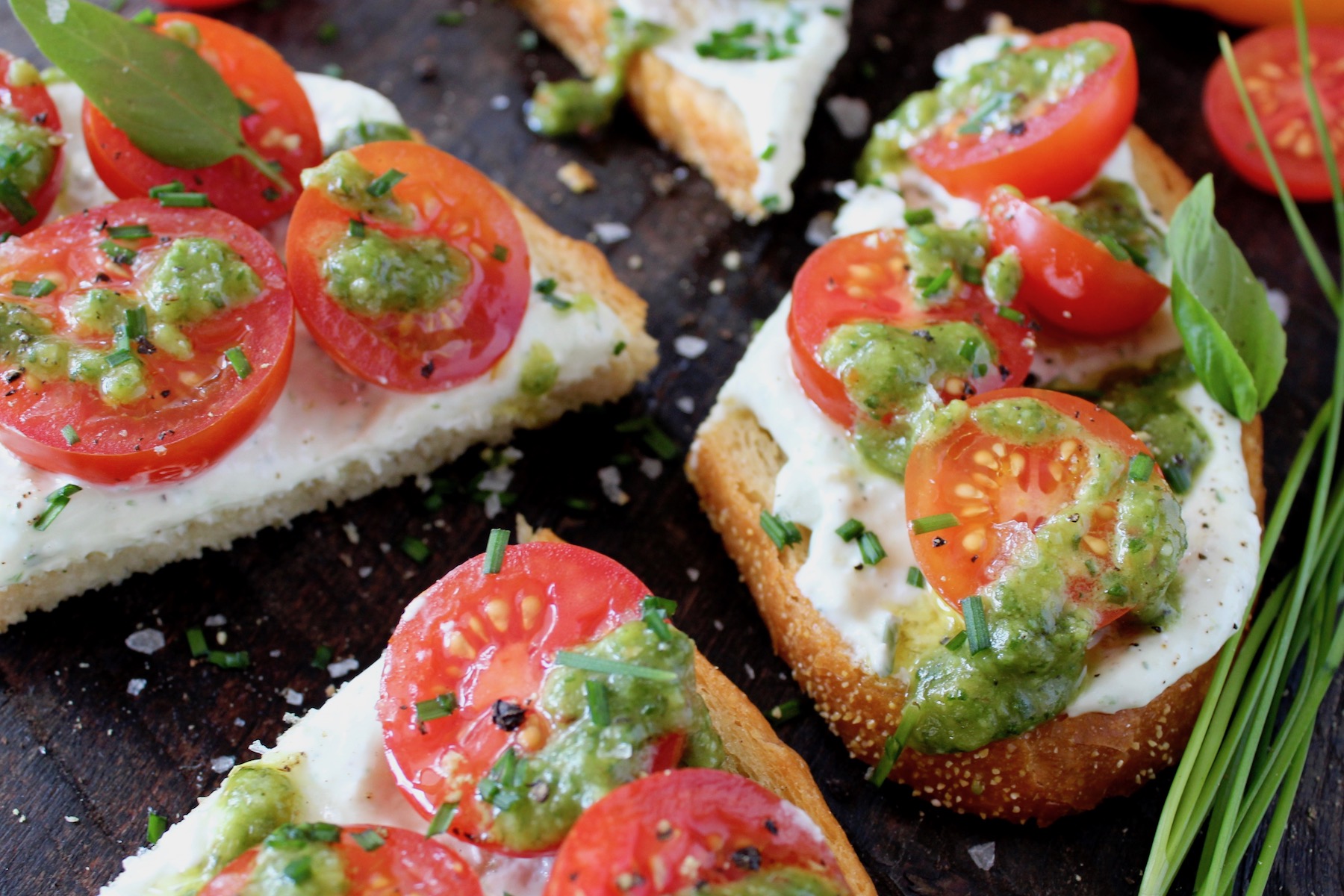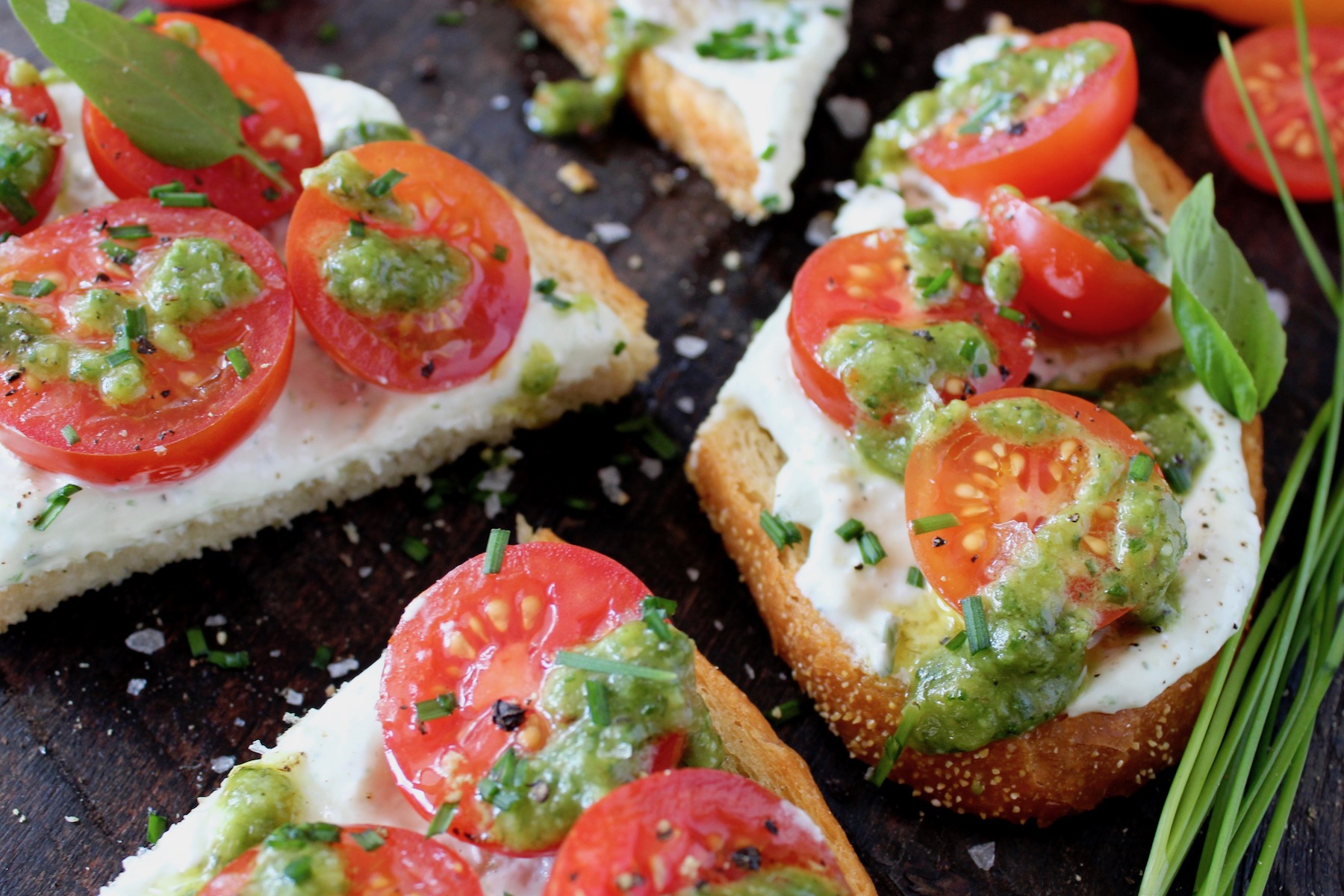 For that creamy/garlicky spread, I whipped up cottage cheese.  Surprised?  It's a great substitute for ricotta or other heavy and calorie-laden cheeses because it has fewer calories and fat, with a mild flavor that you can pair with just about anything.  I used my immersion blender to make it very smooth, but you can also use a small food processor, or just mix it by hand for a more textured consistency.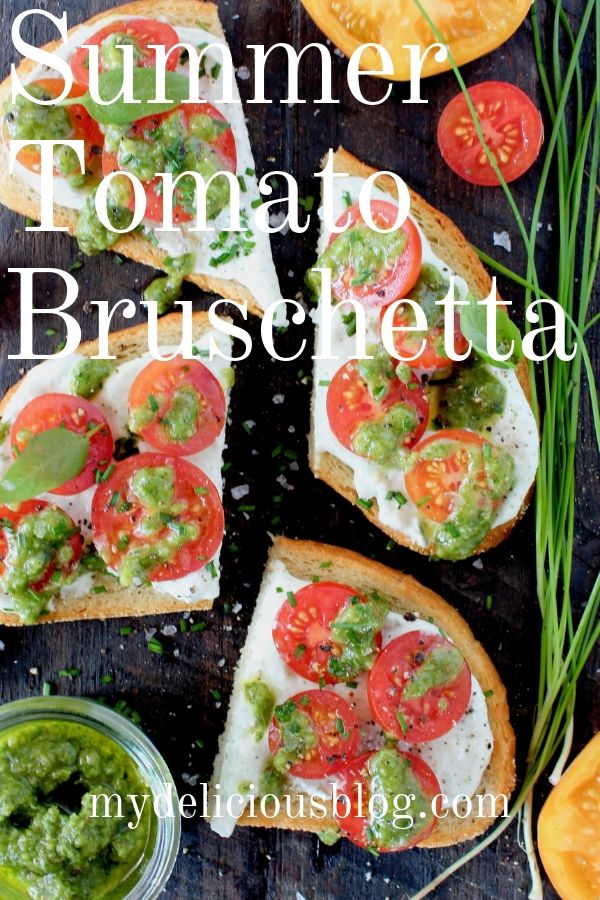 But don't be limited by my recipe – instead of the cottage cheese spread, use flavored butter or Boursin or roasted garlic, or other deliciousness you love.  Toss in whatever herbs you like (but use fresh herbs, if possible).  Drizzle on fruity or flavored olive oil or a balsamic vinegar.  Sprinkle with flaky salt for crunch.  Squeeze on fresh lemon or lime juice.  If you love garlic, rub a piece over the hot bread for some extra flavor.  Basically, have fun and celebrate Summer tomatoes!  Oh, and if you want to try another version with an herb-filled ricotta, here's a recipe for 
Tomato Tartines
.
Now I'm off to straighten my hair. . .again.
Print Recipe
Summer Tomato Bruschetta
A light, tasty and delicious way to use up summer tomatoes, paired with a garlicky cottage cheese spread and fresh basil pesto.
Ingredients
Cottage Cheese Spread
1

cup

cottage cheese (whole or reduced fat)

I used whole fat for ideal texture and flavor

1

Tb.

fresh chives, chopped lightly

4-6

fresh basil leaves

1

small

garlic clove, peeled, chopped & mashed

use the flat side of your chef's knife to mash on a cutting board

1

tsp.

lemon zest

1

pinch

kosher salt

Several

grinds

fresh black pepper
Basil Pesto
1/4

cup

pine nuts, toasted

1

cup

fresh basil leaves

1

sm. bunch

fresh parsley leaves

1

lemon, zested

1

garlic clove

1/2

cup

grated parmesan cheese

1

pinch

kosher salt

Several

grinds

fresh black pepper

1/3

cup

olive oil
Bruschetta
4

lg. slices

sourdough bread (or other rustic bread)

10-12

small

tomatoes, halved

2

Tb.

unsalted butter, softened

(alternate: olive oil)

1

Tb.

chopped chives or other herbs (for finish garnish)
Instructions
Cottage Cheese Spread
Combine all ingredients in a small bowl and whip with an immersion blender until very smooth. OR, place all ingredients in the bowl of a small food processor and pulse a few times until smooth. Transfer to a small bowl and refrigerate until ready to use.
Basil Pesto
Toast pine nuts in a small pan over low heat. Allow to cool about 10 minutes.

Add all ingredients to the bowl of a food processor. Process about 1 minute until all ingredients are minced finely. With the processor running, slowly pour in the olive oil, using the feeding tube, and run about 30 seconds so it all comes together. Transfer to a small bowl and cover with plastic wrap until ready to use. (Note: refrigerate any pesto not used in this recipe; cover it with a thin layer of olive oil so it doesn't brown).
Bruschetta
Grill or Toast the bread slices. Stovetop method: butter (or brush with olive oil) both sides of each piece. Place in a non-stick pan or a large griddle over medium/high heat; toast until the first side is brown, then flip and toast the other side. Oven method: lay buttered bread on a baking sheet and place in a 400 degree oven for about 10 minutes, until edges are brown and crispy. Grill method: toss bread onto a hot grill until both sides have grill marks and the pieces are crunchy. Toaster method: when all else fails, just use the toaster!

Top each piece of toasted bread with a large spoonful of cottage cheese spread. Nestle in tomato halves, drizzle on pesto, sprinkle with herbs, flaky salt and black pepper, as desired. Cut into smaller pieces for easier serving. (NOTE: if the pesto seems too dry or dense to drizzle, simply add more olive oil to make it easiser to spoon onto the bruschetta).