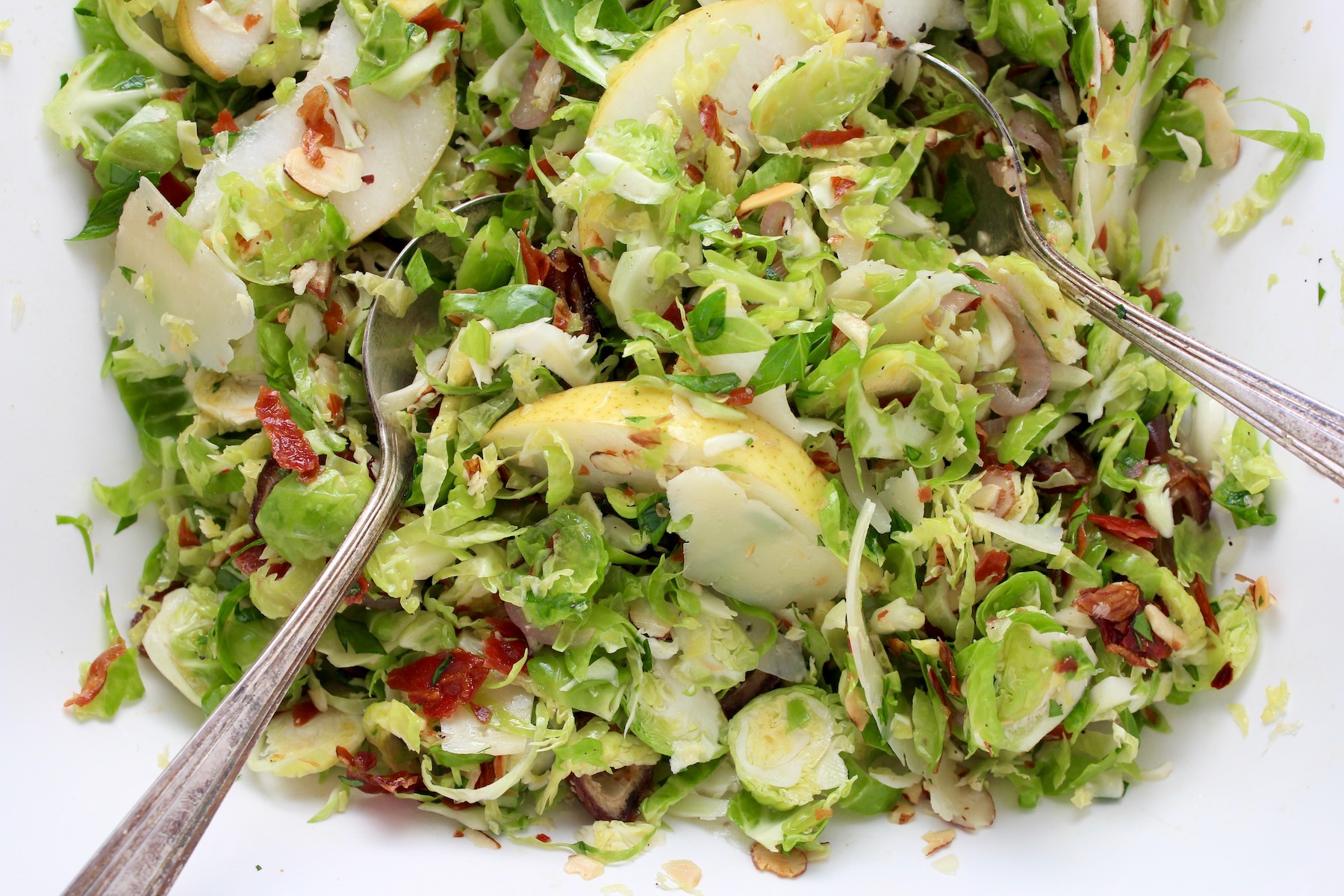 Hard to believe we're seeing memes on social media counting down days to Christmas, when Thanksgiving is just 76 days away!  Basically, it's a good time to start queuing up ideas for holiday entertaining.
I'm sure you've got lots of family-faves like green bean casserole, sweet potatoes with marshmallows, and grandma's pumpkin pie on your menus. But maybe you'd like to shake it up and add something new?
In my quest to form a greater appreciation for Brussels sprouts, today's recipe highlights those little green orbs and makes a great side dish, one you might just consider.
Brussels sprouts are in the brassica family, which means they're like little cabbages, full of Vitamins A , C and K — all reasons why I feel compelled to eat more of them.
But they can be bitter, so you need to give them a little help to reduce that not-so-appealing feature. A combination of salt, fat and sugar usually does the trick. The salty element is an especially great partner with Brussels sprouts, which is why bacon is a leading ingredient. The fat can come from bacon, olive oil, coconut oil, or other oil of choice, but one that holds up enough to give them a run for their money. The sweetness can be from honey, brown sugar or maple syrup (I especially love this for its warm, seasonal flavor).
However you prepare them – roasted, steamed, fried, baked or raw — they can still maintain some of their underlying bitterness, but that's sort of nice because it provides balance. Here's a tip – go for the small ones because they're sweeter and more tender. And if you can find them attached to their stem, all the better because they're probably quite fresh.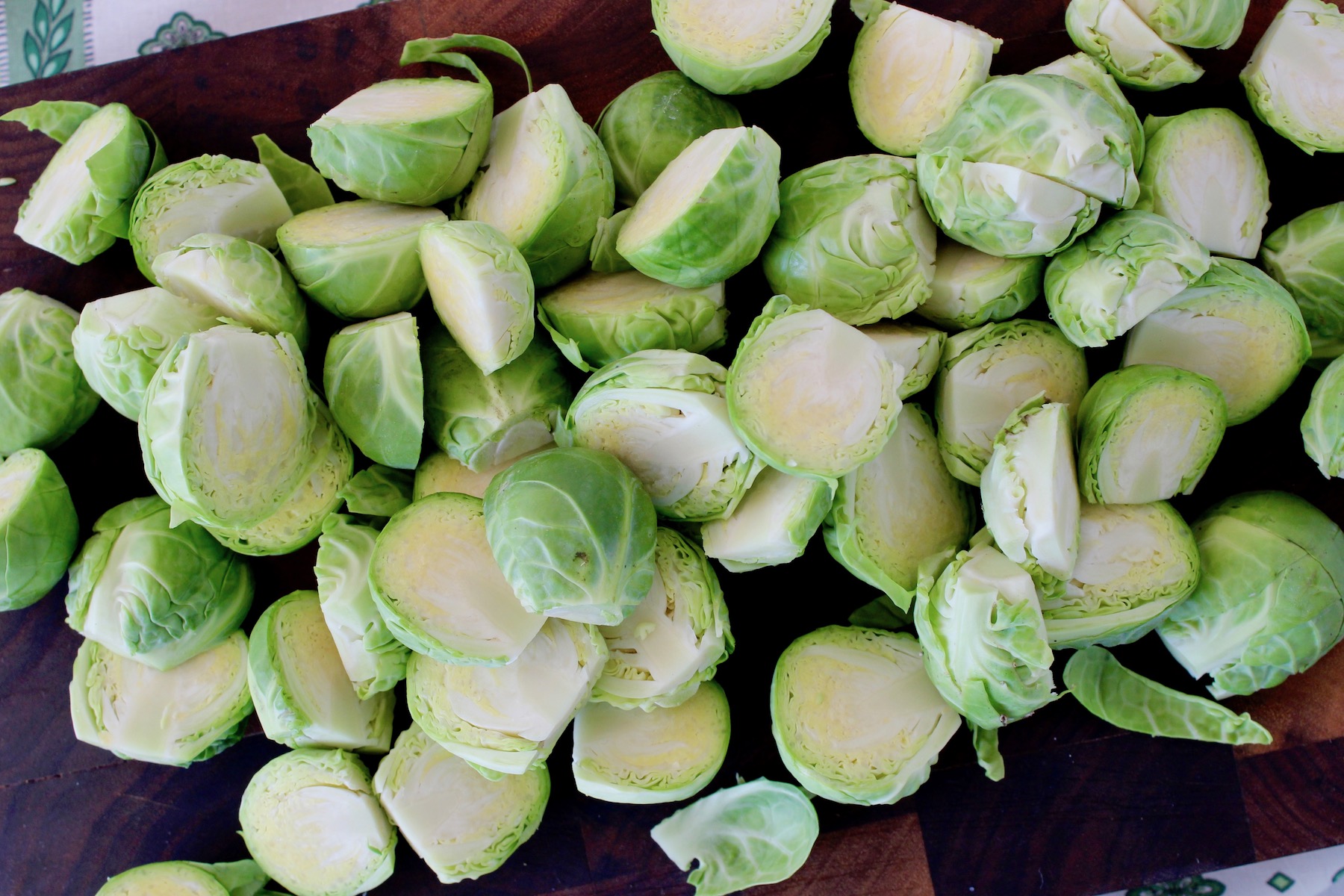 For this salad, I sliced the sprouts then coated them with warm olive oil/vinegar dressing infused with rosemary, orange, shallot, maple syrup, salt and pepper. By letting the warm dressing soak into the sprouts for 5-10 minutes, it slightly softens them and takes away some bitterness.  Here's the dressing in the pan: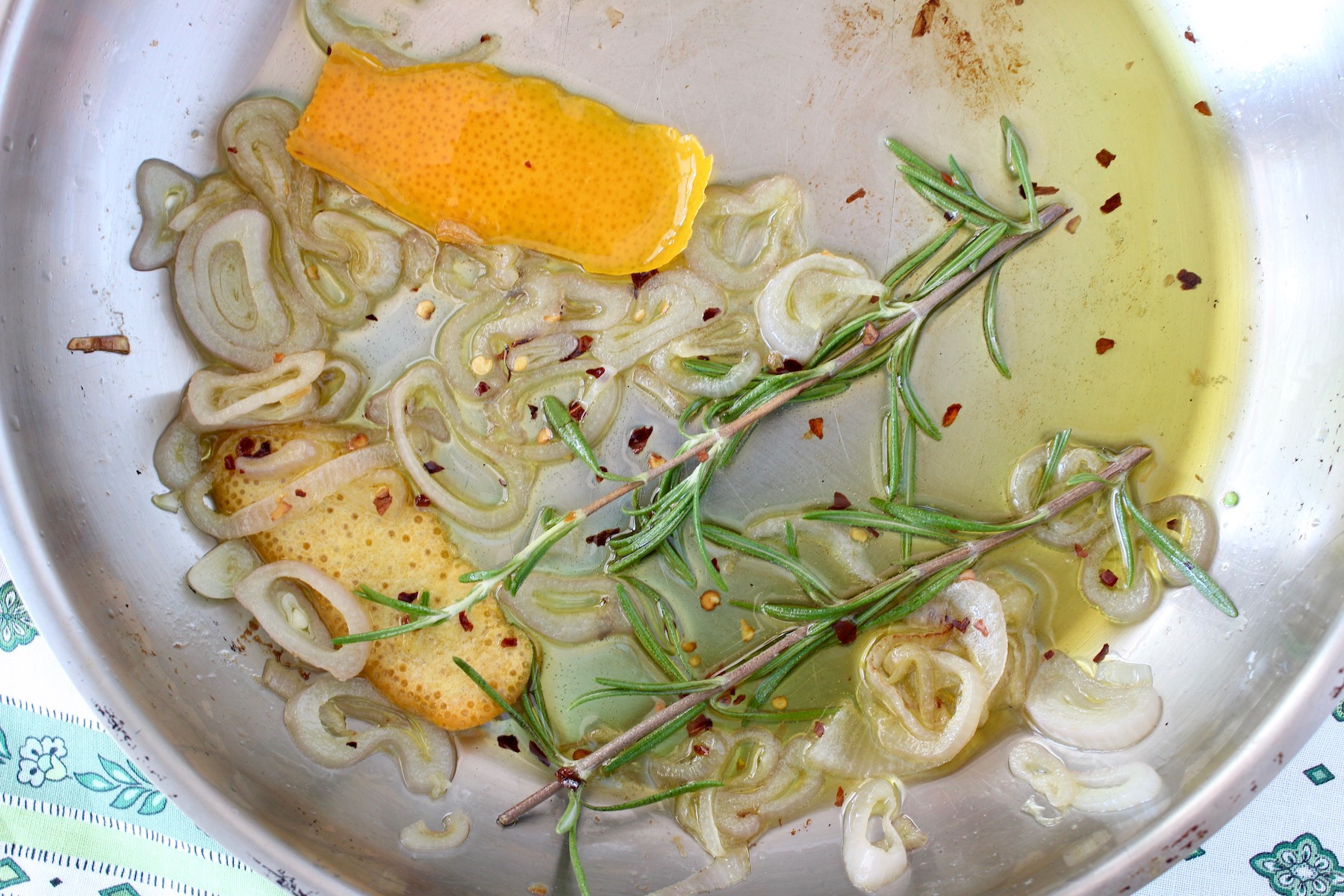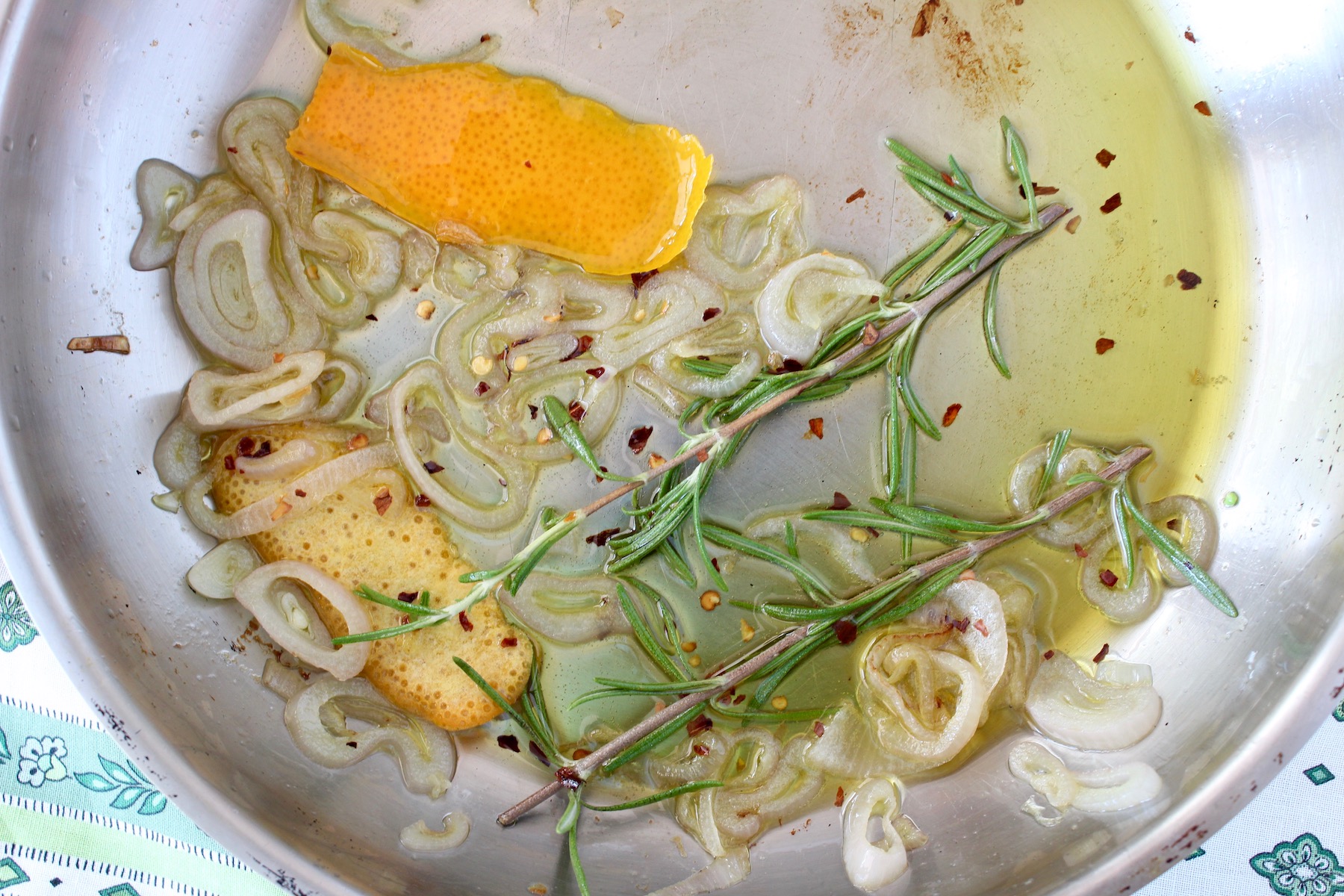 I added crispy prosciutto (a nice alternative to bacon), toasted almonds, bright parsley, chewy dates, juicy pears, and shaved parmesan. Enjoy.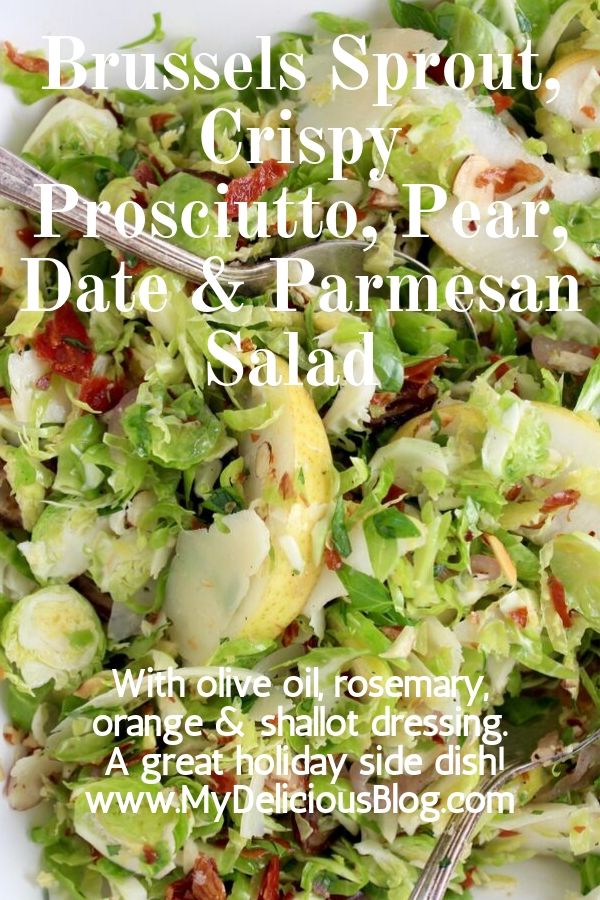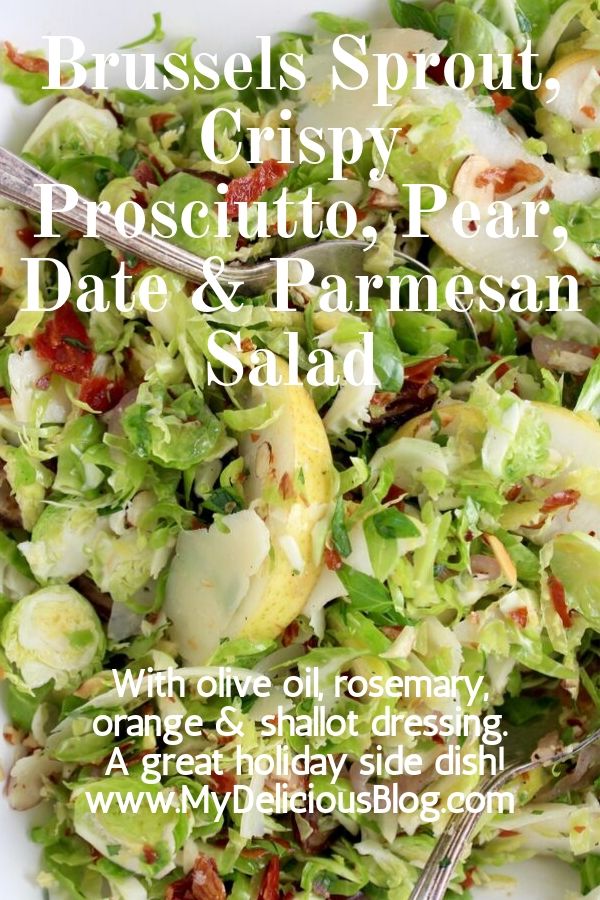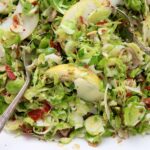 Print Recipe
Brussels Sprout, Pear and Prosciutto Salad
Brussels sprouts, juicy pear, crispy prosciutto and almonds, paired with warm olive oil dressing infused with orange and rosemary, make a great holiday side salad!
Ingredients
Salad
4-6

slices

Prosciutto

1/2

cup

Sliced almonds

1

lb.

Brussels sprouts

6-8

whole

Dates, sliced or chopped

alt: dried cranberries or cherries

1/2

cup

Parmesan, thinly sliced or shredded

1/2

cup

Parsley, chopped

1

Ripe pear, seeded & sliced or chopped
Dressing
1/2

cup

Olive oil

2

Shallots, peeled & thinly sliced

2

sprigs

Rosemary

alt: thyme, lemon thyme, or chives

2

Orange peels

add lemon peels, if desired

2

Tb.

Maple syrup

alt: honey or agave

3

Tb.

Red wine vinegar

alt: apple cider vinegar

1/2

tsp.

Kosher salt

1/4

tsp.

Freshly ground black pepper
Instructions
Heat oven to 375 degrees. Line a baking sheet with parchment or aluminum foil. Place prosciutto slices on sheet, flat. Bake ~15 minutes, then remove. When cool, crumble and set aside until ready to assemble salad.

Place almonds in small pan over low heat and toast until lightly brown; set aside.

Cut off stems from sprouts, along with large, tough outer leaves and cut in half if they're large. In small batches, place them in the feed tube of a food processor fitted with a slicing blade. If you don't have a processor, use a mandoline (carefully!) or slice them thinly with a sharp chef's knife. Place sliced sprouts into a large mixing bowl.

Pour olive oil into a pan over medium heat. When warm, add shallots and allow them to soften 1-2 minutes. Reduce heat to low and add rosemary sprigs and orange peels to let them gently infuse about 1-2 minutes. Remove from heat and take out orange and rosemary pieces. Whisk in maple syrup, vinegar, salt and pepper.

Immediately pour dressing over sprouts and mix. Let the mixture sit ~5 minutes so the oil starts to soften the sprouts.

Taste for seasoning, then add Prosciutto, almonds, dates, parmesan, parsley and pears. Stir gently then serve immediately.