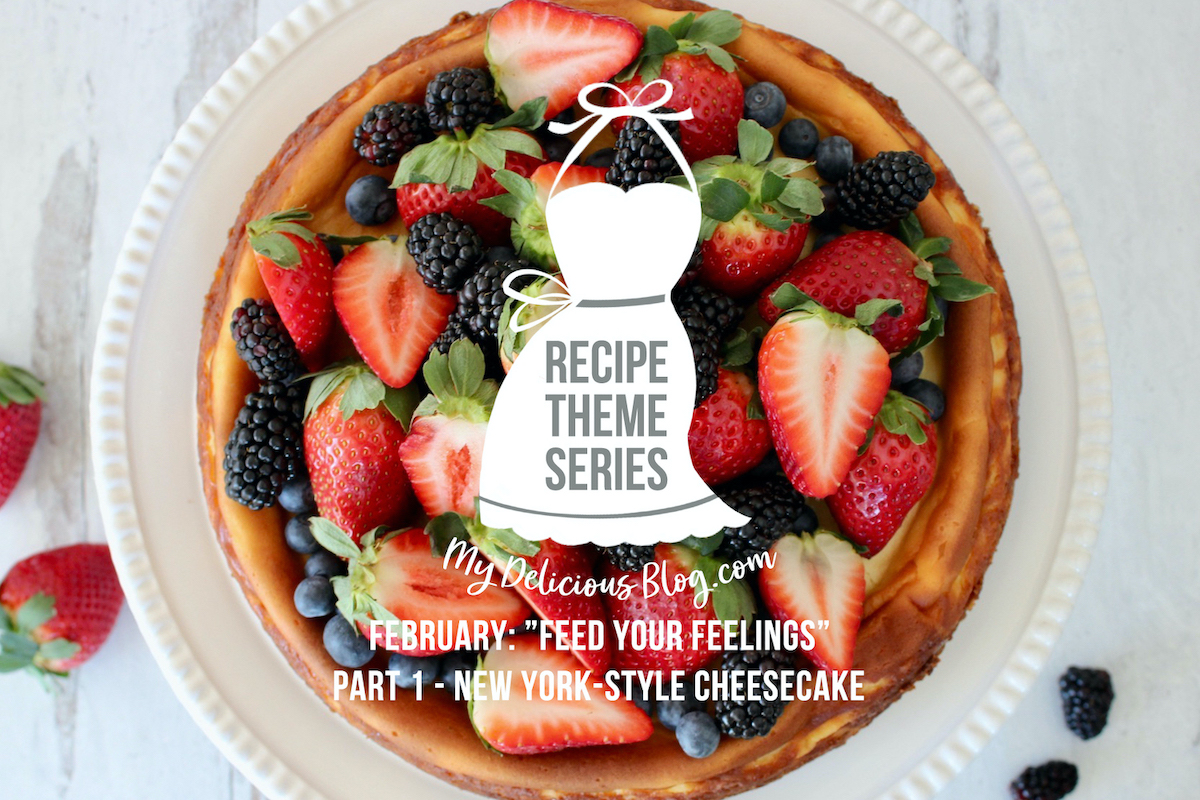 I think everyone has a dish that evokes happiness the moment they see it.  One of mine is cheesecake, and as soon as I spot a big beauty, my heart flutters.  What is it about that creamy goodness that makes me want to stop everything and grab a spoon?  I guess it's comforting – something to wipe away sadness or stress, with one bite holding the power to transform.
I'm surely not suggesting everyone eat cheesecake regularly.  Clearly, if you're dairy-intolerant, it's not for you.  But for anyone looking for something to erase their cares (at least for a little while), cheesecake is a good choice 🙂
This New York-style recipe has some history in my family.  My mom got it from her hairdresser DeeDee (sister of her very dear friend) about 40 years ago, and she got it from another client.  It was this same hairdresser who gave me my first 'real' haircut around age 8, cutting my long locks and setting me on the path toward that of a short-haired gal.  She wrote on the recipe card "Really easy, delicious AND fattening!" and when I found it recently, the history, and the people behind it, made me smile, so I knew I had to make it this week.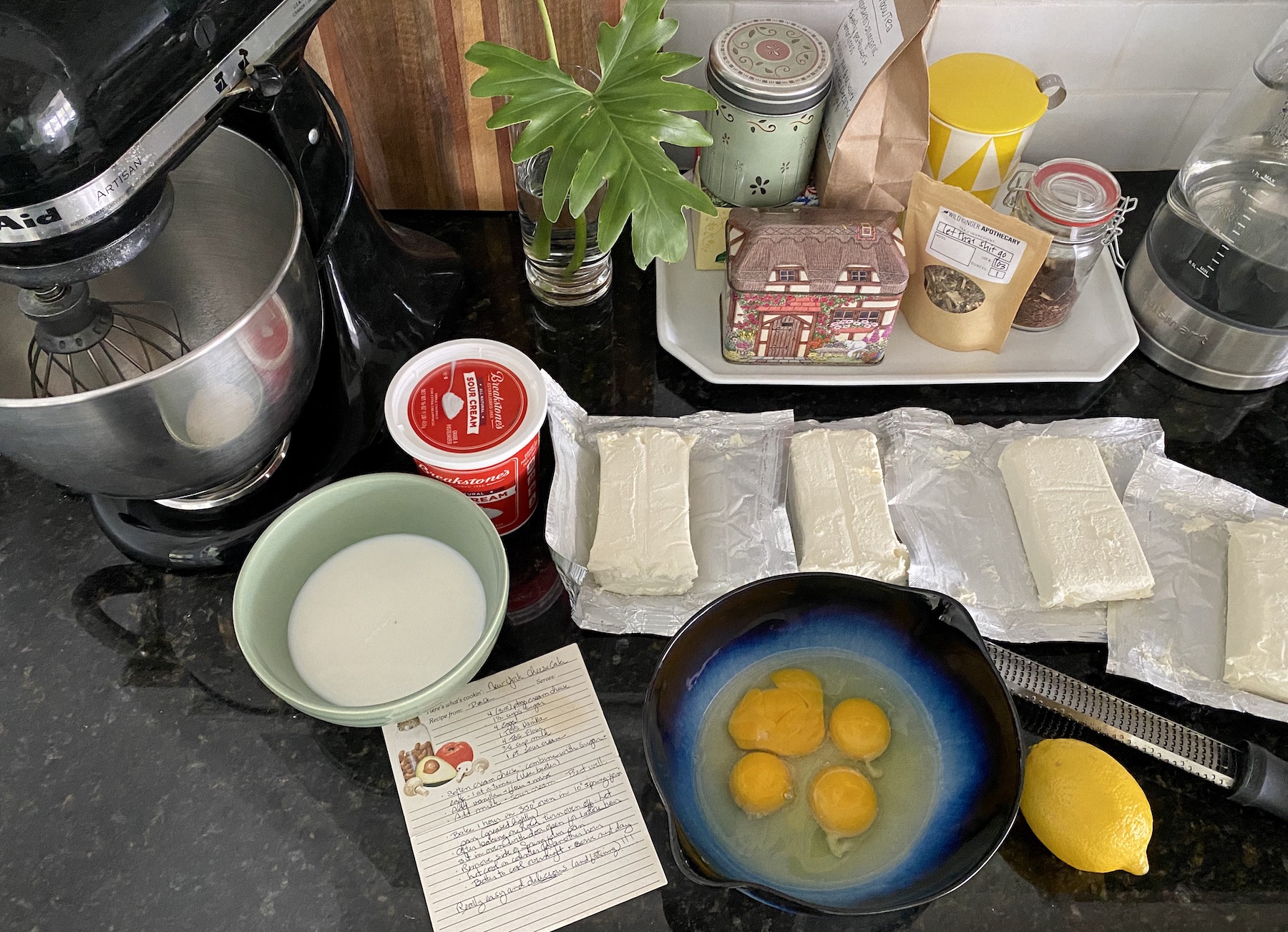 The cake is dense and rich, but not too sweet.  There's no crust, but it forms a bit of crust while baking, giving it some 'chewiness' on the edges (I love that).  Aside from sugar, flour, milk, vanilla and eggs, it's got a good amount of cream cheese, along with a healthy dose of sour cream, offering the right amount of tanginess.  Some cheesecakes are cooked in a water bath (making them extra silky/smooth), but this one alls for baking it directly on an oven rack for one hour, then turning off the oven and letting it sit another hour while it continues to cook/settle.  It's also best when refrigerated overnight, allowing it to get denser and easier to cut the next day.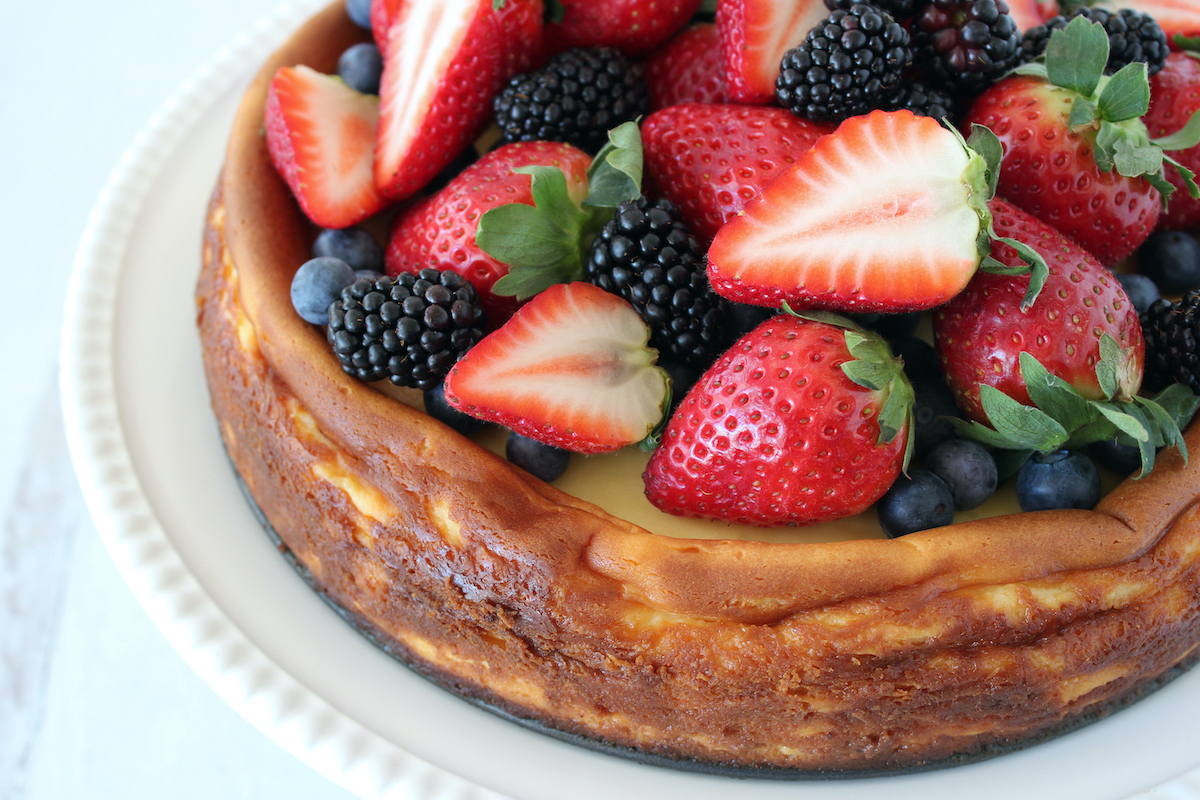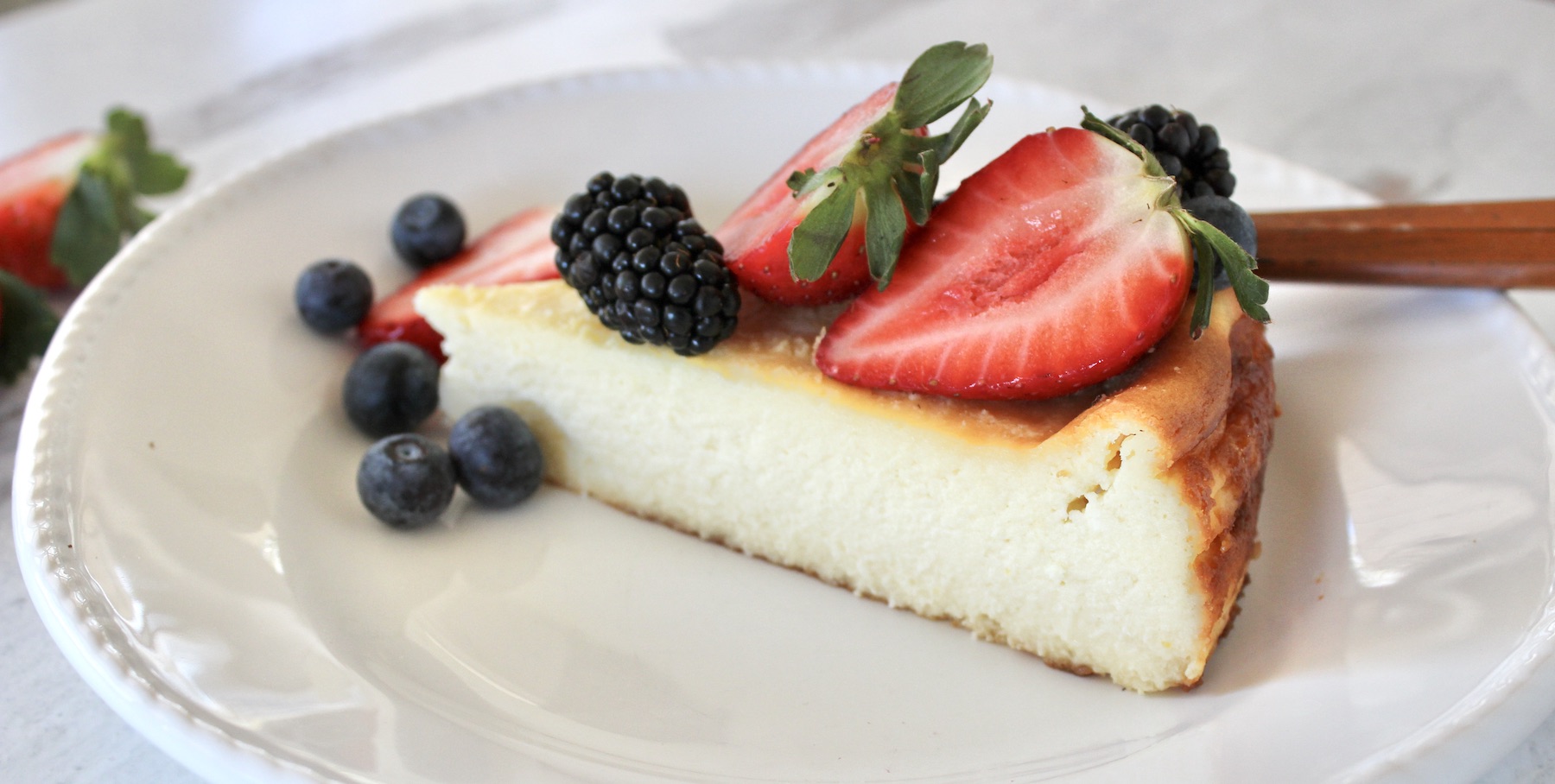 Serve it with fresh fruit or fruit sauce, chocolate sauce, preserves, or a dusting of powdered sugar.  (Tip: if you only have frozen berries, make a compote by tossing them in a pan with a little water and sugar, cook over low heat 'til they're soft and have emitted their natural juices, then serve as a sauce with the cake.)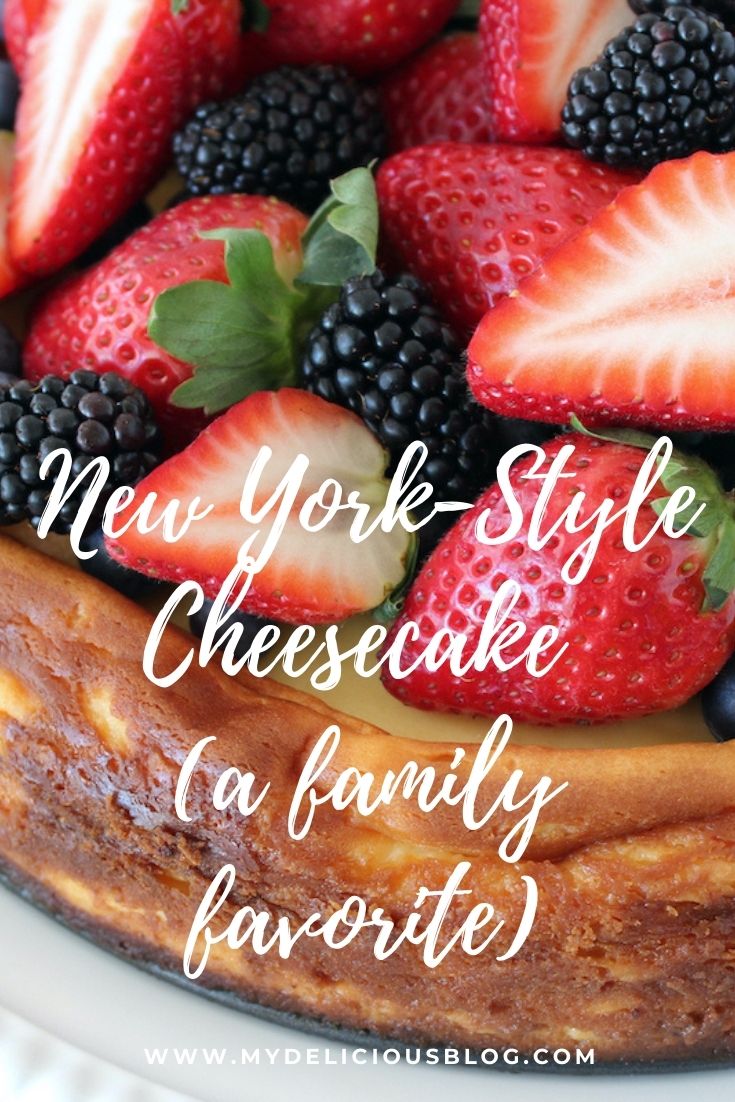 These days, it's good to feed your soul with things that make you happy 🙂   BTW, this makes a great Valentine's Day dessert!  Now I'm off to my kitchen because that cheesecake and I have a date with a big spoon. . .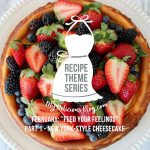 Print Recipe
New York Style Cheesecake
When it comes to 'feeding your feelings' and bringing on happiness, cheesecake is a great choice. This one's a family favorite, easy to make, and quite delicious!
Ingredients
4

8 oz.

Cream cheese

(full fat, Philadelphia Brand, ideally)

1 1/2

c.

Granulated sugar

4

Eggs, extra large

1

Tb.

Pure vanilla extract

4

Tb.

All-purpose flour

3/4

c.

Whole milk

1

pint

Sour cream

(full fat)

1

tsp.

Lemon zest

(optional)
Instructions
Remove cream cheese, eggs, milk and sour cream from refrigerator and allow to come to room temperature before preparing this cake (it takes at least 1 hour).

When all ingredients are soft/at room temperature, preheat oven to 350 degrees and lightly butter a 10" springform pan.

Using a standup mixer fitted with a paddle attachment, add softened cream cheese to the bowl and mix a few times. Add sugar; mix until combined. Scrape sides with rubber spatula and mix on low speed until combined.

Add eggs, one at a time, allowing batter to incorporate each before adding another. Scrape sides and continue mixing on low speed.

Add vanilla and flour; mix to incorporate, scrape down sides.

Add milk and sour cream (and lemon zest, if using) and mix until everything is smooth.

Pour mixture into prepared springform pan and place in oven 1 hour.

At 1 hour, turn off heat, open oven door and allow cheesecake to sit in the oven 1 hour.

Remove from oven, cool about 20 minutes, then remove springform pan. Allow to sit at room temperature 1 hour. Best to chill overnight and serve the next day.
Notes
Tip for cutting cheesecake:
Fill a tall glass/plastic cup with hot water.  Dip a very sharp knife into the water to warm it, dry it with a paper towel, then make one cut into the cake (the full length of a slice) going all the way down to the base, then pull the knife back towards you from the base (i.e., don't raise the knife) to remove it.  Dip the knife into the water to rinse, wipe it with a paper towel and repeat the process until all your pieces are cut!
As an alternate, use a large piece of unflavored dental floss to cut each piece!