If someone said to me "I'll pay you one million dollars to tell me your one favorite ethnic food" I'd be hard-pressed to answer, because I have two favorites — Italian and Greek.
Basically, I'm putty in your hands if you give me a slab of lasagna, a bowl of baked Ziti, a plate of saucy chicken parm, or a creamy cannoli.  I'm also wooed by a crispy Greek salad, delicious stuffed grape leaves (dolomades), or that creamy, bechamel-filled pastitsio.  It is for all these reasons that I will never get that million dollars. . .
Today I'm highlighting Greek flavors with a dish that yields something delicious and healthy.  I've written about cooking the en Papillote way (stuffing parchment with ingredients, forming it into a pouch and roasting it in the oven) – a method that works especially well with fish because it takes on the flavors of whatever you toss in the pouch.  Ingredients stay tender, moist and flavorful, and clean up is easy, too.  I love this method, which is why I have two other recipes on the blog (but don't feel limited by the type of fish noted in each – they simply offer different ideas: African Pompano in Parchment and Fish with Thai Flavors.) Today's recipe uses cod, Kalamata olives, lemon, onion, red pepper, tomatoes, zucchini, Feta, and Greek dressing filled with oregano, garlic and olive oil.  BTW, Snapper, salmon, Orange Roughy, Swordfish, Mahi-Mahi, or shrimp would work well, too.
Simply place each ingredient onto parchment, add some dressing, then seal the edges so steam can't escape. If you've never cooked in parchment, the directions are in the recipe below.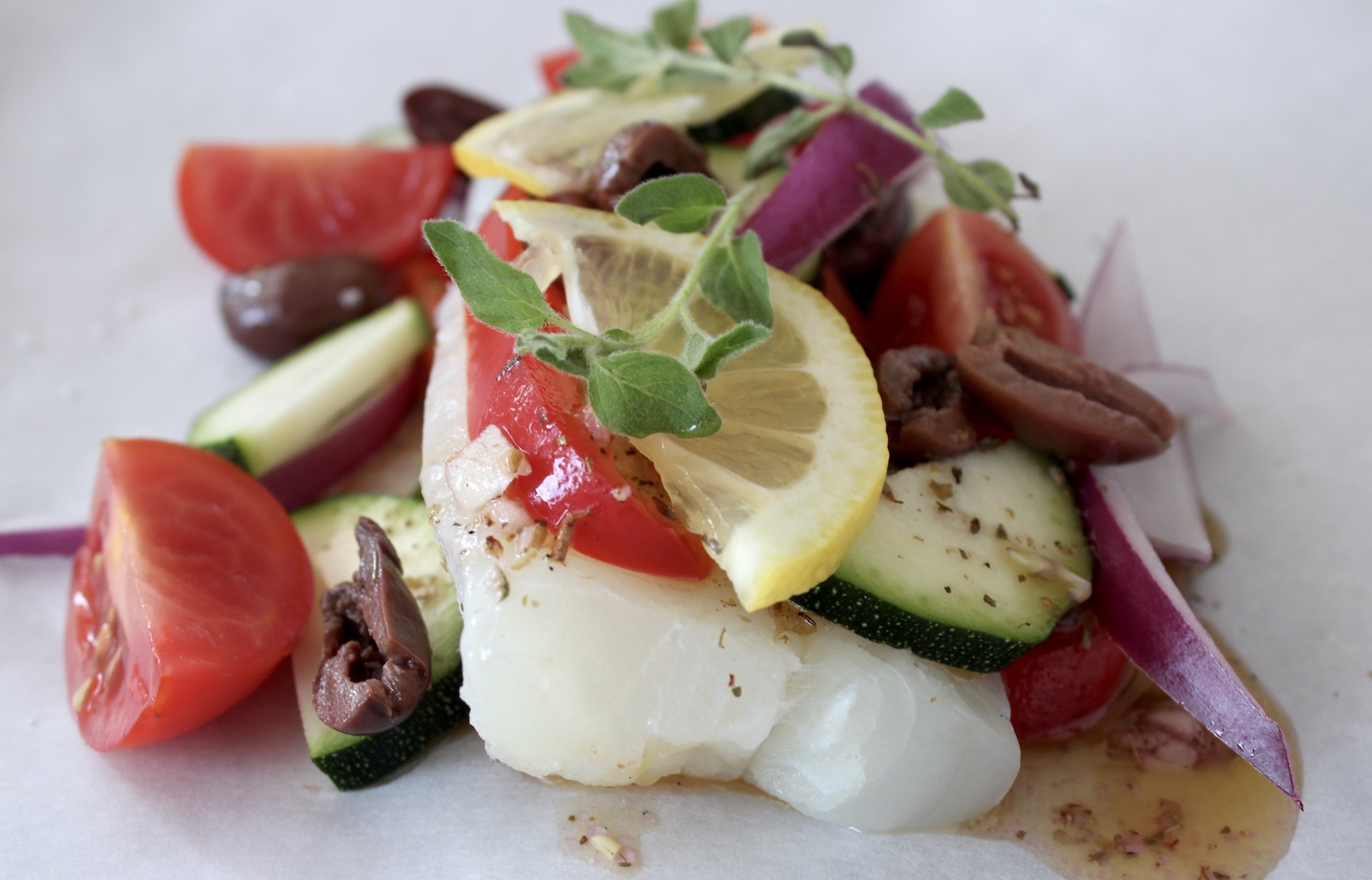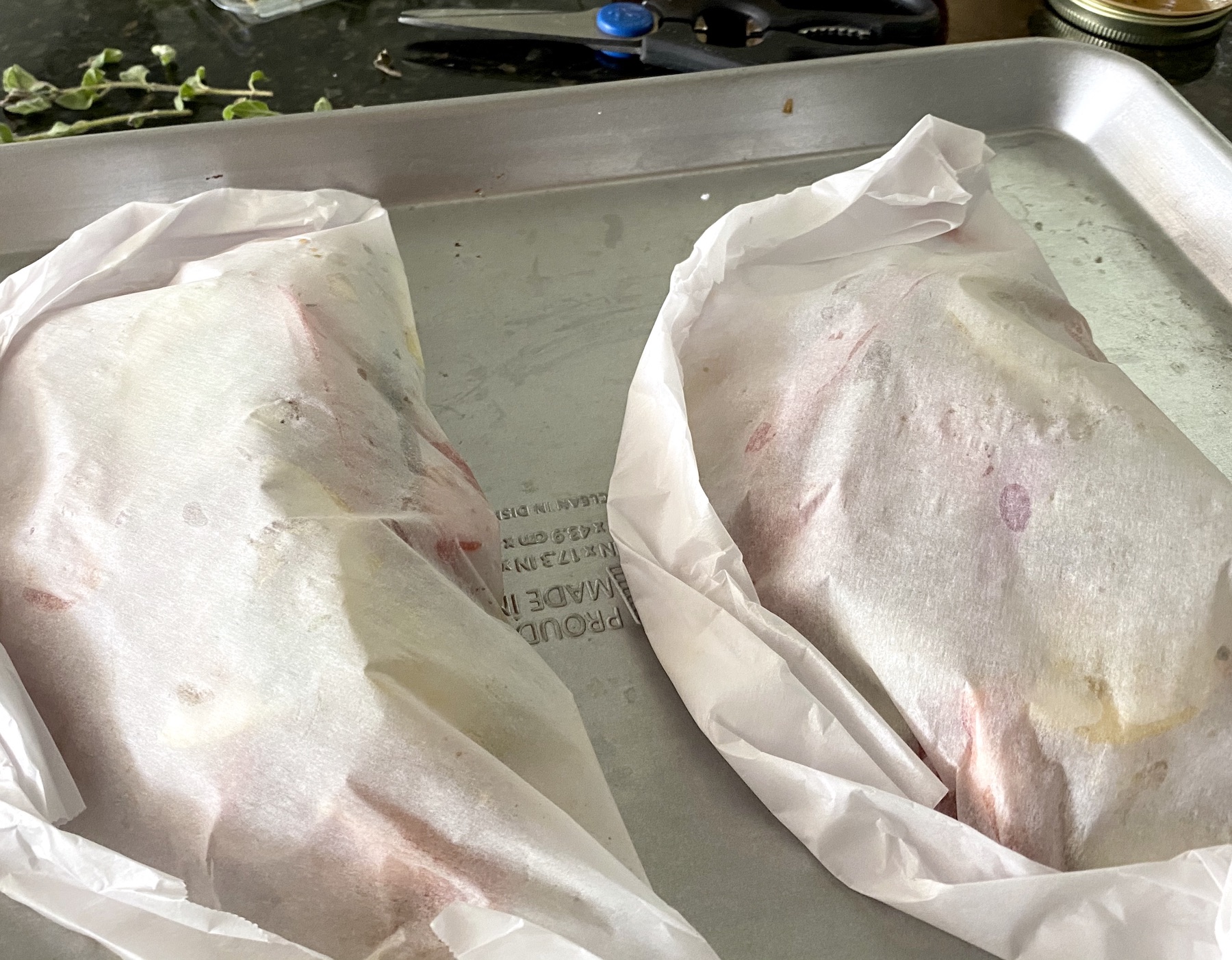 After about 30 minutes, everything is perfectly cooked.  Open the pouches carefully, sprinkle with lemon juice and Feta, toss the whole pouch on a plate and dig in.  It makes the perfect lunch, or a main/dinner course served with rice, crusty bread or a fresh salad.  Enjoy!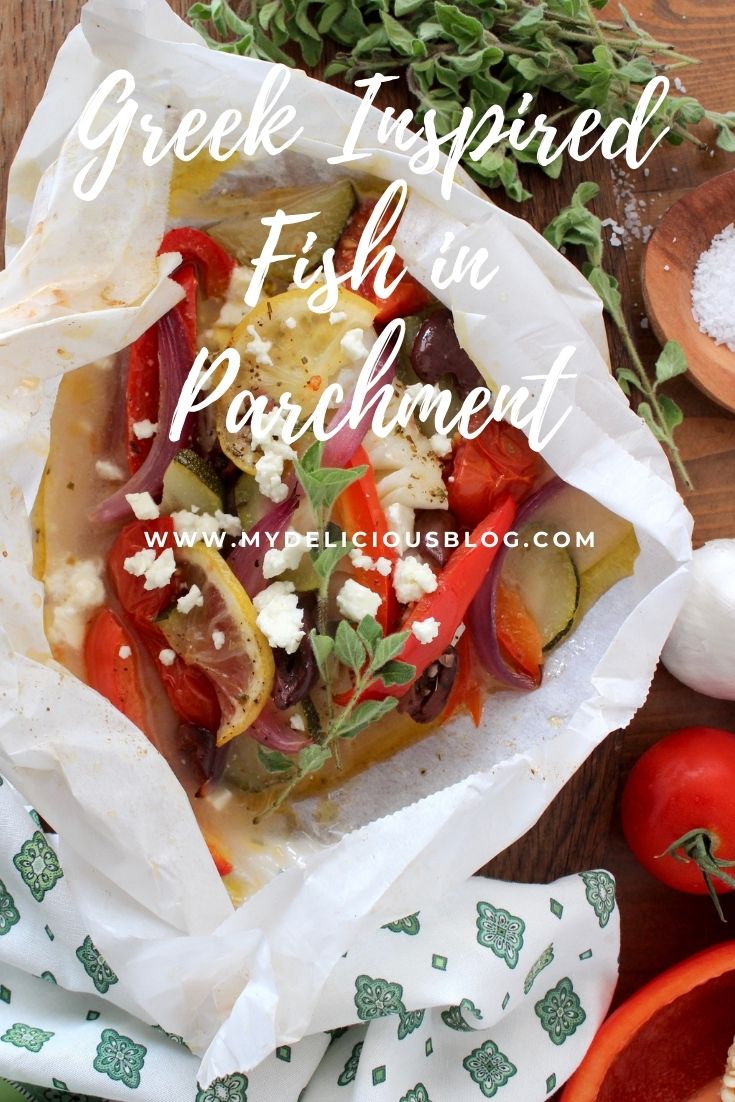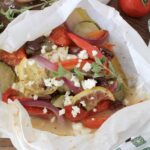 Print Recipe
Greek Flavored Fish in Parchment
Flavors of Greece make this easy fish dish a hit, filled with cod, peppers, zucchini, tomatoes, Kalamata olives, and homemade Greek dressing.
Ingredients
Dressing
1-2

clove

Garlic, peeled, mashed and minced

1

tsp.

Dried oregano

1/4

c.

Red wine vinegar

1

tsp.

Kosher (or sea) salt

1/2

tsp.

Freshly ground black pepper

1/2

c.

Extra virgin olive oil
Fish/Vegetables
2

lbs.

Fresh fish (skin and pin bones removed)

1

Medium zucchini, thinly sliced

4-6

Cherry or other small tomatoes, quartered

3/4

c.

Kalamata olives

1/2

Medium red onion, thinly sliced

1

Medium red bell pepper, thinly sliced

1

Lemon, sliced thinly (reserve some for serving)

1/2

c.

Feta, crumbled (for serving)

(or more, to taste)
Instructions
Heat oven to 350 degrees.

Prepare dressing by adding ingredients to a lidded jar, shake well and set aside until ready to use.

Cut 4 large squares of parchment paper (approx. 12"X14"), fold each over once and trim the bottoms and tops (like you're cutting out Valentines), ending up with 4 heart shapes.  Lay each piece flat until ready to fill.

Sprinkle each piece of fish with a little salt and pepper and place each on one side of the parchment pieces. Portion out the pepper, zucchini, tomatoes, olives and onion between the bundles. Add 1 slice of lemon to each, then sprinkle each with 2-3 teaspoons of dressing. Fold over the other side of the paper and tightly crimp/fold the edges of each piece so you end up with 4 half-heart shaped pouches.

Place pouches on baking sheet (you may be able to fit all 4 on one sheet; if not, use two).

Bake 25-30 minutes. Remove from oven and allow to sit 1-2 minutes, then open, sprinkle with lemon juice and Feta. Serve each pouch on a plate and enjoy!
Notes
Note: you will likely have some leftover dressing, so make a Greek salad!