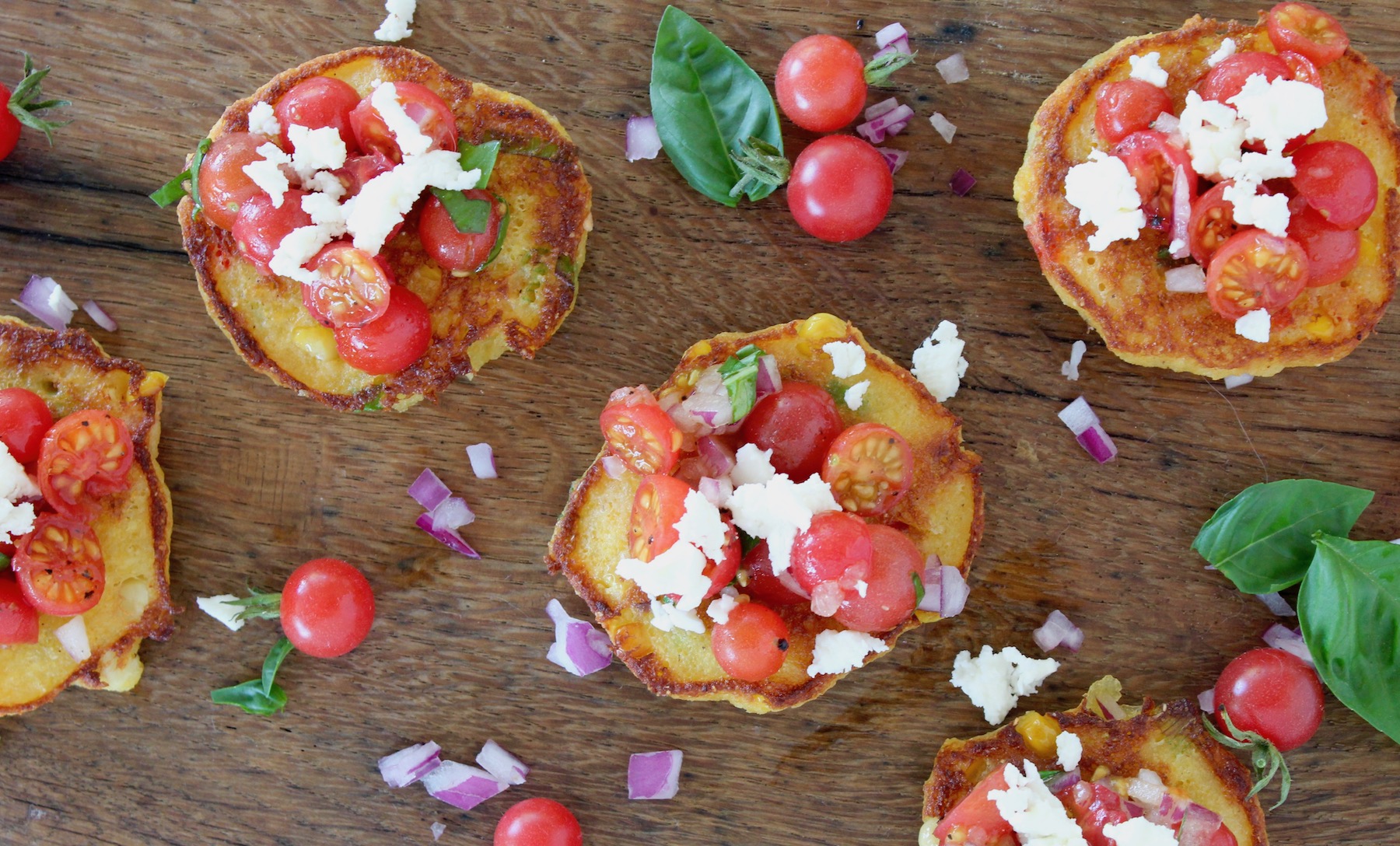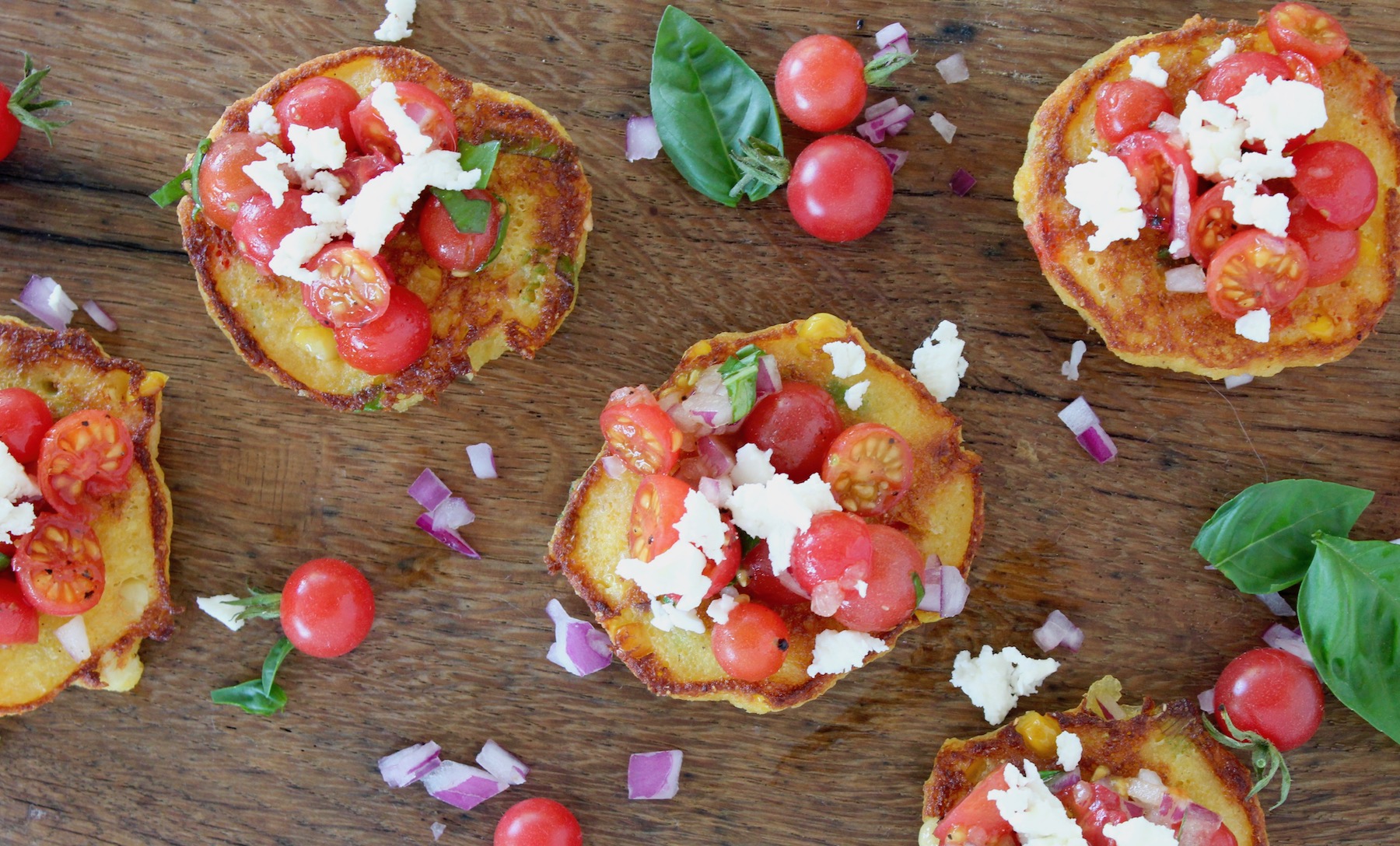 Cinco de Mayo!  It's the day Mexico commemorates its unexpected victory over French forces in 1862 during the Battle of Puebla (I just learned that).  Here in America we join in the celebration by enjoying all those tasty treats that run deep in Mexican heritage and I, for one, will be enjoying cold margaritas, (many) scoops of guacamole and several tasty tacos with dear friends on May 5th.  What about you?  How do you celebrate?
If you're invited to a Cinco de Mayo party or you're planning to have a quiet evening at home with your loved one and need inspiration for a tasty dish, consider this one.  These corn fritters (or pancakes, whatever you want to call them) are delicious.  Corn fritters are made from batter with corn kernels tossed in for texture (and flavor, of course), plus whatever mix-ins you like.  Kernels right off the cob are ideal, but you can also use frozen.
I like to experiment with add-ins.  Sometimes I use fresh basil, or red pepper, or minced fresh jalapeno, or a little Portuguese chourico for some spice (just enough to give zing but not overpower the corn).  And if you use 100% cornmeal or corn flour, these babies are gluten free — a bonus!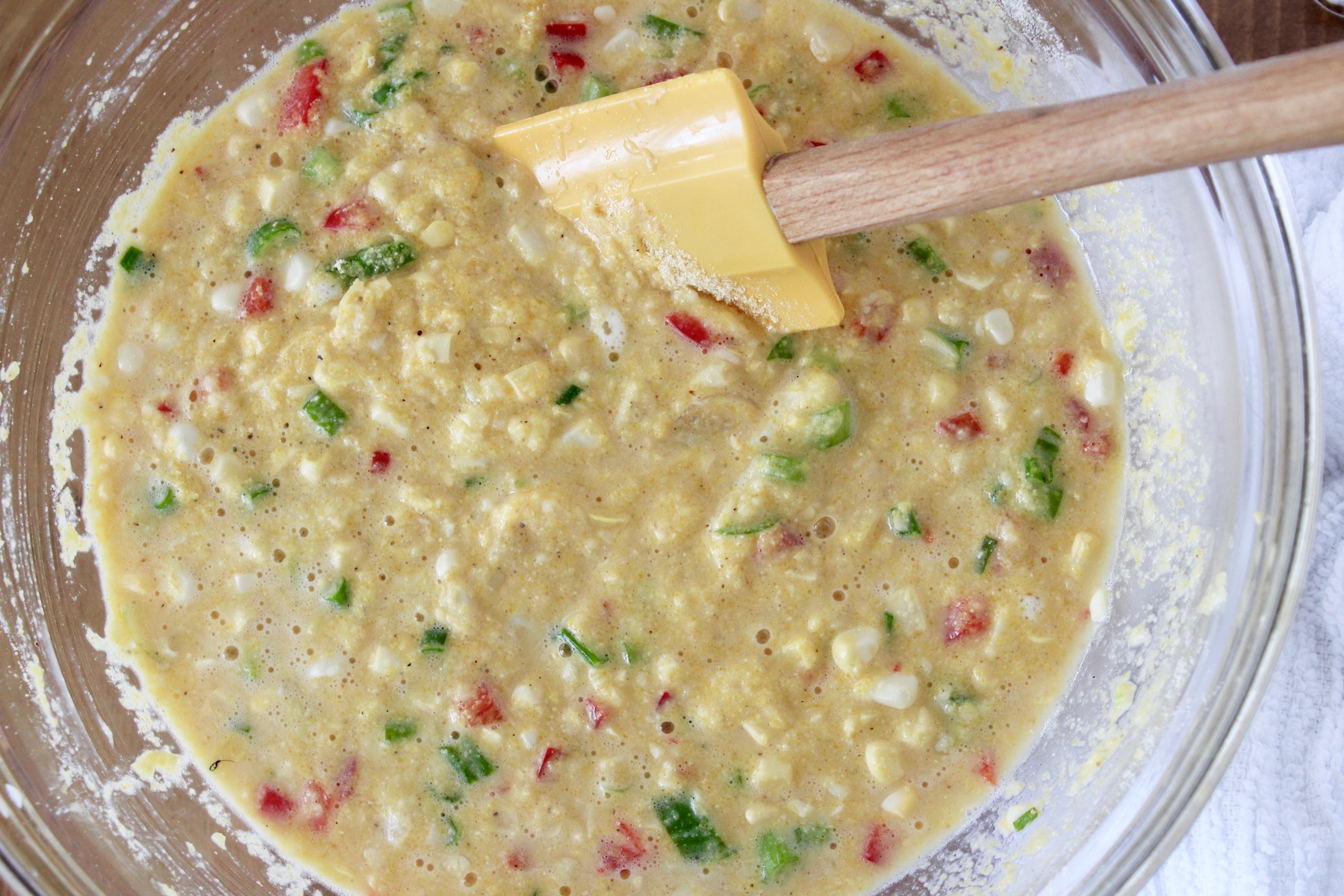 I made my fritters sort of tiny so they could be enjoyed as bite-sized appetizers, but feel free to make them pancake-sized for a dinner portion — even better.  As for the topping, I went with something red (tomatoes), green (basil), and white (Cochita cheese) to celebrate the colors in the Mexican flag.  Clever, huh?  They'd also be tasty with salsa verde, a mixture of sour cream and chives, or some guacamole.  Or maybe make a pancake, top it with a fried egg, then cheese, fresh tomatoes, cilantro and sour cream.  Oh my, I'm getting hungry again. . .
Mmmm. . .don't these look good?!?  They're definitely corn-y, and their lovely, slightly dense texture, filled with chewy bites of corn kernels, is a nice complement to soft, sweet tomatoes (i.e., they're not light, fluffy pancakes, like some recipes outline by adding in beaten egg whites, etc.).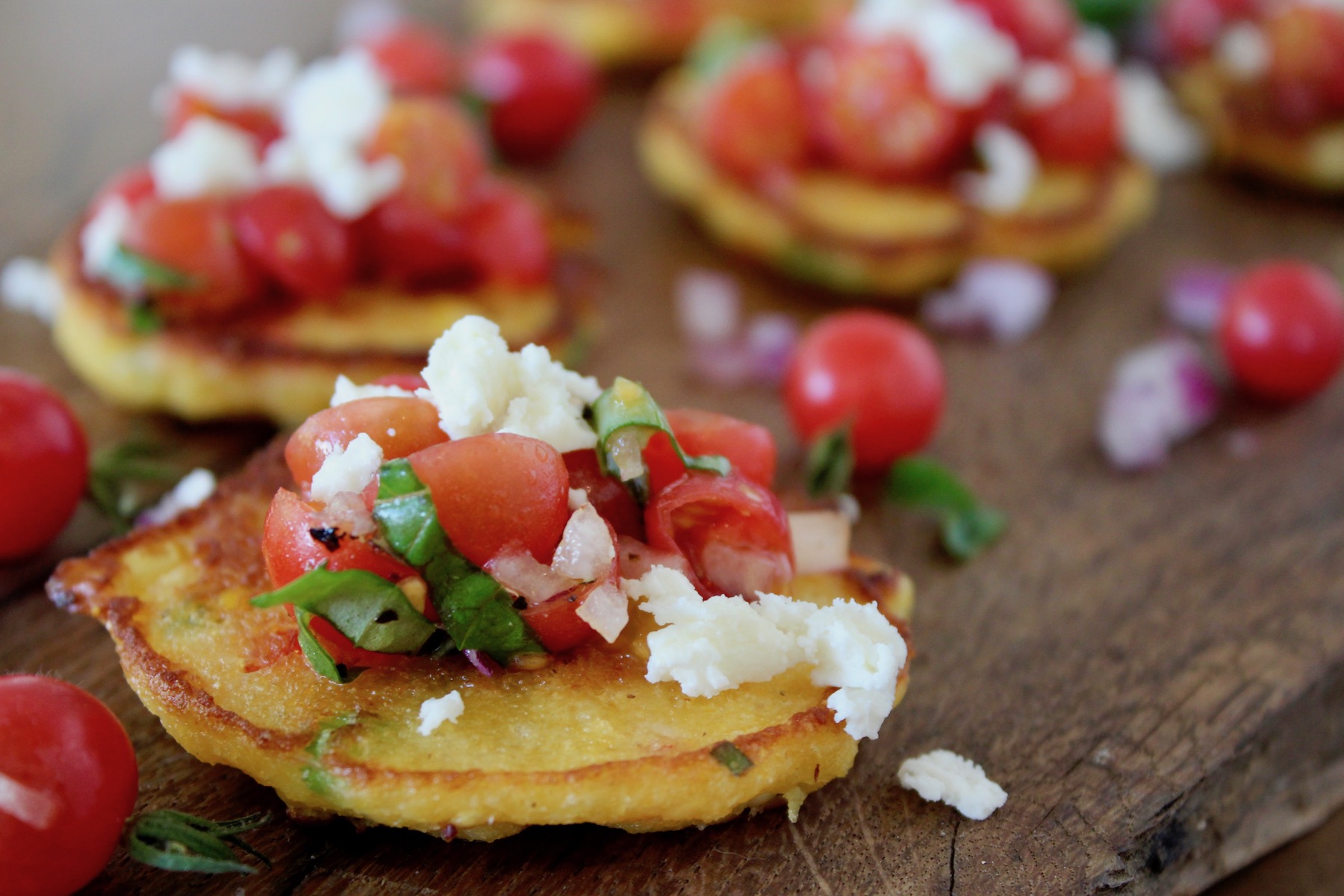 Look at all those crispy, tasty edges, with flecks of red pepper and scallion poking through: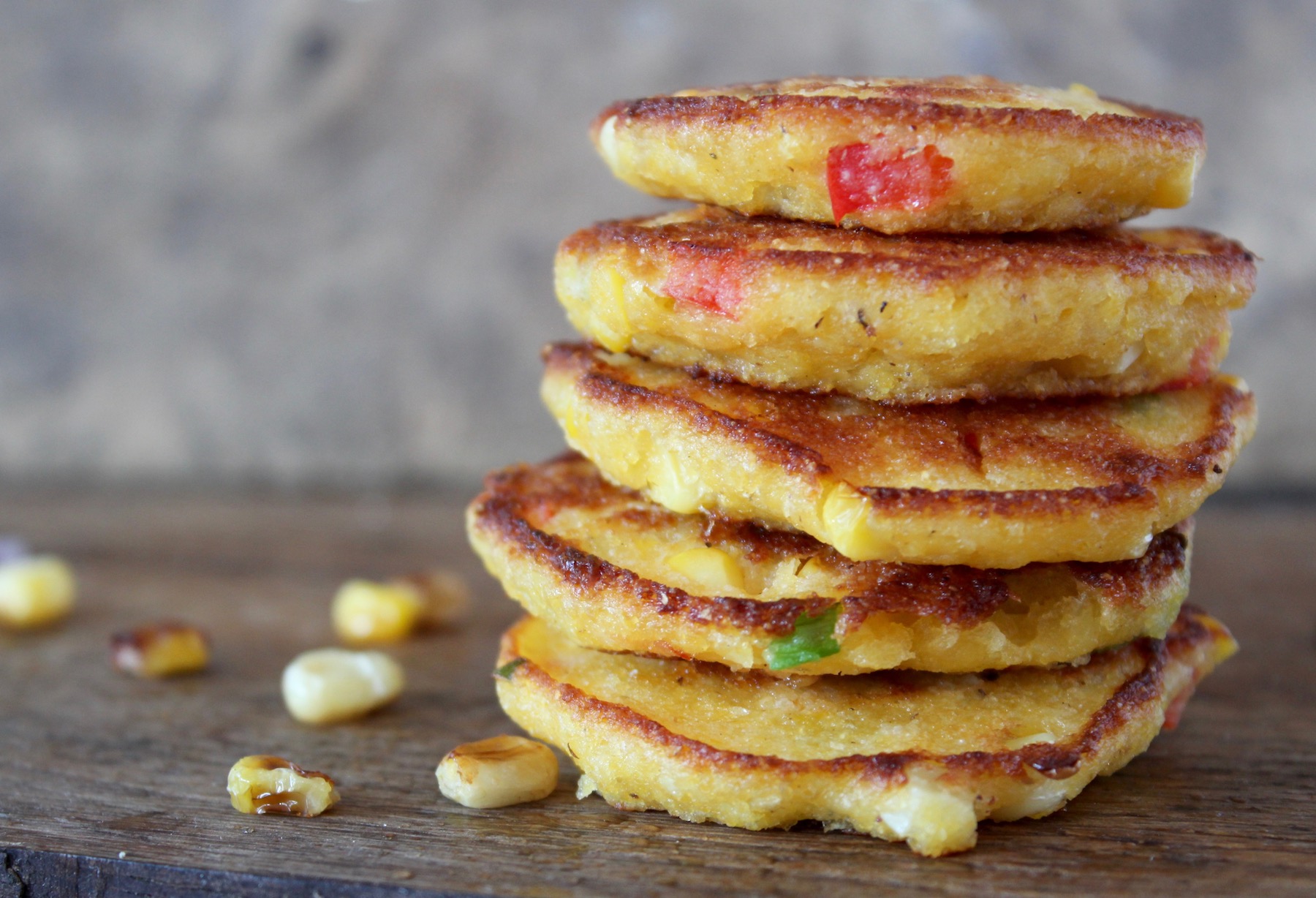 Feliz Cinco de Mayo!
P.S. if you're on a roll and would like another 'fritter' recipe, check out these yummy 
zucchini pancakes
🙂
Crispy Corn Fritters
Corn fritters are extra delicious when paired with fresh tomatoes and basil.
Author:
My Delicious Blog
Ingredients
2 c. corn kernels (about 2 ears corn OR you can use defrosted frozen kernels)
¼ c. red bell pepper, minced
¼ c. scallions (with green parts), chopped
1 egg, lightly beaten
¾ tsp. kosher salt
¼ tsp. freshly ground black pepper
¾ c. whole (or low-fat) milk
1 Tb. honey
3 Tb. unsalted butter
1 c. + 2 Tb. finely ground cornmeal
1½ tsp. baking powder
Coconut oil (for sautéing)
Tomato Topping
Large handful small tomatoes, halved
1-2 Tb. red onion, minced
6-8 leaves fresh basil, chopped
Sprinkle of kosher salt
Few grinds of fresh black pepper
Splash of olive oil
Mexican cheese (Queso fresco, Chihuahua, Cotija), OR Feta, if you can't find these
Instructions
Place each ear (one at a time!) of shucked corn perpendicular to a cutting board (or ideally, a Bundt pan). Using a sharp chef's knife, apply some pressure and slice down the cobs to remove the kernels (you want to get as much of the corn pulp as possible). Keep slicing downward until all kernels have been removed and fallen on the board or into the pan.
Transfer ½ the kernels to a large mixing bowl and the other half to a food processor.
In the food processor, pulse the kernels a few times to mash them up, then transfer them to the mixing bowl. (Pulsing them helps to release their juice and starch, and offers a more corn-y flavor to your batter).
To the bowl, add red bell pepper, scallions, egg, salt and pepper and mix well.
Over low heat, add milk, honey and butter to a small pan and heat just until the butter is melted. Remove from heat and add about ¼ of the liquid to the corn mixture and stir to combine (you don't want the egg to cook!). Once the liquid t's well-incorporated, add the remaining liquid and stir well.
Sprinkle in cornmeal and baking powder and stir to incorporate.
Heat a non-stick saute pan to medium/high. Add about 1 tsp. coconut oil to the pan. Once it's hot, add about 2 Tb. of the corn fritter batter to the pan -- your pan will likely hold about 4 little fritters. They'll flatten out and bubble a little in the center.
After about 1.5 minutes, check one to see if it's golden brown. If it is, carefully flip each fritter then cook another minute or so, until nicely brown on the other side. Remove from pan and top with Tomato Topping and cheese (or enjoy all by themselves!).