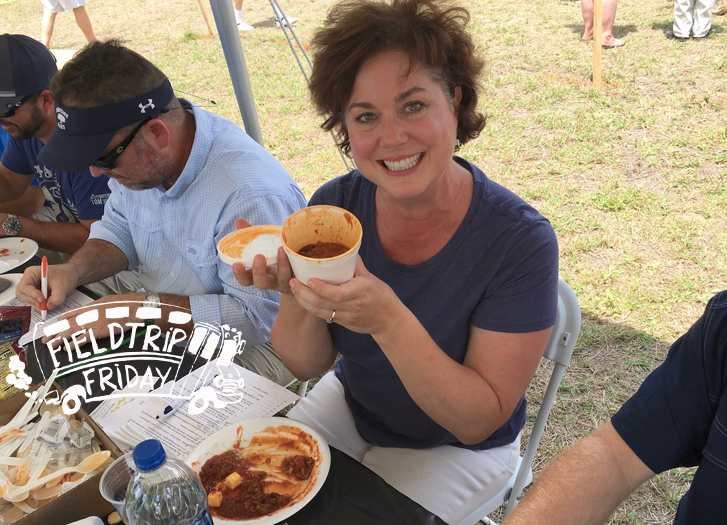 (Field Trip Fridays capture interesting, fun, food-related and/or fishing adventures that I like to share with you!)
I love chili, so when my friend Bill called and asked if I'd like to be a judge for the chili contest at the 2018
Suncoast BBQ & Bluegrass Bash
in Venice, I said 'YES!'
This fun event is in its 8th year and has developed quite a reputation as one of the best BBQ and bluegrass events around.  It's also the signature fundraising event for
Suncoast Foundation for Handicapped Children
 which provides facilities throughout Sarasota County for non-profit organizations including Loveland Center, Sertoma Speech Clinic, The Haven, The Florida Center, Children's First, and Special Olympics.  The event includes live bluegrass music; a professional BBQ cookoff; the chili cookoff; a corn hole tournament; classic cars; and lots of food vendors offering stuff like roasted corn, funnel cakes, and meats on sticks.  They typically raise about $100,000 each year, which goes a long way toward supporting those important facilities.
At the chili judging area, I sat with 16 other judges whose experience levels and memorable moments were shared around the table like "Remember that batch from 4 years ago?  The one with the  big chunks and no vegetables?"  "How about the one that was so spicy it blew my doors off?"  "Remember the time Joe got sick and had to leave early?"  Yeah, I could tell these were seasoned folks, but I wasn't intimidated.  I consider myself to be a pretty good consumer of chili, so I was determined to hold my own.
Folks in charge of the chili competition have been doing it for years because they believe in the cause and it's just plain fun.  They defer to Chili Appreciation Society International, Inc. (CASI) for the "Official Chili Judging Criteria and Rules" — one of the first bullets on the sheet says "Fine chili should look good, smell good, and taste good!"
We were told to consider 5 areas: aroma, red color, consistency, taste and aftertaste, then assign a score of 1-10 for each of the 23 entries (that's a lot of chili).  It was a double-blind process, so we could never connect an entry's booth number with the batch number (smart!).  We were given everything chili judges could need – pens, rating sheets, crackers, water, chunks of cheese, clean spoons, paper towels and free-flowing beer.  Yup – they even had a runner whose sole purpose was to keep our pitchers full.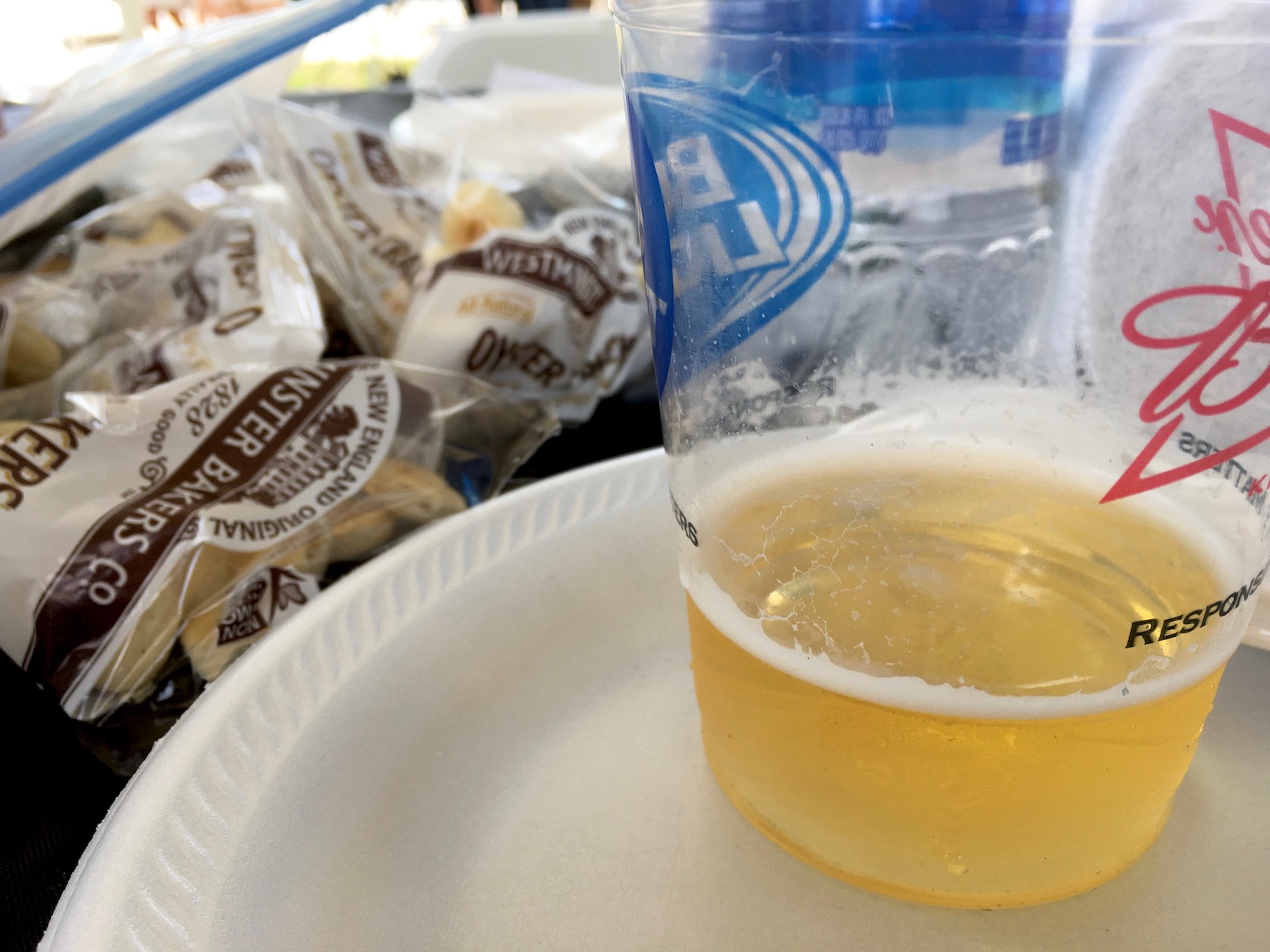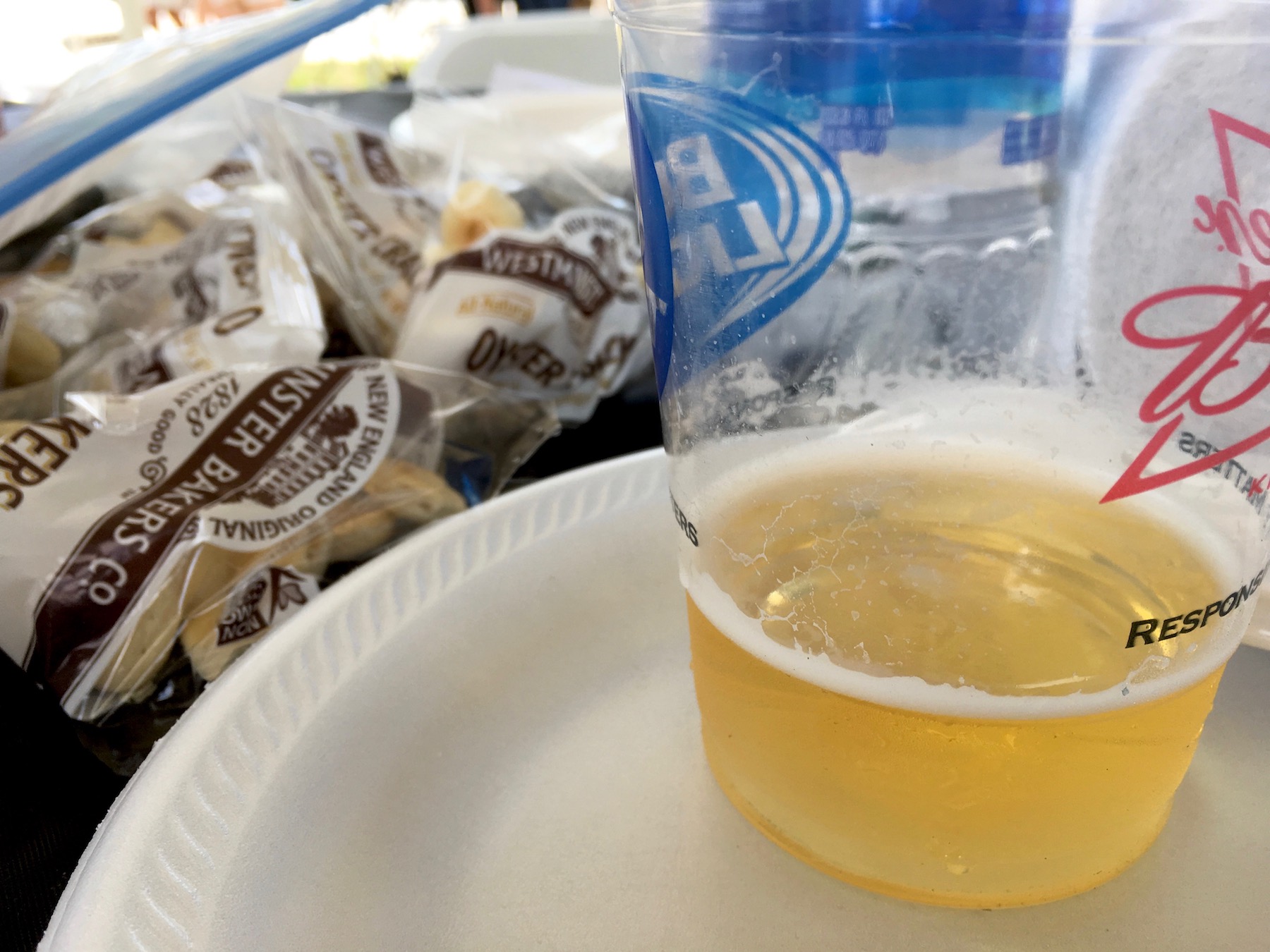 Gosh, 23 batches!  I started to get a little nervous, regretting having breakfast that morning. . .but I figured I'd pace myself.  Being the rule-follower that I am, I was really thinking about those 5 things with each bite, apparently taking a bit too much time, because not long after I started, I found a backlog of 4 batches to my right (we were passing to the left), so I quickly got caught up and moved faster — this was serious business, and I was not going to give those seasoned chili judges any reason to think I didn't know what I was doing!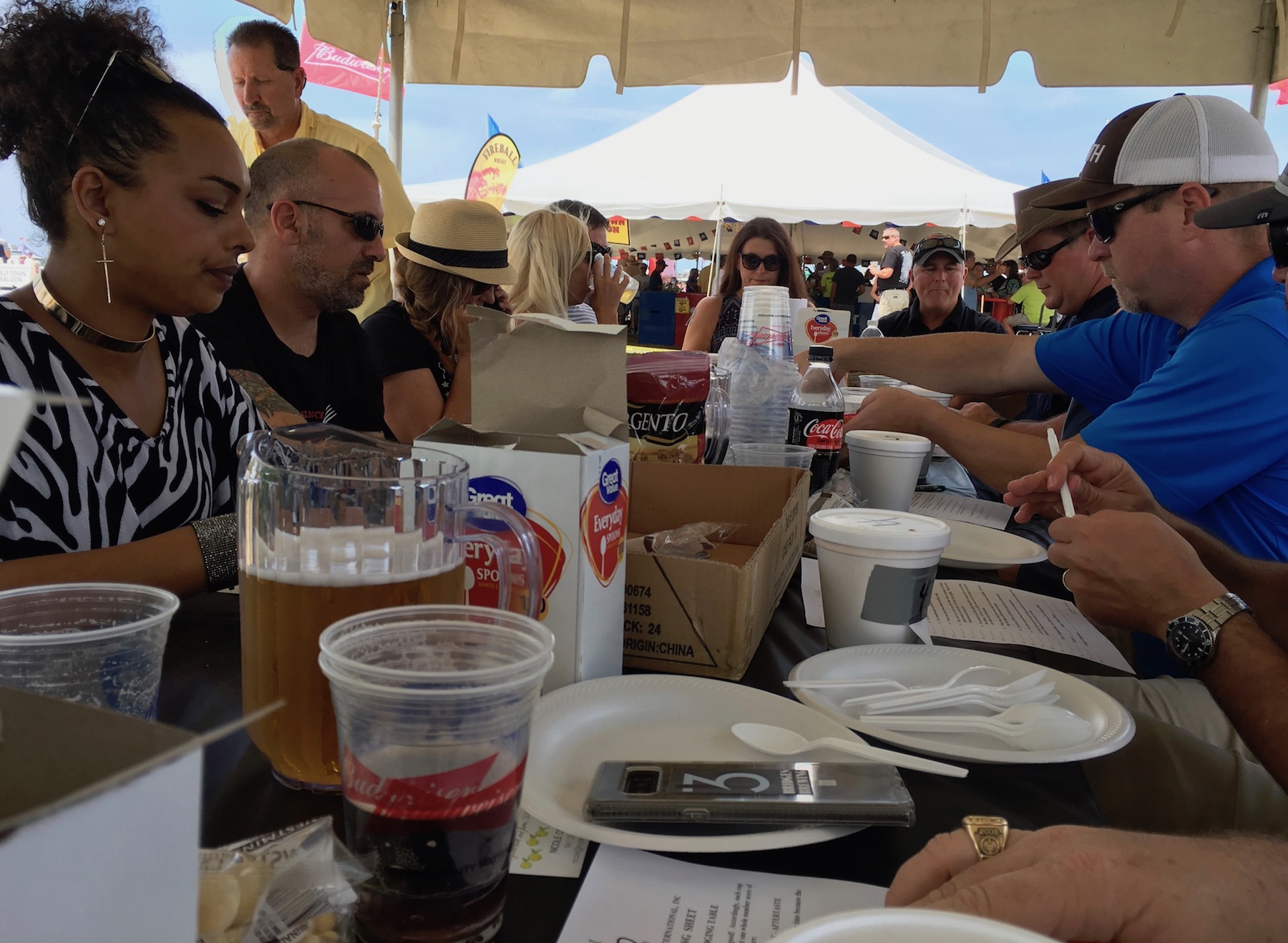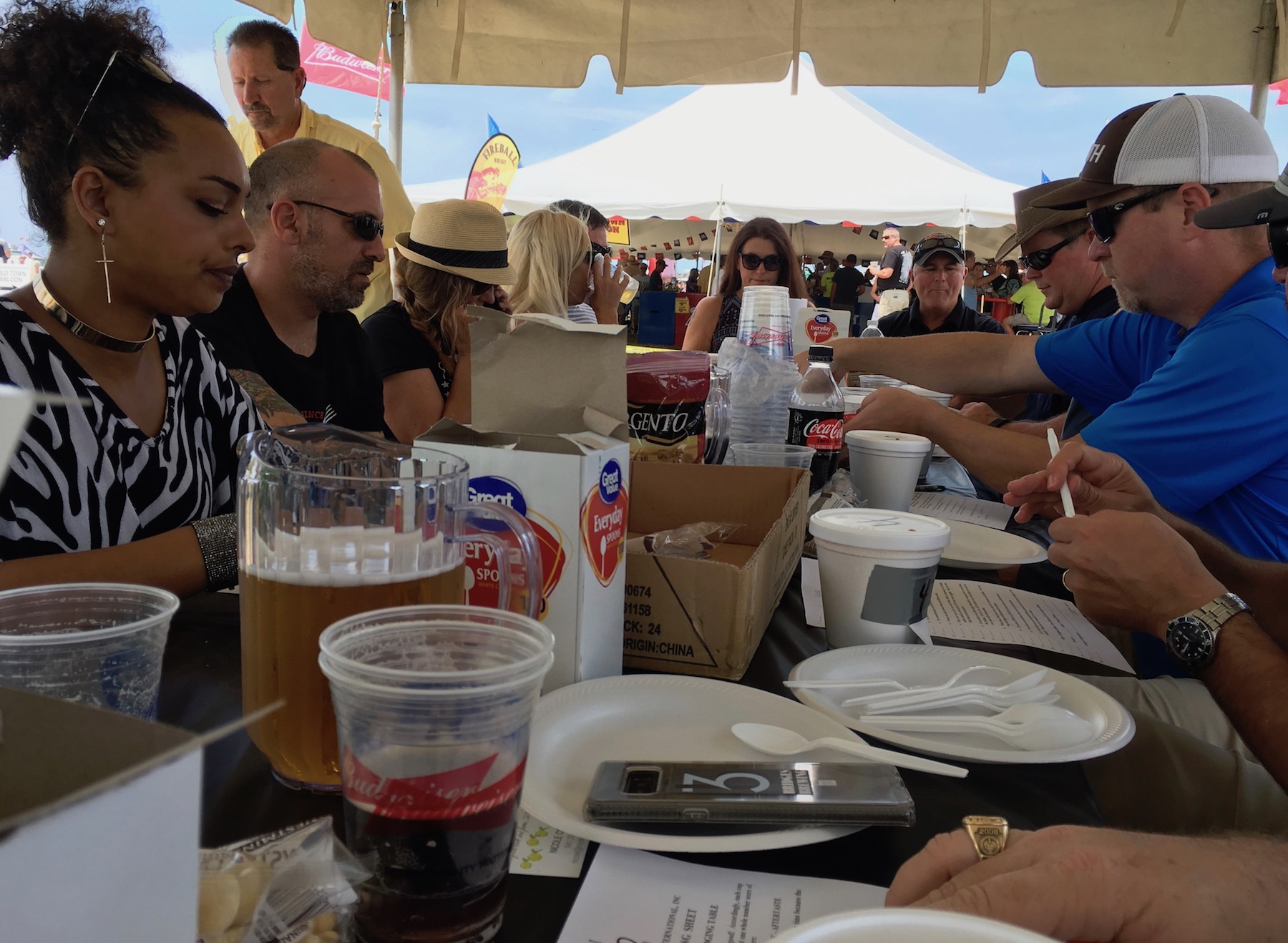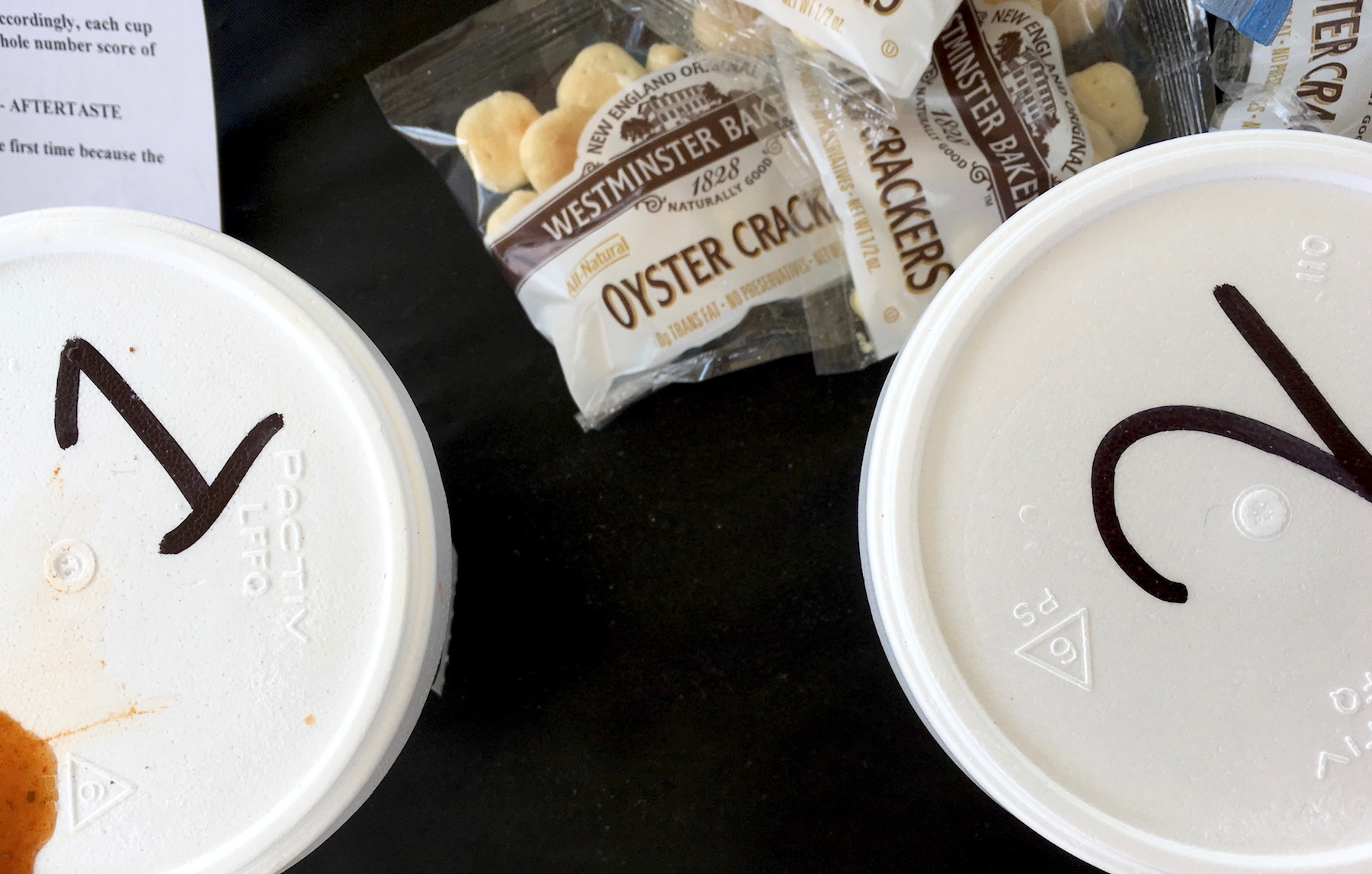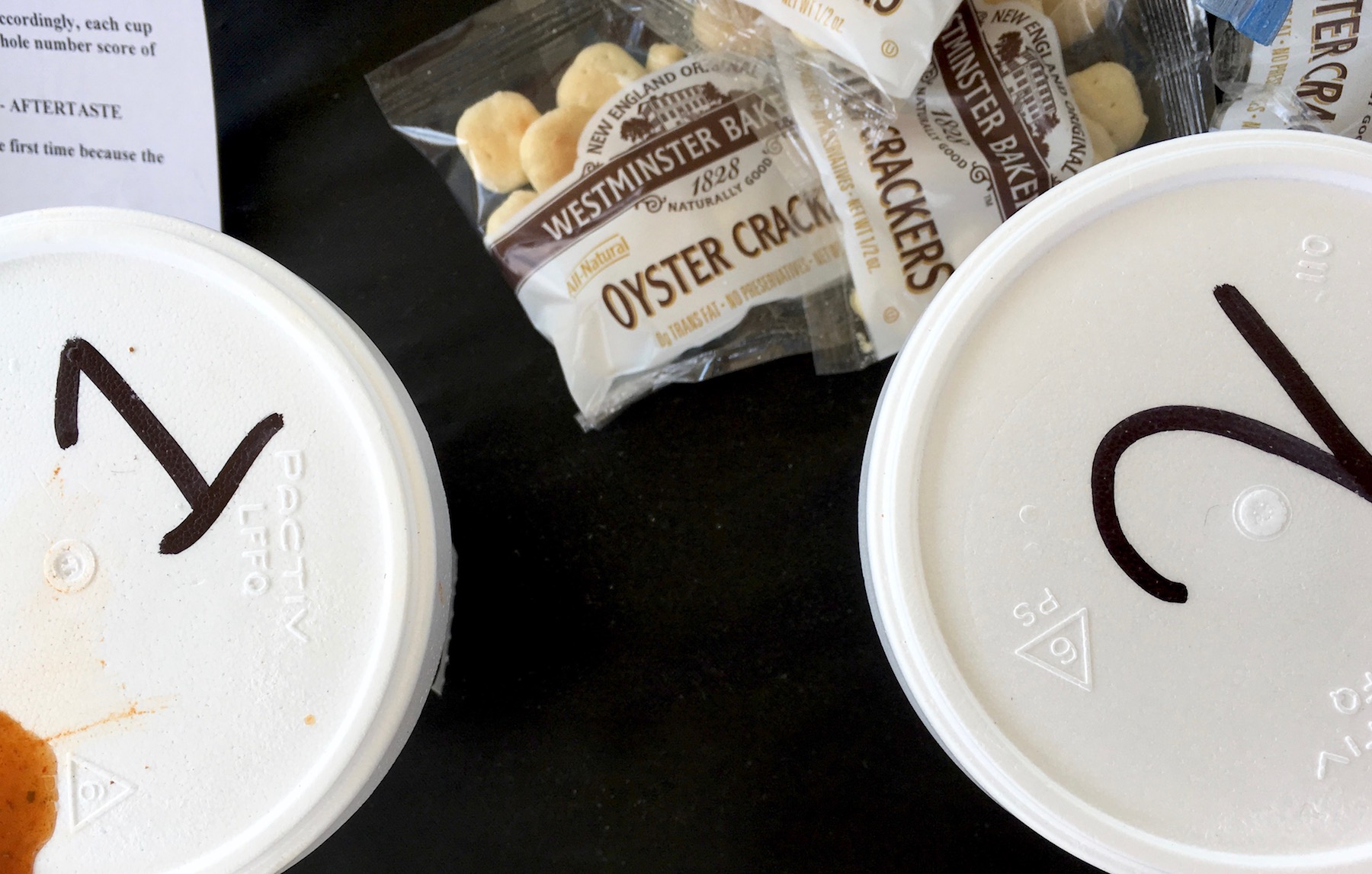 Each batch offered something a little different.  Who knew there could be SO many versions of chili?  I can honestly say that some were better than others; one was really bad; two were questionable; some were entirely TOO hot; and my favorite actually had no 'red color' in sight.  In the end, all our "hard work" resulted in a winning roster of happy chili-makers, including the top winner's opportunity to participate in the World Food Championship, plus a $1,000 check (winners of all competitions are on the 
Facebook
page).  Pictured below are Bob Massanova and Bill Rhodes holding the #1 winner before the big announcement: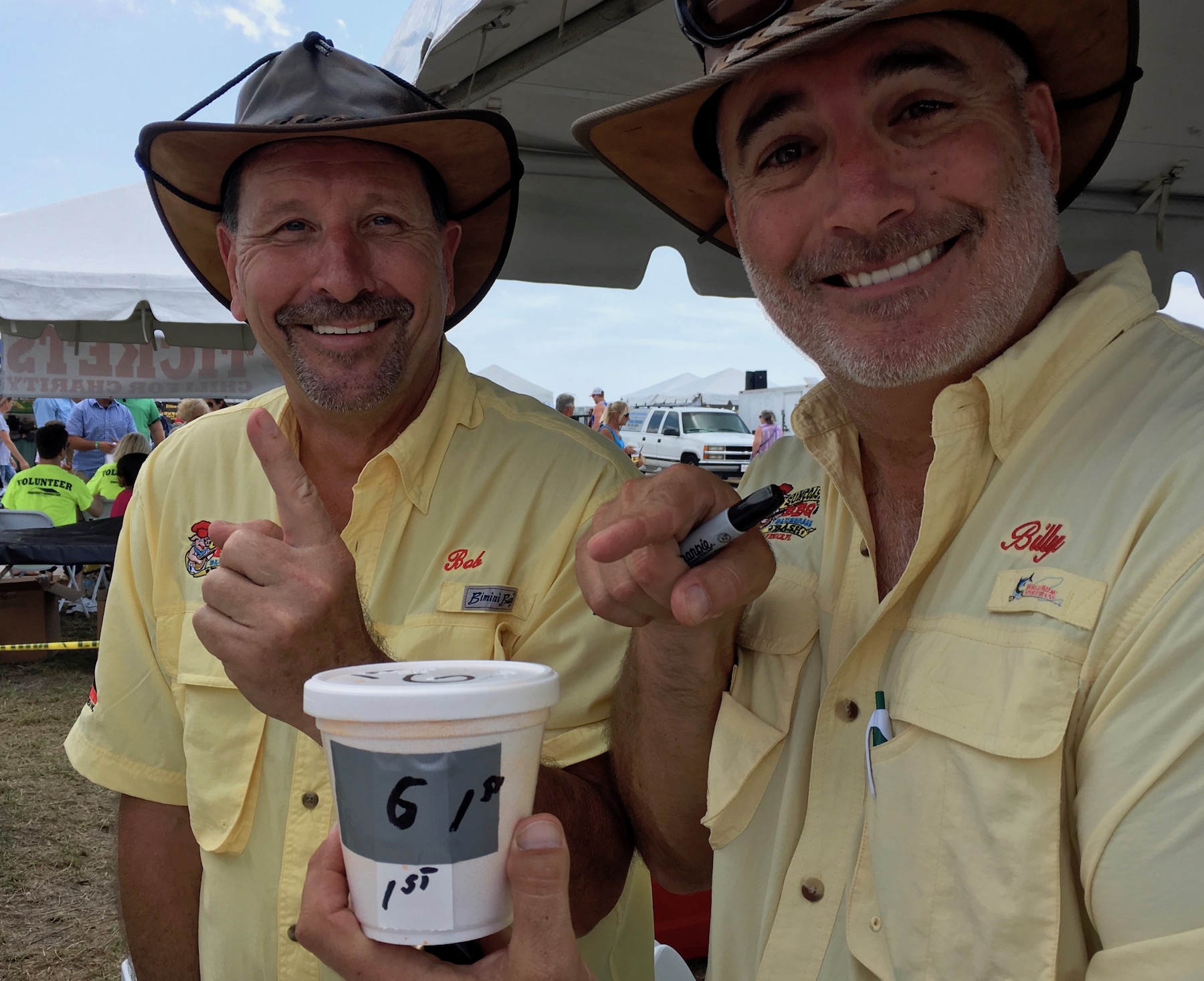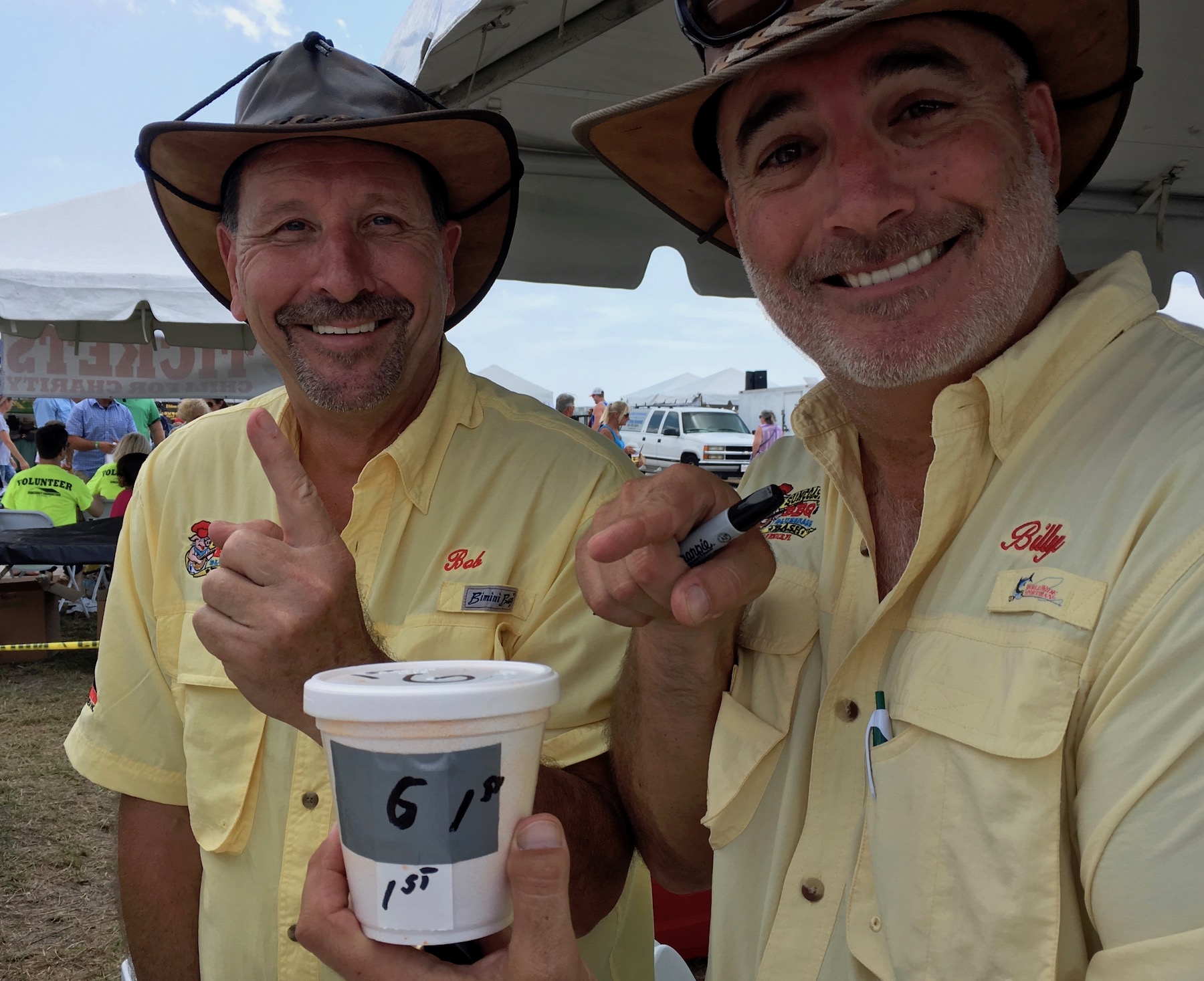 In the end, when judging was complete, I decided it would be some time before I ate another bite of chili. . .But what a fun day for a good cause!  If you've never been to this event, be sure to go next year — it's lots of fun for adults and kids, with tons of tasty food and great entertainment.  You'll even see fun stuff like this corn hole competition: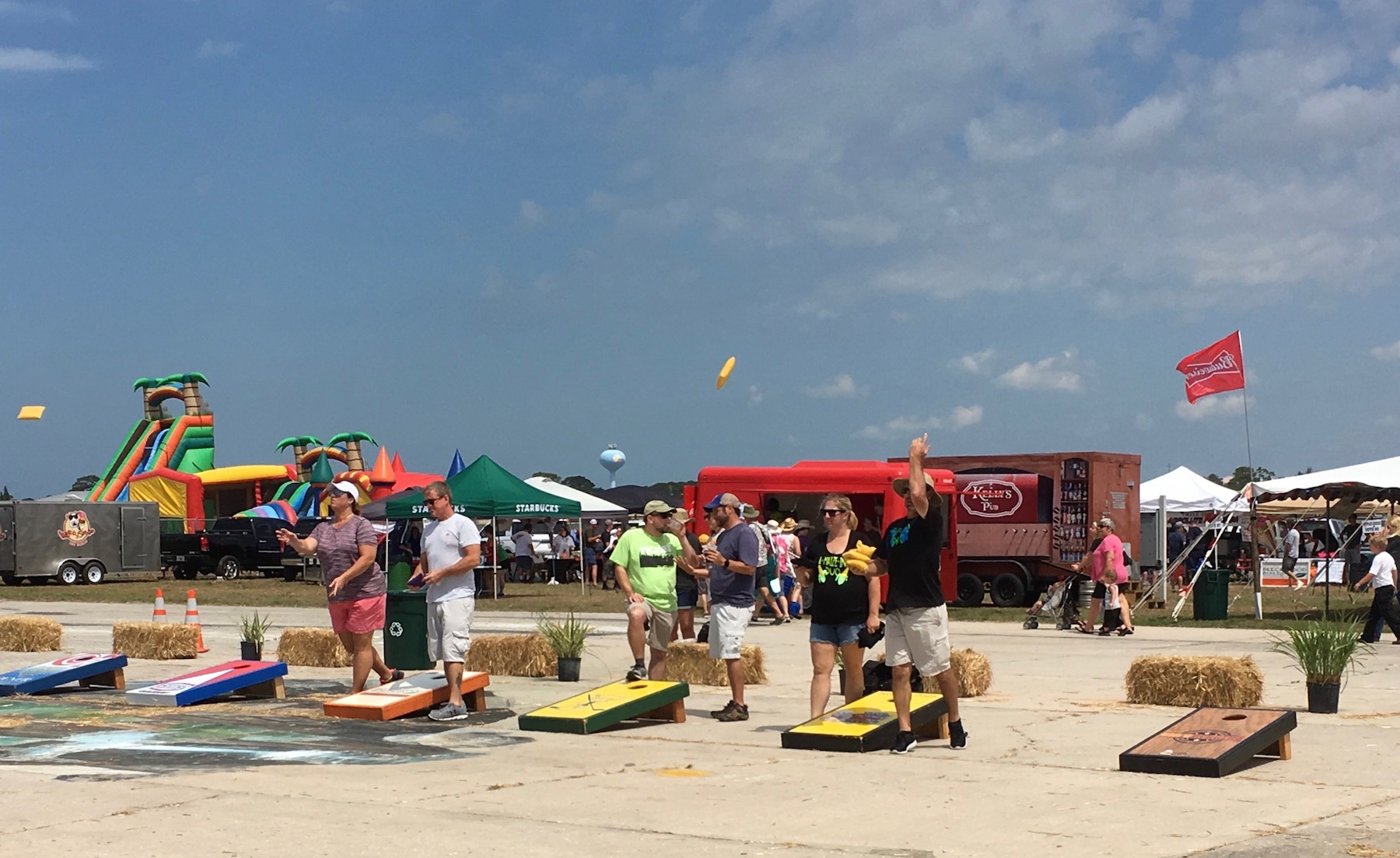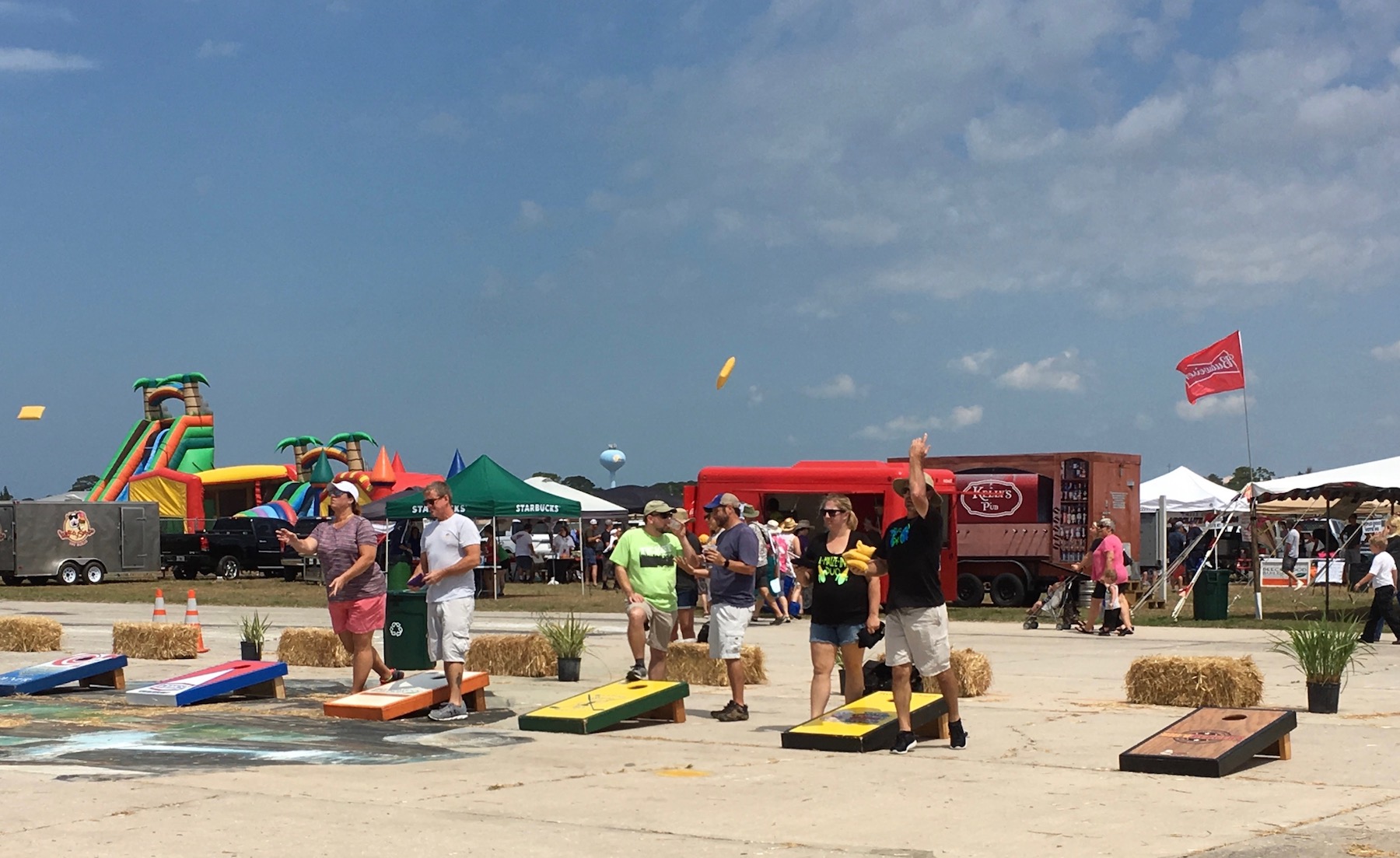 Many versions of pig statues and vintage farm equipment: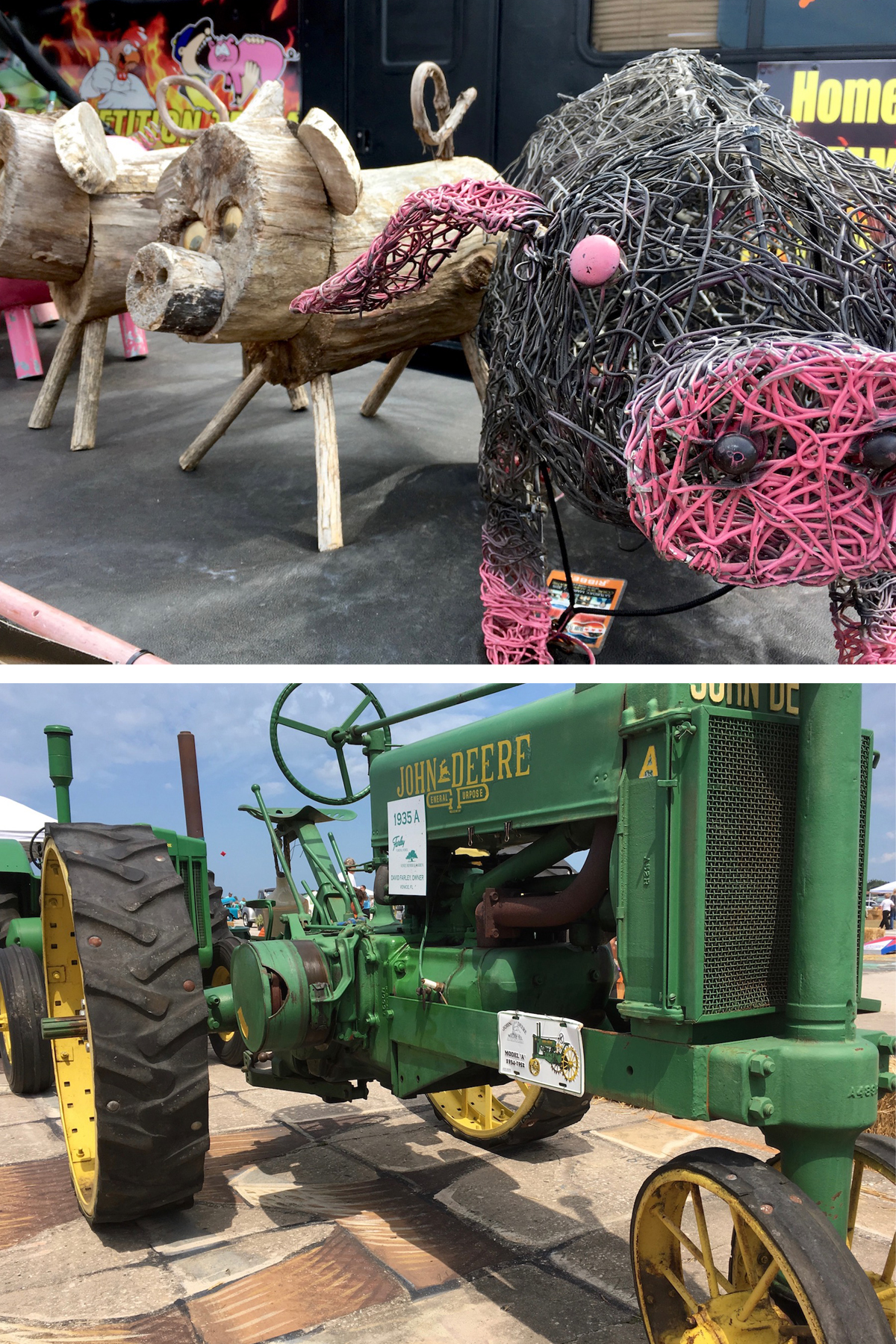 Tons of trophies, proudly displayed at each competitor's station: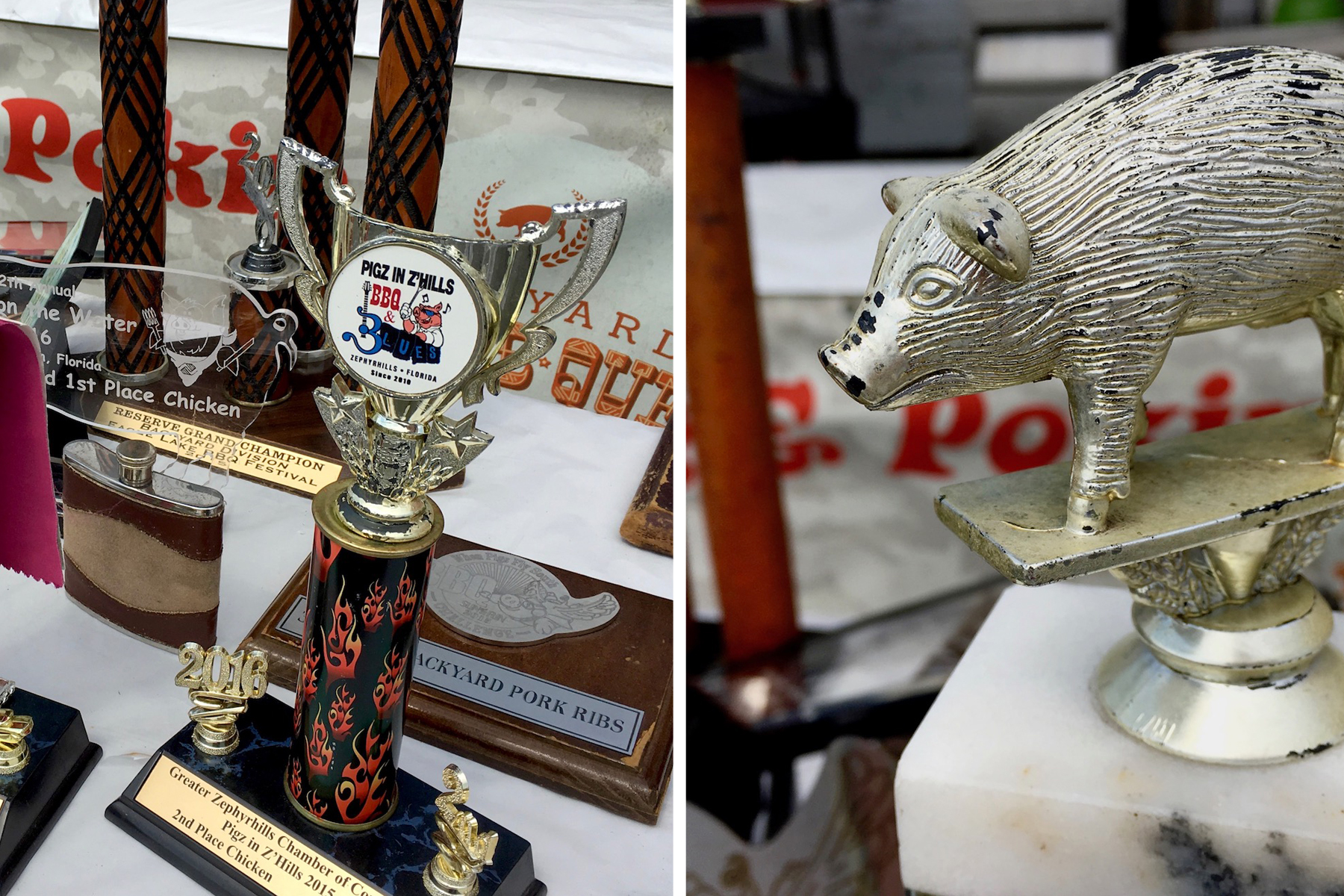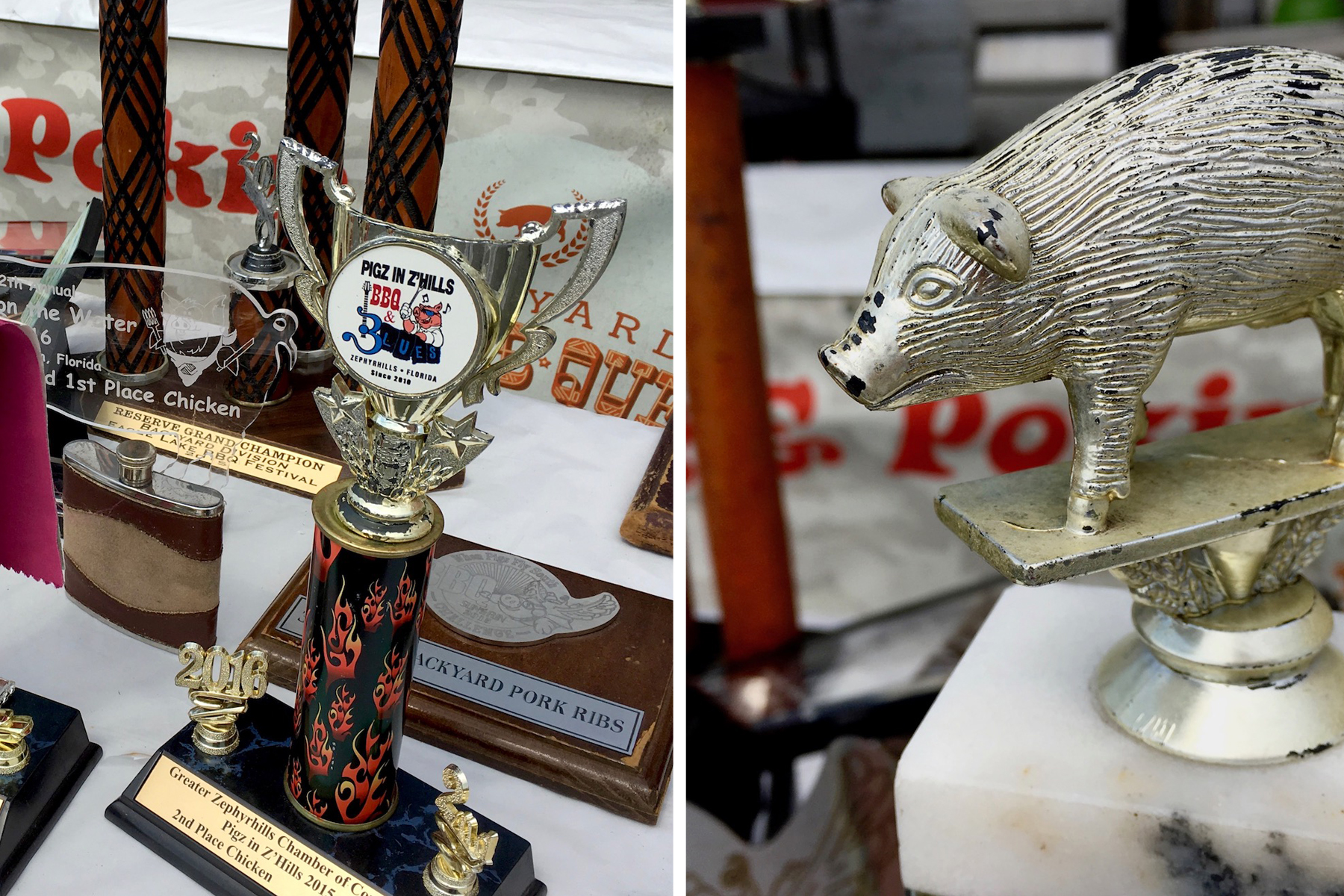 And this guy, hard at work on the grill in his trailer: