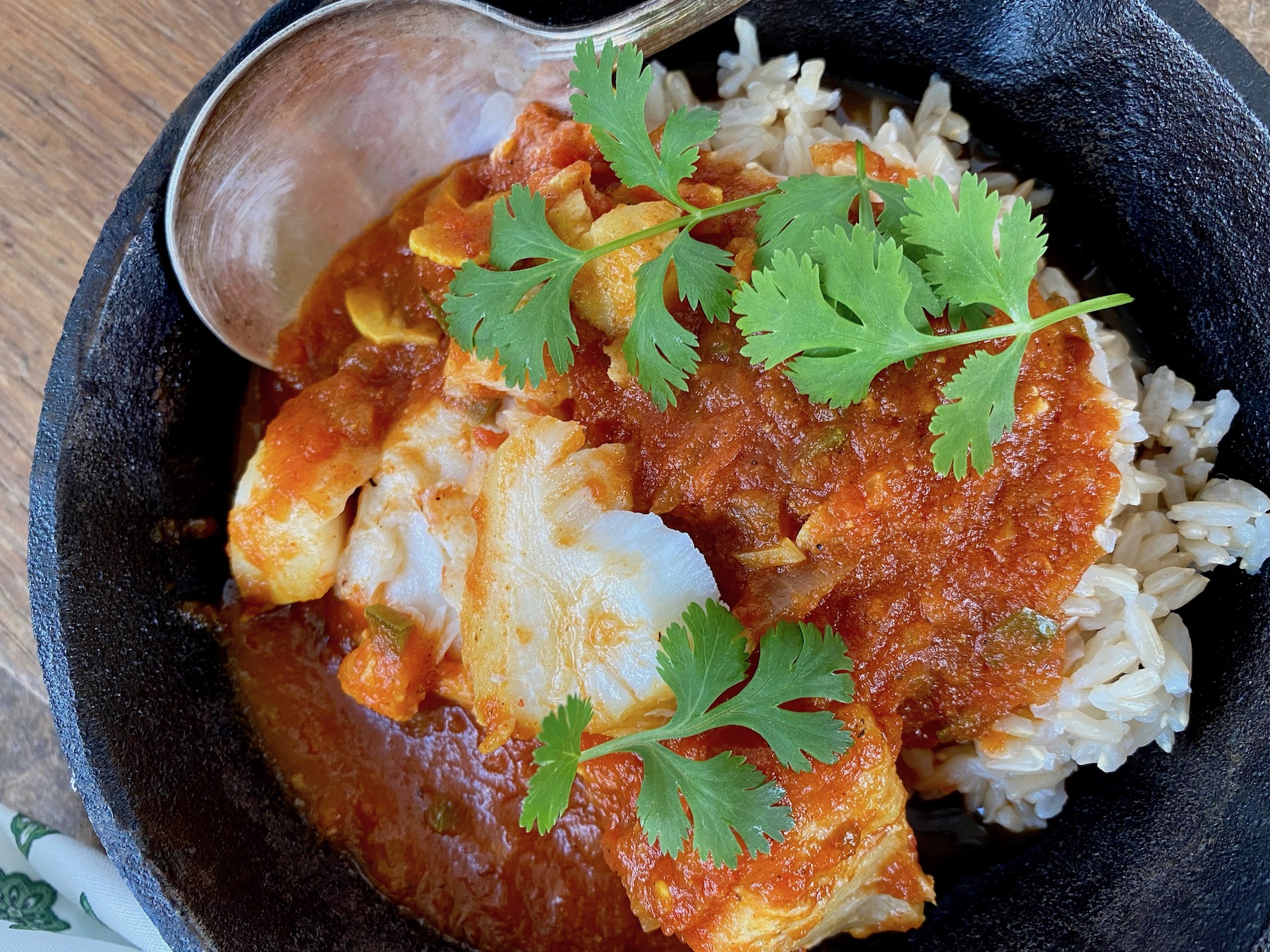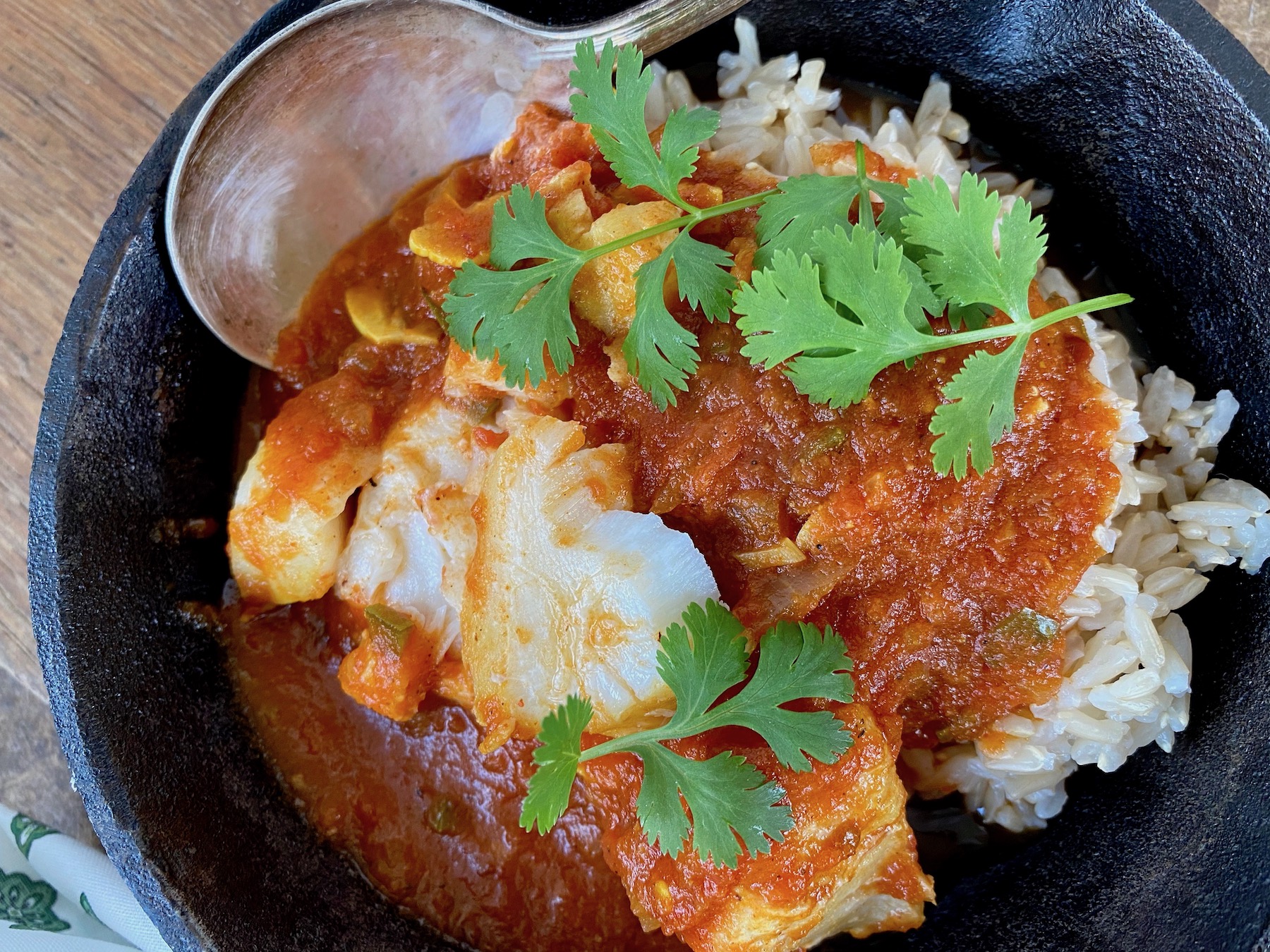 This week I've been feeling mixed up, out of sorts, and a little depressed.
Maybe it's this August-like hot, humid air that has permeated south Florida.  Maybe it's the state of our world, or the cloud of uncertainty under which we're living.  Maybe it's because I'm in desperate need of a hair appointment and there's no hope of that on the horizon.  Or maybe it's because I've been cooped up with my husband for four weeks in a tiny house and, as much as I love him, it's just not natural to spend 24 hours a day with one person!
So when he asked me the other day (during breakfast) what I was planning to make for dinner, I almost lost it.
When I regained my faculties I realized that I actually was looking forward to making dinner.  What else did I have to do?  Unfortunately, with all these emotions I'm walking around with, I had a hard time getting started.  But I knew it had to be something easy, and with ingredients on hand, because I wasn't going to the store.
That's when I remembered shakshuka – a style of cooking that originated in North Africa, and one that's hugely popular in the Middle East.  Folks like it because it's easy, versatile, inexpensive, comforting, quick to prepare, and it cooks in one pan.
You make a batch of tomato sauce (typically, spicy), with or without fresh greens (great for added nutrition).  Into the sauce you nestle a protein (typically, eggs, but sometimes chicken or fish) and poach/slow simmer on the stovetop or in the oven.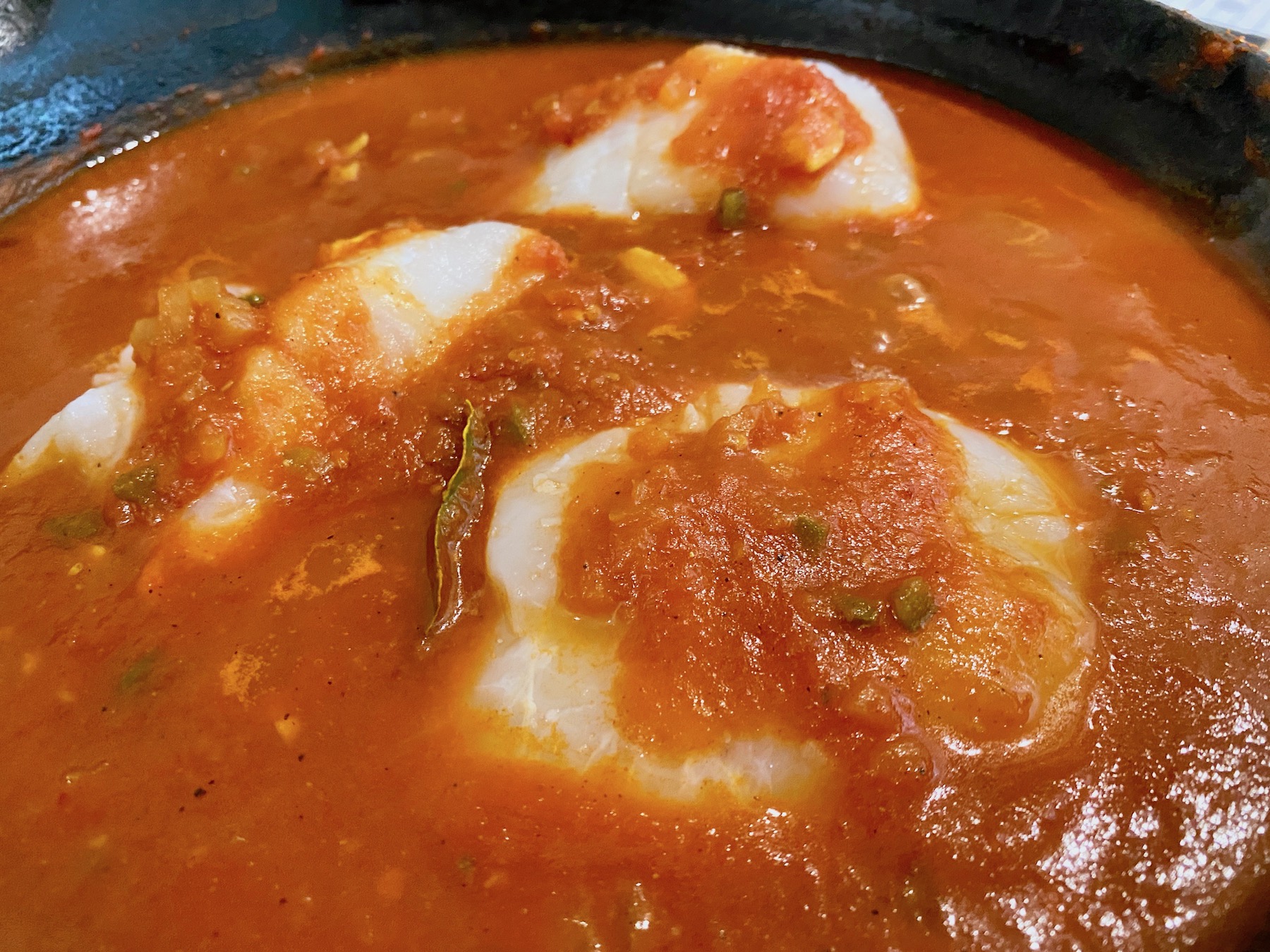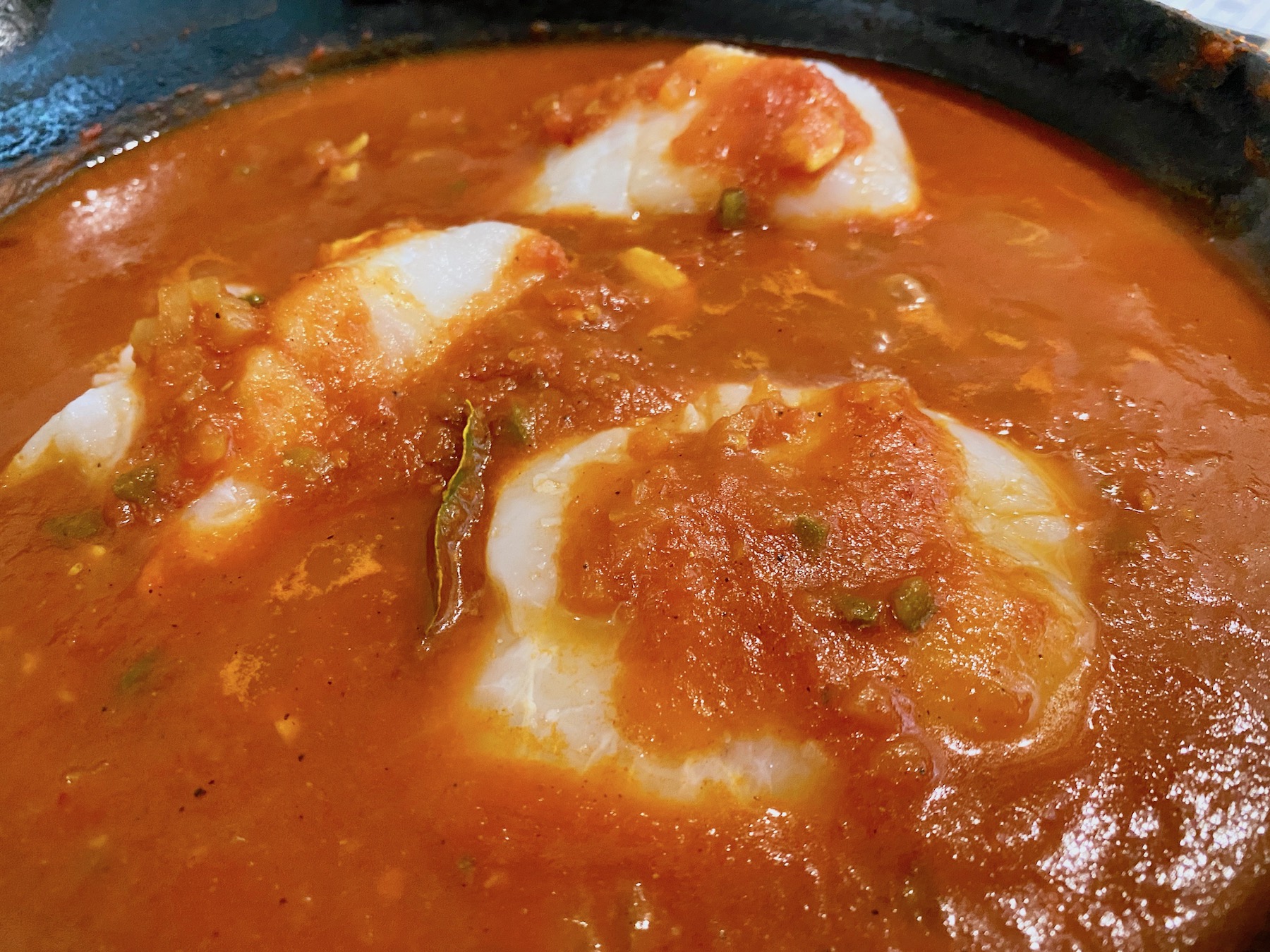 Once done (after about 30 minutes), you can even bring the whole skillet to the table, topped with your favorite cheese and fresh herbs, along with crusty bread, pasta, or rice to soak up the sauce.  It's a delicious, quick and easy meal.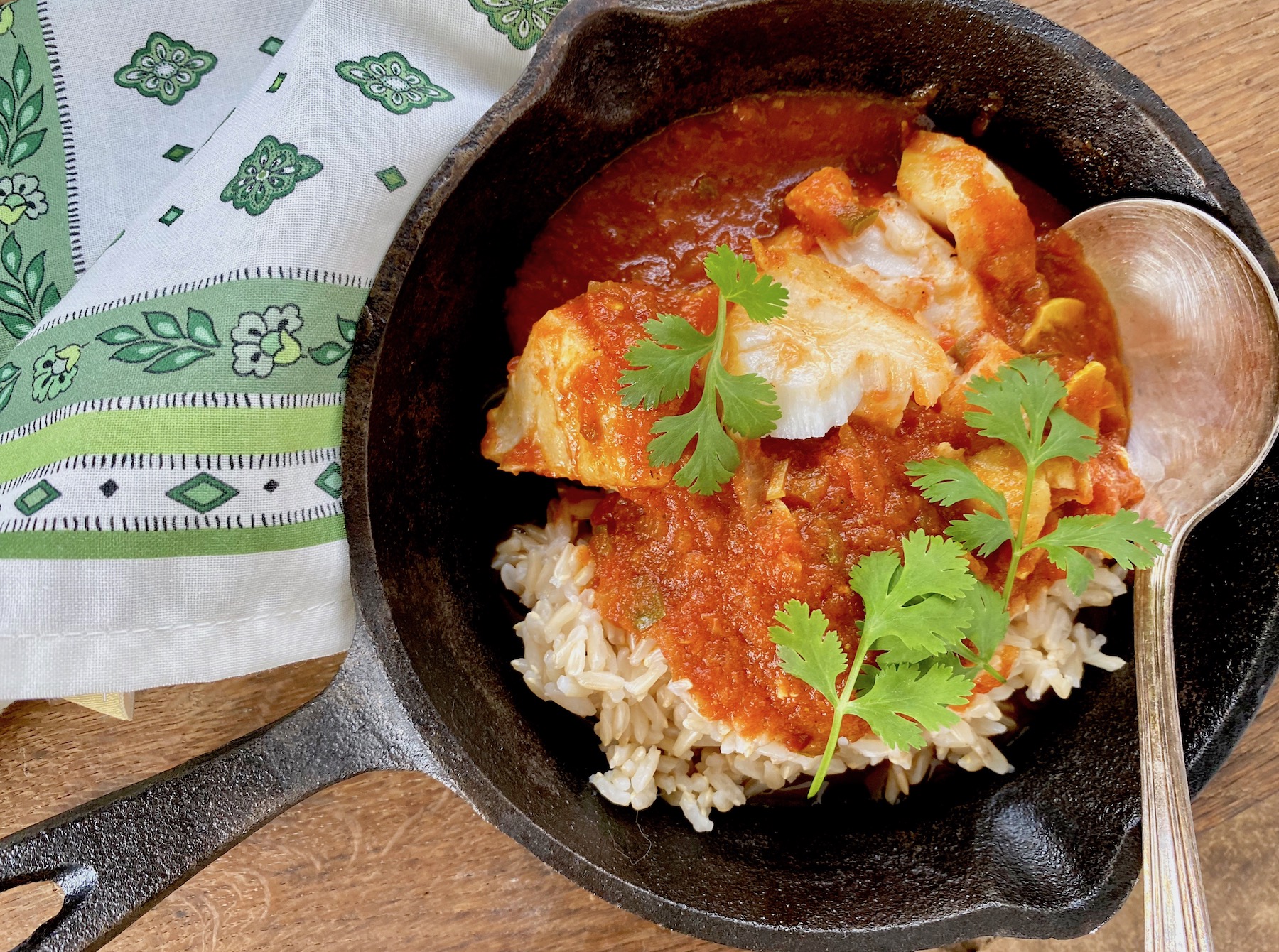 Shakshuka actually means 'all mixed up,' so I decided it was a fitting dish for how I feel this week.
As for next week, maybe I'll be able to make something that means 'everything's normal' 🙂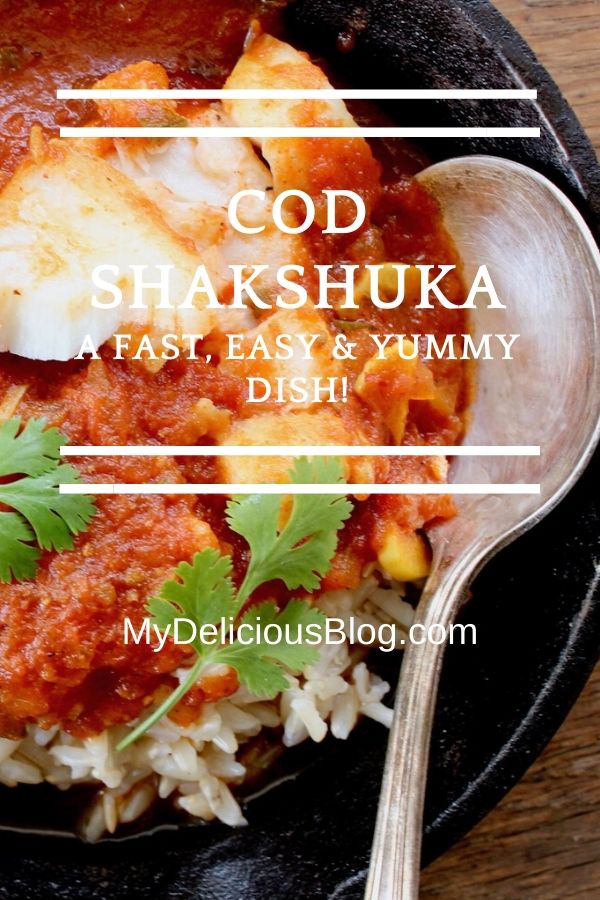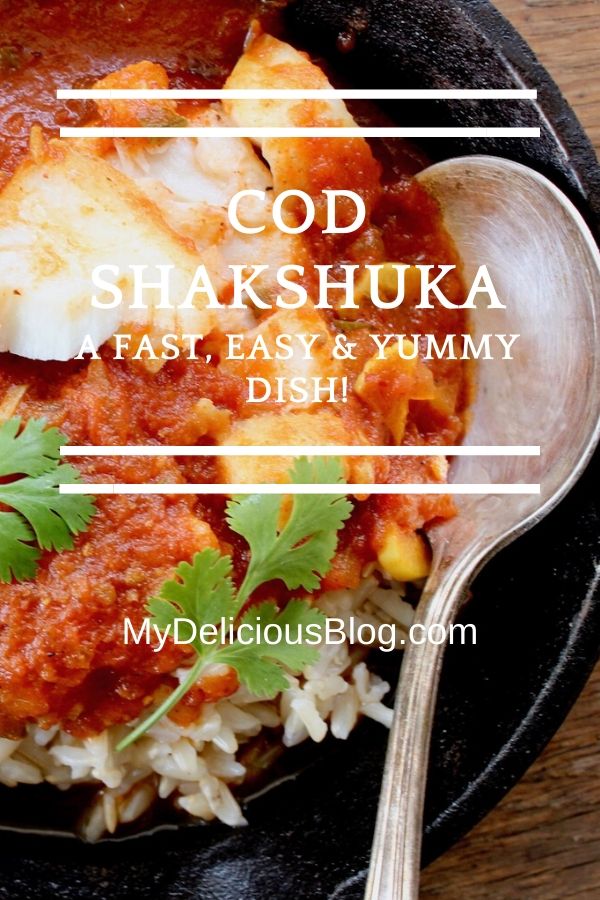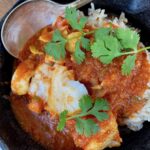 Print Recipe
Shakshuka-Style Cod
Cod, slow simmered in a spicy tomato sauce, is the perfect dish for a quick and easy meal when you don't have a lot of time or energy!
Ingredients
4

Tb.

Olive oil

1

Medium onion, peeled & chopped

1

Medium red or green pepper, seeded & chopped

1

Medium jalapeno, seeded & minced

3-4

cloves

Garlic, peeled, thinly sliced or minced

1

tsp.

Ground cumin

1/2

tsp.

Ground turmeric

1/2

tsp.

Paprika

1

Bay leaf

1/4

tsp.

Red pepper flakes (optional)

Only if you like it extra spicy!

1-2

sprigs

Fresh rosemary or thyme

1

28-oz.

Can whole (or crushed) tomatoes

(if whole, break up by hand or use a mixer to puree)

1/2

c.

Water

1/2

tsp.

Kosher salt

1/4

tsp.

Freshly ground black pepper

1/2 -1

tsp.

Granulated sugar

1

lb.

Fresh cod, cut into 4 portions

Fresh cilantro or parsley, minced
Instructions
In a large skillet over medium/low heat, add olive oil, onion and green pepper. Cook until slightly translucent and soft (2-3 minutes).

Add jalapeno, garlic, cumin, turmeric, paprika, bay leaf and rosemary. Mix to combine and allow the spices to warm up over the heat (about 2 minutes).

Add tomatoes, water, salt, pepper and sugar; stir. Bring to a gentle simmer over medium/ low heat and cook 20-25 minutes. Taste for seasoning, then nestle in the cod pieces, covering them slightly with sauce. Cover the pan and cook over low heat about 10 minutes (just until flaky and no longer translucent).

Serve with rice, pasta or crusty bread. Top with feta (or other preferred cheese), fresh parsley or cilantro.
Notes
This recipe can actually accommodate 2 pounds of fish (for 8 people).  But if you use 1 pound of fish, you'll have plenty of sauce left over for either another dinner of poaching fish, or cooking veggies in, or simply topping fresh pasta.