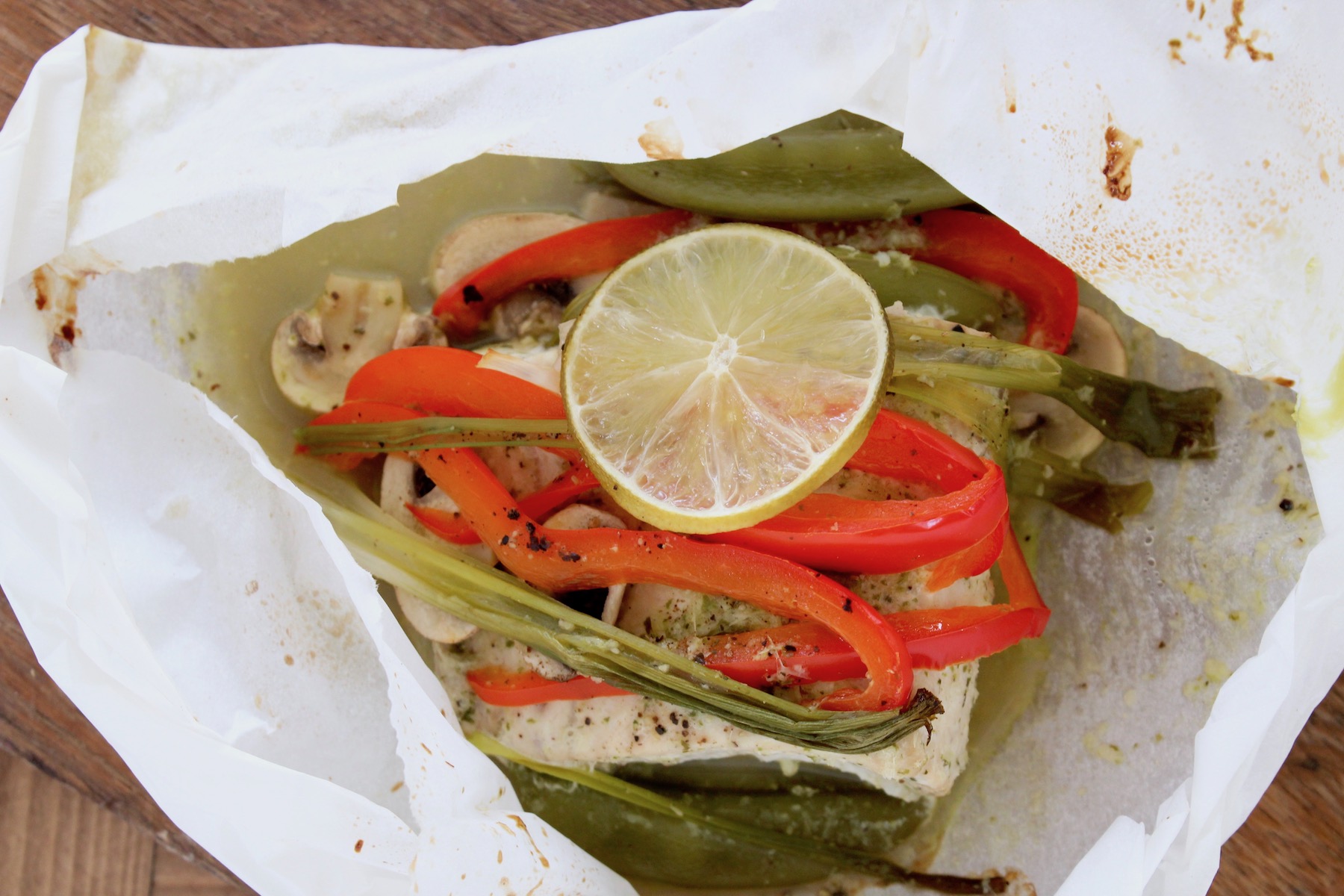 My friends recently fished in the Bahamas and came home with a big Wahoo.  Turns out they thought they had a pesky Barracuda on the line but, after a hard fight, were pleasantly surprised to see it was that Wahoo.  Needless to say, it was a happy day.  And if you're lucky enough to have friends who give you fresh Wahoo, you RUN to your kitchen to make something tasty.
In our house we usually grill it and top it with something flavorful like a compound butter or a tasty fresh salsa. Wahoo's bright white, flaky and hearty flesh is perfect for grilling, but sometimes, if you grill it a bit too long, it can get dry and even tough.  So I decided to honor this fish's awesomeness with a cooking method that's sure to produce tender, flavorful and moist fish every time.
Cooking in parchment pouches (En Papillote is the French term) is a wonderfully easy method because everything inside the pouch steams and gets infused with whatever flavorings you put in there.  It's also an easy clean-up method, which offers bonus points in my book.
See how neat the pouches look on the sheet pan?
This coconut milk marinade is flavored with fresh lemongrass (from my garden!), garlic, ginger, lime and cilantro, and it makes a lovely complement to fish.   It would also be delicious with any other fish, or pork, or chicken, or simply a medley of vegetables.  I tossed in red bell pepper, mushrooms, scallions and snap peas, but you can use zucchini, small/thinly sliced potatoes, bok choi, spinach, or asparagus (whatever will cook in similar scale, i.e., not hard squashes or big chunks of potatoes, etc.).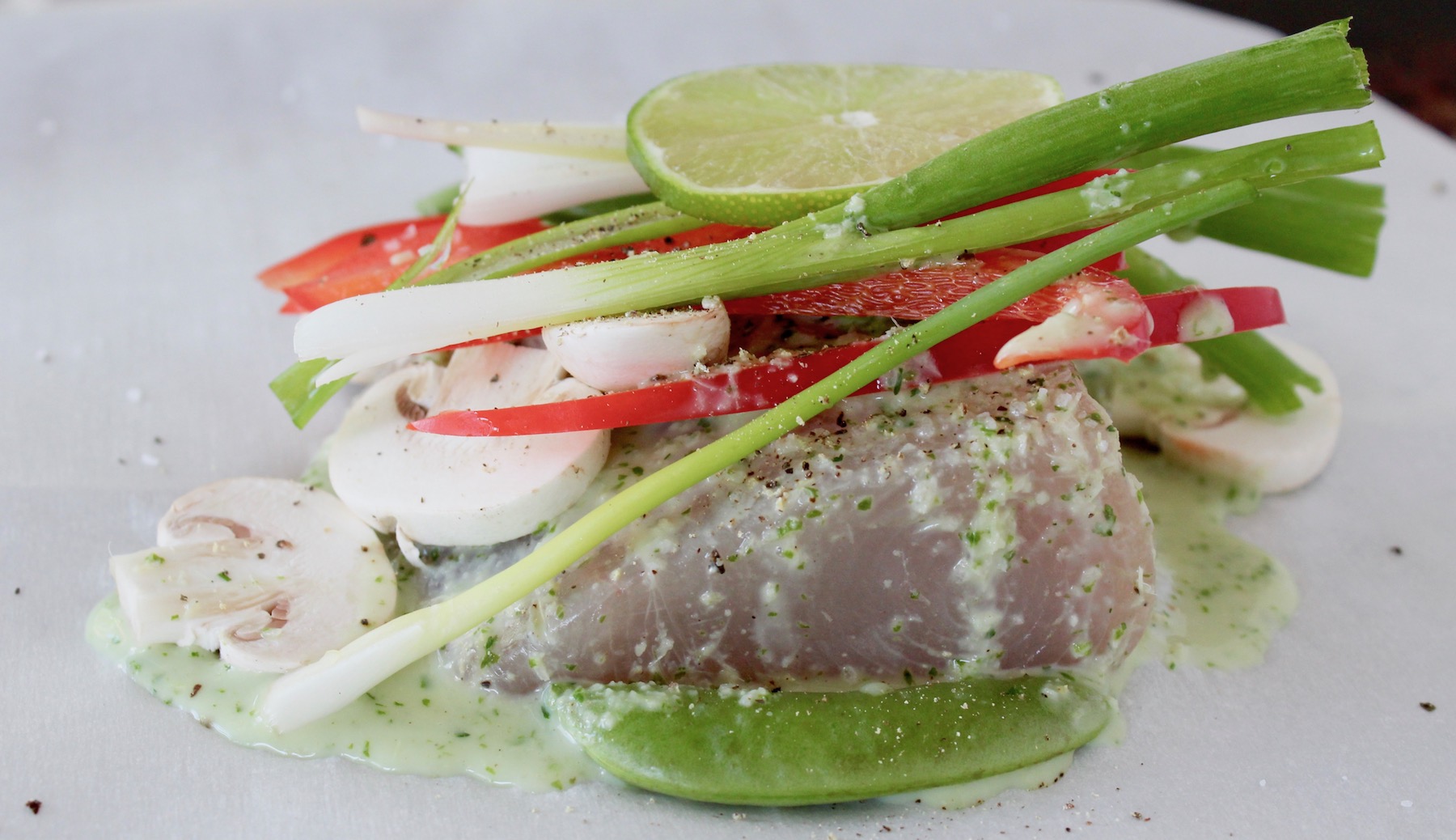 We ate ours right out of the parchment paper after squeezing on a little lime juice, and we paired it with some fluffy jasmine rice.  It was a DELICIOUS meal, and we didn't even have to do the dishes!
Want to try another version of fish cooked in parchment?  Try this
one
.
Fish in Parchment with Thai Flavors
Fish cooked in parchment makes it flavorful and tender.
Author:
My Delicious Blog
Ingredients
Marinade
¾ c. coconut milk (full fat or the 'light' version)
Handful fresh cilantro leaves (about ¾ cup)
Juice of ½ lime
5-6 fresh lemongrass stalks (*See Note)
1 large garlic clove, peeled & roughly chopped
2" slice fresh ginger, peeled and roughly chopped (use more if you love ginger)
½ tsp. kosher salt
¼ tsp. freshly ground black pepper
Fish/Vegetables
4 servings fresh fish (6-7 oz. each), any variety, skin & bones removed
½ red bell pepper, sliced
8 scallions, trimmed
1-2 c. mushrooms, sliced
1-2 c. snap peas
4 thin lime slices
Instructions
Add Marinade ingredients to the bowl of a food processor and blend until smooth (1-2 minutes).
Place fish in a shallow dish and pour the marinade over the pieces; cover and refrigerate about 30 minutes.
Heat oven to 350 degrees.
Cut 4 pieces of parchment paper to approx. 24"X30". Fold each in half, then cut each into a circle. Unfold and place the pieces flat on a rimmed baking sheet.
Place a piece of fish on one side of each circle. Add vegetables (be sure they're similarly sized) to the top and sides of the fish (don't make it too high!), top with a slice of lime and pour some marinade over each bundle. Cover the bundle with the other half of the parchment circle, then start at the fold seam end to make one small fold at a time, pressing the folds down firmly each time to create a seal all around.
Bake 20-25 minutes; remove from oven and allow to rest for a couple of minutes, then carefully open each pouch to allow steam to exit.
Serve in the parchment, or carefully transfer the contents to a plate.
Notes
1. *Lemongrass: Slice off the stem end and remove a couple of tough outer layers. When you get to the tender inside stalk, smash it with a knife, chop it into large pieces, then place in the food processor. If you can't find fresh or frozen lemongrass (at your local Asian market) you can sometimes find it at the supermarket in the fresh herb section.
2. If you only make 2 servings, simply make half the marinade OR, make the full batch and either 1) reserve some for another use (with fish, chicken, pork or vegetables) or 2) put the remaining marinade in a small saucepan, bring it to a boil for a couple of minutes, then add it to cooked basmati or jasmine rice as a side dish.
3. If you want the marinade to be a little more spicy, add in fresh jalapeno or red chile pepper.