Gremolata might sound like a fancy word but it's really just a mixture of a few ingredients and it brightens up just about anything it's paired with, especially braised meats which tend to be heavy (eg. you usually see it served with osso buco). Traditional gremolata is a mixture of minced parsley, lemon rind and garlic. It's a really yummy combo, but sometimes I like to replace the parsley with mint since it also complements fish nicely.
I've tried making this in a food processor, but I find the metal blades bruise the delicate mint leaves too much and the whole mixture browns too quickly. Ideally, the best way to prepare it is on a cutting board with a sharp knife — mincing and mixing until you get a fine consistency. It doesn't take long and it's delicious when you're done. You can get creative by adding or substituting orange zest, shallot, horseradish or maybe some toasted pine nuts or a cheese — whatever you like.
I had some frozen Flounder on hand (yeah!) and decided it would be a good day to make some gremolata. Flounder is delicate, white, flaky and oh, so delicious. If you're lucky enough to hook one yourself, you're a happy fishing gal. But even if you can't catch one, you can usually find some all prepped at your local fish market. If you haven't seen one up close, here's a pic of my friend Sloane, who snagged a nice Flounder during our recent inshore trip near Sanibel.
My favorite story about Flounder was when Brendan and I were dating and he took me fishing. At the time, I didn't have much fishing experience, except for some fresh water stuff I had done as a kid in southern Massachusetts. I cast my line, but it dropped quickly to the bottom (probably because I wasn't paying attention, or maybe snacking on something) and I snagged the bottom. As I reeled my line back, lo and behold, there was a fish on the line and Brendan screamed "It's a Flounder!" and I replied, "Well, that's just a fluke because I didn't think I had anything!" He looked at me funny. Why, you ask? Because, as I learned that day, a Flounder can also be called a Fluke! It was a funny choice of words for someone who didn't know much about fish at the time. This was not only a surprise fish, but also a keeper size, so our dinner that night was made with one of the most tasty fish around. I recall stuffing it with shrimp and crabmeat, and I remember it being really delicious 🙂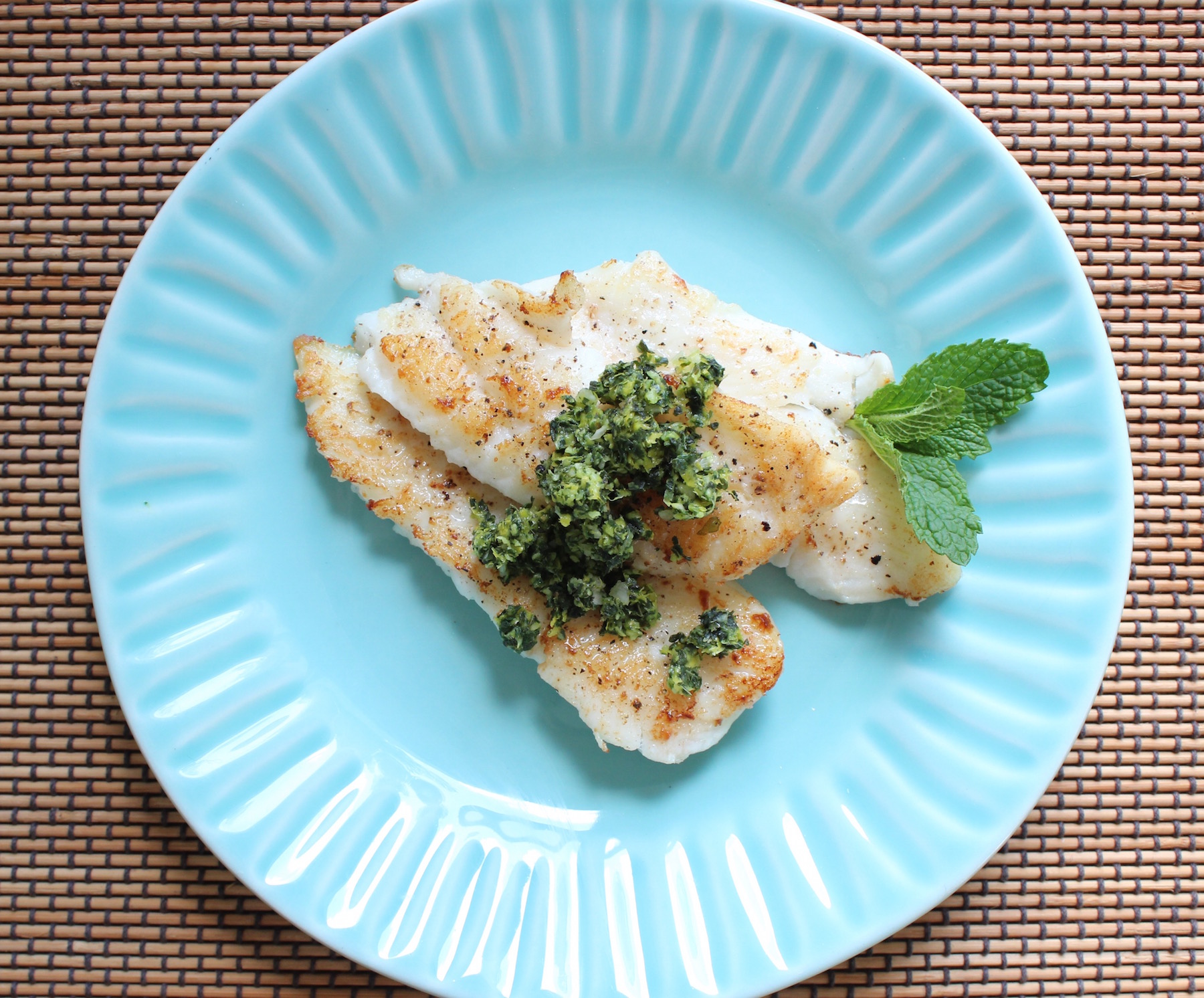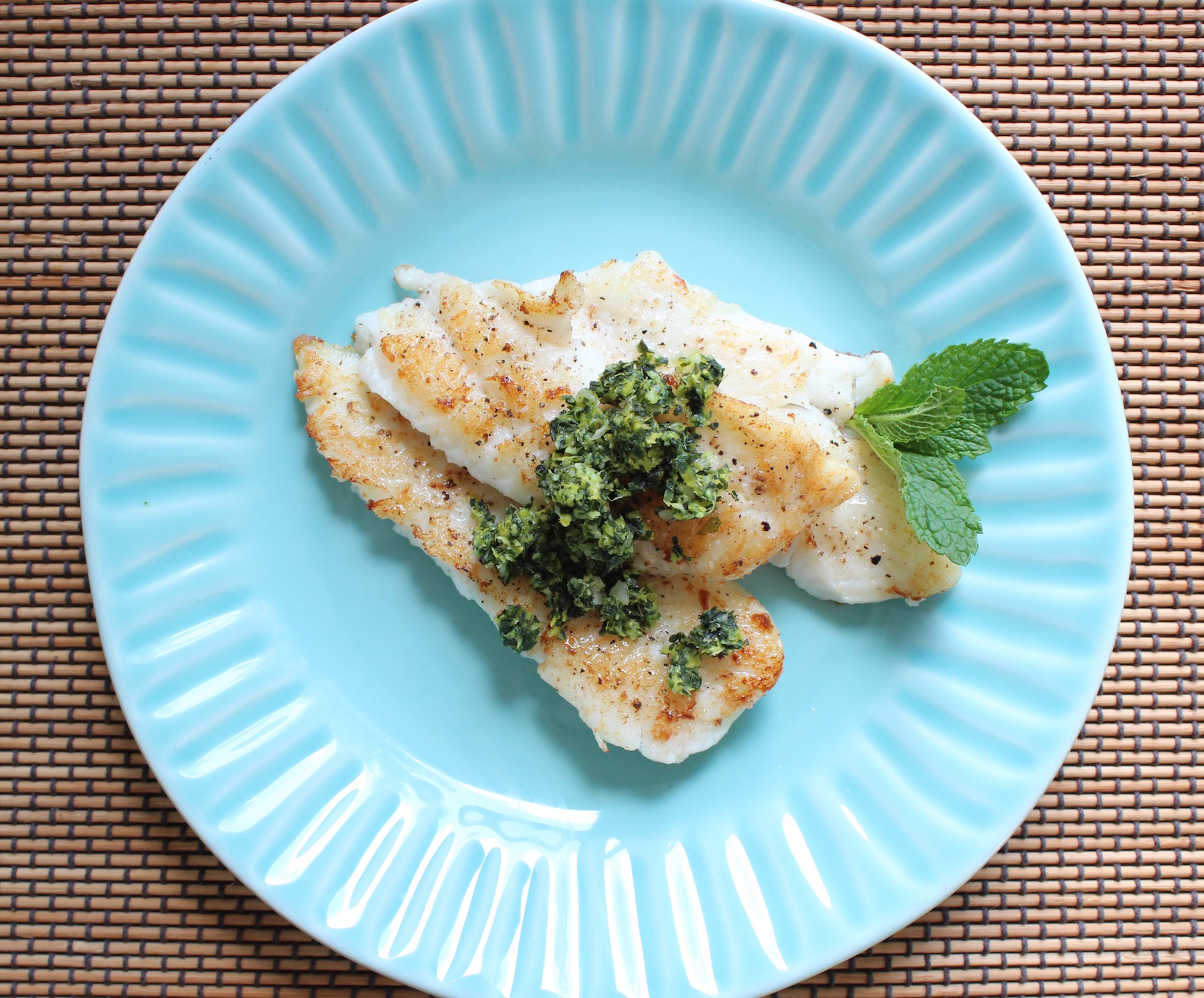 Flounder with Mint-Lemon Gremolata
Flounder or any flaky fish work nicely with this zippy gremolata.
Author:
My Delicious Blog
Ingredients
Gremolata:
2 small garlic cloves
2 Tb. fresh, chopped mint (about a handful of leaves)
1 Tb. lemon rind (about half a lemon)
Dash kosher salt
Fish:
2-3 small Flounder fillets (or any white, flaky fish)
Dash kosher salt
Dash freshly ground black pepper
1 Tb. unsalted butter
Fresh lemon (for serving)
Instructions
Using a vegetable peeler, cut a few strips of the lemon peel/rind. Slice it into thin strips.
On a large cutting board, sprinkle some salt on top of the garlic and start mincing it with the knife. Add the mint and lemon rind and continue mincing until everything has a fine texture. Store in an airtight dish in the refrigerator until ready to use (it will keep for a few days).
Heat a non-stick skillet to medium/high, then toss in the butter.
Lightly sprinkle both sides of the fish with salt & pepper and place into the hot pan.
Sear the first side about 2 minutes, until edges are brown and crispy. Flip and cook other side 1-2 more minutes.
Remove from pan and top with a half teaspoon of the gremolata (a lot goes a long way!), sprinkle with fresh lemon juice and serve.