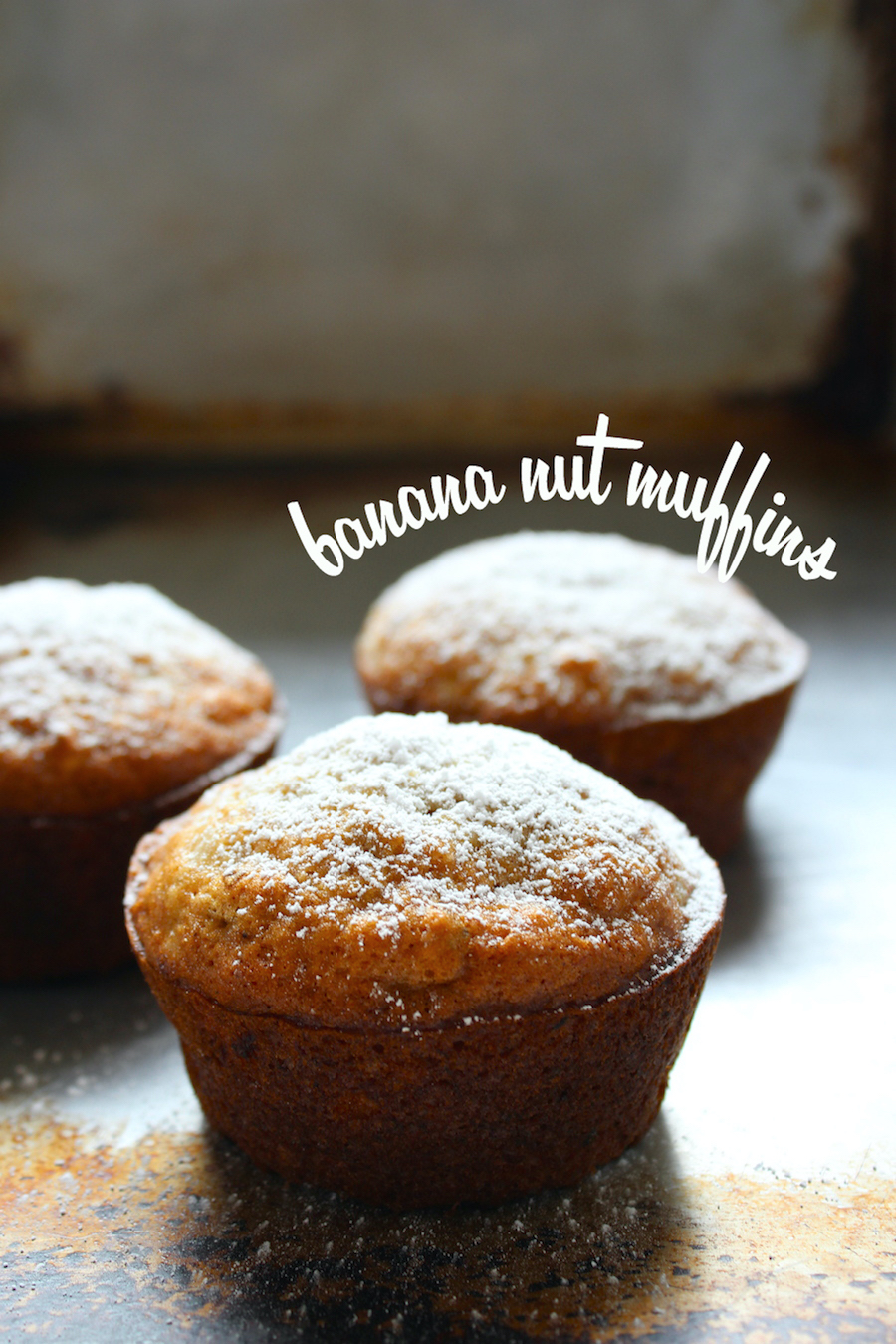 I'm blessed to have banana trees in my backyard that produce the most delectable little "apple bananas".  They're not only cute, they're sweet and delicious and taste like traditional banana, mixed with apple (and sometimes pear).  They're simply delightful.
Recently, two huge bunches ripened at the same time — we counted 80 bananas!  After snacking on many and giving some to friends and neighbors, we still had a good two dozen that were really ripe, so I decided to make muffins.  Doesn't the house smell delicious and homey when banana bread is in the oven?  My hubby patiently awaited these little babies and was rewarded with a treat topped with a dab of salted butter.  Oooh, so good!
This recipe is slightly adapted from Flour Bakery in Boston — a must stop if you're visiting Bean Town.   The key to this recipe is to beat the eggs and sugar for some time (about 10 minutes), until you get a ribbony, glossy, pale yellow consistency, then you add the oil to create a silky base before adding the dry ingredients.  Patience pays off!
P.S. I would NEVER take these yummy muffins out on the boat, since fishermen have an age-old superstition about bananas being bad luck.  Gosh, hubby won't even have one for breakfast if he's planning to fish that day!

Banana Nut Muffins
Warm banana bread never ceases to please.
Author:
Adapted from Boston's Flour Bakery recipe
Recipe type:
Breads and Muffins
Cuisine:
Breads and Muffins
Ingredients
1⅔ c. all-purpose flour
1 tsp. baking soda
¼ tsp. cinnamon
½ tsp. kosher salt
¾ c. sugar (the original recipe calls for 1 c. + 2 Tb.)
2 eggs
¼ c. vegetable oil + ¼ applesauce (the original recipe calls for ½. c. oil)
6 small, ripe bananas, mashed (the original recipe called for 3 large bananas)
2 Tb. sour cream (the original recipe calls for sour cream OR creme fraiche)
1 tsp. vanilla
⅓ c. walnuts, toasted & chopped
Instructions
Preheat oven to 350 degrees.
Spray muffin pans with non-stick spray (I used my 6-muffin pan, but you can use a 12-muffin pan).
Sift flour, baking soda, cinnamon and salt.
In a stand mixer, mix sugar and eggs until fluffy and very light yellow (about 10 minutes). This is the key to this recipe
Very slowly, drizzle in the oil and keep mixing another few minutes.
Add bananas, applesauce (if using), sour cream, vanilla.
Fold in dry ingredients and nuts.
Pour into the prepared muffin tray.
Bake about 45 minutes to 1 hour (until toothpick inserted in center comes out clean).