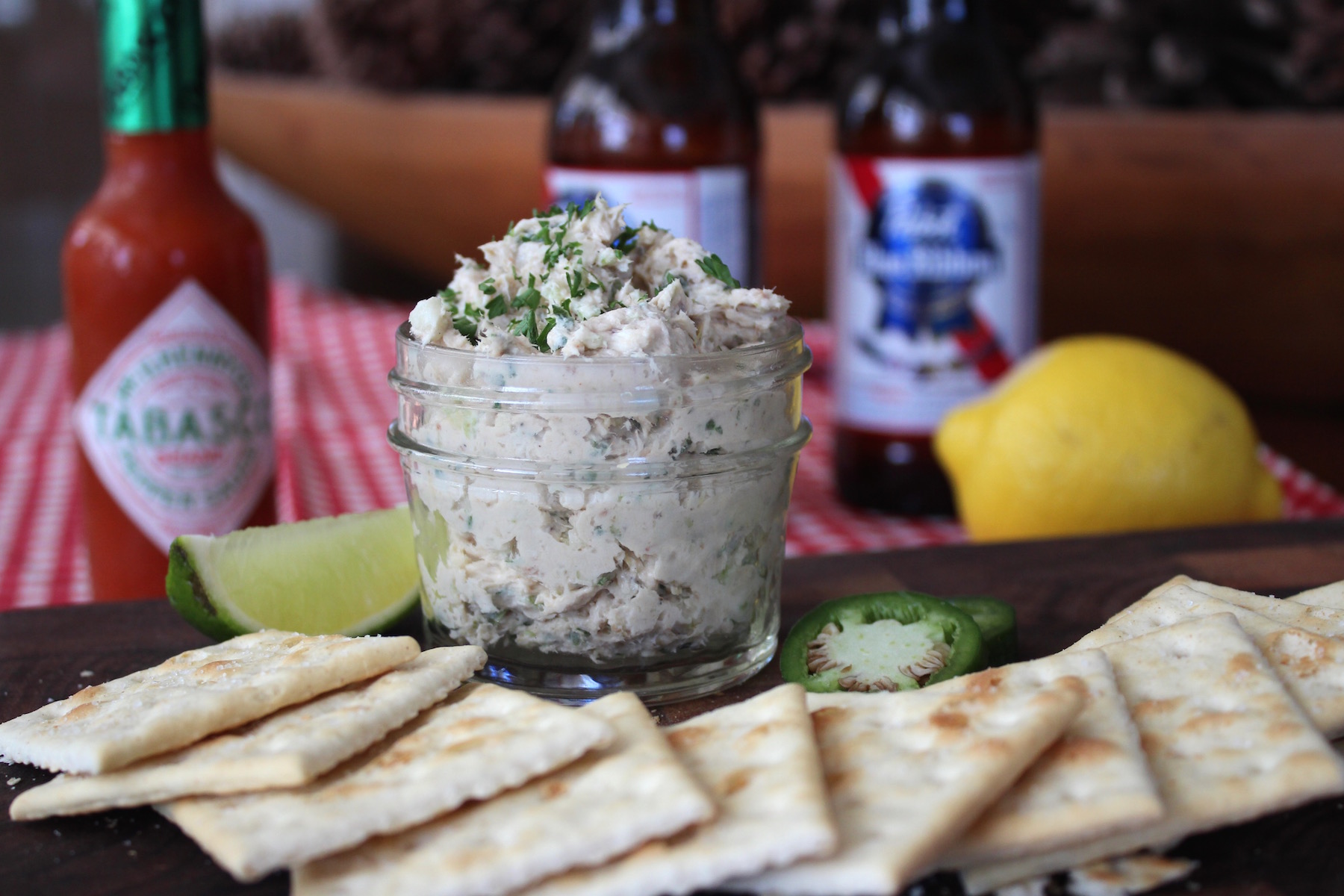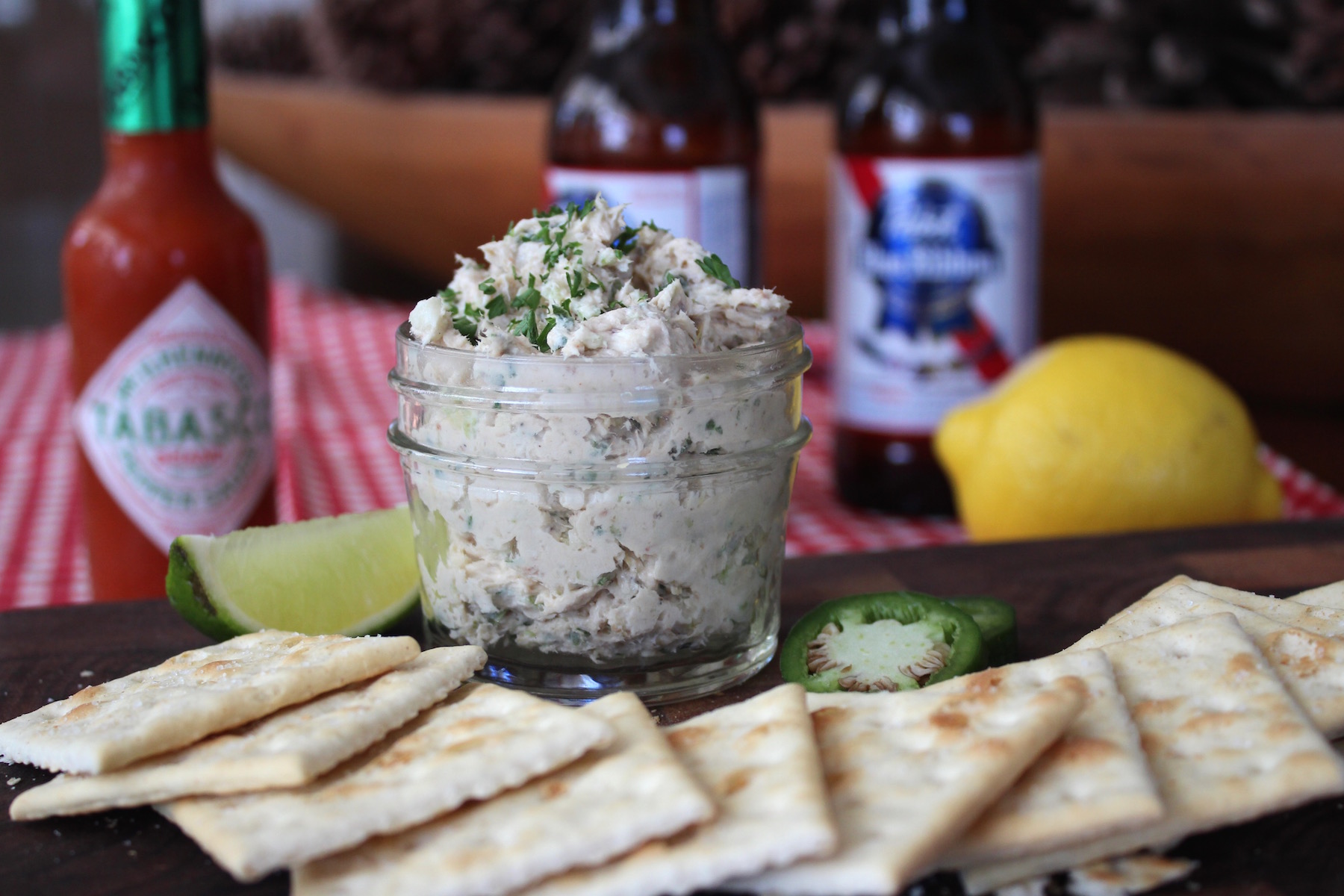 I recently hosted a workshop called "The Amazing Mullet" at Historic Spanish Point in Osprey, Florida.  The organization is all about preserving and celebrating Florida's past, and this was part of a learning series called the Frances Newton Culinary Institute, highlighting dishes using seasonal fish and produce.
We discussed Mullet's impact on Florida's Gulf coast dating back to the 1700s, and I prepared this Smoked Mullet Spread – a tasty dish, especially when the fish has been caught locally and smoked by friends at the Sandbar Restaurant on Anna Maria Island.  Ed Chiles heads the Chiles family of restaurants, and he's passionate about Mullet due to its culinary versatility, its health offerings, its local ties, and its sustainability as a species, so it was a perfect partnership.  And it's not every day you get to see a Mullet up close (unless you're a fisherman), but that's just what folks got to do in the workshop, with these two fat Mullet on ice, shared by friends at Walt's Fish & Seafood Market/Restaurant in Sarasota.
What a fun day, celebrating all-things-Mullet!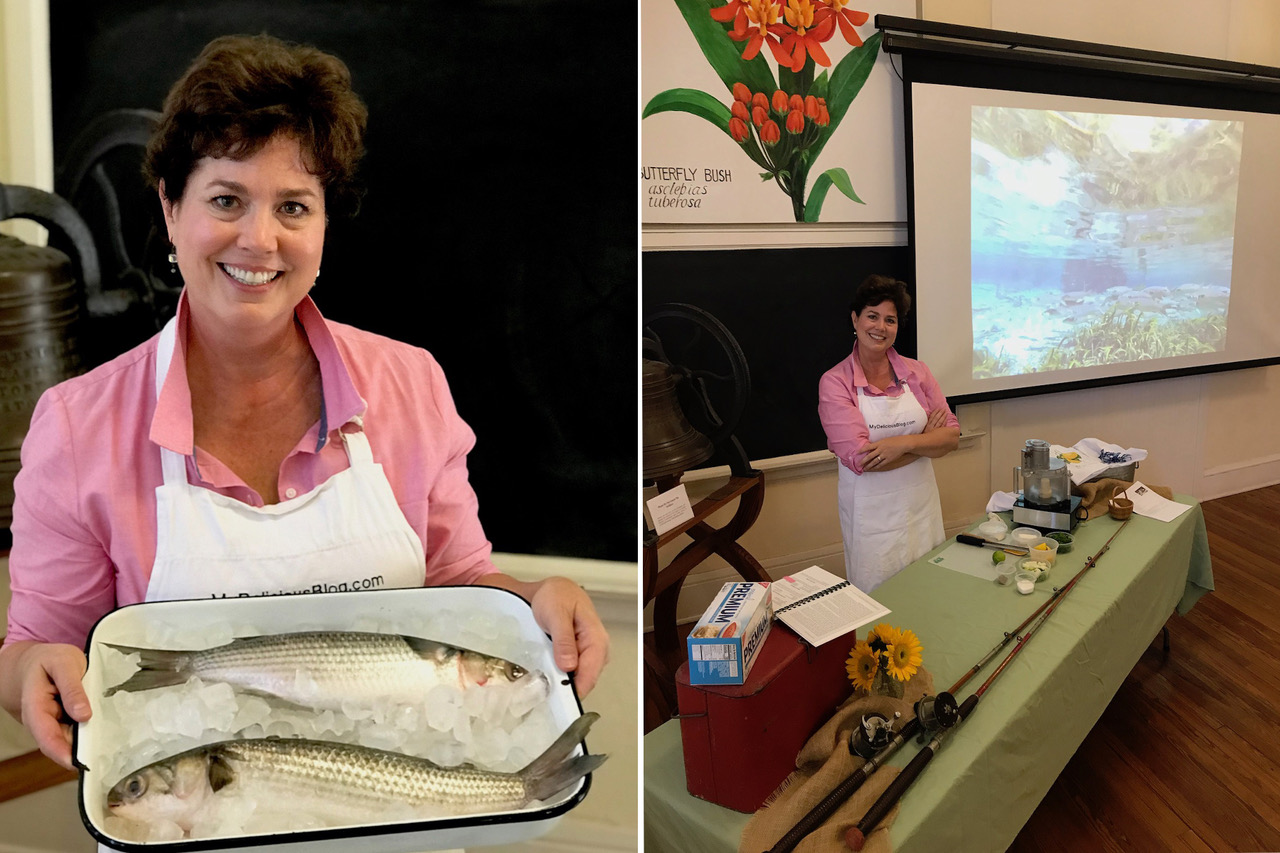 To learn more, here's the original post:
______
Gotta love a Mullet. . .the fish, not the hairdo!
If you've ever tried to catch one, you know that nabbing one with hook and line is nearly impossible, because they're so darned fast.  In the last ten years, I myself have caught only one and even that was a lucky break because I snagged it from an enormous school at the surface (pretty much like fishing in a barrel).  Fishermen primarily use cast nets to capture Mullet, and you see a lot of this action during the big spawning run in Florida, early November through January, when dozens of small boats along the shoreline jockey for position to cast nets over schools of fish. It's fun to watch, kind of like bumper boats.
As for eating Mullet, if you ask a native Floridian, you'll be told that the best way to enjoy it is smoked. My first experience was when Brendan brought home a foil package of smoked Mullet from a local fisherman. I had no idea what to do with it, but he knew what to make: smoked Mullet spread. New territory for me, but I researched recipes to learn how experienced "spread makers" did it, tried many combinations and arrived at this recipe, which has just enough zing not to mask the wonderful smoky flavor of the fish, not too much mayo, and nice texture.  A smear is great on a saltine (the ONLY acceptable cracker in our house for fish spread, according to my husband) with a dab of hot sauce.  It's not hard to go through a sleeve of crackers pretty quickly. . .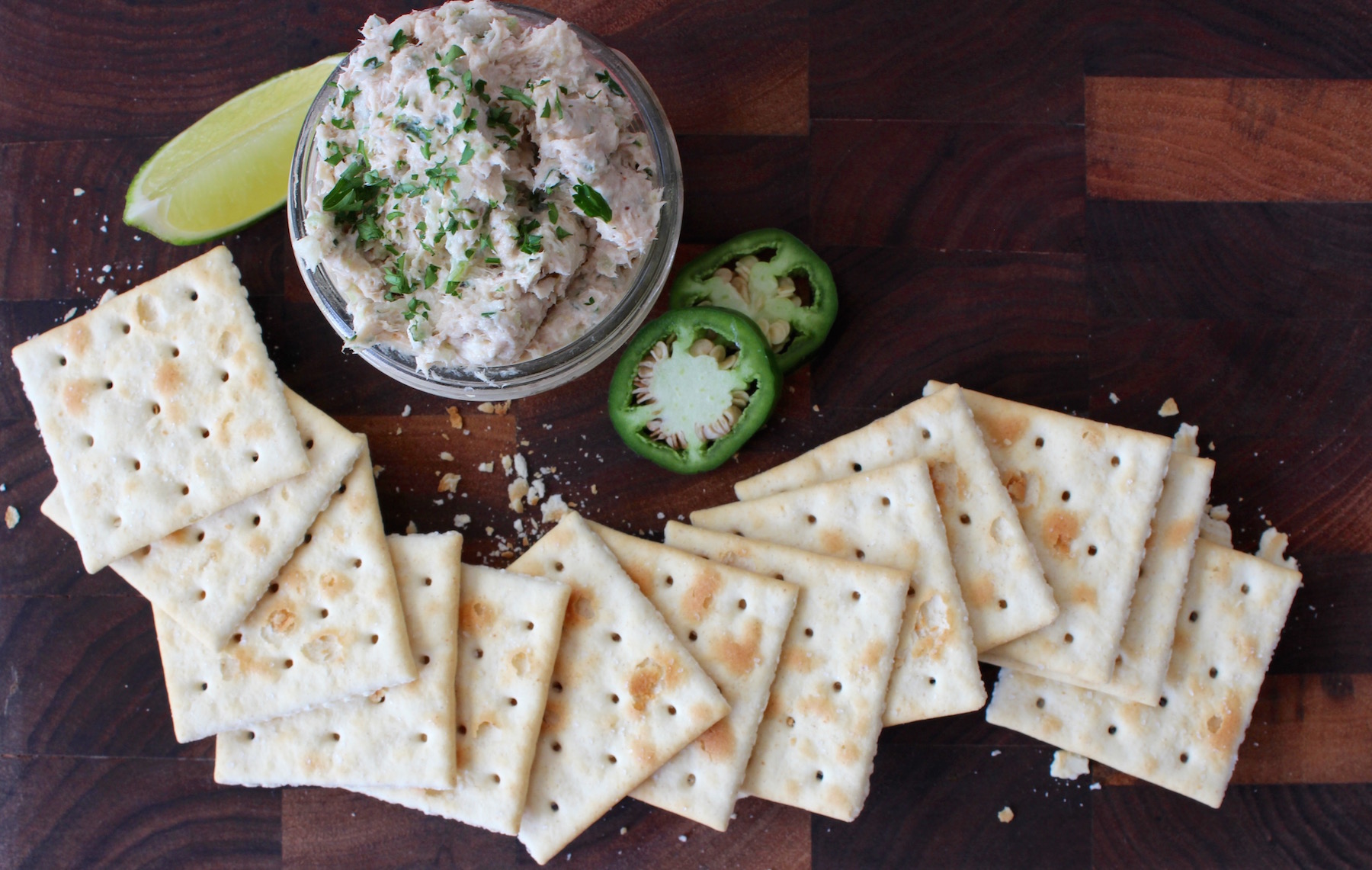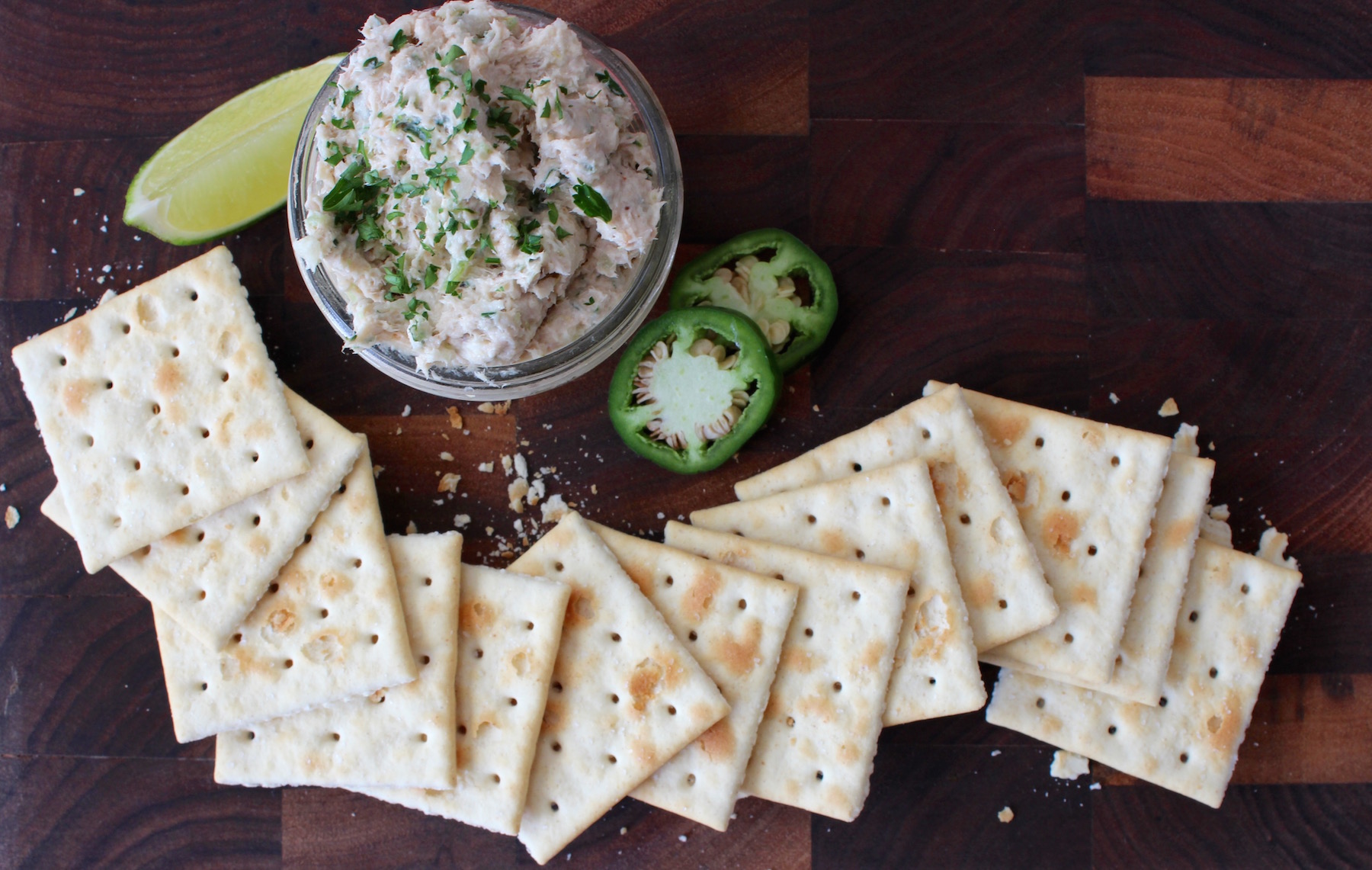 We recently traveled to Ichetuknee Springs, just north of Gainesville, Florida – an amazing 6-mile, crystal clear, cool spring managed by Florida State Parks – and tubing is the best way to enjoy it. We took the full route (about 3 hours) and it was amazing. Mullet jumped all around us, turtles checked us out, lush greenery surrounded us, and ancient cypress trees provided gorgeous canopy.  We took full advantage of the crystal clear water by using our GoPro, capturing this underwater clip of a school of chubby Mullet:
On the drive home, we stopped into High Springs and spotted a sign at the roadside for 'Smoke Mulet' which led us to a small, old-Florida, white house with a huge smoker in the yard. We were greeted by an adorable gal named Courtney who said she caught the Mullet, but her dad smoked it. We happily paid eight bucks for a package of smoked fish, took some pics and were on our way.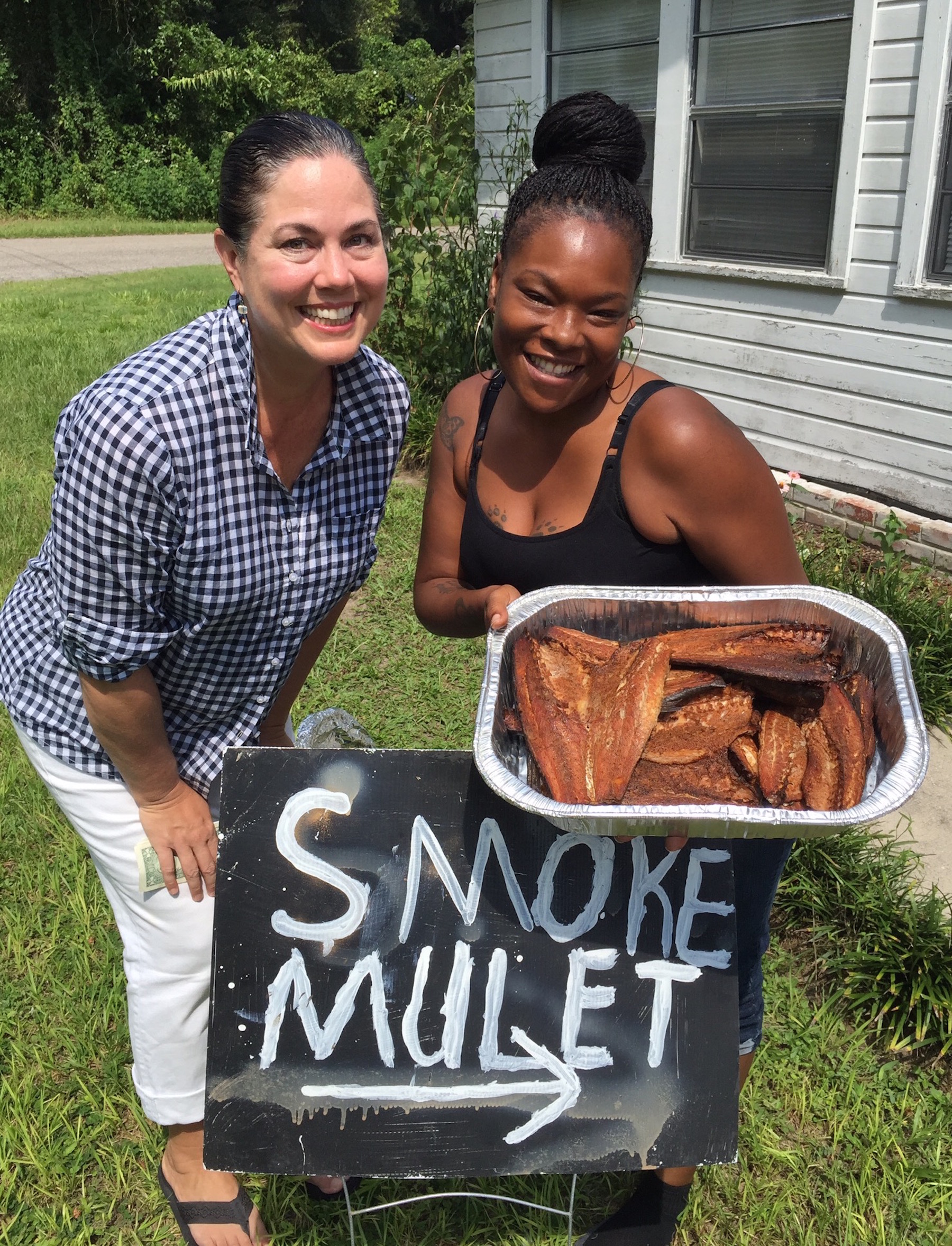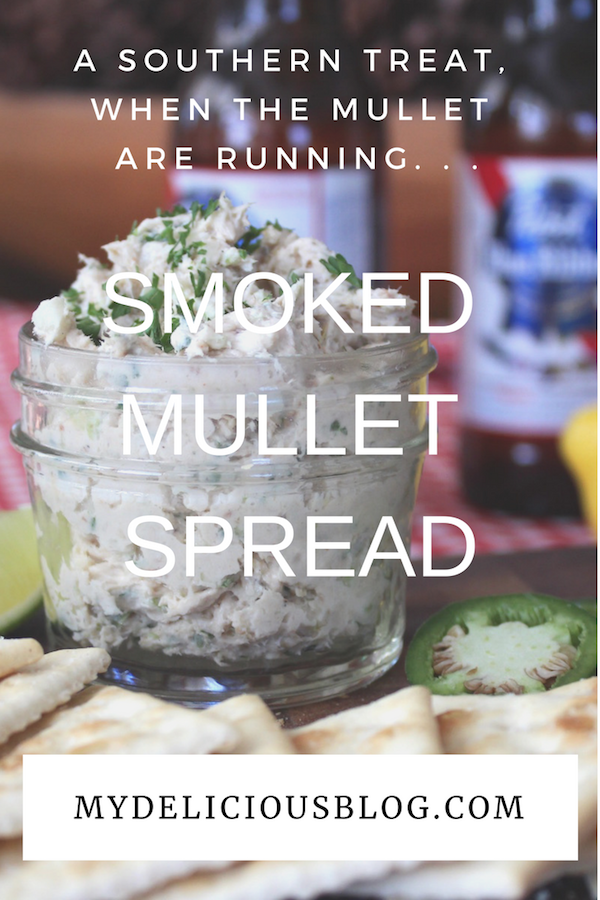 P.S. if you'd like to learn more about the Spring, check out this post on the Authentic Florida site: Ichetuknee Springs.

The Best Smoked Mullet Spread!
Smoked mullet is awesome when combined with tasty ingredients and paired with a good old saltine cracker.
Author:
My Delicious Blog
Ingredients
1 smoked Mullet (mine was just under 1 lb.)
2 oz. cream cheese
1-2 Tb. mayonnaise
1 rib celery, cut in chunks
1 small onion, cut in chunks
½ jalapeno (seeds removed)
1 tsp. lime zest
1 Tb. lemon juice
Handful fresh parsley
Kosher salt & freshly ground pepper to taste
Saltine crackers
Your favorite hot sauce
Instructions
Remove fish from skin and check for bones.
Remove the bloodline, if applicable (this tends to be fishy-tasting).
Place cream cheese, mayonnaise, celery, onion, jalapeño, lime zest, lemon juice and parsley in food processor. Pulse until well-blended and scrape down the bowl to capture everything.
Add fish and pulse 2-3 times, until it looks blended. but try not to create mush - it's nice to have some texture).
Add salt, pepper and a bit more lemon juice to taste.
Refrigerate at least one hour before serving.
Serve with saltine crackers and a dash of hot sauce.