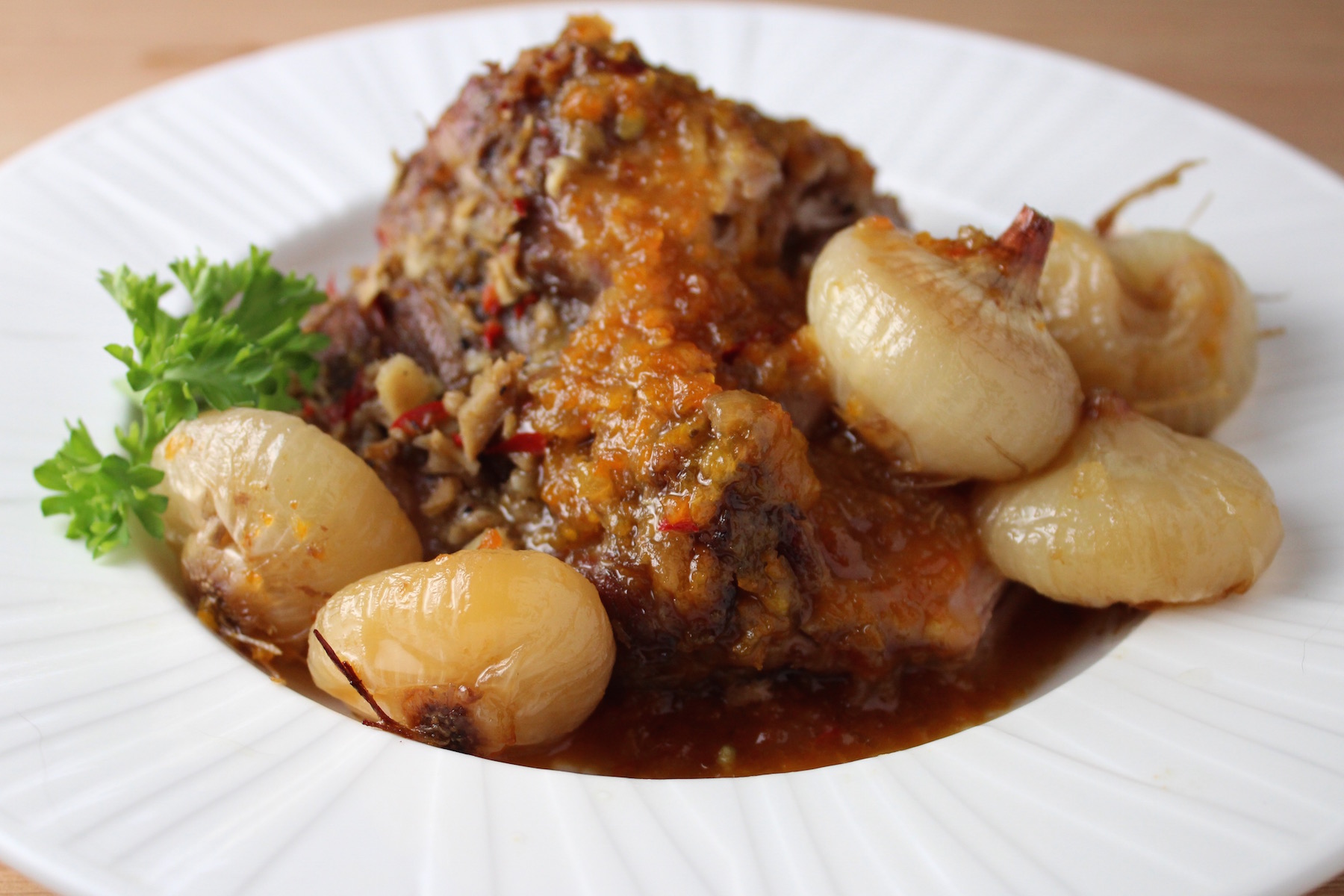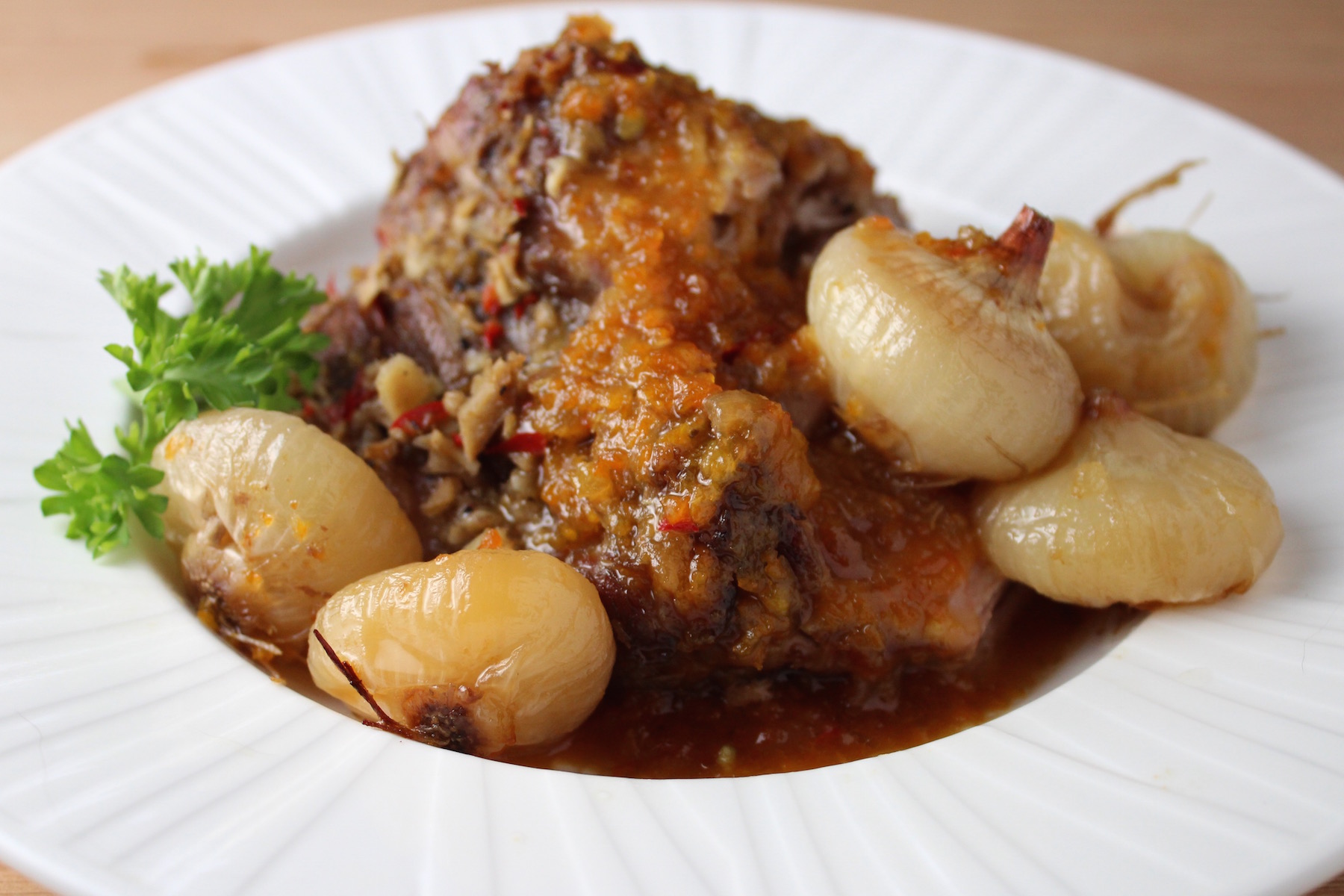 Even though the temps in Florida are far from traditional, Fall-like temps I enjoyed up north this time of year, I still get excited about a new 'season' with all its possibilities for recipes that highlight warmer flavors and traditions. So, get ready for hearty soups, roasts, holiday-inspired desserts and winter vegetables, mixed in with whatever else inspires me!
First up is a slow-cooked pork roast. Truth be told, there are few things I love more than a yummy roast. . .what's not to love about tender, succulent meat that's falling off its bones, paired with a warm, flavorful gravy, roasted potatoes, carrots and onions?  I bet I'm making you hungry now, aren't I?!?
For this dish, I found a beautiful pork shoulder and decided to pair it with something tasty, in addition to my traditional combo with apples. I had some kumquat puree in the freezer (see my post for Kumquat Date Bread re: how to make it) and thought the zingy/citrusy flavor would make a nice addition. I know everyone doesn't just happen to have kumquat puree in their freezers (!) so, if you don't, you could use sliced kumquats (seeds removed), or even orange slices with their peels on. The key is to get as much "orangey" flavor as possible. The kumquats do add a little something extra because their slight tartness cuts a bit of the heaviness of the roasted meat and it even 'brightens' the sauce a bit.
If you haven't tried Cipollini onions (pronounced "chip-o-lee-nee") you absolutely must!  They're wonderful.  They're slightly different from traditional yellow/Spanish onions in that they're smaller, flatter, sweeter and their skin is very thin, almost like paper.  Because of their shape and size, they're great for roasting whole, which really enhances their natural sweetness. I've seen them more regularly at supermarkets lately, but you can usually find them in specialty markets and farmer's markets. You tend to see them more in the Fall and Winter, but I actually found a batch in late summer at my supermarket. The only challenge when working with these little gems is that paper-like skin. I try to get as much of it off with a paring knife or my fingers as possible, and sometimes I even boil them for several seconds to help with the removal process. Most of the time, though, I just give up and simply take off as much as I can, retain the stem, and toss them whole into my pot. When they're cooked, you don't really even notice the skin remnants (but if you do, they're easy to remove).  It's all worth it in the end, because they're so yummy 🙂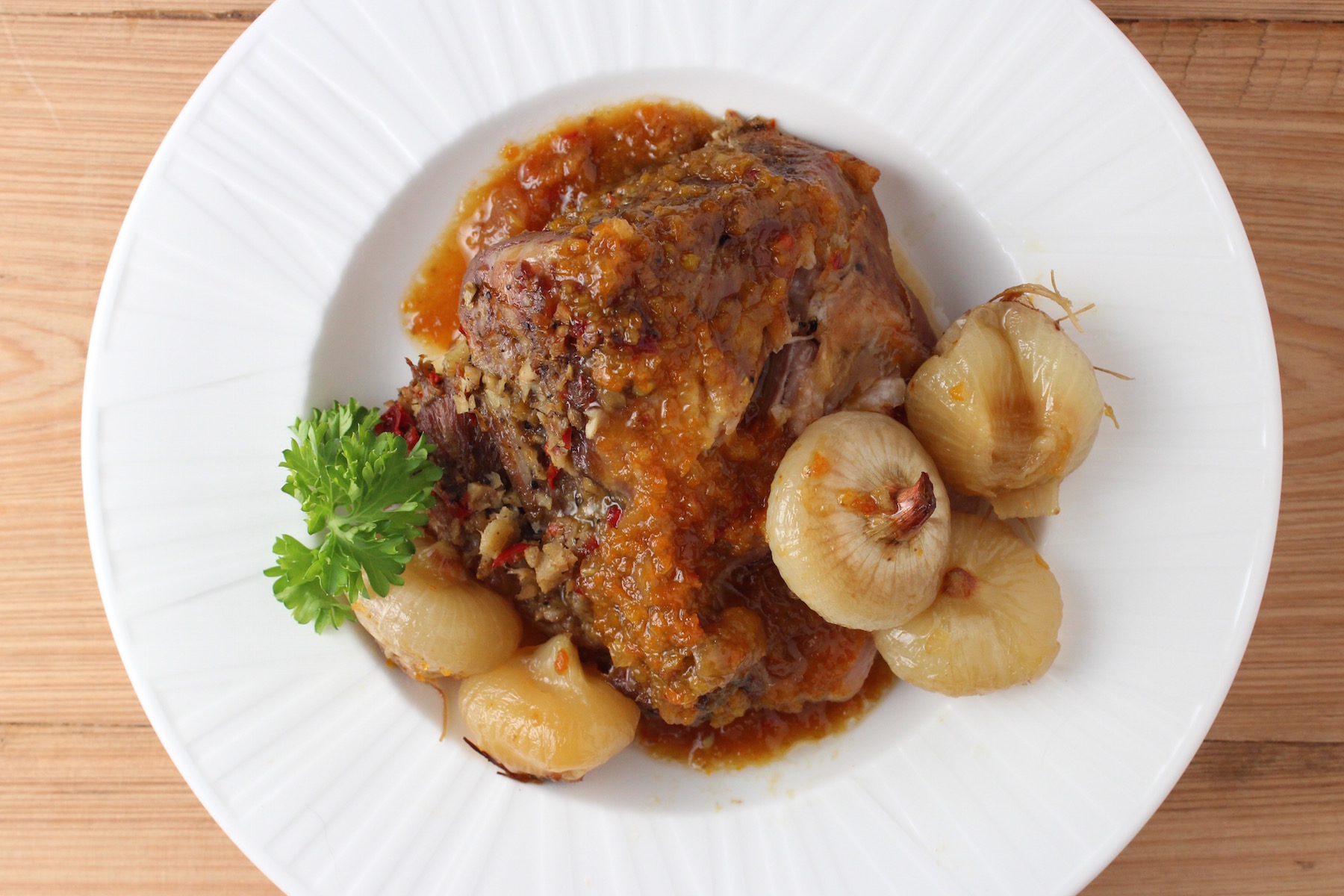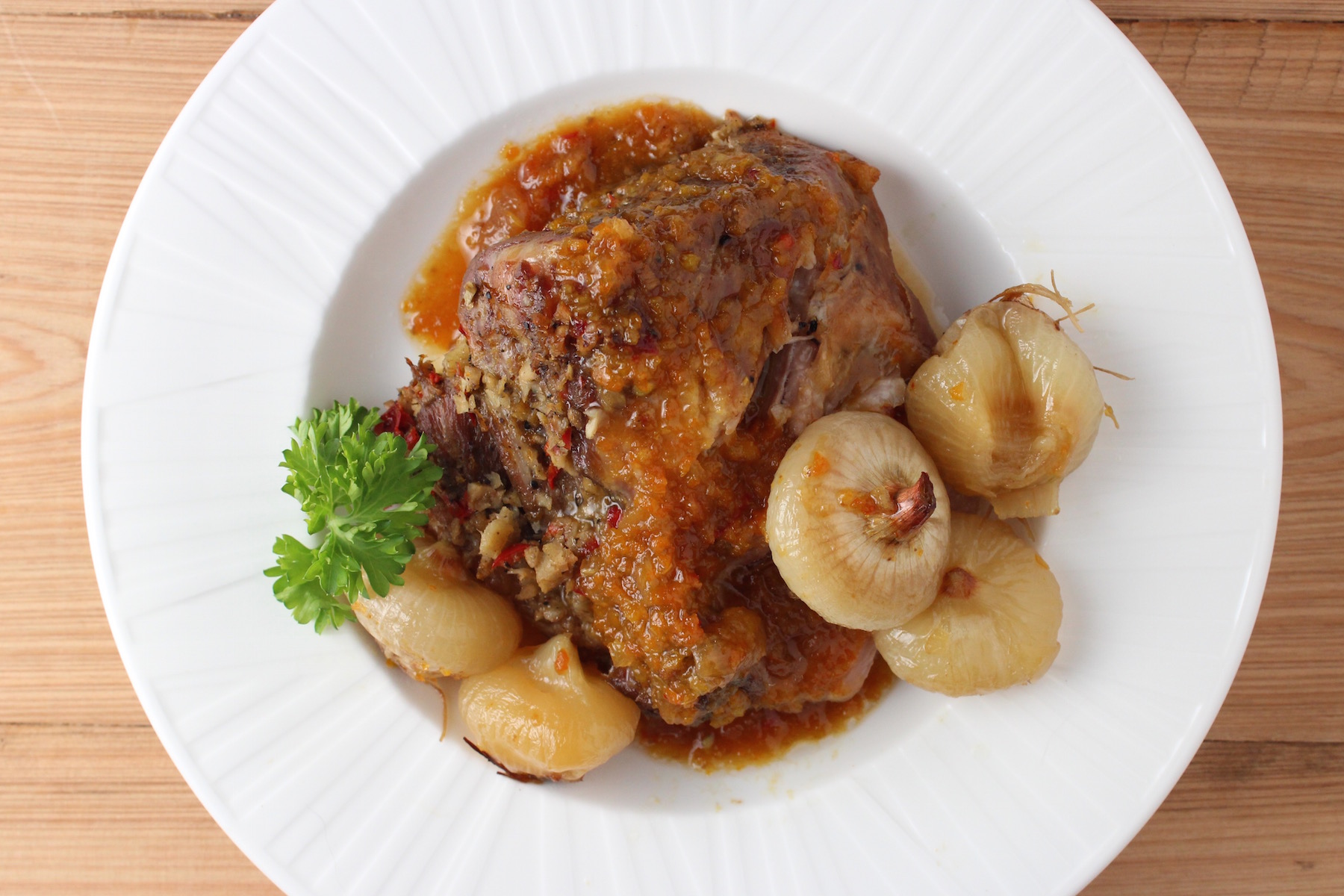 I served mine with steamed green beans tossed in a little butter, salt & pepper. A green salad would also be tasty alongside this hearty dish.  Enjoy!

Roast Pork with Kumquats & Cipollini Onions
Roasted pork with sweet Cipollini onions and savory kumquat sauce - delicious.
Author:
My Delicious Blog
Ingredients
Prepare the Roast:
3-4 lb. bone-in pork shoulder
2 apples, cored and sliced (any variety - I used Macintosh)
1 large yellow onion, sliced
Prepare the Rub:
2 Tb. brown sugar
1 garlic clove, mashed
1 Tb. fresh ginger, mashed & chopped
1 tsp. kosher salt
½ tsp. freshly ground black pepper
1 tsp. fresh red chili, seeds removed, minced
For the Sauce (after 6 hours of cooking):
1 c. kumquat puree (OR 1 c. sliced/seeded kumquats OR 1-2 sliced/seeded oranges)
12 whole cipollini onions, outer peel removed (don't remove stem)
Instructions
Unwrap roast and allow it to sit/come to room temperature, approximately 30-45 minutes.
Score outer edges of the roast with a sharp knife.
Combine all ingredients for the Rub in a small bowl. Press the Rub mixture all around the roast, especially the scored areas.
Arrange sliced yellow onions and apples in the bottom of the slow cooker then place roast on top (toss any remaining rub into the cooker as well).
Set the cooker to low (8 hours).
At 6 hours, remove the sliced onions and apples (they've given all they can give!). Into the juices in the cooker, stir in kumquat puree (or sliced kumquats/oranges) and add Cipollini onions.
After another 2 hours, remove meat and place it in a serving dish, allowing it to rest/cool about 10-15 minutes.
Just before serving, remove about 3 cups of the liquid from the slow cooker and simmer it in a small pan for a few minutes to reduce/thicken. Taste for seasoning, then use it as the 'gravy' for the meat/onions when served. Note: If using sliced kumquats or oranges, remove all those large pieces before simmering/thickening the sauce.