Recently, two announcements in the culinary world created a buzz. The popular recipe site,
Epicurious
, said it would no longer post new beef recipes, and
Eleven Madison Park
, a prestigious restaurant in New York, said it would offer a vegan-only menu when it reopens. Apparently, they want to be part of the solution toward a more sustainable food system (i.e., more plant-based, less animal protein), and to encourage healthier eating.
I'm not here to weigh in on the big issue of 'sustainability' — there are plenty doing that. But I have some thoughts on animal protein. . .
While not a vegetarian, I significantly limit my intake of animal protein – I just feel better when I do. That said, once in a great while I enjoy a good steak or burger.  Mine is not an all-or-nothing approach, it's what works for me. "You do you," as some would say. But I do believe in making informed choices, like knowing where my food comes from, how it's prepared, and what's in it. Yes, it would be great to eat from only local sources, and to consume only organic, but that's not practical. So I do my best, hoping that my choices keep me healthy and happy. And if I can help the planet by not overindulging on the animal protein, even better.  There, my two cents 🙂
Today's recipe simply offers an alternative to that beef burger. If you're craving something to hold with two hands, one full of flavor and texture, that gives you a satisfying bite, consider this chickpea slider!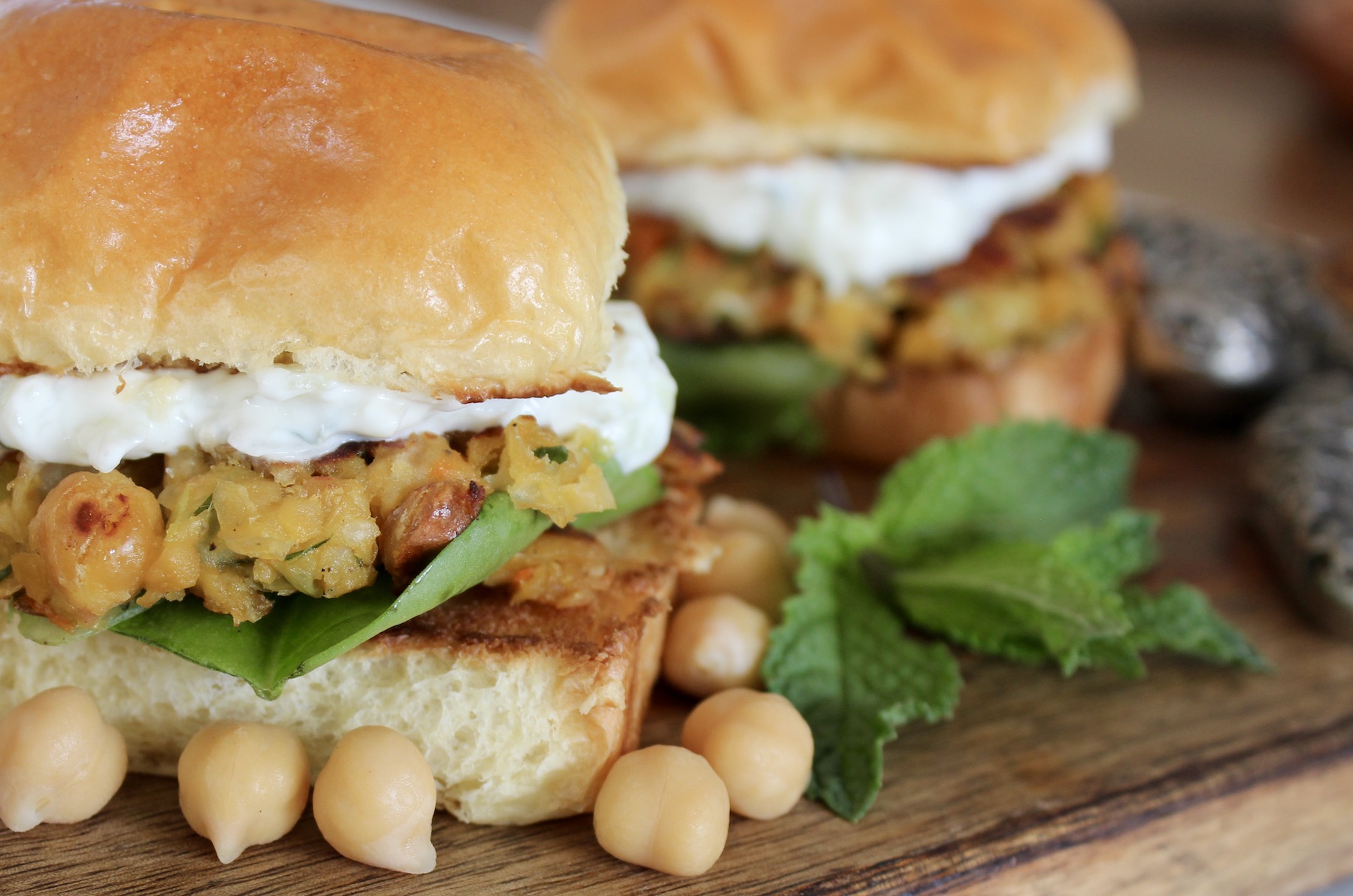 Chickpeas are little legumes packed with protein, fiber and iron, and they're good in more than hummus. Toss them into salads, mash and blend them with pasta water to make a yummy sauce, or bake them in the oven for a crispy snack – just a few ideas. For more inspiration, check out 
Crispy Chickpeas
 or 
Chickpeas & Pasta
.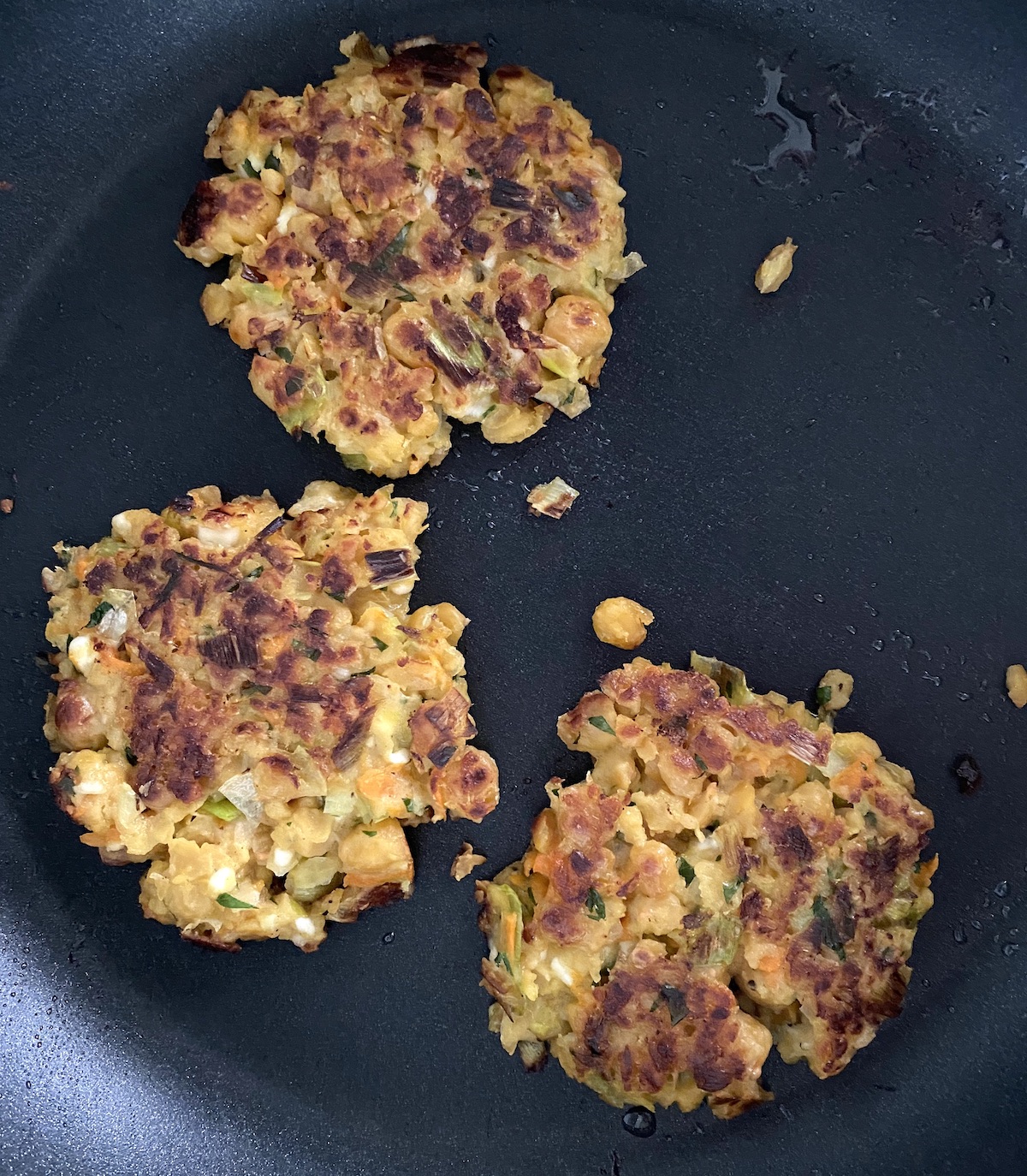 The patties are made with mashed chickpeas and sautéed veggies, pan-seared, topped with tzatziki and nestled in a brioche bun. Every bite is flavorful and cool. I can't honestly say it will offer the same satisfaction as a big-ass burger, but I think you'll love it AND not have any guilt afterwards 🙂
Print Recipe
Chickpea Sliders with Tzatziki
Veggie-filled chickpea sliders topped with tzatziki sauce - a tasty and satisfying alternative to that burger you're craving.
Ingredients
Tzatziki Sauce
1

medium

Hothouse cucumber, peeled

3/4

c.

Whole milk Greek yogurt

1

Tb.

Olive oil

1/2

tsp.

Lemon zest

1

tsp.

Lemon juice

1

Tb.

Chopped mint

1

small

Garlic clove, peeled & minced

1/4

tsp.

Sea salt (fine)
Chickpea Patties
1

can

Chickpeas

2

Tb.

Grapeseed or avocado oil, divided

1

large

Carrot, peeled & grated

1

medium

Leek (white part), cleaned & chopped

(alt: 4 scallions or 1 shallot)

1

medium

Garlic clove, peeled & minced

1/4

tsp.

Kosher salt

1/8

tsp.

Freshly ground black pepper

1

Tb.

Flat-leaf parsley, chopped

1

Tb.

Olive oil

1

Tb.

All-purpose flour

3-4

Tb.

Feta cheese, chopped

6-8

Slider buns (brioche, ideally), sliced in half
Instructions
To make the tzatziki, grate the cucumber using a box grater. Wring out the liquid with your hands, then place into a kitchen towel or a double layer of paper towels and wring until no more liquid releases (you want it as dry as possible before mixing with yogurt). Add it to a mixing bowl along with yogurt, olive oil, lemon zest/juice, mint, garlic and salt. Mix, taste for seasoning and let it sit for a few minutes to allow the flavors to meld.

Drain and rinse chickpeas then place in a large mixing bowl. Mash them with a fork, a potato masher, the flat side of a meat pounder, a pastry cutter, a sturdy jar, or your hands. Don't over-mash; retain some larger pieces for a better 'chew' experience.

In a non-stick skillet over medium/low heat, add 1 Tb. avocado or grapeseed oil then toss in carrot, chopped leek (or scallions or shallot). When they start to soften, add garlic, a pinch of Kosher salt and a few grinds black pepper. Cook ~2-3 minutes, until soft and slightly browned. If mixture gets too dry, add 1-2 Tb. of water.

Add veggies to chickpeas, along with 1/4 tsp. Kosher salt, 1/8 tsp. freshly ground black pepper, parsley, 1 Tb. olive oil, flour and Feta. Mix to combine. If it seems too dry, add a little bit of water at a time to get to the right consistency (when you can form a tablespoon-sized amount into a small ball that holds together, it's ready). Divide into 6 or 8 portions, depending on how thick you want them, then press into slider-size patties.

In the same non-stick skillet, over medium heat, add 1 Tb. avocado/grapeseed oil. Place patties in the pan, cook until brown (~2-3 minutes) then flip and cook ~2-3 minutes. They may split/break apart when flipping, but don't worry, just shape back together.

While patties cook, toast the buns, cut side down, in a non-stick pan.

Assemble sliders with lettuce, top with tzatziki and serve immediately.
Notes
Don't worry if the patties split apart while cooking.  Just form them back into shape.  As Julia Child used to say "who is going to see?"