Those who know me well know that I slog through the heat and humidity of Florida summers. . .but it's all worth it when Fall hits and we enjoy cooler temps and low humidity levels!  Ahhh. . .now is the time to turn off the A/C, open the windows, and embrace our beautiful, Spring-like weather.
It's also the time when I start thinking about holiday dishes, including some of my favorite baked goods. Which leads me to this cranberry nut bread — a staple in my house, one that my family and I always make around the holidays, since that's when cranberries are freshest and readily available. I'm pretty sure our recipe originated from the folks at Ocean Spray, with a few tweaks along the way, but it's definitely a classic.
Speaking of cranberries, they can be used in savory or sweet dishes, and I love just about everything with those beautiful berries.  I believe I've tasted every one of those dishes, including a memorable salad I was served years ago in which the berries were mixed with granola, nuts, Rice Krispies and chocolate bits, all melded together in lime Jell-O. . .let's just say that one was NOT my favorite.  But one that I absolutely adored was "Nantucket Cranberry Pie," a recipe shared by beloved food writer, Laurie Colwin. She got the recipe from a friend who got it from her mother, but from there the trail runs cold. It's called a pie, but it's really a cake! Laurie wrote "I like a cake that takes about four seconds to put together and gives an ambrosial result." Bingo.  So if you're looking for a delicious and easy "pie/cake," check that one out 🙂
Now, back to my cranberry nut bread. . .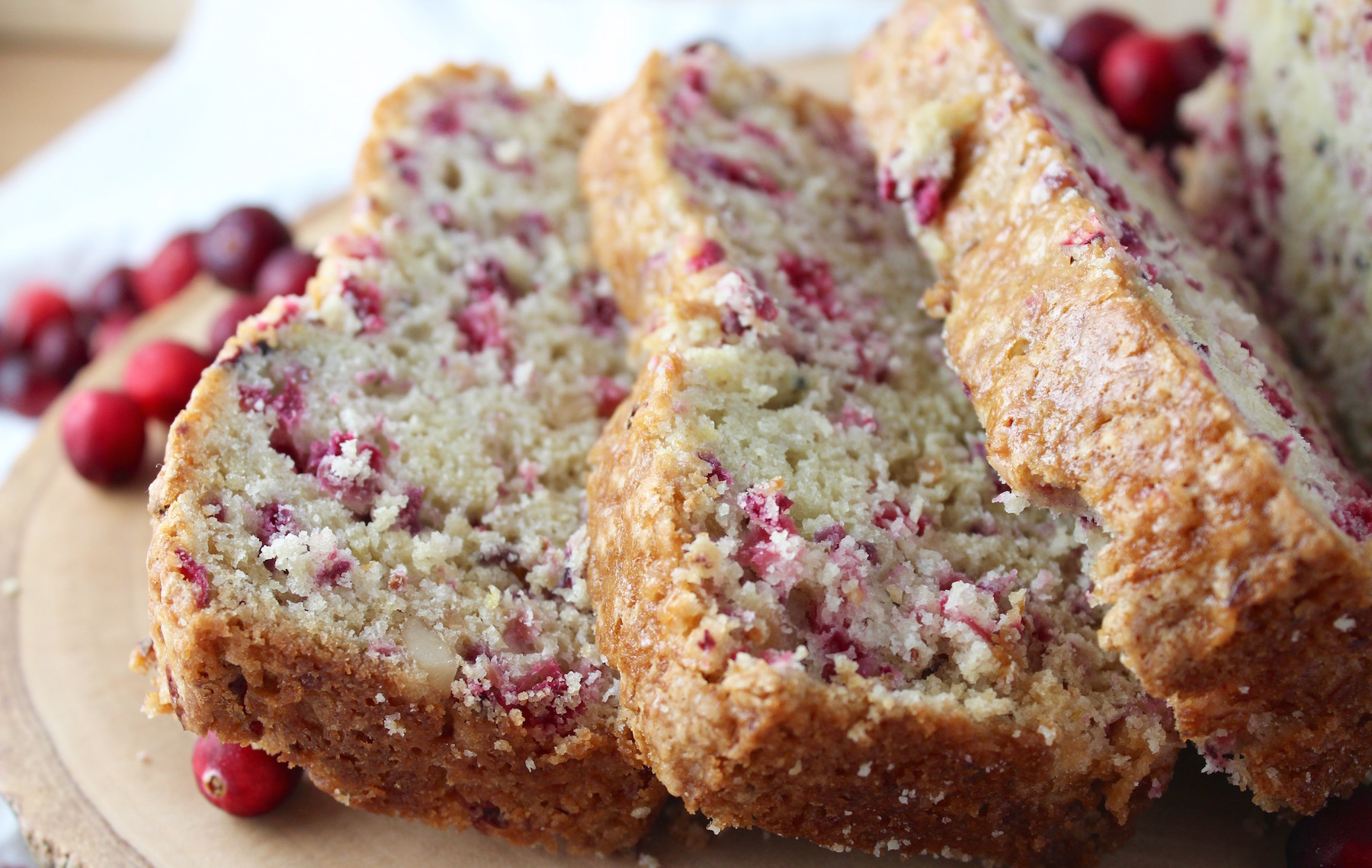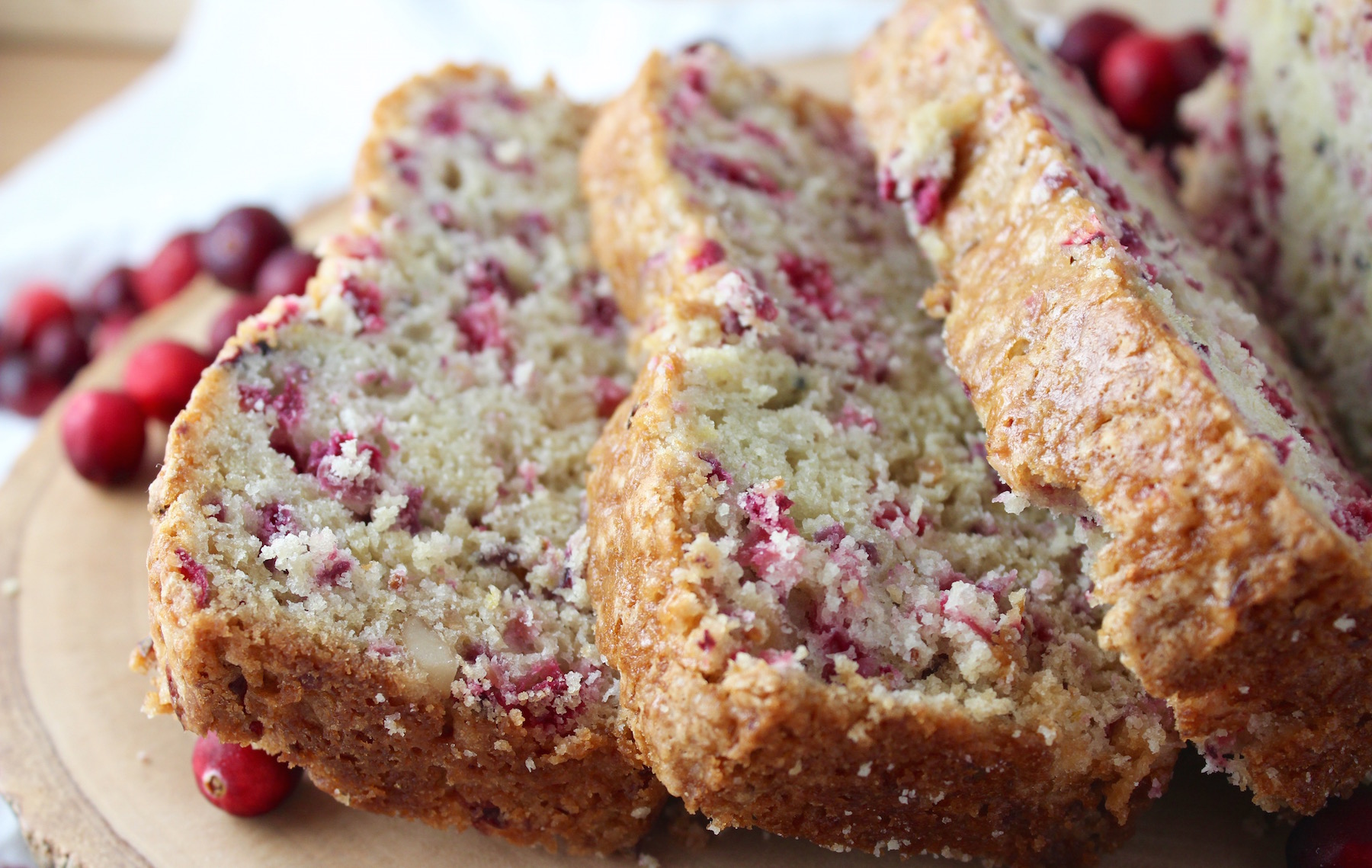 Since Fall is here, it's a great time to bake some, cut a big, crumbly slice and enjoy it with a cup of hot coffee or tea.  The tartness of the berries blends nicely with the sweetness of the orange, so it's a match made in Heaven.
And if you'd like to learn more about cranberry harvesting, check out my recent Field Trip Friday to a cranberry bog in Wareham, Massachusetts.  Here are just a few of the cranberries they harvested that day. . .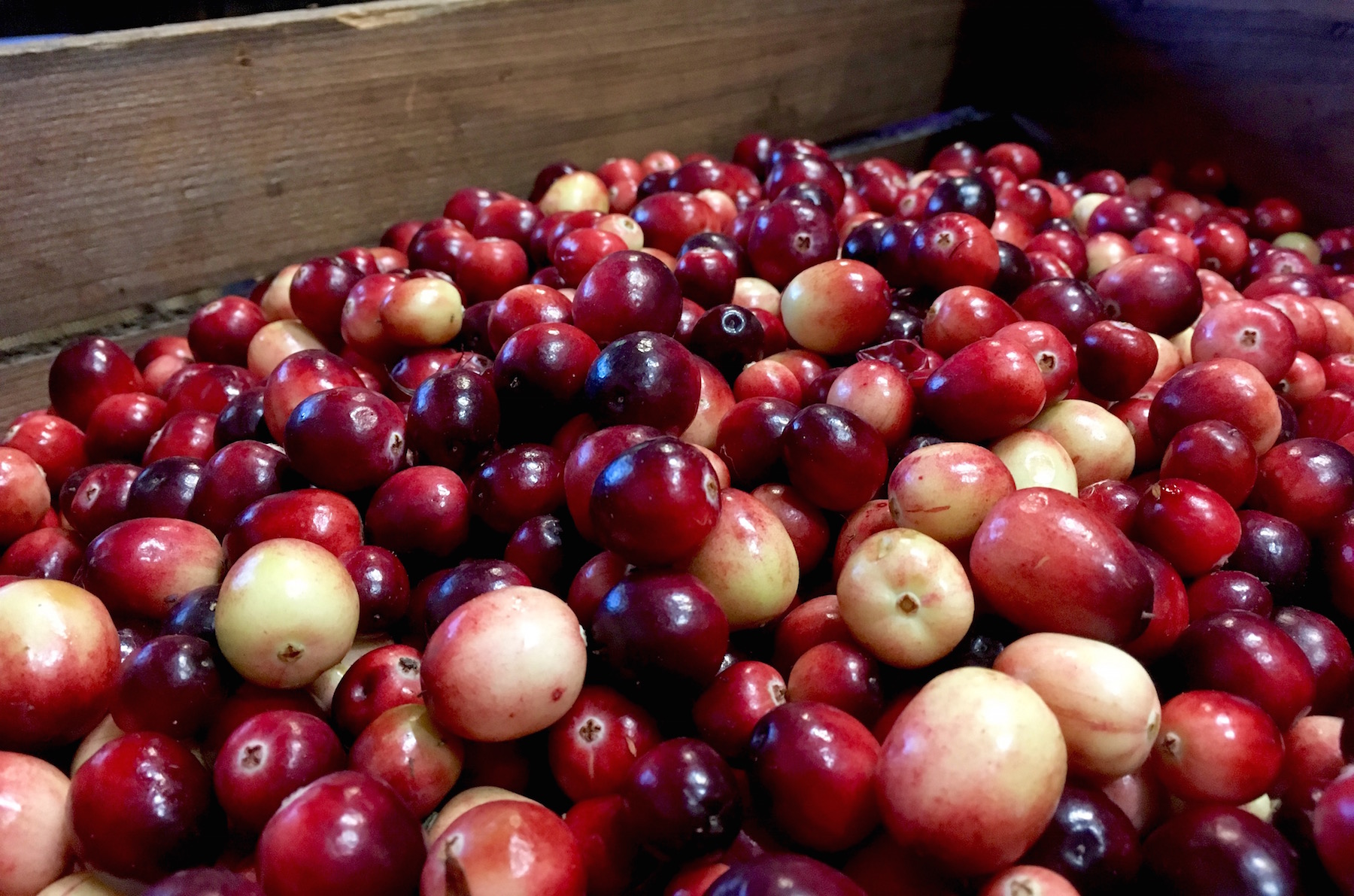 Cranberry Nut Bread
Adapted from Ocean Spray's classic recipe
Author:
My Delicious Blog
Ingredients
2 c. all-purpose flour
1 c. granulated sugar
1½ tsp. baking powder
½ tsp. baking soda
1 tsp. kosher salt
¼ c. vegetable shortening
¾ c. orange juice
Zest of one large orange
1 large egg, beaten
½ c. walnuts or pecans, chopped (I like to toast them first)
1½ c. fresh cranberries, roughly chopped (add more if you like it really cranberry-y)
Instructions
Heat oven to 350 degrees.
Grease a 9X5 loaf pan.
Toast the nuts (if desired) over low heat in a small non-stick pan; set aside to cool.
Sift the flour, sugar, baking powder, baking soda and salt, then cut in the shortening.
Combine orange juice and zest with egg then pour all at once into dry ingredients, mixing just enough to dampen everything.
Fold in nuts and cranberries.
Spoon batter into pan, and smooth the top with a spatula. If you use a smaller loaf pan, spread batter into corners and sides slightly higher than the center (since it's a heavy batter).
Bake about 1 hour, but check it around 50-55 minutes. When toothpick inserted in the center comes out clean, it's ready!
Cool at least 20 minutes, then remove from pan to serve or refrigerate.
Notes
Tip: it's best to roughly chop the cranberries with a chef's knife on a cutting board, in small batches. But if you use a food processor, be sure to only pulse a couple of times, since the pieces can get tiny very fast (and larger pieces are best in this bread). I got distracted with this batch and the pieces were too small for my liking 🙁