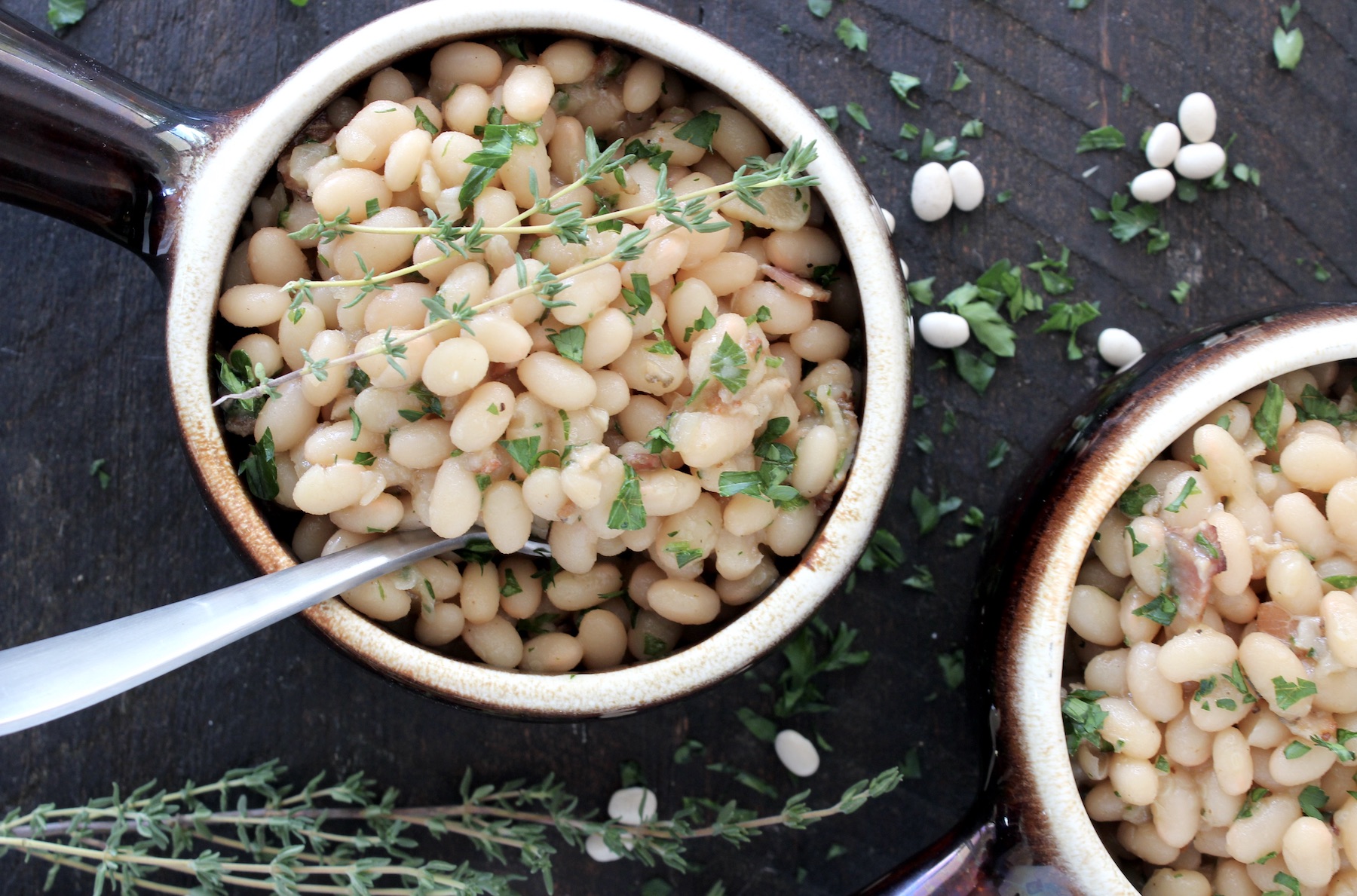 Temperatures dipped in Florida this week, so I opened the windows and started making soup, cookies and casseroles, because I love having something in the oven or simmering on the stove when cool weather arrives.  I also dug through cookbooks for inspiration and found a recipe in Julia and Jacques Cooking at Home: A Cookbook (Knopf 1999) called "Ragout of White Beans" – one that I haven't made in 20 years.  The page was dog-eared and I had marked it with 3 stars, my code for "winner" 🙂
Jacques and Julia made a great team — they were respectful and patient and always managed to learn something from each other, even though they probably had a combined 80+ years of cooking experience between them.  My mom still loves Jacques Pepin – his simple, classic recipes celebrate the inherent deliciousness in ingredients; his style, welcoming and comforting.  Plus, she adores that French accent.  Years ago, when I was a single gal living on my own, she bought me Jacques' Cooking with Claudine (KQED Books, 1996) – a book he wrote for his daughter when she was a graduate student.  It's filled with classic recipes and shortcut techniques.  I gained a lot of skills from that book, including how to transform leftovers into new dishes, but have to say that the recipe for turkey roulade, in which you have to de-bone a turkey leg, was a little too much for me. . .
Beans are a great source of protein, fiber, B vitamins and potassium, so I always have a package of dry beans in my pantry.  In this recipe, just a few ingredients (Navy [Great Northern] beans pancetta, onion, garlic, thyme and parsley) transform into a dish that's elegant AND cozy.   I adapted the recipe slightly by adding a pinch of red pepper flakes, a bay leaf and unsalted butter for extra flavor and richness, but the core recipe is delicious as it is.  Here's where all the flavor happens: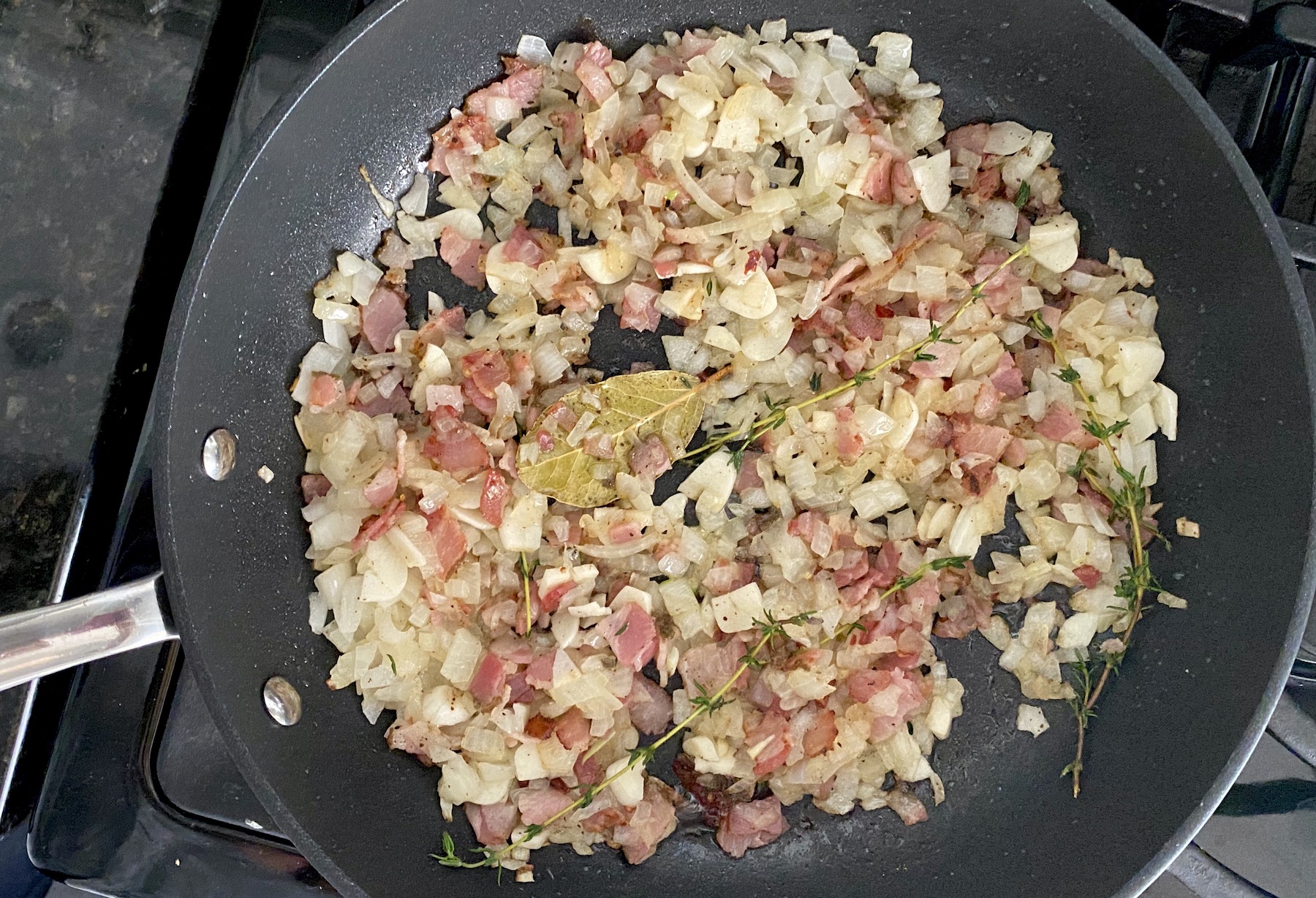 The beans can be served in a variety of ways like: 1) the base for roasted chicken and/or vegetables, 2) alongside crusty garlic bread, 3) mixed with roasted tomatoes, topped with parmesan and a drizzle of olive oil, or 4) as a topping for crostini.
As Jacques says, "Happy Cooking!"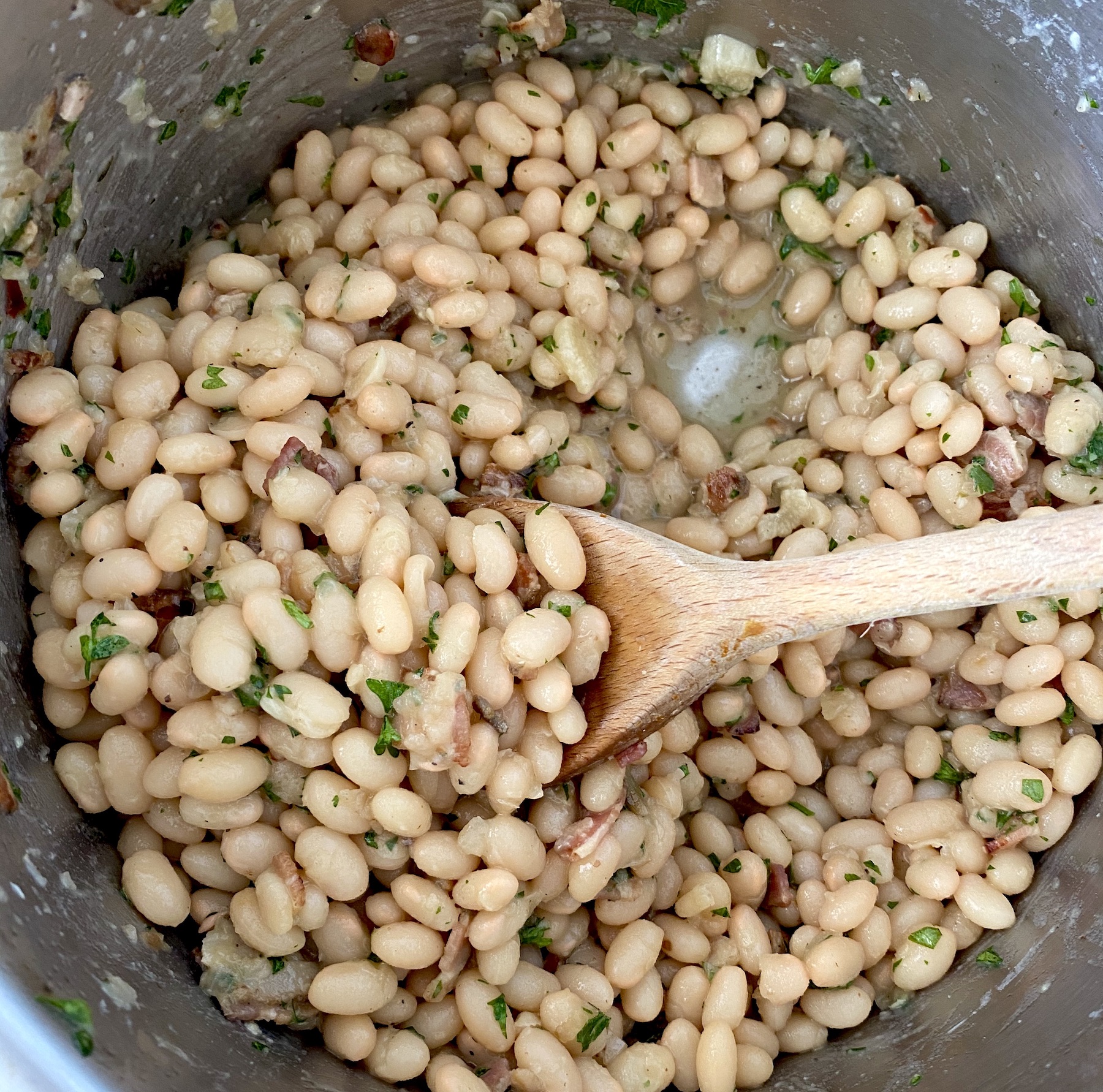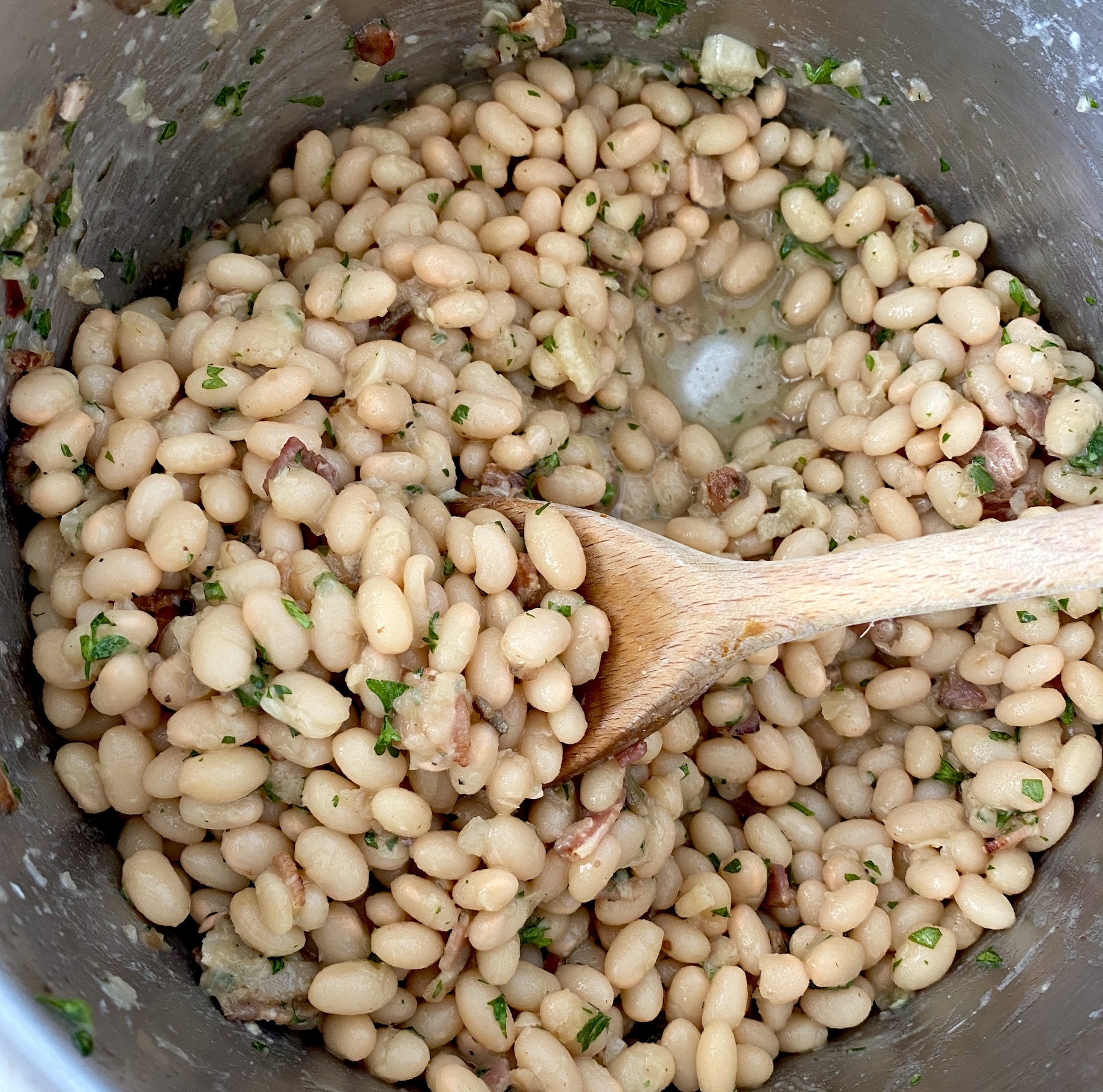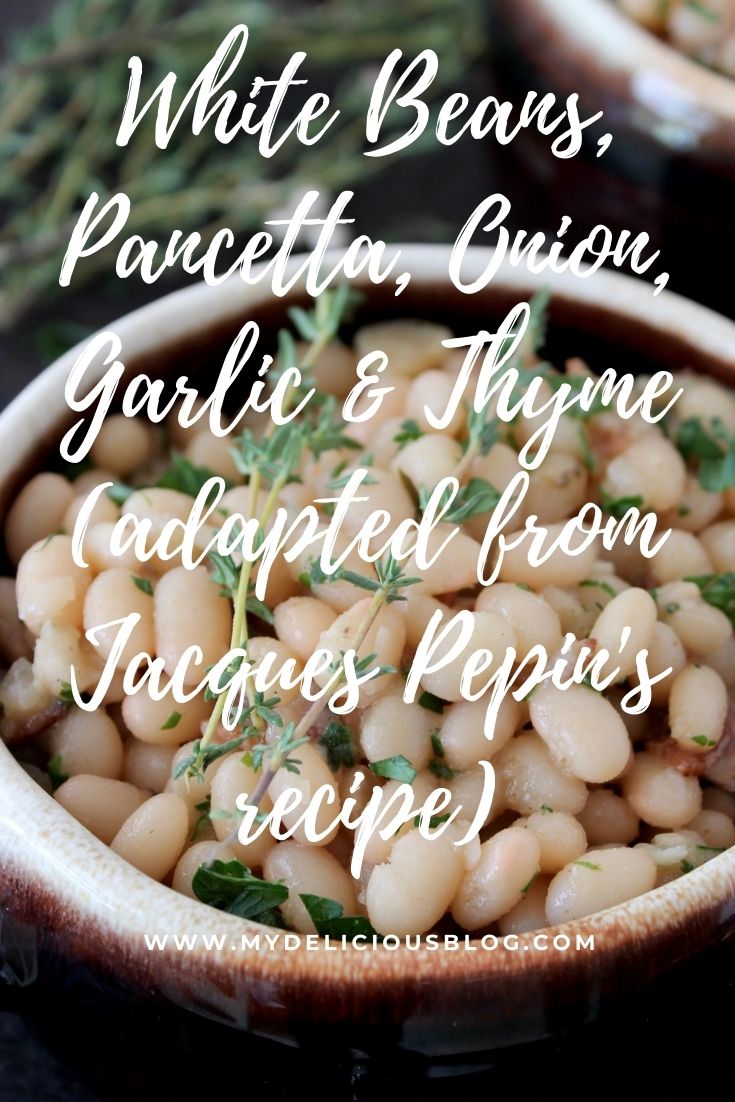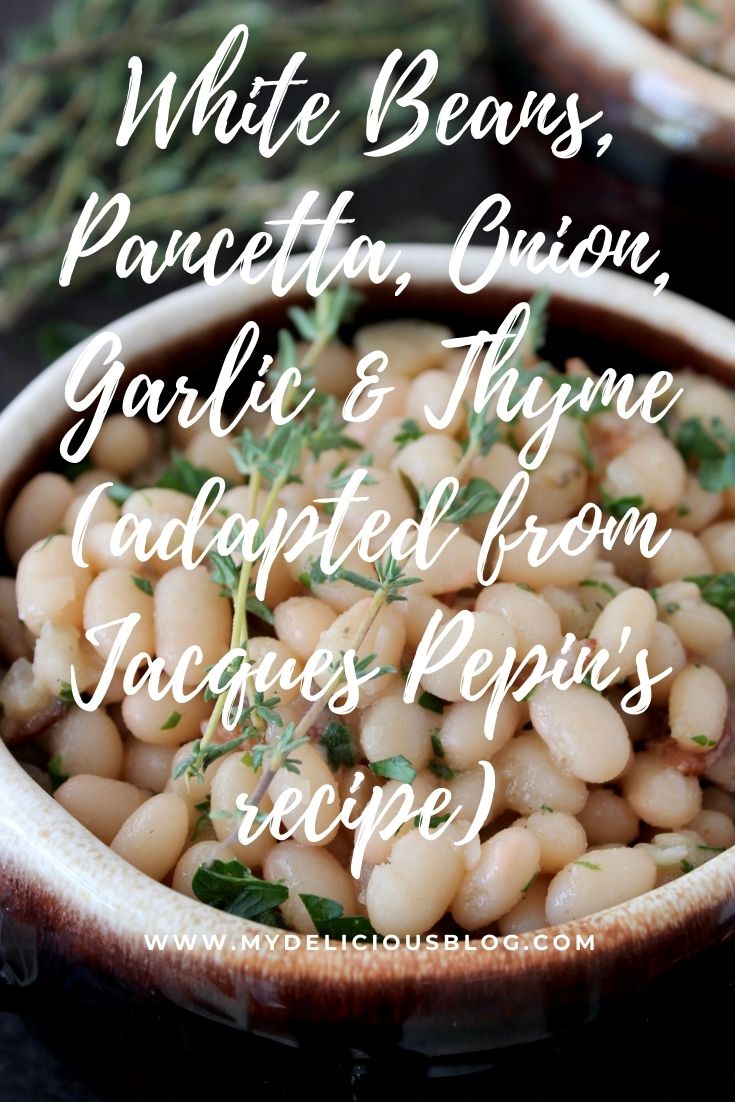 Print Recipe
White Beans with Pancetta
White beans, paired with pancetta, onions, garlic and fresh thyme combine to make an elegant and cozy dish, slightly adapted from Jacques Pepin's "Ragout of White Beans" recipe.
Ingredients
1

Lb.

Northern/Navy Beans, dry

6

cups

Water

1 1/2

tsp.

Sea salt

1

Tb.

Olive Oil

1

large

Bay leaf

Pinch

Red pepper flakes

3-4

Thyme sprigs

3-4

oz.

Pancetta, diced

1 1/2

c.

Onions, chopped

5

cloves

Garlic, peeled and thinly sliced

1/4

tsp.

Freshly ground black pepper

3

Tb.

Unsalted butter

2-3

Tb.

Fresh parsley, chopped
Instructions
Rinse beans in a collander and remove any stones. Add beans to a large pot, along with the 6 cups water and salt.

Bring to boil, then reduce heat to a gentle simmer. Cook until beans are tender to the bite, but not grainy or mushy. This will take at least 1 hour.

Just before beans are cooked, warm a skillet over medium heat. Add olive oil, red pepper flakes, bay leaf, pancetta, onions, thyme sprigs, garlic and black pepper. Cook and stir until onions are caramelized and the pancetta has rendered its fat and is slightly crispy (8-10 minutes). Stir in butter, turn off heat and allow the mixture to sit until the beans are ready.

Remove ~1 cup of the cooking liquid from the beans and keep it nearby. Stir the onion mixture into the beans. Continue cooking, over low heat, partially covered, about 30 minutes. Check the beans to see if there is sufficient liquid and add a bit more of the reserved liquid if you think they need more. Cover the pot, allow it to come up to heat again, then turn off the heat and let the beans sit for 30-45 minutes, untouched. The beans should be very soft but still retain their shape, and most of the cooking liquid should get absorbed by this point. If there's still too much liquid (i.e., like soup), simply remove some before serving.

Stir in chopped parsley, taste for seasoning, and serve.
Notes
You can reduce cooking time by about half if you soak the beans overnight.  Rinse the beans and remove any stones.  Cover with water by about 2" and toss in 1 Tb. of Kosher salt.  Refrigerate overnight then drain and rinse before ready to cook the next day.