In New England, Whoopie Pies are a favorite treat and, as a kid, my brother and I got very excited when my mom made a batch.  Who wouldn't love moist, chocolate cake with a sweet, creamy filling?  I'd take one of these over a plain old Devil Dog any day.
Whoopie Pies originated from the Amish.  Lore tells us that they made the first one using leftover cake batter and, after baking, put them into lunch pails for kids who happily exclaimed "Whoopie!" when they found them.  Maine claims to have the longest history (the first Pie being made at a bakery in 1925), but Massachusetts wasn't far behind, having made their first Pie in 1931.  These little treats are pretty special to folks in Maine.  As a matter of fact, I found out that in 2011, the Whoopie Pie was named the official "state treat" of Maine.  That same year South Portland made the world's largest Whoopie Pie which weighed in at over 1,000 pounds!  Wow, that's a lot of cake.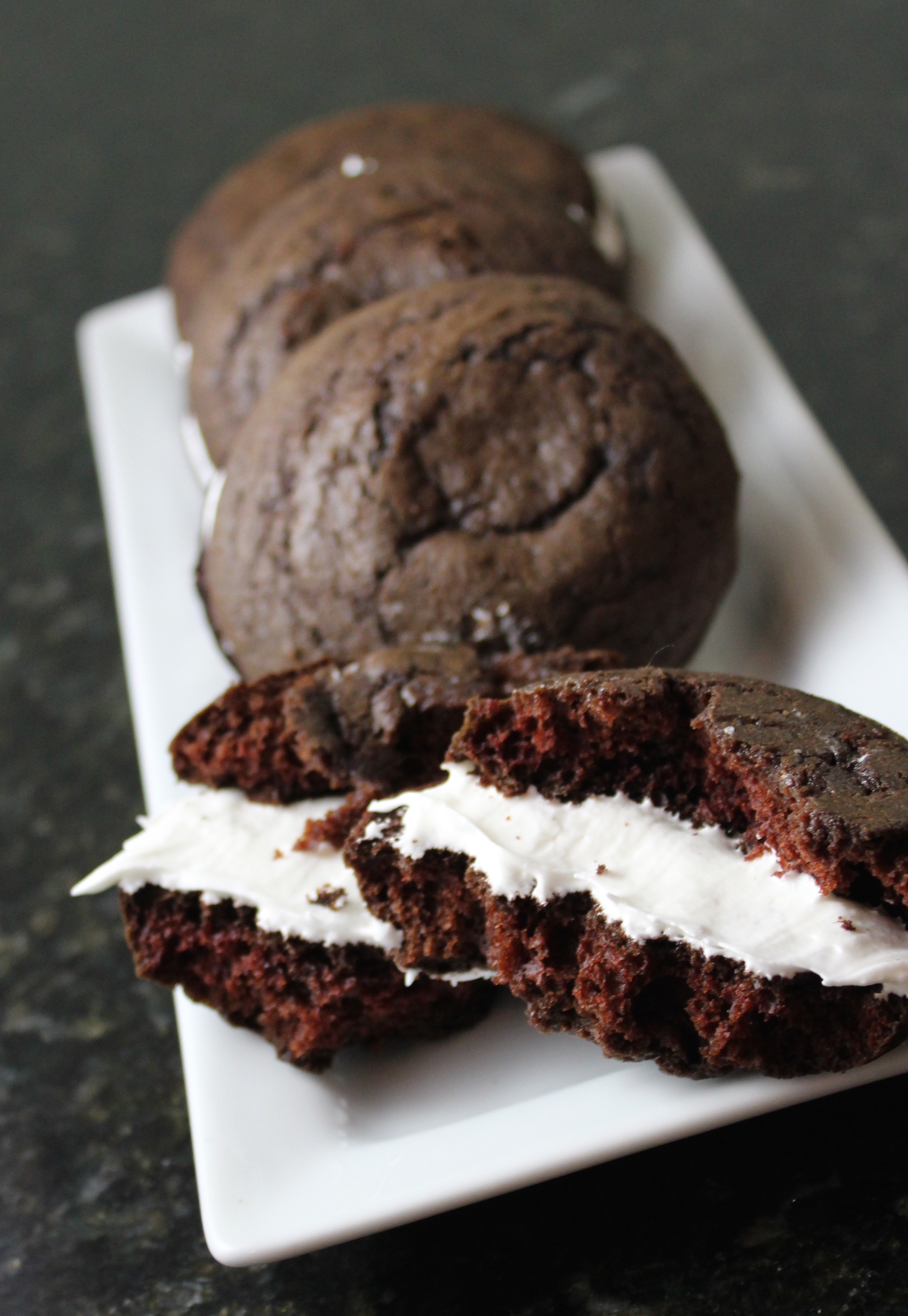 With fond memories of my childhood, I decided to make a batch for my hubby recently.  He grew up in Chicago, so he never had one and he was pretty excited to try something new.  His opinion?  "Delicious!" as I expected 🙂

Whoopie Pies
A New England classic - soft chocolate cookie filled with whipped cream sweetness.
Author:
My Delicious Blog
Ingredients
Cake:
½ c. butter
1 c. sugar
1 egg
½ c. cocoa powder
2 c. all-purpose flour
1½ tsp. baking soda
½ tsp. baking powder
1 c. milk (or buttermilk)
1 tsp. vanilla
Filling:
½ c. vegetable shortening
½ c. butter (softened)
2 c. confectioner's sugar
2 c. Marshmallow Fluff (this really makes it authentic!)
1 tsp. vanilla
Instructions
Preheat oven to 425 and line two baking sheets with parchment paper.
Cream butter and sugar until fluffy (this takes a few minutes).
Add egg and blend well, then add vanilla.
Sift dry ingredients and add to creamed mixture, alternating spoonfuls with the milk/buttermilk.
Scoop about 2 Tb. batter onto each baking sheet to form 6 mounds.
Bake 5-7 minutes or until the tops are puffed and a toothpick inserted in the center comes out clean.
Remove from oven and cool.
Meanwhile, make the Filling by placing ingredients into a mixing bowl. Bend by hand or with a hand mixer on medium until smooth. Spread filling between cooled cookies and enjoy!