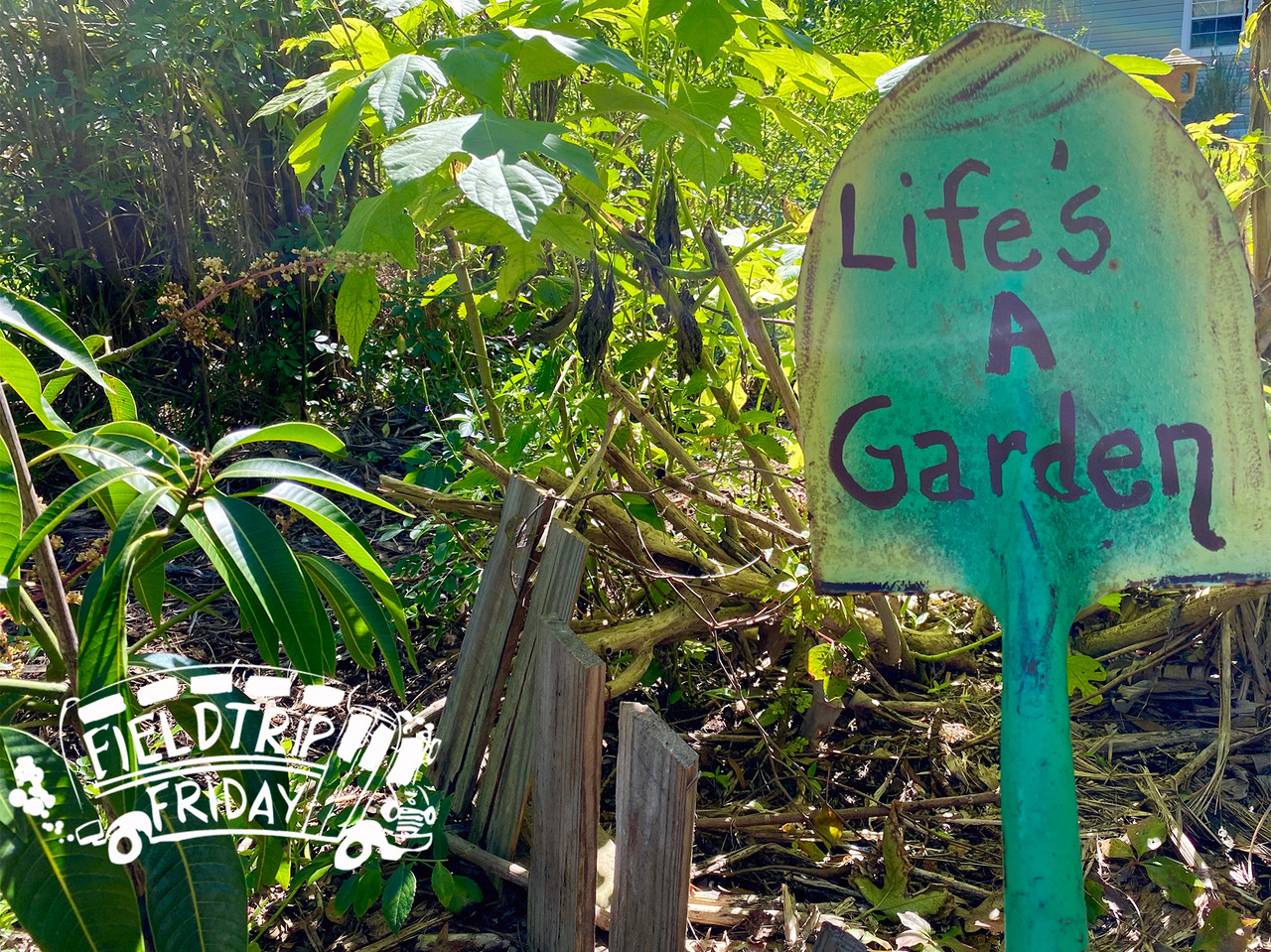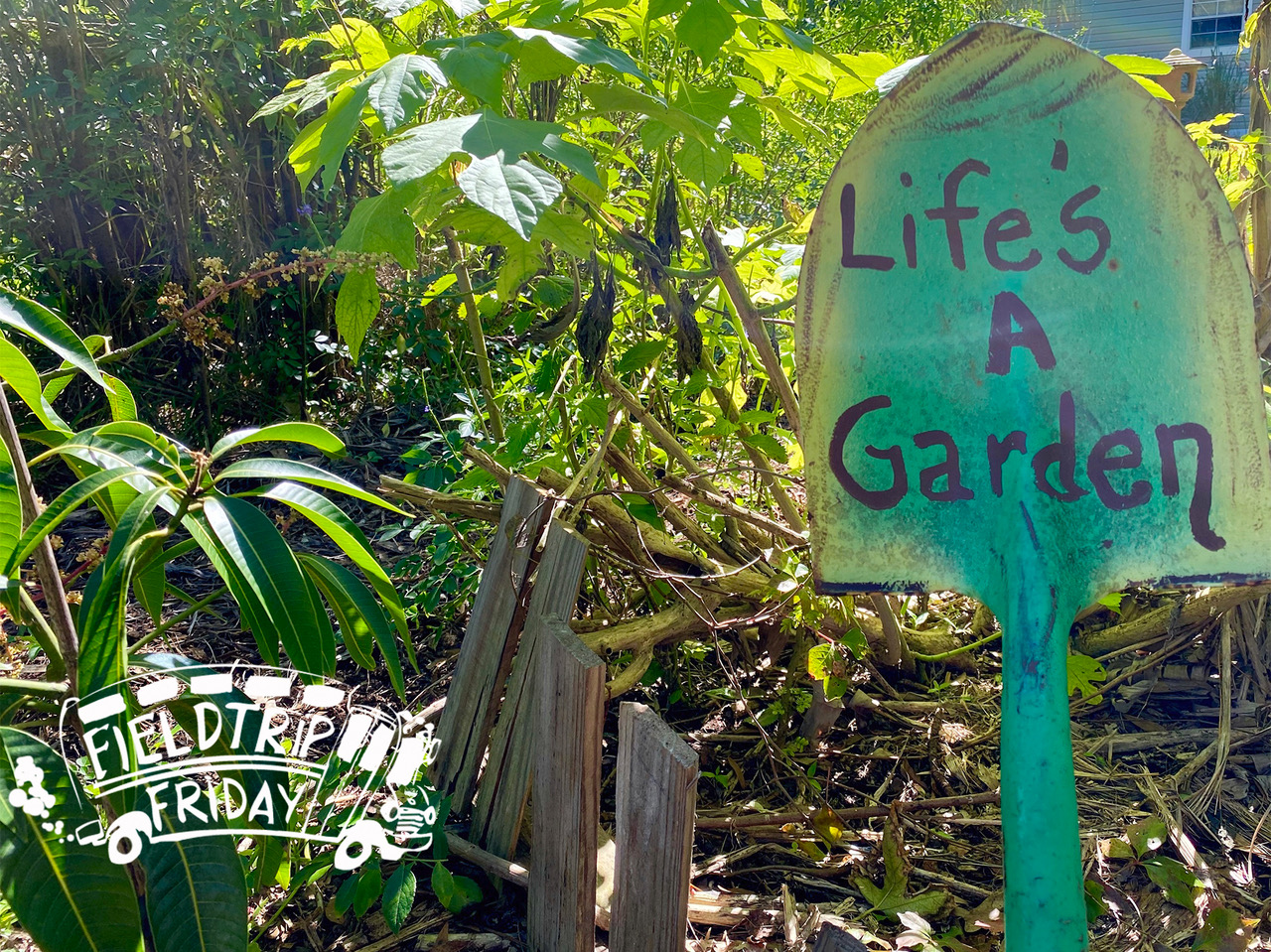 (Field Trip Fridays capture interesting, fun, food-related and/or fishing adventures that I like to share with you!)
Walking through a forest is magical, isn't it?  It's teeming with life; the trees providing oxygen and shade, and ground cover housing thousands of creatures and habitats.
But have you ever seen a '
food
f
orest'?
It's similar to a nature-made forest, but slightly more purposefully-designed, and includes plants that produce food!  It's built around the concepts of permaculture, which, at its core, is a wholistic system of mutually beneficial relationships.  There can be many layers to a food forest – large/tall trees (for things like fruits & nuts), medium trees (food bearing), low shrubs (for things like berries), herbs/companion plants, pollinator attractors, root crops, ground cover crops, and vertical layers (i.e., vines) – all designed to create a nutrient-rich environment that minimizes water loss, offers food to beneficial insects and critters (and people), and protects soil.  
I recently visited a gal who incorporated these principles at her residence.  Full disclosure, though: this is the type of gardening where you can go big/all-in, like Annette did, or you can simply incorporate elements of permaculture that still have great benefits.  Even if you're not a gardener, it's just fun to see what our neighbors are doing 🙂 
Annette Bleser and her husband farmed in North Florida for many years on a 5-acre property and in 2013 they moved to the Punta Gorda area to create a food forest on 4+ acres.  They called it 
Planet Claire Farmacy
, 
inspired by their favorite band, the B52s, which means they've also labeled areas "Rock Lobster Garden" and "Love Shack," and even named their tractor "Claire."  
When they started, the soil was not healthy, so they began replenishing nutrients via a thick blanket of palm mulch throughout the entire property.  The mulch breaks down with moisture and heat, creating a self-sustaining environment for plants and insects.  Annette describes this as the magical formula of millipedes, mulch and moisture (the '3 Ms') PLUS plenty of peed poop (the '3 Ps'), which equals the best foundation for rich soil and healthy plants.
The property is filled with countless varieties of banana palms — many
 quite tall, providing shade and nutrients for lower plants and ground cover: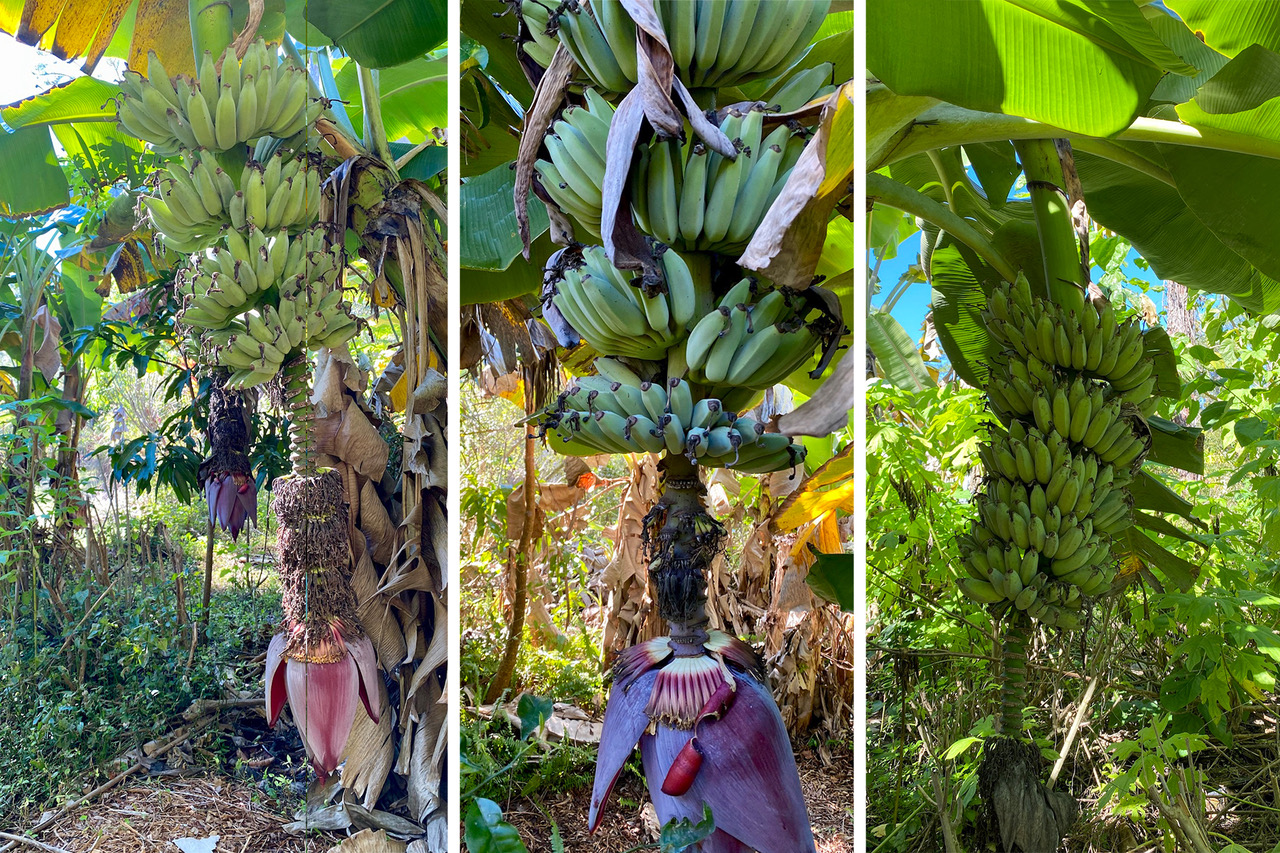 Everywhere you look there's Mexican sunflower (a nutrient accelerator), milkweed (pollinator attractors), elderberry, moringa and papaya, which all provide nitrogen for other plants.  There are plants you may have never heard of, but they thrive in this environment, like Red Frills mizuna (it tastes like horseradish), jujube (when unripe, similar to crab apples), Cranberry hibiscus, Pigeon peas, Malabar spinach, even patches of kale, chard, and mustard greens.
Some walkways are lined with cardboard which not only keeps weeds at bay, but when paired with compost and mulch, breaks down to form more rich soil.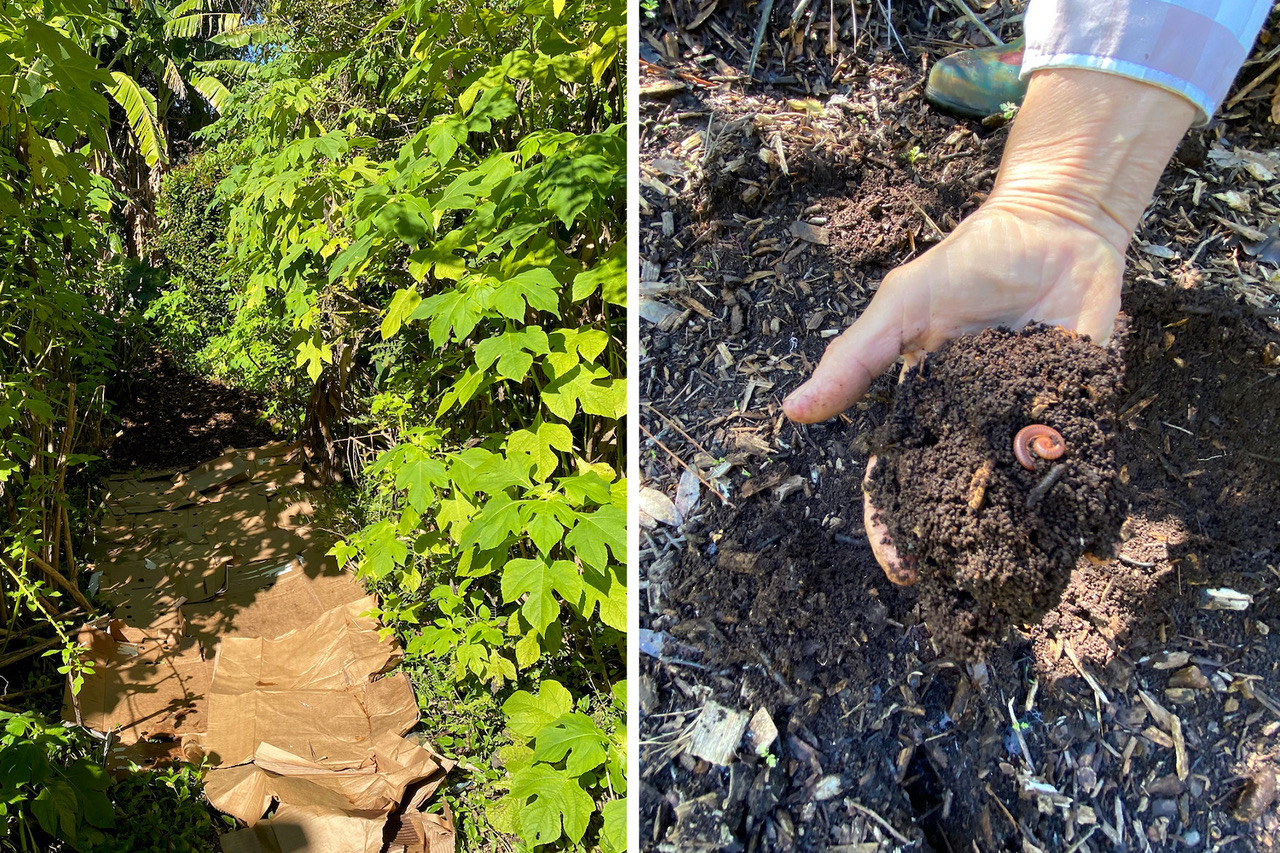 Nooks and crannies are filled with repurposed vessels for hydroponic or soil-based growing, including downspouts, PVC pipe, hollowed out tree trunks, and plastic kiddie pools. Nothing goes to waste here.
In the greenhouse, buckets of organic potting soil (with kelp and worm castings) are full of sunflower and pea shoots.  She's even growing pink celery, which I didn't know existed! 
This is where Annette 
experiments to see what thrives.  
She doesn't use pesticides (other than natural fish emulsion), saying "you have to have faith that bad bugs will work in coordination with the good bugs" because everything has a purpose, and you must let nature do what it does.
This farm is a labor of love for Annette, who says "I just go out there with seeds in my pockets," which she drops during her walks, checking progress of new plants, finding surprises, and thinking of ways to maximize space.  
It's
 a place filled with hope.  And isn't that what gardening is all about, anyway?
Annette 
sells her vegan/vegetarian products, including 
raw food snacks, vinegars, jams, fresh veggies/fruits and dried herbs at two ma
rkets in Punta Gorda: American Legion Market and Punta Gorda Farmers Market.  
She also offers limited guided walks of her farm, by appointment only. 
(Note: due to COVID-19, these markets and appointments may not be currently available, so be sure to call first). 
P.S. If you'd like to learn more about permaculture, there are lots of online sources, including your Extension Offices, The Permaculture Society or Food Tank (which also advocates for changes in our food system).  In the Sarasota area, also check out Transition Sarasota to learn about their efforts to highlight local food systems 🙂