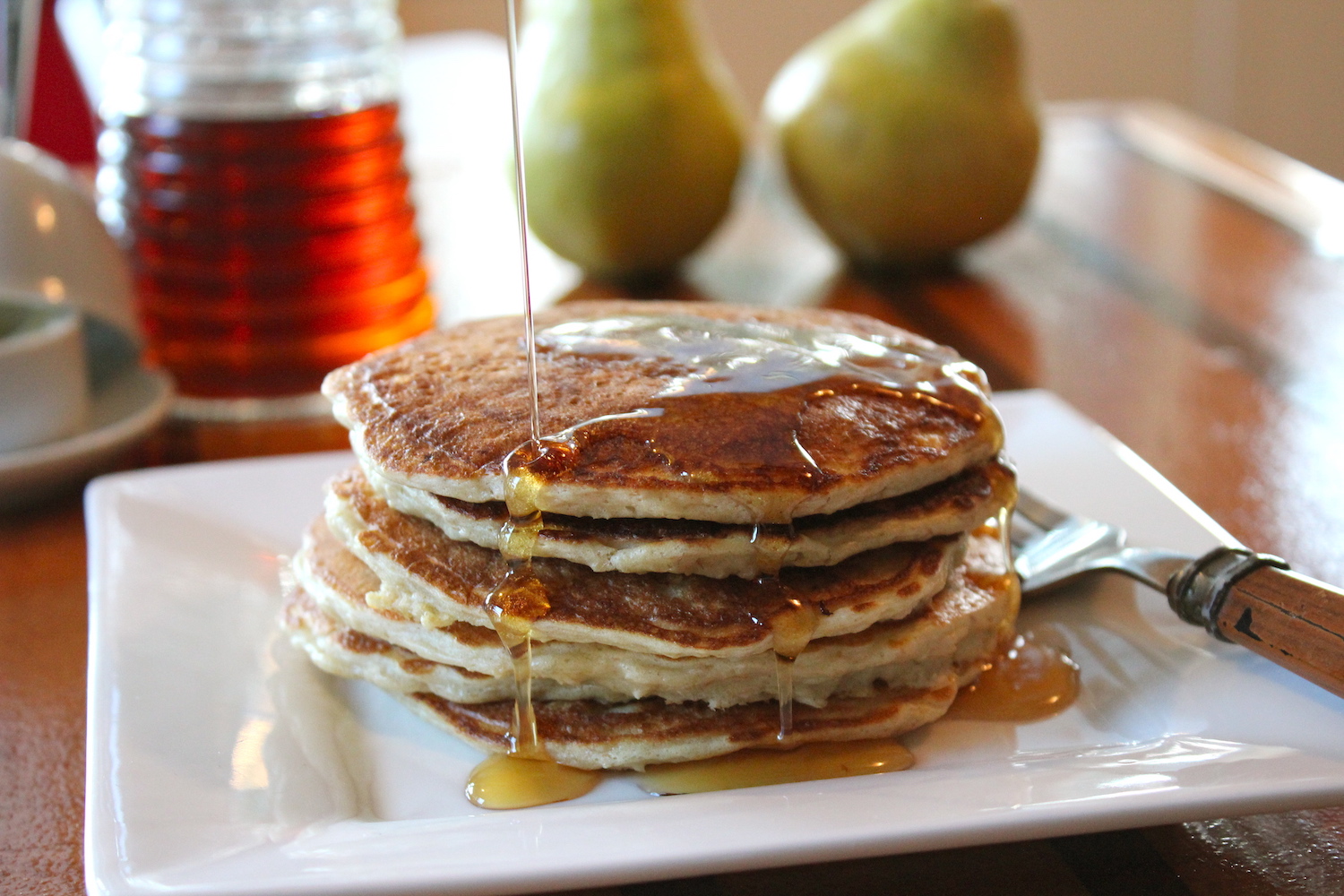 I love breakfast – especially pancakes.  But not just any pancakes will do.
They have to be tasty, not-too-thick, not dough-y, and slightly crispy on the edges.  THESE pancakes hit all those cylinders.
My family has been making this recipe for as long as I can remember and I've made them so many times I can pretty much make them in the dark (not that I've actually tried that).  The recipe came from my grandmother, who used to call them "Swedish Oatmeal Pancakes" and she shared it with her three daughters (including my mom, the middle kid) some time in 1970.  Rumor has it Memere got it from a co-worker in the Fall River, Massachusetts school system, but that's where the trail ends.
There are 3 great things about these pancakes:
1) they provide a good source of fiber (i.e., the oatmeal);
2) there's very little flour in the batter (as a matter of fact, you can experiment with other flours to fill that 1/4 cup), and
3) they're delicious.
Enjoy!

Oatmeal Buttermilk Pancakes
Oatmeal and buttermilk come together nicely in these delicious pancakes, with very little flour!
Author:
My Delicious Blog
Ingredients
1 cup buttermilk (regular or low-fat)
1 cup rolled oats
¼ c. all-purpose flour
1 Tb. sugar
½ tsp. baking powder
½ tsp. baking soda
1 egg, beaten
2 Tb. unsalted butter, melted
1 tsp. vanilla extract (optional)
Instructions
Mix the buttermilk & oatmeal in a small bowl. Cover & chill overnight.
When ready to combine, sift the flour, sugar, baking powder and baking soda, then stir into the oat/buttermilk mixture. Let sit for about 5 minutes.
Melt the butter and add it, along with the egg (and vanilla, if using) to the oatmeal mixture. Stir. Add a few more tablespoons of buttermilk or whole milk if the batter is too thick. I usually add 2-3 Tb.
Get your griddle or non-stick pan nice and hot, then dab it with butter or vegetable oil.
Pour on ¼ c. of batter for each pancake.
Flip when the first side is full of bubbles and the other side is nice brown color.
Top with butter and maple syrup, then serve.