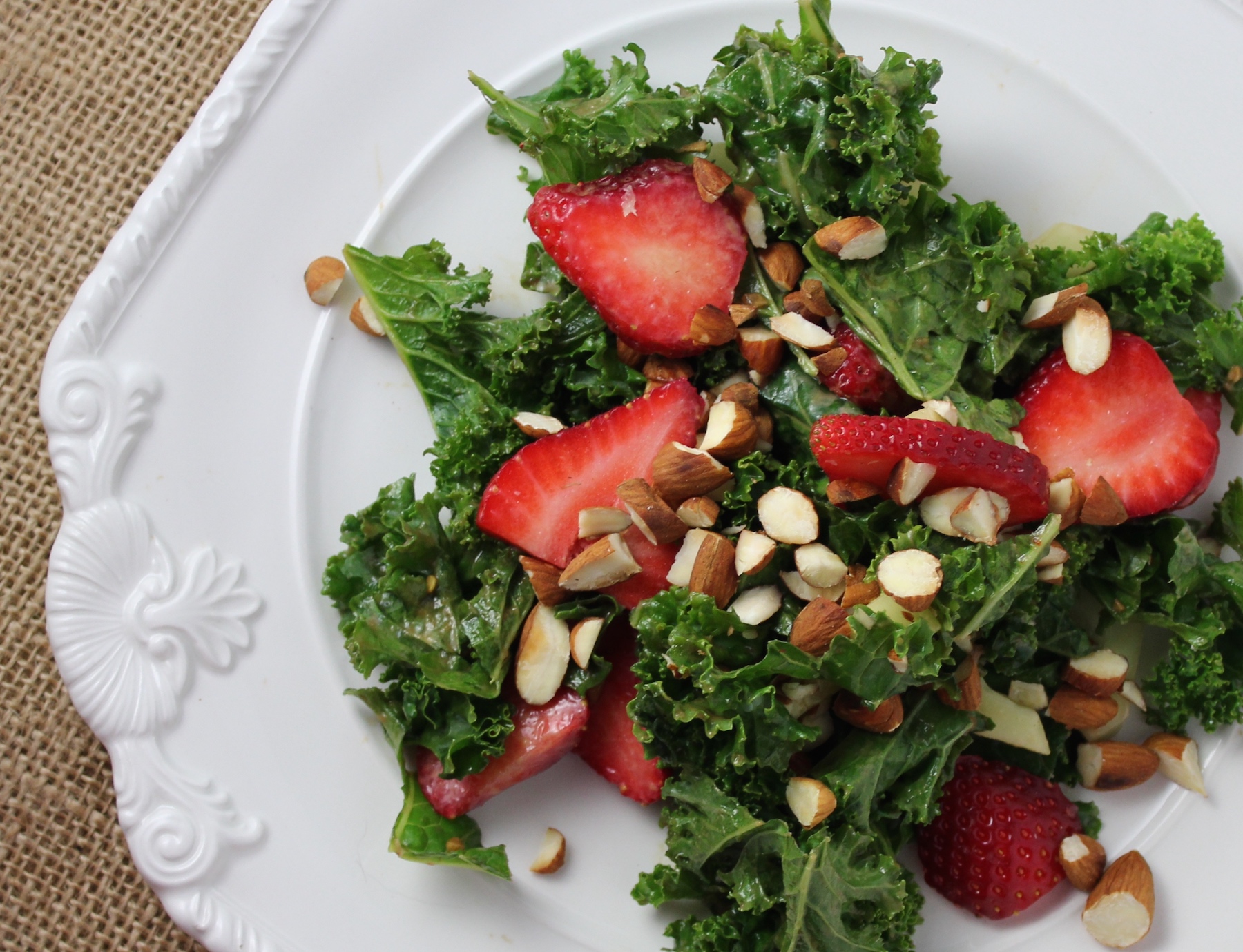 With all the attention kale is getting these days, I've been eating lots of it, especially in salads.  I like trying new combinations at home, and I especially like to order kale salads in restaurants to taste someone else's inspiration — some have really been great, some haven't, but it's always a surprise.  Recently I ordered a salad (I won't say where!) and the kale leaves were so large, unwieldy and tough that I could barely get them on my fork!  Plus, the dressing was way too light for the salad – it had barely any flavor and the overall effect was simply underwhelming.  A lost opportunity for some good nutrients because my jaw was too tired to go on. . .
This salad is particularly yummy because it has a zippy, spicy peanut dressing, juicy/sweet strawberries and crunchy toasted almonds.  And the colors are particularly beautiful on a plate 🙂
Here are a few things I've learned about making a GOOD kale salad:
1) Hearty/creamy/nut-based dressings.  These are the best types of dressings, since they actually stick to kale.  Warm dressings also work because they help to break down fibers in the kale, making it less "chewy".  This is no time to use a weak dressing – go big with flavor!  When it comes to dressing, I'm usually opposed to using a lot of it on a salad, but lately I've been tossing aside my high-horse and putting a little extra on my kale salads because this hearty stock simply needs more and it can handle it!
2) Smaller, leafy bites make a more tender salad and really help to reduce the amount of chewing necessary to get a kale salad down.  Sometimes I even chiffonade the leaves, which makes it pretty, too!
3) After trimming the pieces, be sure to mix in a little olive oil and salt and 'massage' the leaves with your hands.  Then let them sit for about 15 minutes before dressing.  This step actually removes the waxy coating on the leaves, softens them, and assures a bright green color.
4)  Mix in some form of crunch (toasted nuts, croutons, etc.) and fresh fruit, which adds to the overall thrill of a kale salad 🙂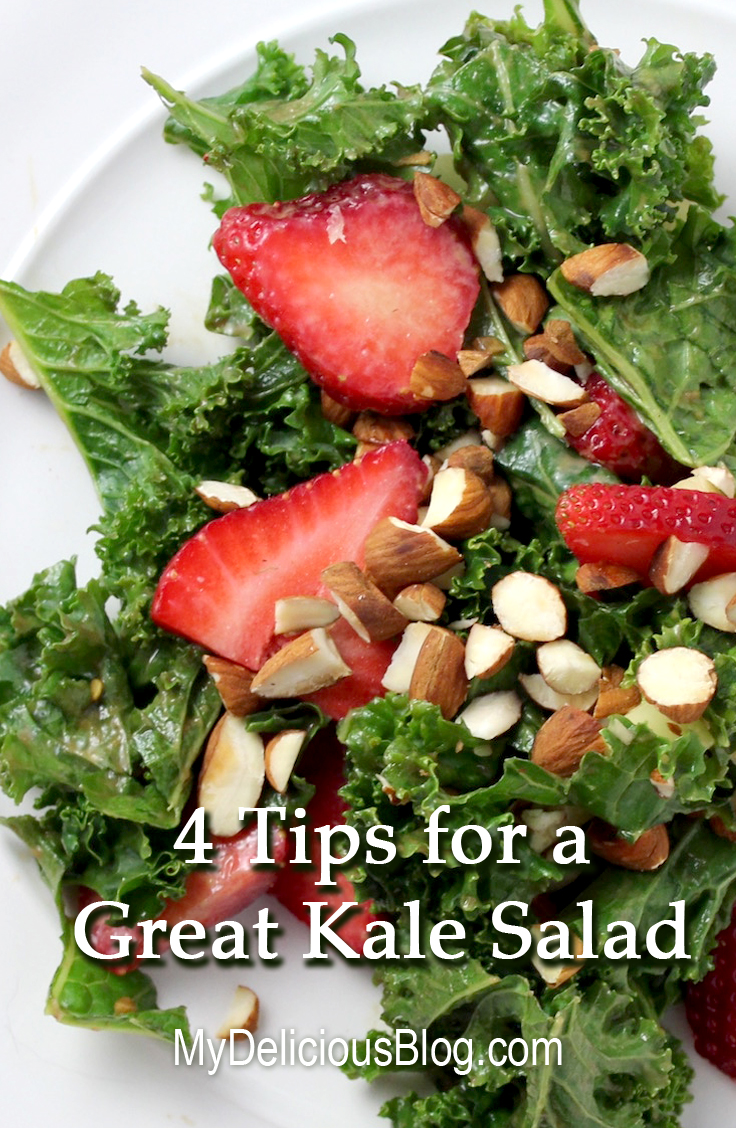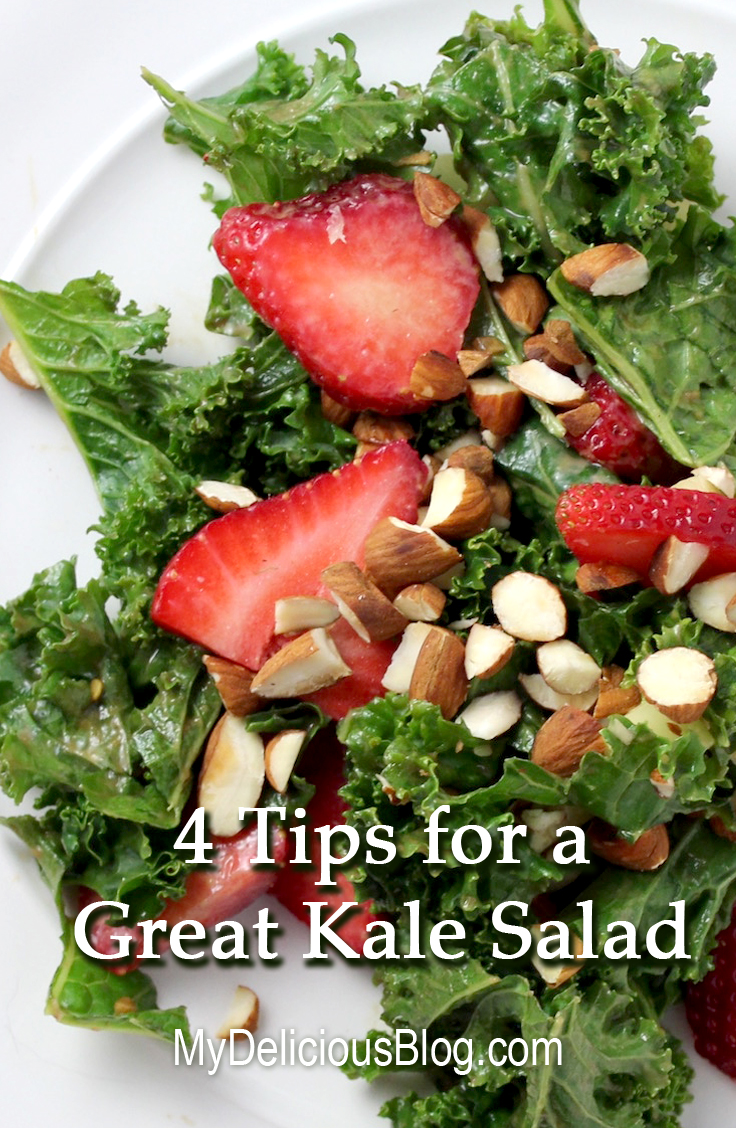 Kale with Peanut Dressing & Strawberries
Fresh kale becomes tender and more delicious when massaged, then paired with this spicy dressing and fresh berries.
Author:
My Delicious Blog
Ingredients
1 large bunch kale, ribs removed, chopped
½ pint fresh strawberries, sliced
½ c. almonds, toasted & chopped
Dressing:
3 Tb. creamy peanut butter
2 Tb. warm water
2 Tb. low sodium soy sauce
1 tsp. lemon juice
½ - 1 tsp. fresh ginger, finely minced (the more you use, the spicier it will be)
1 small clove of garlic, finely minced
1 tsp. toasted sesame oil
1 Tb. honey
Instructions
In a bowl, whisk peanut butter with warm water until smooth. Add soy sauce through honey and mix well; set aside.
In a large mixing bowl, combine prepared kale, 1 tsp olive oil and a sprinkle of salt; let it sit for 15 minutes.
Mix dressing into the kale leaves.
Spread onto a serving plate; top with berries and nuts.
Notes
This is also tasty with fresh pear slices, yellow raisins, or dried cranberries!