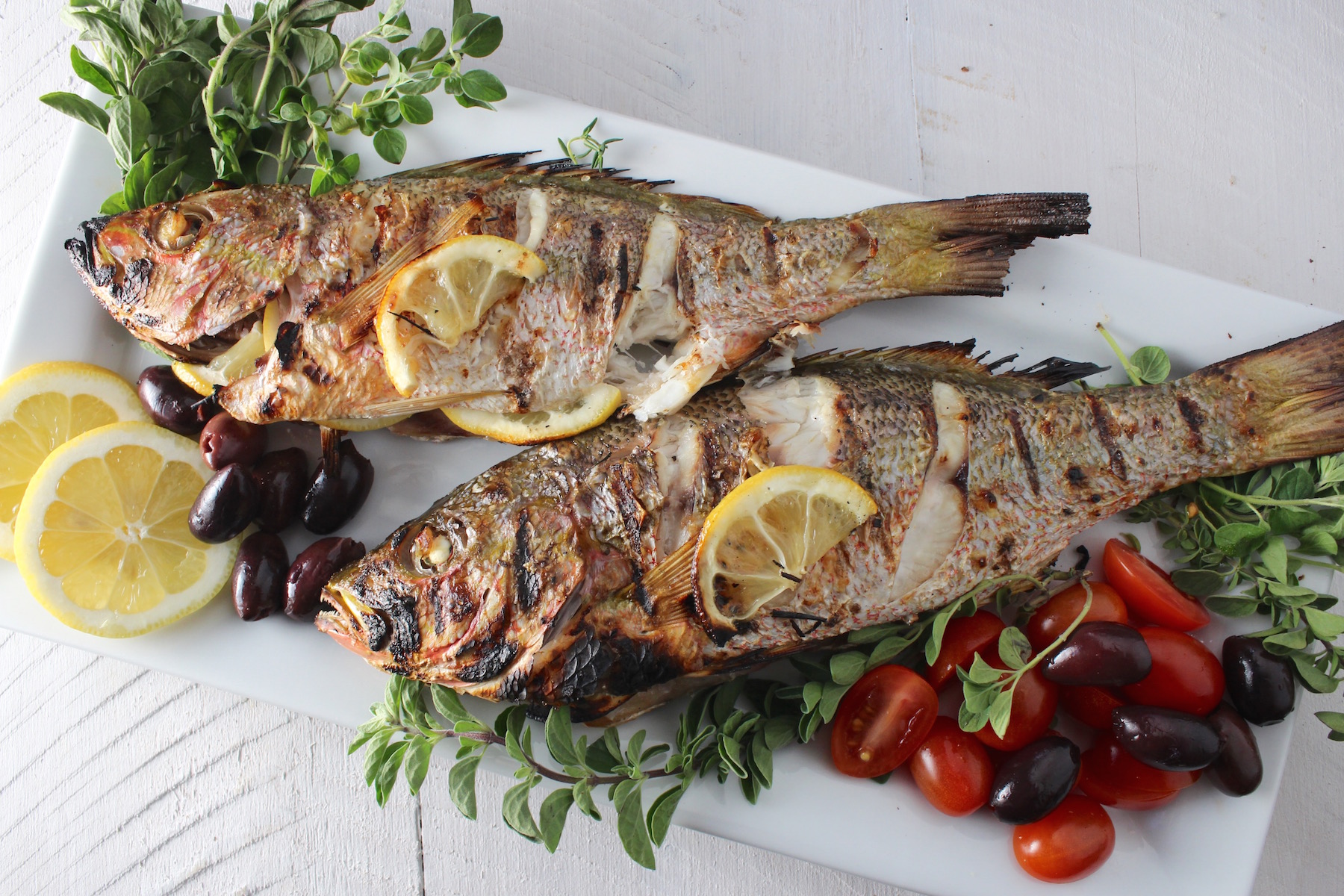 I love Greek food for its simplicity and deliciousness, and using fresh, whole ingredients like lemon, garlic, oregano and olive oil, makes all the difference.
Yesterday I was craving a Greek salad, so I bought the ingredients to make it for dinner. Personally, I would have been satisfied with just a big salad, but hubby asked "Well, what else are we having?"  Let's just say Brendan subscribes to the philosophy that a salad is not really a meal (nor is soup, according to Jay Leno).  Anyway, I had to think fast and come up with something to augment my plan. Fortunately, I remembered I had two whole Yellowtail Snapper in the freezer, courtesy of our friends who caught a bunch in the Bahamas recently. What a great opportunity to put these little guys into action by roasting them with traditional Greek flavors!
Roasting fish on the grill is easy.  It's even easier when you get your fishmonger (or a close friend) to do the work of cleaning, scaling and gutting.  But, you can always do it yourself — it's just a little messy.  Here's what they looked like before hitting the grill: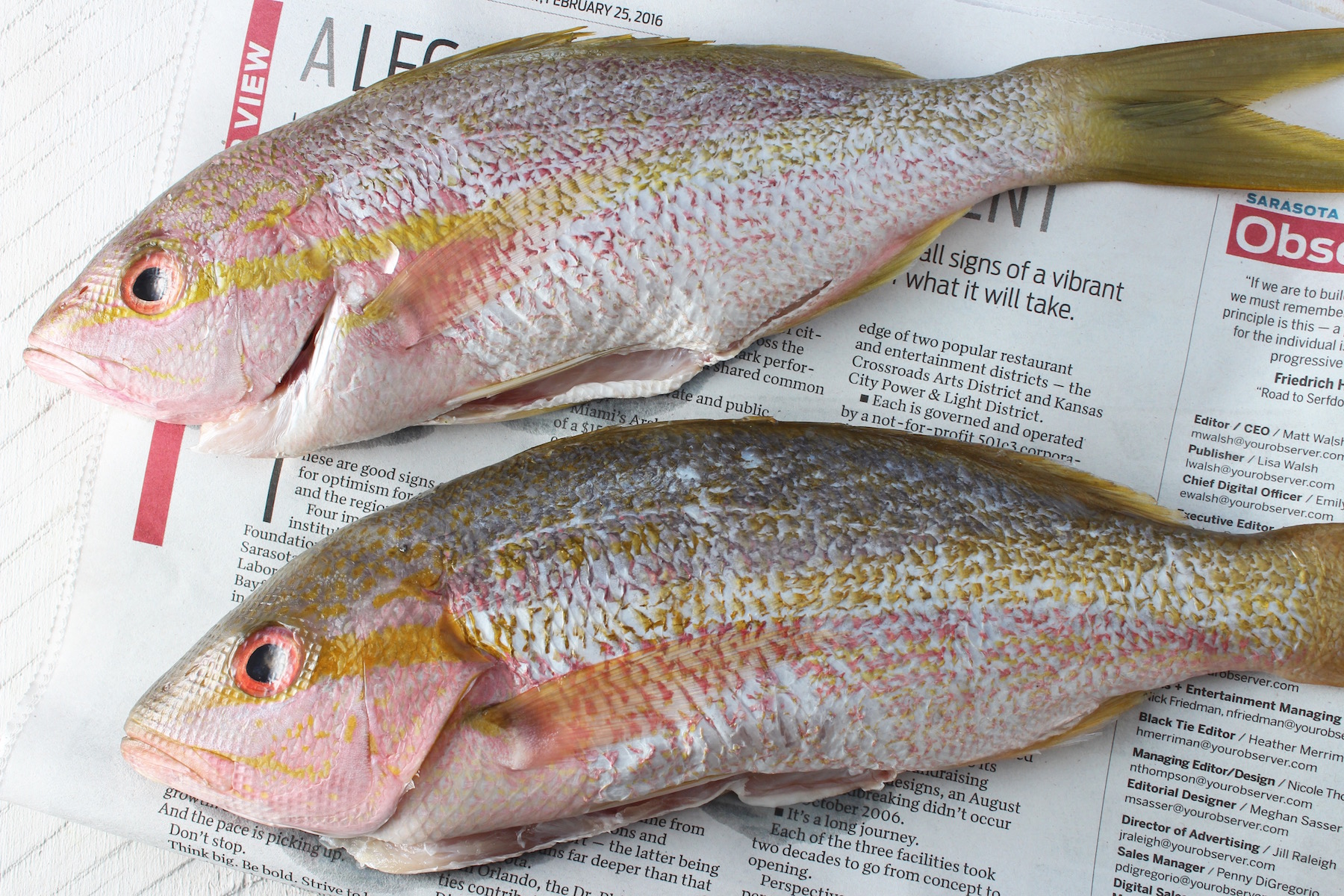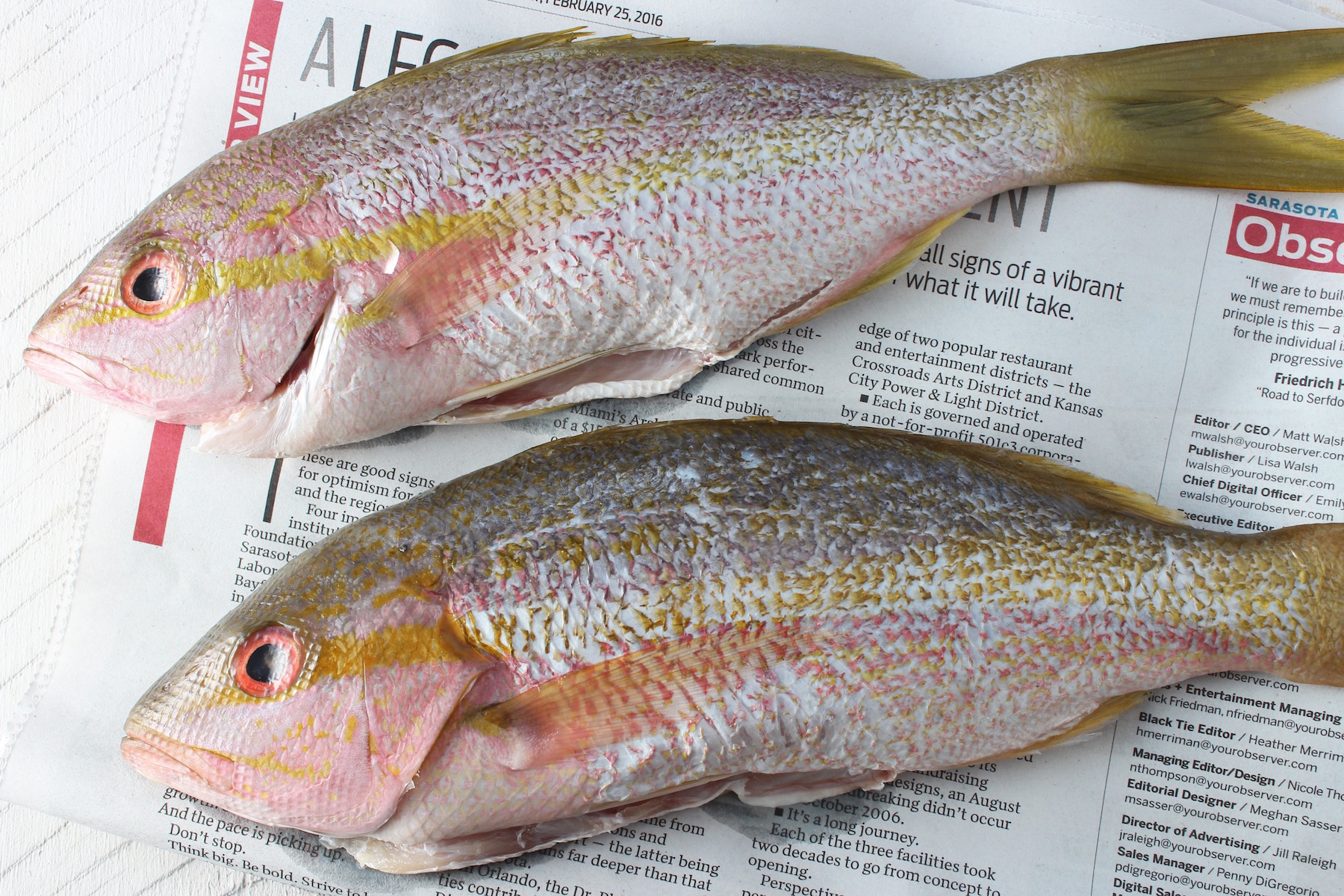 They were pristine, so I just rinsed and patted them dry, then generously coated them with olive oil and kosher salt (inside and out), and stuffed each cavity with lemons, fresh thyme and oregano, salt and pepper — all good stuff to infuse the fish.  To help them cook more evenly, I scored them a few times with a sharp knife.
When the grill was hot (our gauge read 500 degrees), we placed the fish on the grate and let them cook about 5-6 minutes each side (these were small, so a larger, thicker fish would require more time, but you can tell it's cooked if it's somewhat firm to the touch and juices run clear).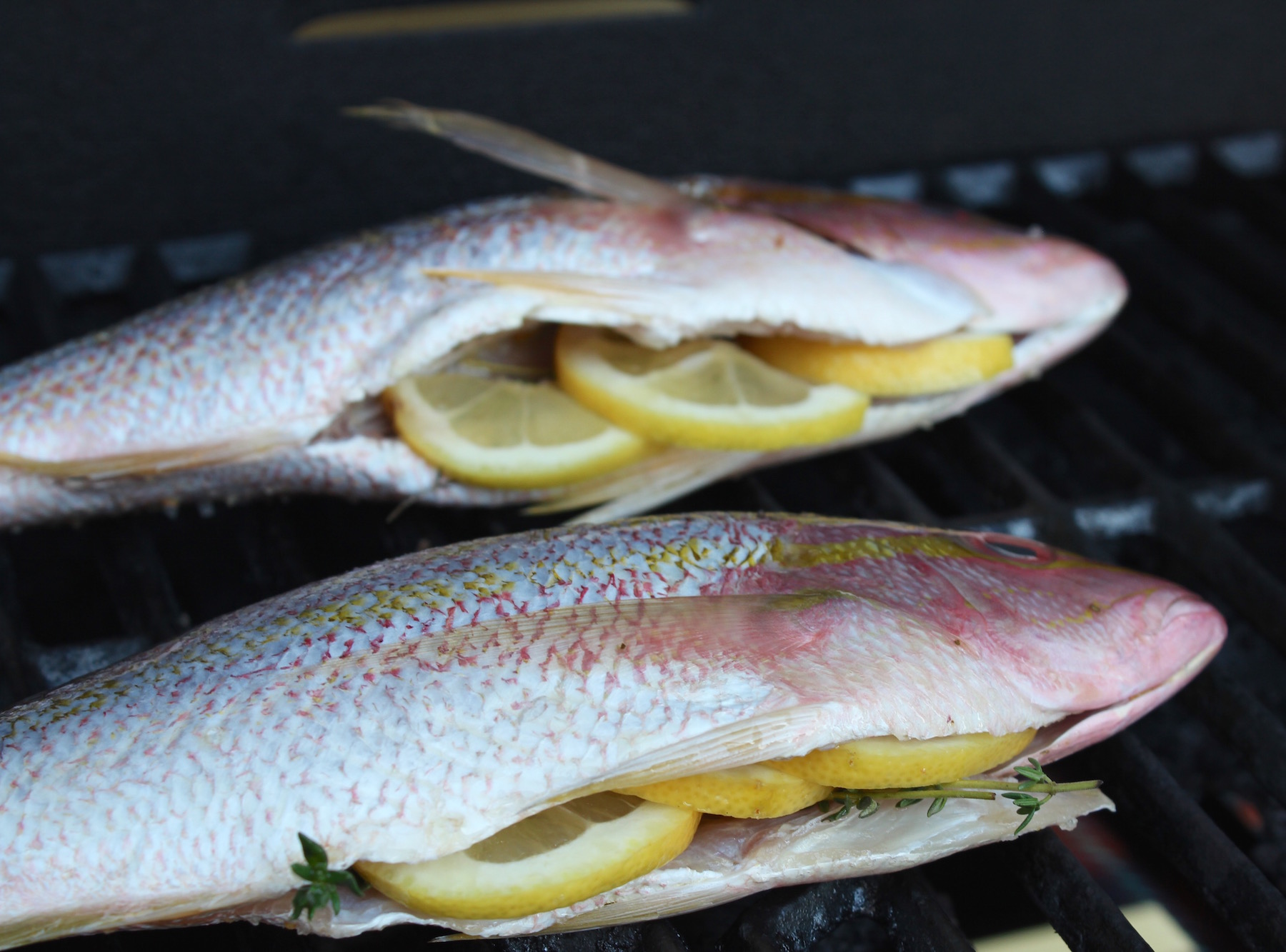 When off the grill, I sprinkled them with olive oil and lemon juice and served them alongside a mixture of chopped Kalamata olives, tomatoes, red onion, olive oil, lemon juice and fresh oregano.  The aromas were wonderful, and the eating was even better!   Oh, and we had salad, too 🙂
P.S.  if you decide you like roasting whole fish, try this recipe for Ikan Bakar, inspired by my friend Suwannee Rose.

Greek-Style Roasted Fish
A delicious way to roast a whole fish, with some flavors of Greece!
Author:
My Delicious Blog
Ingredients
Fish
2 small-medium Yellowtail Snapper (or other Snapper or Striped Bass), scales removed & gutted
Olive oil
Kosher salt
Freshly ground black pepper
Lemon slices
Fresh oregano
Fresh thyme
Greek "Salsa"
½ c. grape (or cherry) tomatoes, roughly chopped
½ c. calamata olives, chopped
1-2 Tb. red onion, chopped
½ lemon
Pinch fresh oregano, chopped
3-4 Tb. olive oil
½ tsp. kosher salt
¼ tsp. freshly ground black pepper
Instructions
For the Fish:
Heat a grill to very high (about 450-500 degrees).
Rinse and pat dry each fish.
Sprinkle olive oil on both sides of each fish, as well as, on the inside cavities.
Sprinkle the entire fish, inside & out, with kosher salt.
Stuff each cavity with a few sliced lemons, a sprig or two of oregano & thyme.
With a sharp knife, score the tops of each of the fish (about 2")
Place each fish directly onto the grill and cook each side for about 6 minutes (I like to cover the grill to help the fish roast a bit more).
While the fish cooks, make the Greek "Salsa"
After chopping all the ingredients, mix everything in a small bowl and allow everything to marry together before serving with the fish.
Notes
If you don't have access to a grill, simply heat your oven to 450 degrees and place the fish in a roasting pan (atop a rack, if you have one). Roast for about 12-15 mins and you're good to go.