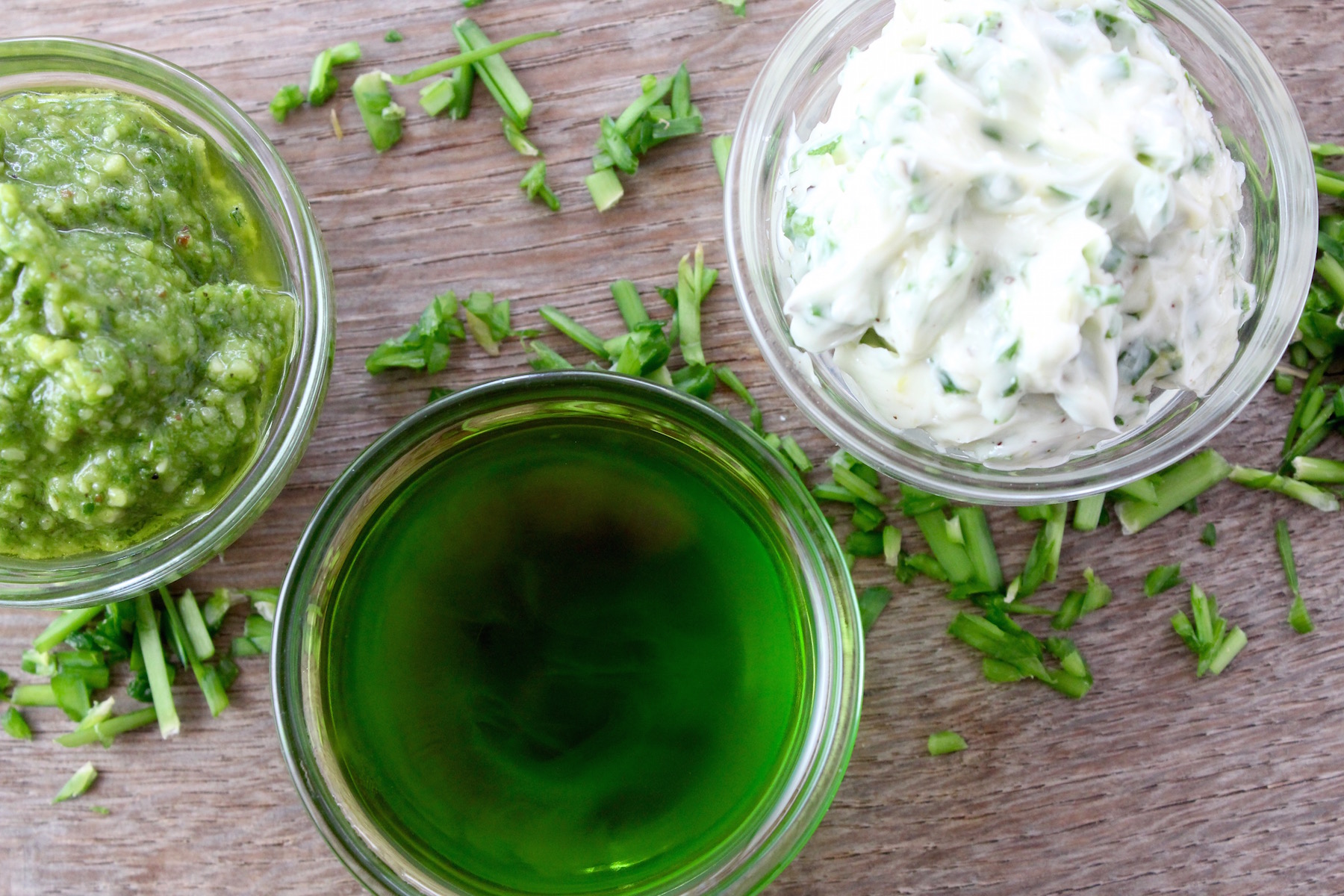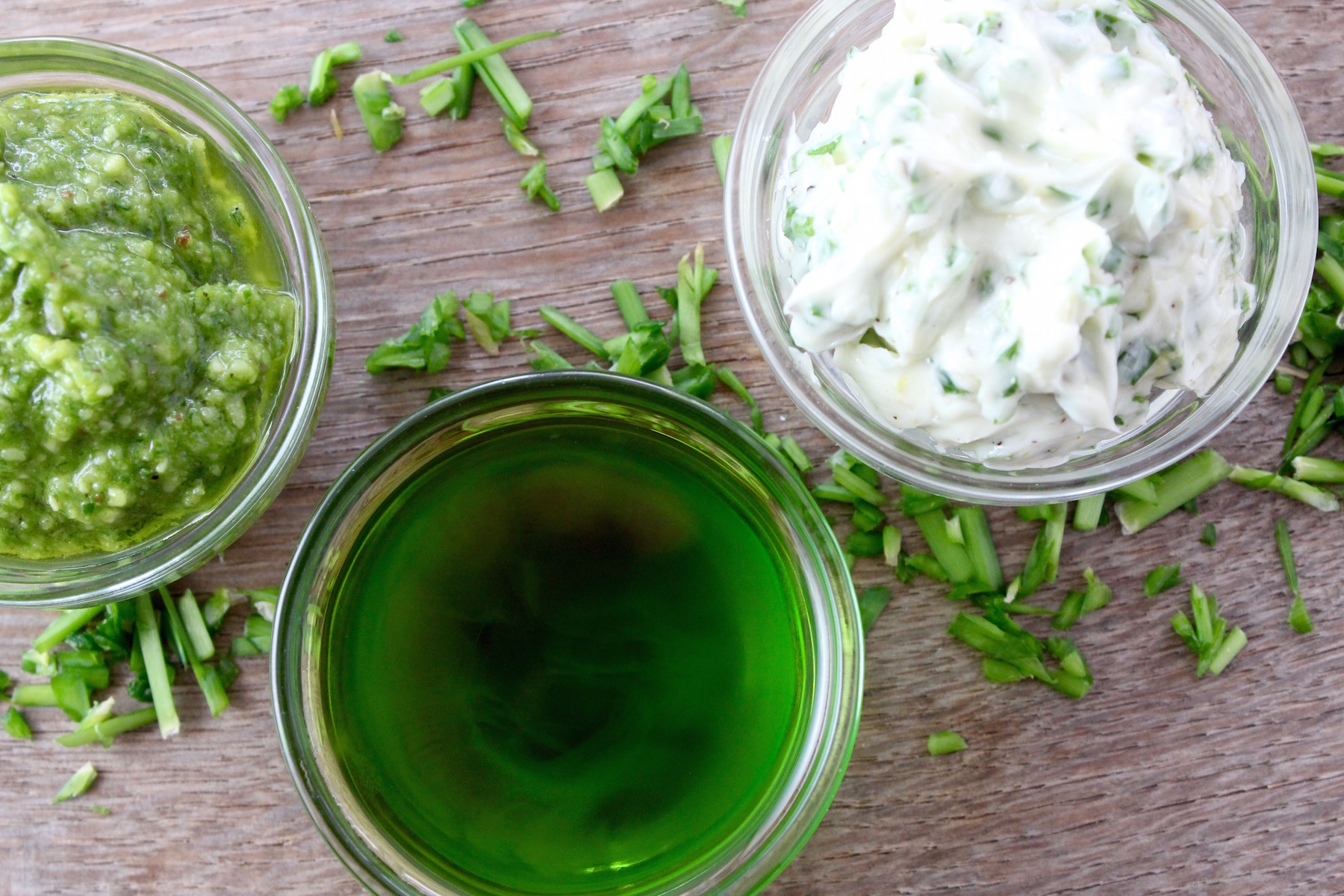 Years ago I read a wonderful book by Julia Cameron called The Artist's Way, a self-paced workshop of sorts, with lots of thoughtful exercises and writing assignments, all designed to unlock inner creativity. Julia's theory is that once you do that, you can apply creative thinking to all facets of your life.
I live with a professional artist, so I've experienced his application of creative thinking to our daily lives, and I've seen it in the course of my own day-to-day adventures. It can bubble up in the most amazing ways, even those borne out of sheer desperation, necessity or frustration!
My creativity was on full tilt last week when I saw that all our rain had caused my herbs, most notably, my garlic chives, to grow out of control. I realize this may sound a bit dramatic to those who don't have a garden, but when you work so hard to grow all this stuff, you feel compelled to use it when it finally produces, especially if it over-produces!  Here's just one tiny batch of many I clipped: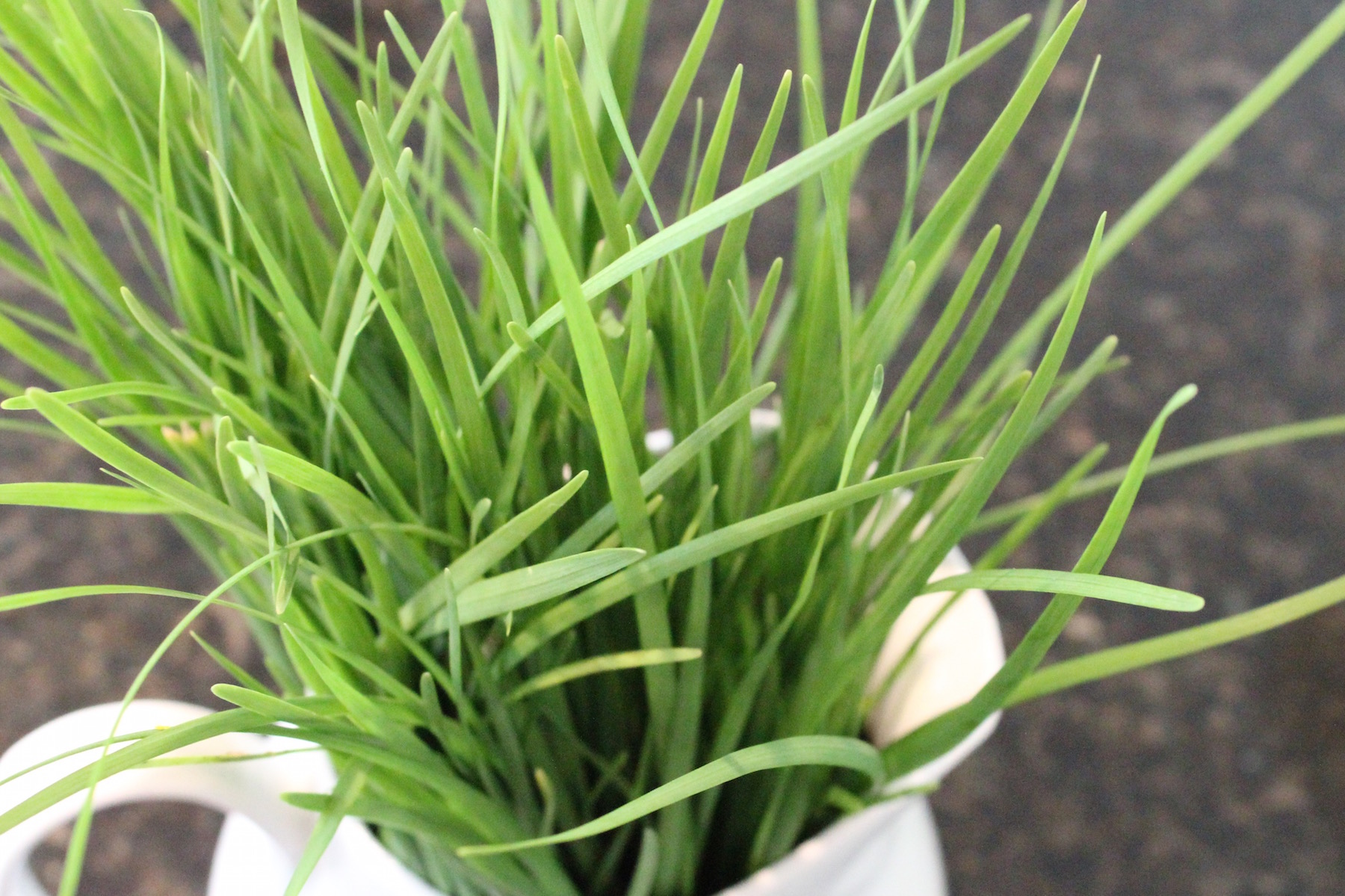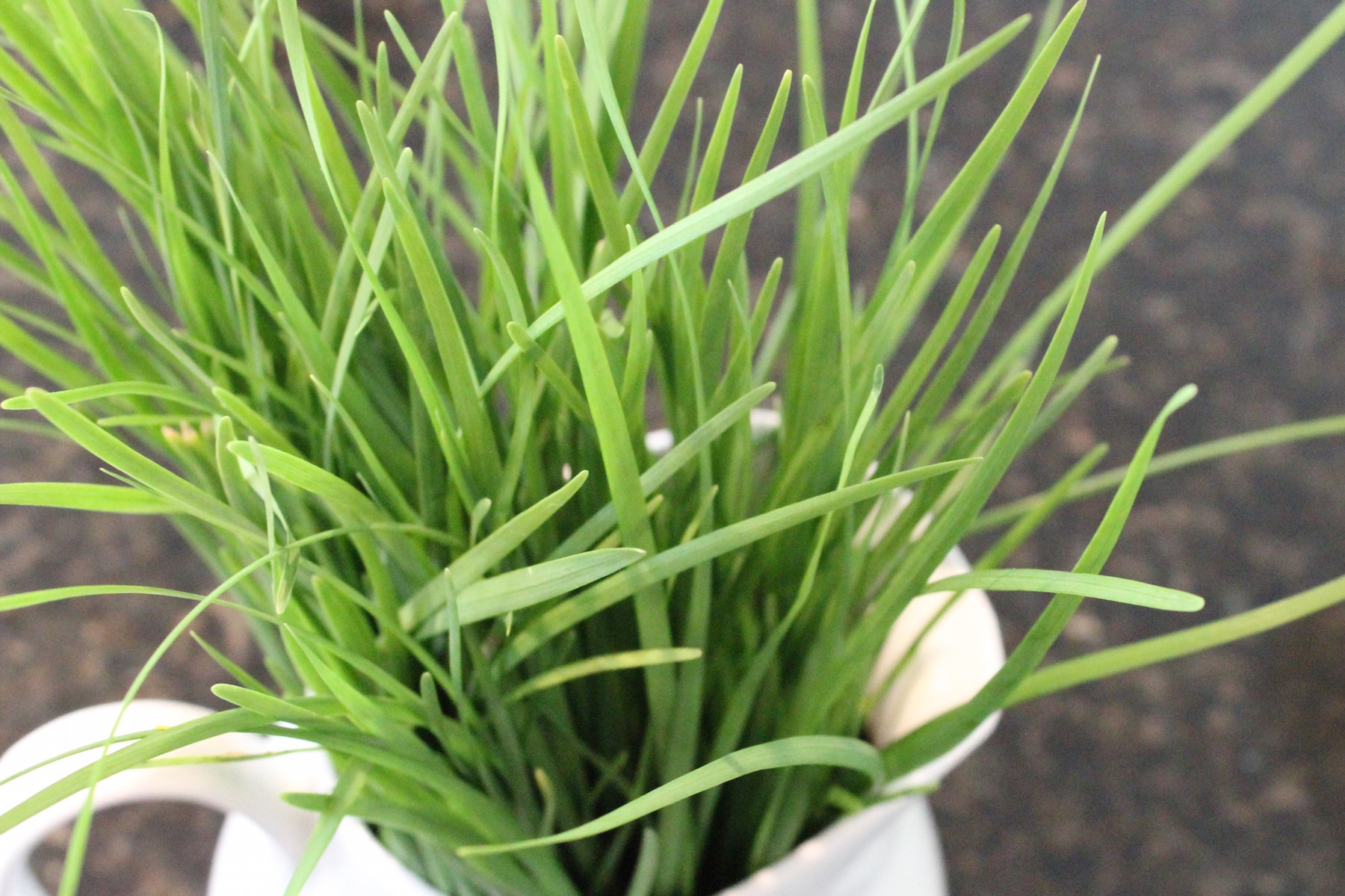 Chives are great when snipped over scrambled eggs, mixed into soups, dips or sauces, but I knew there was no way I could keep up with this kind of volume for just those dishes. So I decided to make three recipes, each offering a unique method of use at the table. Pretty creative, huh? You don't have to make all three, but hopefully you'll be inspired to make at least one, even if you don't have a truckload of chives. And you don't have to use garlic chives, either. You can use typical chives — slim, round ones with mild onion flavor. Garlic chives are flatter and more wispy than those, and they have an undertone of garlic flavor (so if you don't like garlic, use the others).
Compound butters are easy to make.  Simply mix softened butter with anything that sounds good to you, like fresh herbs, zest, cheese, hot peppers, etc., considering what you might use it on. A little schmear of the soft butter goes nicely on grilled or toasted bread, especially when topped with fresh tomatoes and mozzarella. A slice of the cold butter is delicious on hot, sizzling steak, grilled fish or steamed veggies. Basically, flavored butters can take something from ordinary to extraordinary. For today's recipe, I stuck with basic flavors to make the chives shine. This chive/parsley butter is especially good on steak, poached fish (especially if it's mild, like Cod, Haddock, Snapper or Grouper), roasted chicken, grilled or steamed veggies.
Infused oil involves a little more time but it's still easy. Basically, you puree chives and oil, heat it a couple of minutes to enhance flavors, then strain it through a coffee filter in the refrigerator. It produces a bright green oil that's great when splashed over poached/grilled fish or chicken, sprinkled on creamy soups, roasted potatoes, or pasta. Plus it looks fancy, 'cause you use one of those plastic squirt bottles, like the professional chefs use for desserts and platings.
I love having pesto in my fridge (or freezer), especially when inspiration runs dry and I need something quick for dinner. This Chive & Parsley Pesto is great to have on hand. It can be mixed into hot pasta or veggies, or used to top crostini for a quick appetizer. And if you add it to mayonnaise or sour cream, it can even make a quick dip for veggies. I used my garlic chives in the recipe, but if you use regular chives, add a small clove of garlic to the food processor, to round out the flavors.
So there you have it — three uses for garlic chives. Now I must rest, as I have used up all my creative energy for the day 🙂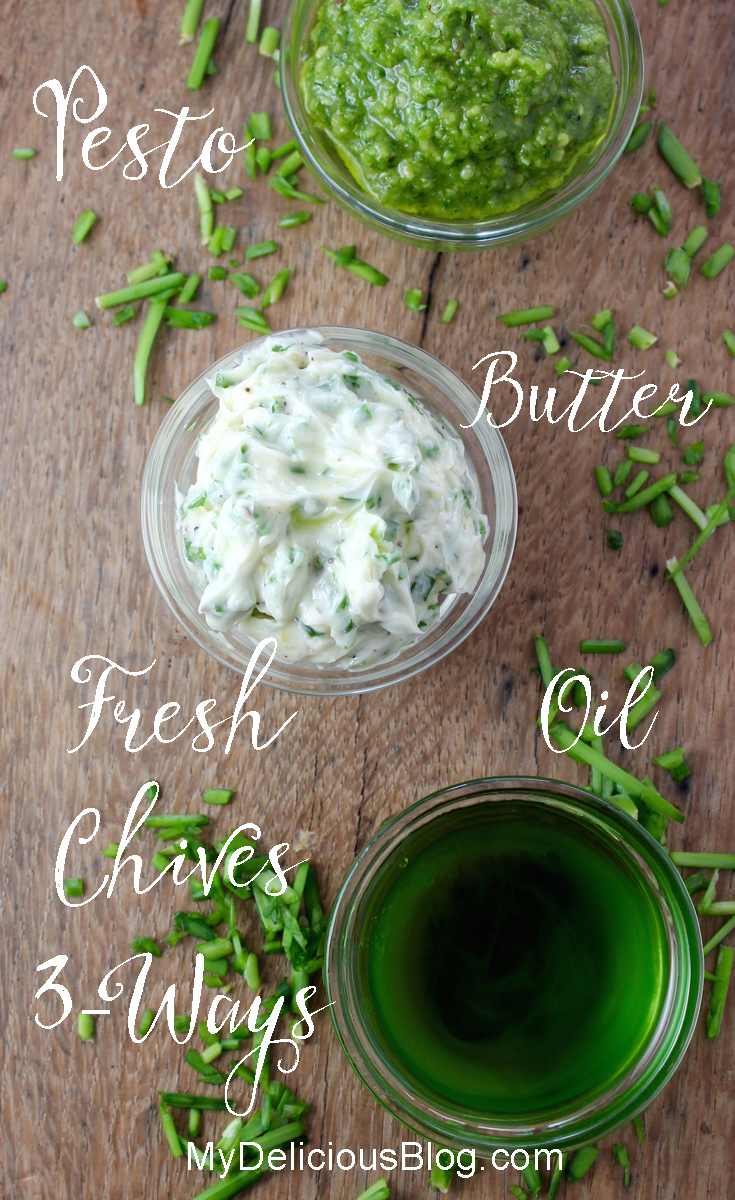 3 Uses for Chives
Three ways to use up all those chives from your garden - pesto, butter and oil
Author:
My Delicious Blog
Ingredients
Chive/Parsley Compound Butter
½ c. unsalted butter, room temperature
3 Tb. chives (garlic or onion)
¼ tsp. kosher salt
⅛ tsp. freshly ground black pepper
¼ tsp. lemon zest
Chive Oil
1 c. fresh garlic chives
½ c. grapeseed oil
½ c. vegetable oil
Pinch kosher salt
Chive & Parsley Pesto
1 c. garlic chives
Small handful flat leaf parsley
¼ c. slivered (or sliced) almonds
Zest of ½ lemon
½ c. grated parmesan
Pinch kosher salt
Freshly ground black pepper
¼ c. extra virgin olive oil
Instructions
For the Chive/Parsley Compound Butter
Combine all ingredients in a small bowl and mix with a spoon.
Transfer to a decorative bowl OR a piece of wax paper and roll it into a log, pinching the ends of the paper when finished. Refrigerate until ready to use.
Spoon out or slice off a small portion as needed (you could also layer the slices in a pretty dish for serving at the table).
For the Chive Oil
Blend all ingredients in a food processor until smooth.
Pour into small saucepan and heat over low about 2 minutes.
Turn off heat and allow to sit about 10 minutes.
Place a fine mesh strainer over a glass bowl, then layer a coffee filter in the strainer.
Pour the oil mixture slowly into the coffee filter then place the whole thing in the refrigerator about 2 hours. The oil will slowly work its way through the coffee filter, producing a bright green oil.
When all oil has passed through, discard the solids - don't mix them or press into the coffee filter since that will make the oil cloudy.
Pour infused oil into a squeeze bottle for easy use.
For the Chive & Parsley Pesto
Combine chives, parsley, almonds, lemon zest, parmesan, salt and pepper in a food processor and pulse several times until smooth.
Slowly add in olive oil in the continuous stream tube and blend until well incorporated.
Refrigerate until ready to use.
Notes
1) The compound butter or pesto may be refrigerated or frozen for up to a few weeks in a tightly sealed container. Freezing allows you to use just a little bit at a time, if you don't have an immediate use for them.
2) The chive oil will store well in the refrigerator for about 2 weeks.