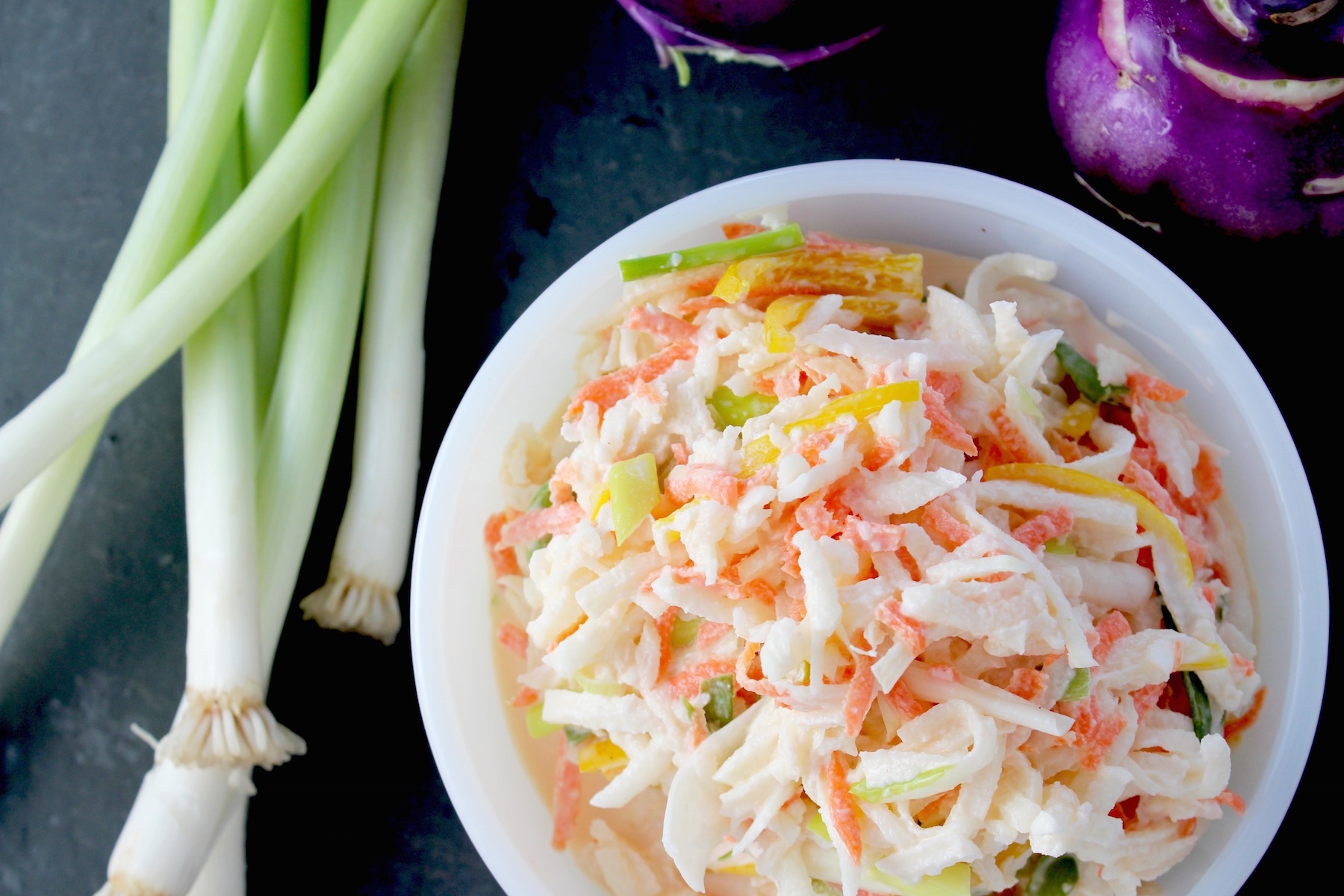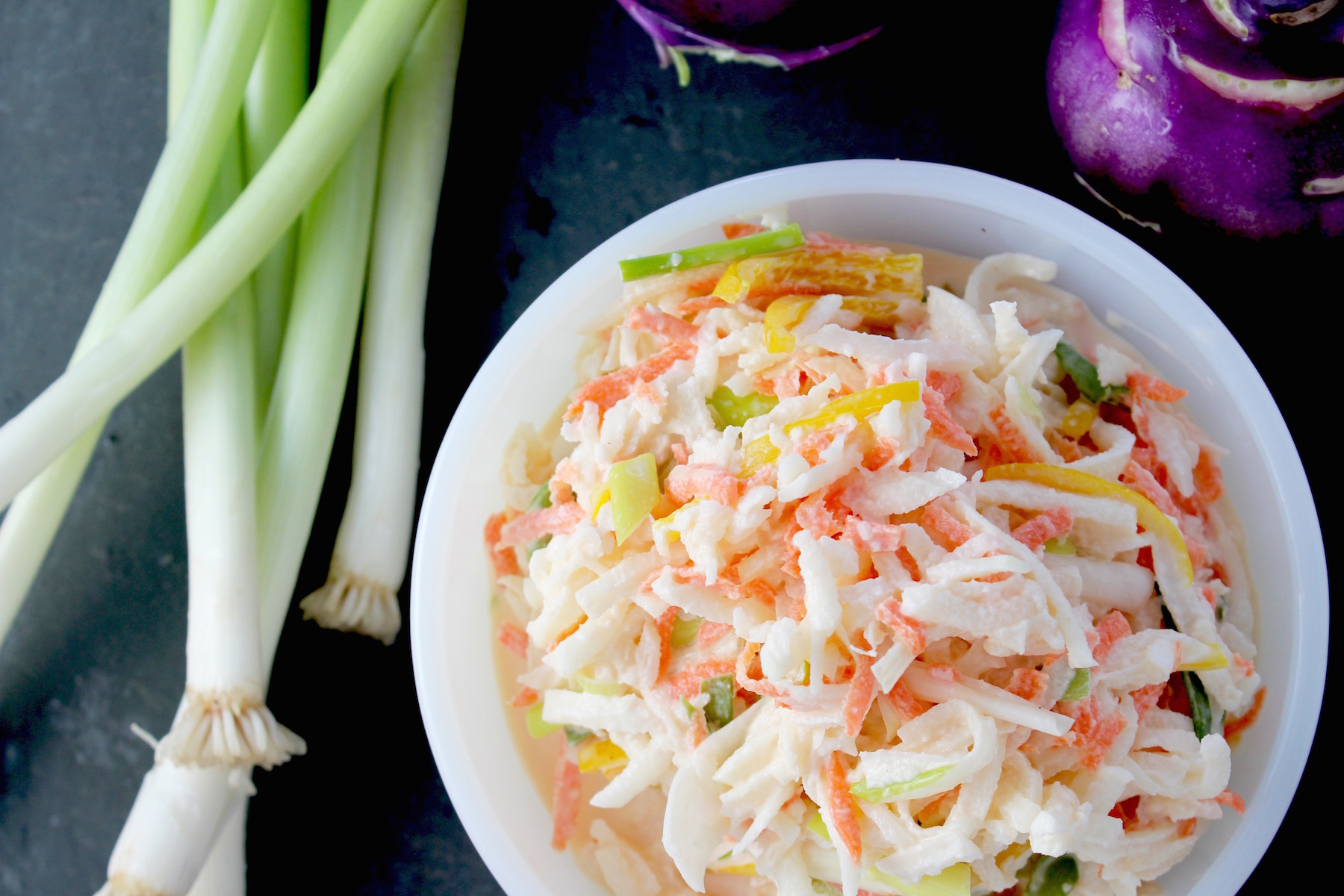 Kohlrabi (pronounced 'kole-rah-bee') is definitely an unusual-looking vegetable. It's one that, when you see it at the farmer's market or supermarket, you just sort of stroll by because it looks a little too 'complicated' to consider trying in your kitchen.  I rest my case:
And that's just how I've always reacted to it whenever I've seen it. But, a new year brings with it a desire to try new things, so I thought now was just the right time to put the kohlrabi from my CSA box into action.
Before I work with any new-to-me ingredient, I like to learn a lot about it. Turns out Kohlrabi is in the cabbage family!  Its bulbous root (a.k.a the stem) grows above ground, and its leaves resemble collard greens (but I actually think they look like one of those space aliens I used to watch on "Creature Double Feature" when I was a kid). The edible part is that root — it's bright white, firm, crunchy and tastes like a cross between cabbage and broccoli stems. Kohlrabi is also pretty versatile in the kitchen — it can be enjoyed raw, roasted, steamed, tossed into soup, or shredded and made into fritters (yum). The greens are also edible if they're young and tender and can be tossed into salads or sauteed like spinach, mustard greens or collards. This unusual-looking vegetable is loaded with Vitamins B6 and C, as well as, fiber and potassium, so it's pretty darned good for you.
But what to do with it?!? I had several beautiful deep purple varieties (they also come in bright green) but, alas, no ideas as to what to make with them.
I finally decided on something raw to honor that crunchy texture. And what better dish than a slaw?!?
I don't know about you, but when it comes to traditional cole slaw, I'm pretty picky.  I don't love it on the sweet side (sorry all you pineapple-in-the-slaw people).  Nope.  I think it should be savory, but that's just me. I also like a little peppery bite to it, which is why I decided to use my family's go-to slaw dressing recipe for this brand new dish.
This slaw has just the right mix of vinegar-sugar-mayo with a healthy dose of dry mustard for the kick that I love. Combined with the kohlrabi, carrot, scallion and yellow pepper, it came out very tasty AND very colorful (almost confetti-ish, I must say). I enjoyed it with a grilled roast beef sandwich with arugula and tomato from my garden. It doesn't get much better than that.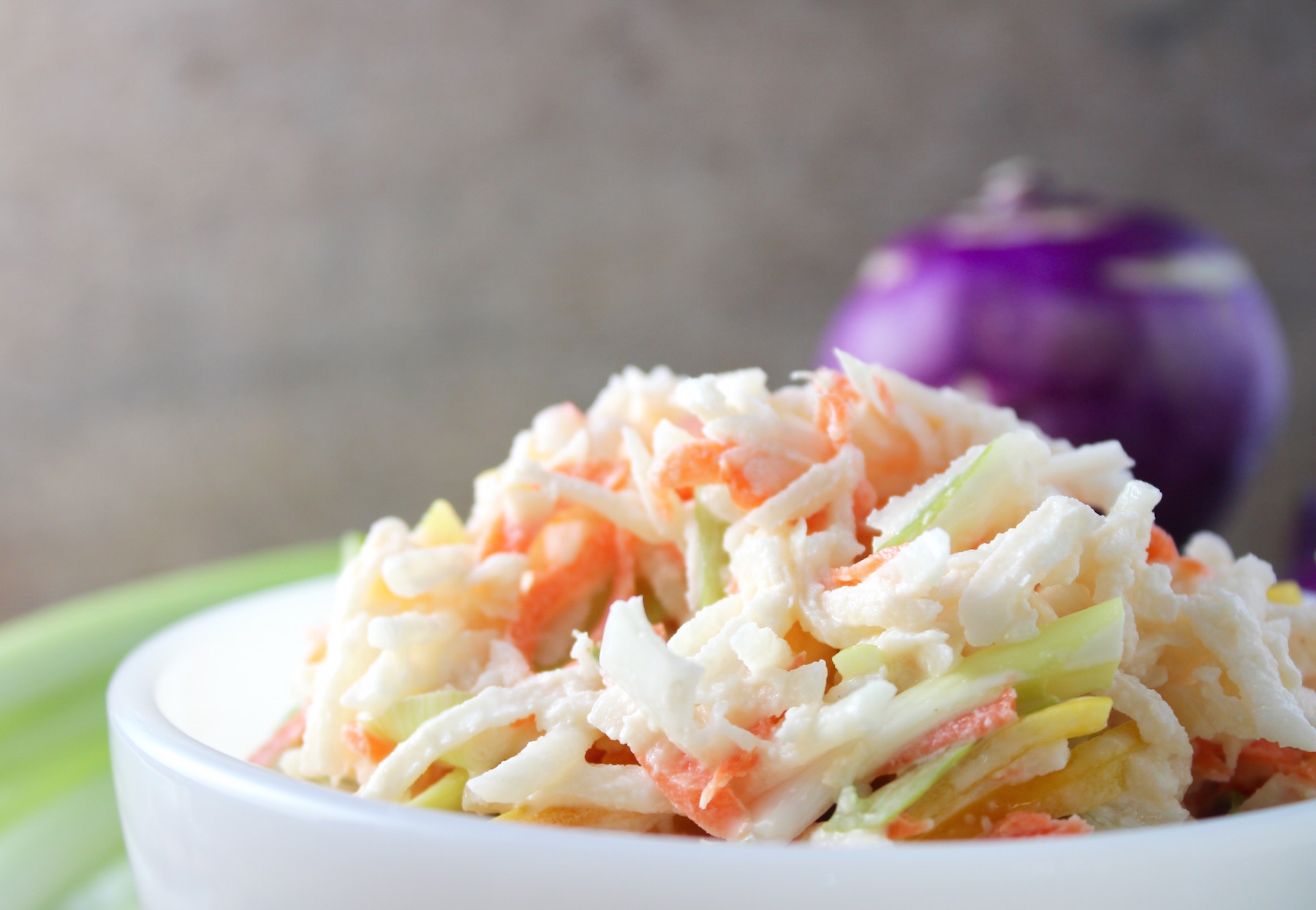 If you haven't yet tried kohlrabi, I hope you give it a second glance the next time you see it. This is an easy and tasty way to build another healthy vegetable into your diet.  Happy New Year!

Zesty Kohlrabi Slaw
Kohlrabi is crunchy and delicious in this traditional slaw dressing.
Author:
My Delicious Blog
Ingredients
Dressing:
½ c. mayonnaise
2 Tb. granulated sugar
2 Tb. white vinegar
1 tsp. kosher salt
1 tsp. dry mustard
Slaw:
2 medium kohlrabi, peeled & shredded
1 medium carrots, peeled & shredded
3-4 scallions, thinly sliced
½ yellow, green or red bell pepper, sliced into thin strips
Instructions
Combine Dressing ingredients in a small bowl and whisk until smooth; refrigerate until ready to use.
Remove the leaves, peel the kohlrabi and shred it using a food processor fitted with a shred attachment OR, use a box grater; add to a medium mixing bowl.
Peel and shred the carrot; add to mixing bowl.
Remove stems of scallions and slice into thin strips or disks; add to mixing bowl.
Remove seeds and stem of pepper, slice into thin strips; add to mixing bowl.
Pour dressing over salad ingredients and toss to combine.
Refrigerate about 1 hour before serving so the flavors combine.