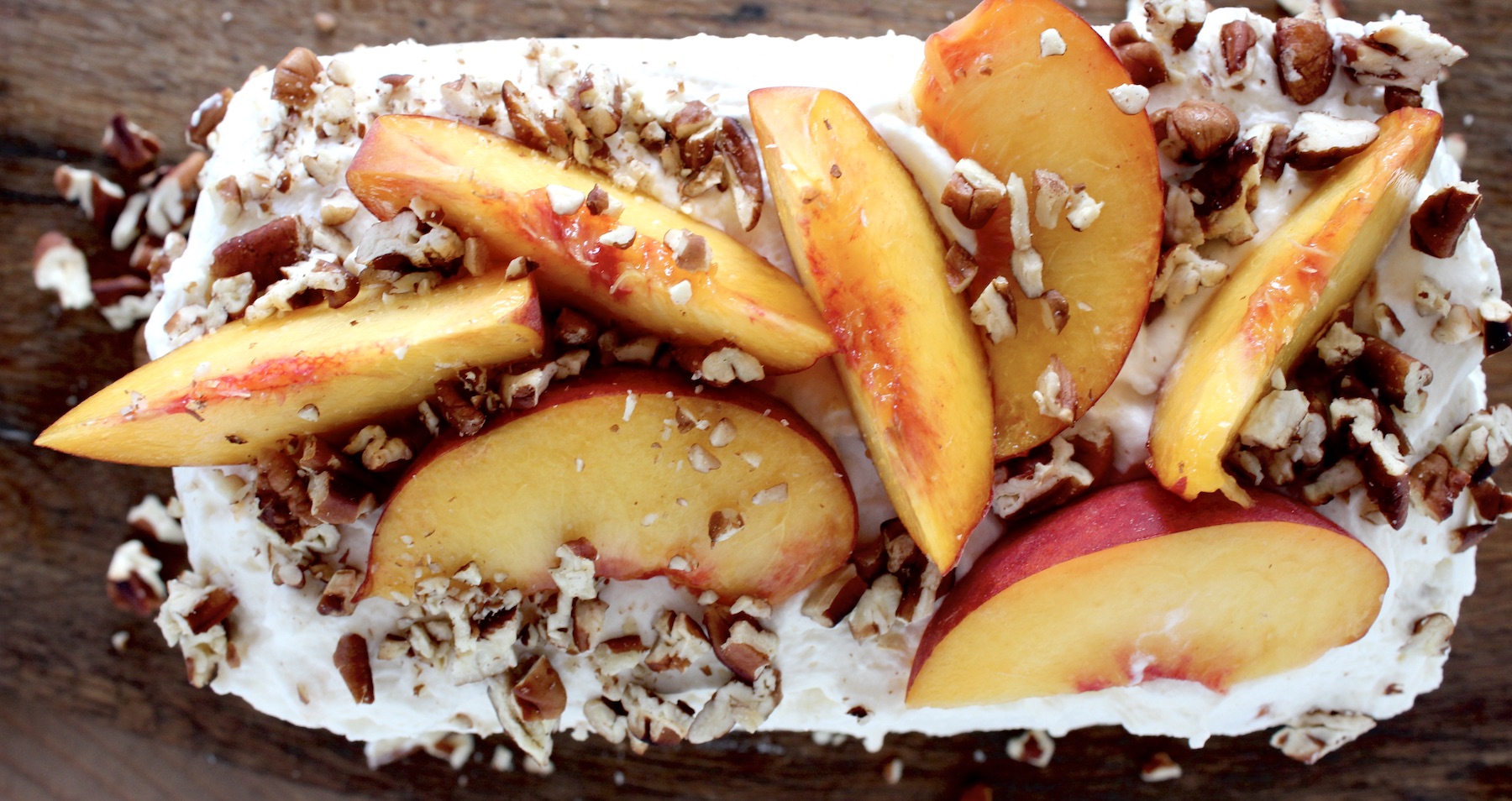 My grocery store had really good peaches this week – sweet, juicy, with a distinctly Summer-peach flavor. This is the best time of year for stone fruits, so get as many as you can and even freeze some for the days when you're missing Summer.
Who hasn't consumed a really good peach while standing over the kitchen sink, letting the juice drip down his/her arm? It simply has to be done when you've got a good peach. But when you need to be a bit more civilized and a proper dessert is in order, try a peach icebox cake.
Icebox cakes, a.k.a. refrigerator cakes, require only a few ingredients, aren't baked, and are easy to make. In their basic form, they're made of layers of whipped cream and cookies/crackers. They were first introduced in the 1920s when iceboxes (and later, refrigerators) were available in kitchens, and homemakers sought ways to make their lives easier. Since then, folks have been making all sorts of tasty variations.
It's fun to mix flavors and textures. Instead of cream, use pudding or ice cream; for alternating layers, use graham crackers, buttery crackers, pretzels or pound cake. Anything you put in there gets soft when it absorbs moisture, mimicking the texture of
cak
e. I've made several variations, including 
lemon/ginger
and
roasted strawberry/chocolate
.
This combo of peaches, peach preserves, Ritz® crackers, pretzels and toasted pecans, is light, cool, not too sweet, with a hint of saltiness.
It's also one of those desserts that has NO RULES! Exact measurements are not required, and you can hide anything with whipped cream if it looks messy on the edges. Trust me, no one will complain if it has a little more or a little less of an ingredient.
It all starts with a layer of crackers, then layers of whipped cream and peach: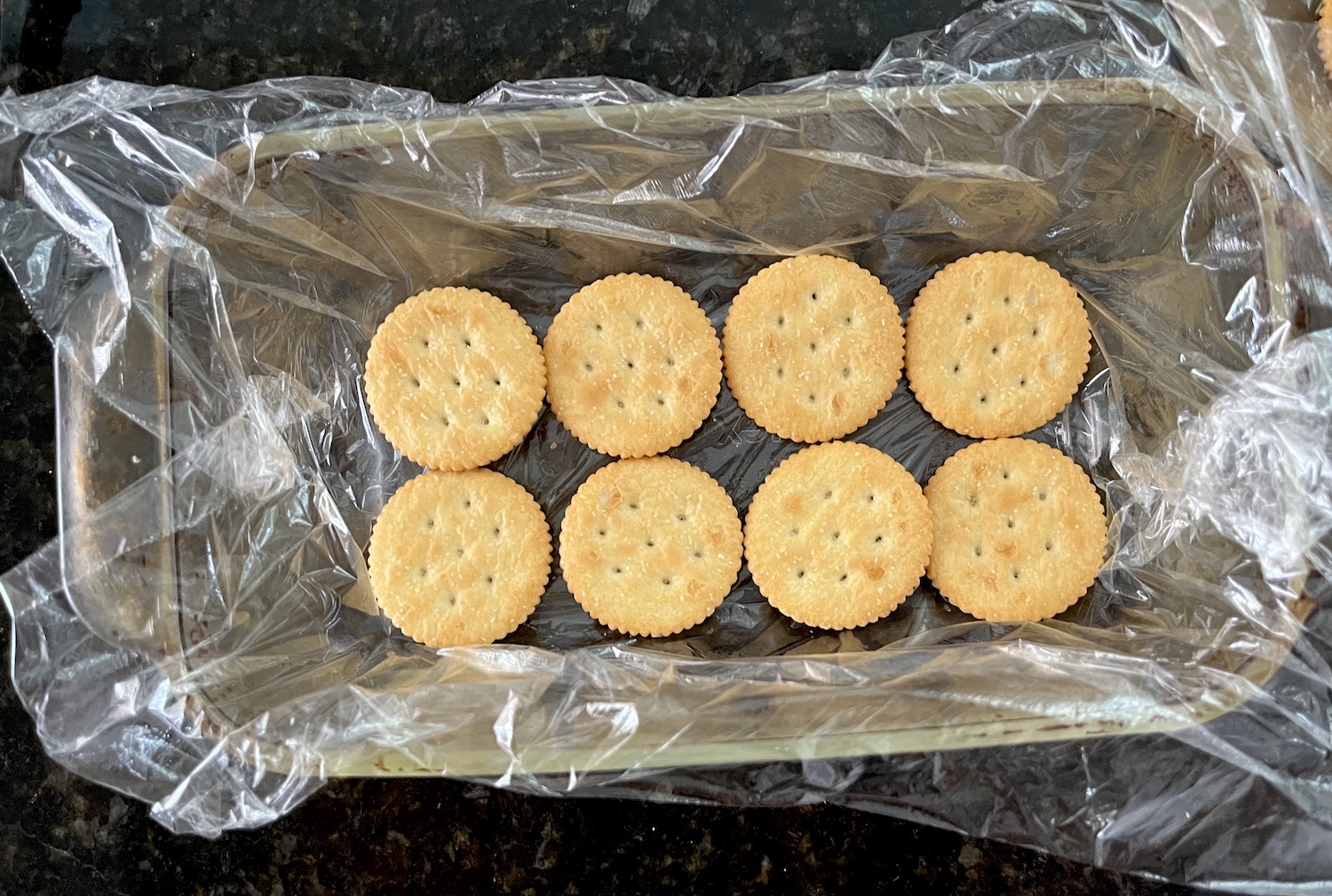 This is what you end up with after slathering it in more whipped cream and transferring to a serving platter: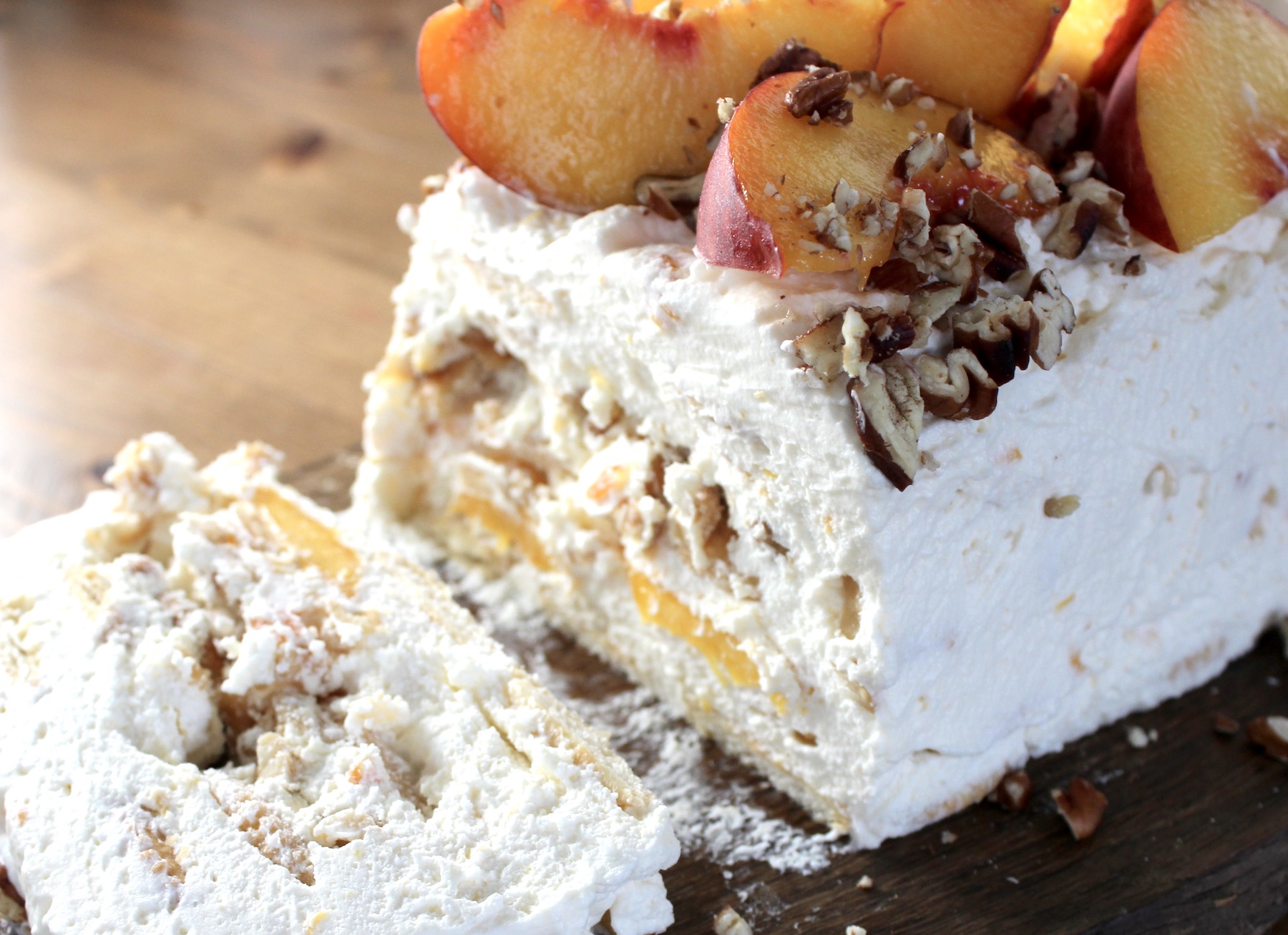 Enjoy!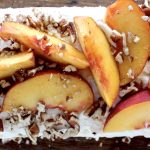 Print Recipe
Fresh Peach Icebox Cake
A great Summer dessert - whipped cream blended with peach preserves, layered with Ritz crackers, pretzels, toasted pecans and fresh peaches!
Ingredients
2

c.

Chilled heavy cream

3/4

c.

Peach preserves/jam (room temperature)

~32

Ritz crackers

(about 2 sleeves)

2

medium

Peaches

1/2

c.

Pecans, toasted & chopped

Handful

Pretzels, crushed lightly
Instructions
Line a 9X5 loaf pan with plastic wrap (enough to hang over the sides so it's easier to remove later.

Place preserves in a mixing bowl and blend with a spoon until smooth.

Toast pecans over low heat in a skillet; cool and chop.

Remove skin of one peach and slice thinly; set aside.

Place pretzels in a small ziplock bag and crush lightly with a rolling pin/pan.

Whip the cream until soft peaks form. Reserve about 1 cup and refrigerate for serving later.

Place 8 crackers in the bottom of the lined baking dish.

Add about 1 cup of cream into the softened jam and mix with a rubber spatula until combined. Fold in remainder of cream and blend until fully combined.

Spread a layer of cream over crackers. Add another layer of crackers and repeat with cream, then one layer of sliced peach. Keep layering crackers/ cream until you reach the top of the baking dish. Finish with a layer of cream. Cover with plastic wrap and refrigerate at least 5 hours.

When ready to serve, invert the dessert onto a serving platter and remove/discard plastic wrap. Place in the freezer for 20-30 minutes, to make it easier to slice.

Remove from freezer. Using remaining/chilled whipped cream, spread a thin layer all over dessert to cover edges for a finished look.

Slice the remaining peach (skin on) and place on top of dessert. Sprinkle with pecans and pretzels; serve in slices.