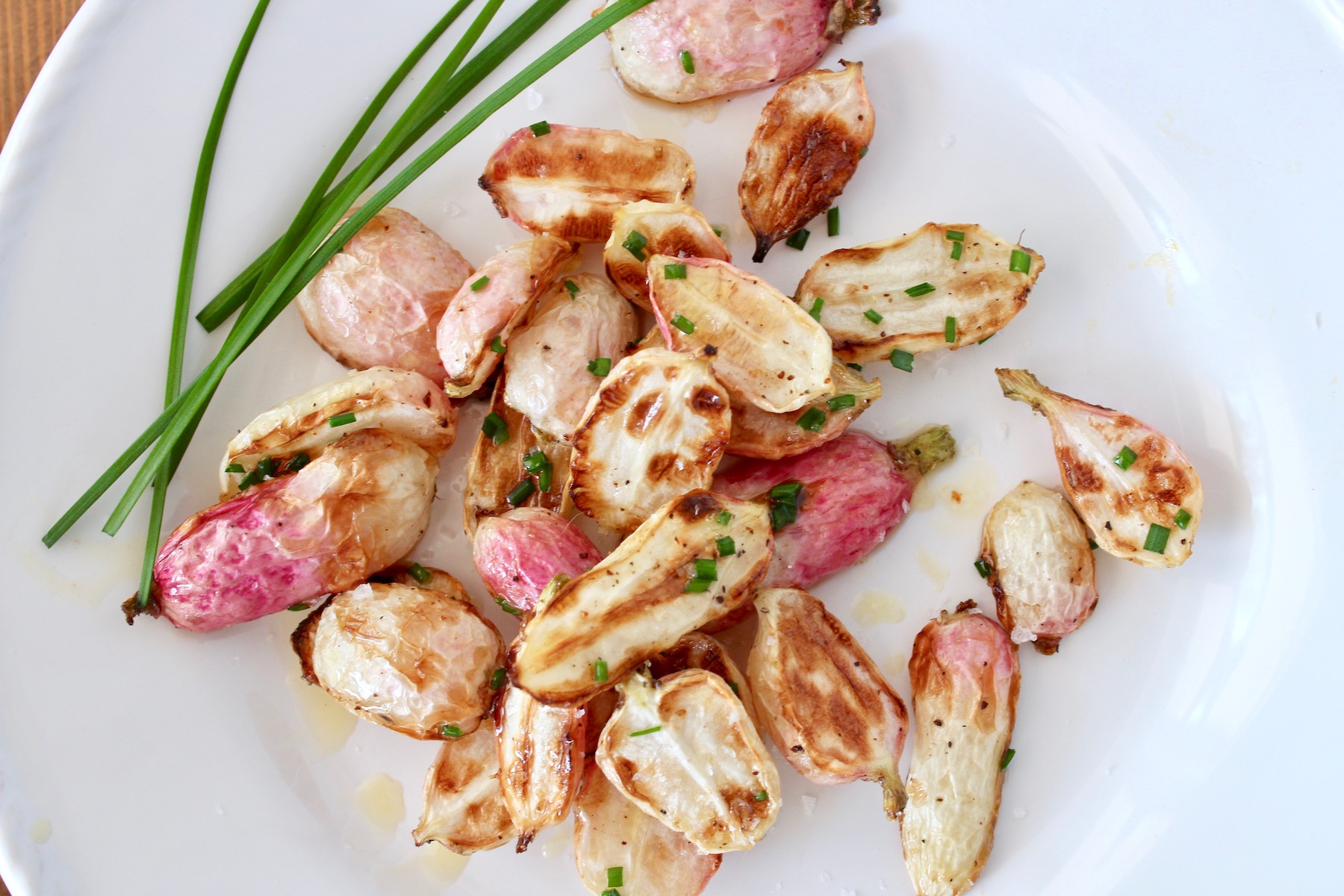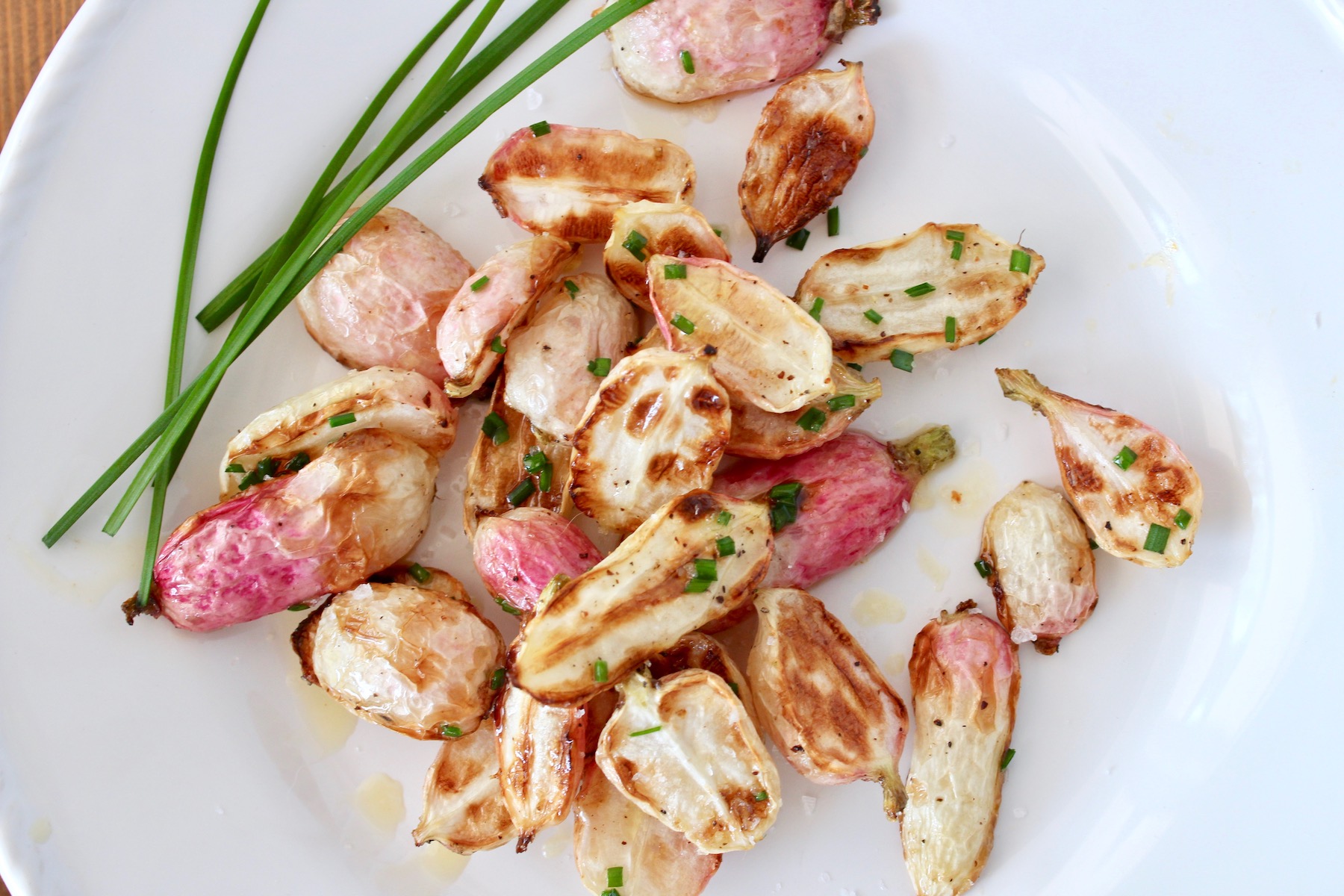 Buying veggies directly from a farm is just plain fun.
Many farms even utilize a Consumer Supported Agriculture (CSA) model in which you purchase a membership, and the farm, in turn, supplies you with a box of veggies each week (and sometimes it's a surprise what's in there).  It's a great partnership because you support farmers with cash at the start of the growing cycle, then you get to enjoy fresh, locally-grown food.  But sometimes I hear from folks who don't know what what to do with some items in those boxes (i.e., veggies they've never seen like moringa, unique varieties of mustard greens, 'unusual' turnips, to name a few, or those that have stronger-than-expected flavors).  Recently, I've been hearing about super-spicy radishes. . .
Radishes are a typical offering (depending on season) in CSA boxes because they're pretty easy and inexpensive to grow.  But, depending on variety, time of year, or where they're grown, they can be very spicy/peppery, especially to the non-radish fan.  And even if you are a fan, you can only eat so many raw radishes each week – until the next box comes, that is 🙂  This can also happen if you pick up a bunch at a market, because even mild varieties can sometimes surprise you.
Wherever you get them, if you've got this challenge, try ROASTING them!  Oven roasting at a high temperature for a short time brings out the natural sweetness in the radishes, tempers peppery tones, and actually makes them juicy.  If you've never done it, you'll think you invented a whole new food.
This is a dish where the theory of "the simpler the better" applies.  Just toss cut radishes in melted butter or olive oil, sprinkle with salt and pepper, place on a baking tray, pop in the oven and remove when slightly brown and almost fork-tender (about 10 minutes).  Top with fresh herbs (basil, chives, dill, garlic, mint or parsley work well with radishes), lemon juice, melted butter (brown butter is even better), or even a light vinaigrette or creamy dressing, and serve as a snack, a side dish, or mixed into a salad.
I used French Breakfast radishes — oval-shaped with beautiful red and fuchsia colors, a good amount of crunch, and a slightly peppery flavor (which makes them a great raw snack variety).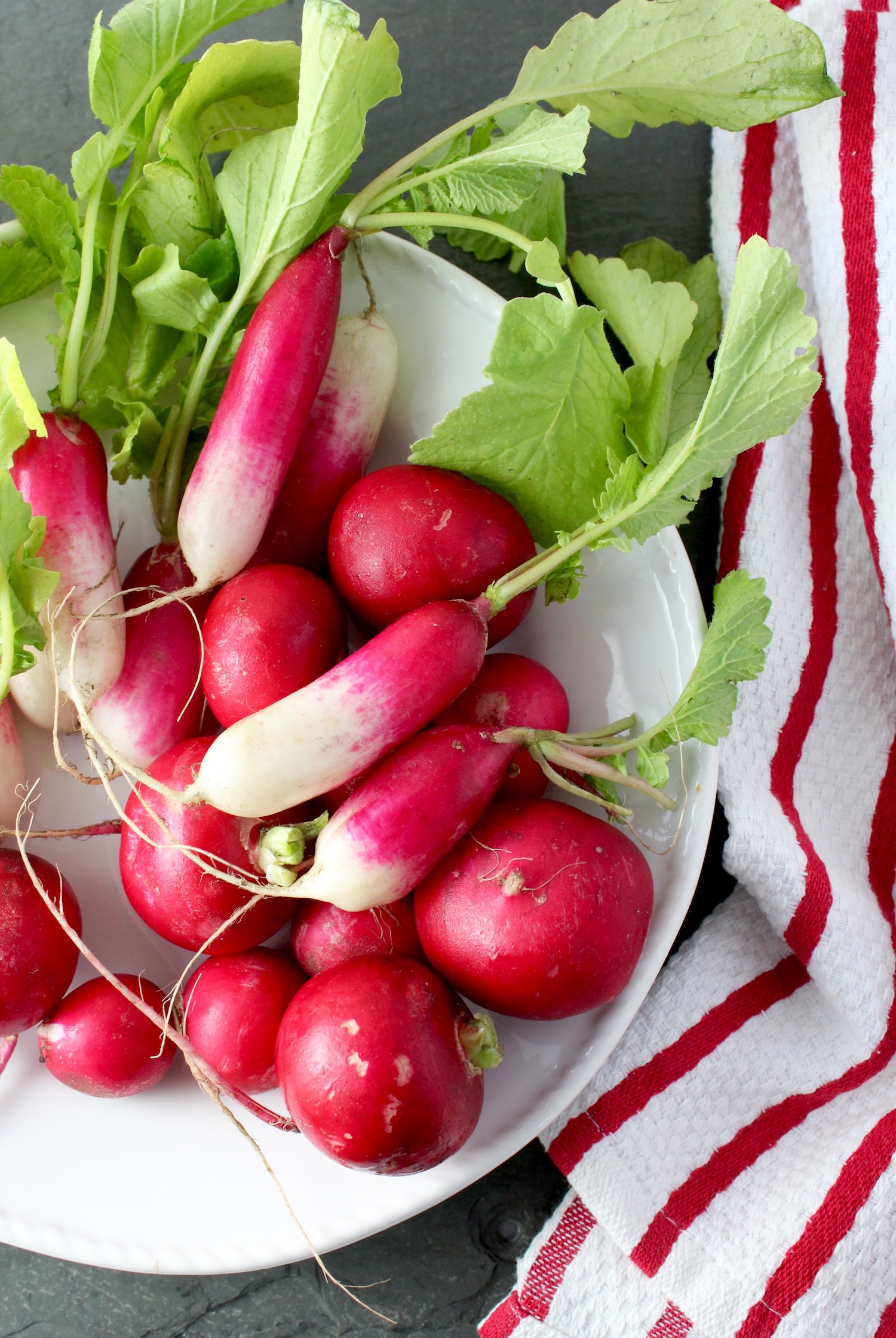 But they're also really good roasted, topped with melted butter and fresh chives.  Simple, elegant, and delicious 🙂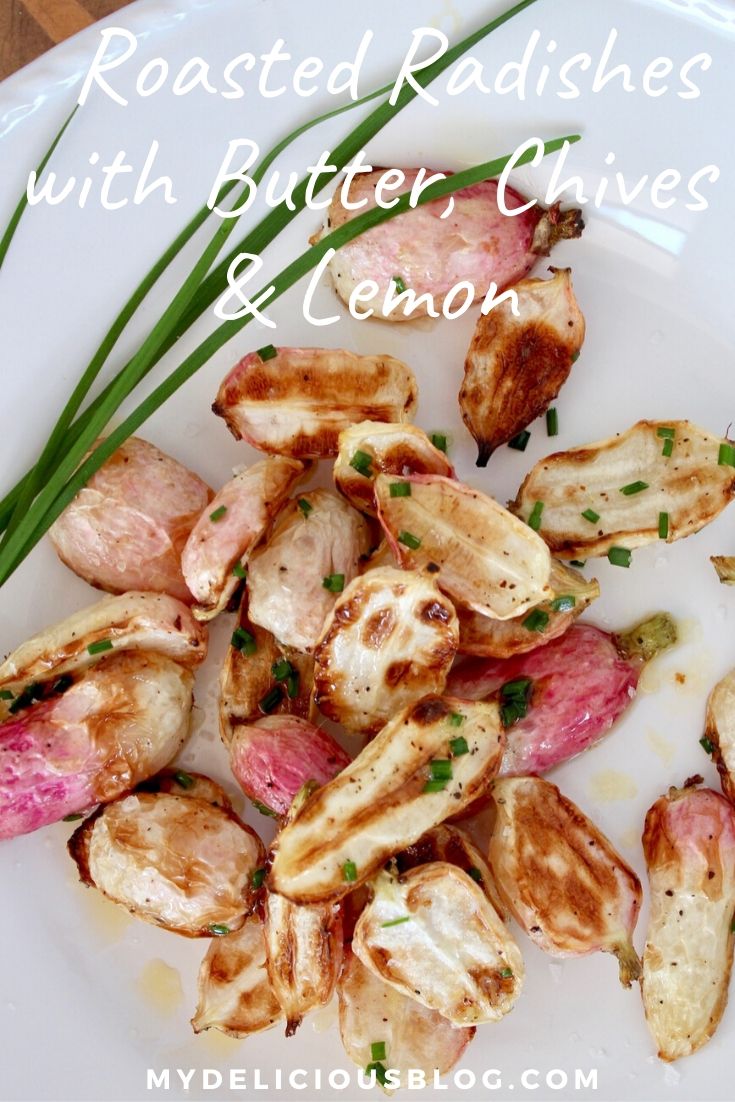 Print Recipe
Roasted Radishes with Butter and Chives
Roasted radishes are sweet and juicy. Paired with butter, salt, pepper, lemon juice and chives, you've got a lovely snack or side dish.
Ingredients
1

bunch

Small-medium radishes (~1 dozen)

1

Tb.

Olive oil

1/4

tsp.

Kosher salt

Fresh black pepper (to taste)

Handful

Fresh chives, minced

1-2

Lemon wedges

Sea salt, Kosher salt or other finishing salt
Instructions
Heat oven to 450 degrees.

Wash and trim the tops of the radishes, but keep a bit of the stem because the radish halves look prettier when cut. Cut each in half from top down.

In a small bowl, toss radish halves with olive oil; sprinkle with 1/4 tsp. kosher salt and a few grinds of black pepper then place each radish, cut-side down, on a baking sheet.

Roast for 10-12 minutes, just until the bottoms of the radishes are browned slightly, and they're almost fork tender, then remove from oven.

Melt 1 Tb. of butter and spoon over the radishes. Top with chives and a little finishing salt.