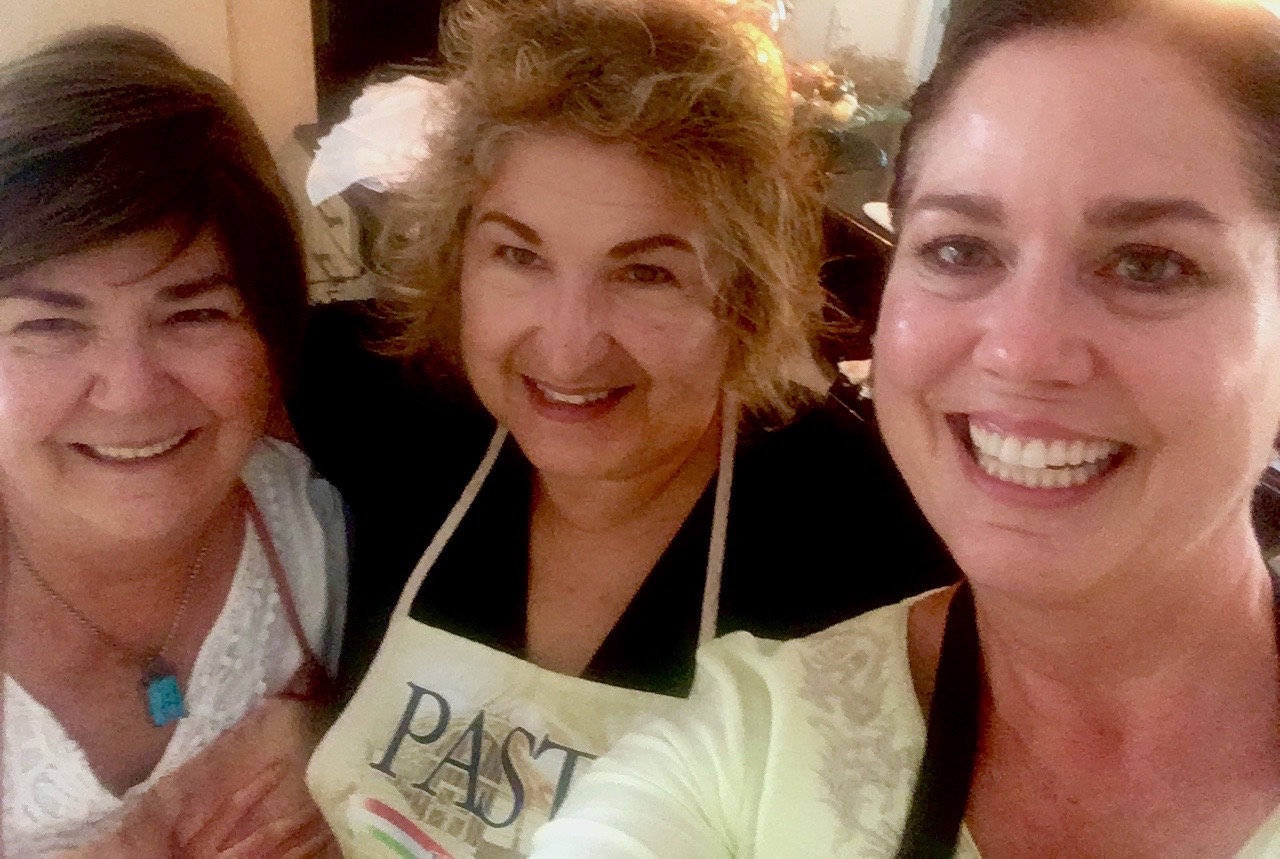 Sharing time with friends in a kitchen is special. It's even better when one is teaching you how to cook something you've never cooked before, and it's ideal when one of the folks is one gal's mother. And that's exactly what happened over the summer, when my mom and I were invited by her friend Margie to cook in her kitchen.  I love cooking with friends because it's an opportunity to see what they like to cook, learn tricks or hacks they've gathered, nibble on treats, and talk about our shared passion, all while getting to know each other even more.
I've talked about my mom and her culinary prowess, and we all know I spend a lot of time in my own kitchen.  But on this day she and I were novices working with new-to-us culinary techniques and flavors, and it was exciting.
Margie is Italian, raised in a family of immigrants. She learned a lot from her family about the immigrant experience, including challenges they faced when transitioning into American culture and society. One of those challenges was the need to modify 'old country' recipes in America based on what was available, the cost of ingredients, and how food tasted to them. They weren't alone, though, because even families who stayed in their native lands had to contend with well-traveled family members who returned home with knowledge of 'new' ways of preparing food, along with different tastes, expectations and cultural norms — all of it forcing those 'heritage' dishes to change — an inevitable result of 'progress' and globalization. But, luckily, there are areas that haven't been exposed as much to outside influences, so recipes exist that have changed little, and many of those have been handed down. The recipe I'm highlighting today is one of those that has 'survived' outside influences. . .
Margie is an educator who spent 30+ years in the enculturation (i.e., educating on the cultural norms of a society) of immigrants. She has traveled extensively and, throughout it all, learned a lot from her global students who shared with her their culinary traditions. Margie cooks quite a bit and especially loves Korean and Japanese cuisine, two that share Chinese roots.  This day in her kitchen was lots of fun as we made dishes she considers 'frozen in time' – peasant cuisine that survived cultural changes using inexpensive, readily available ingredients, and those that are easy to prepare: Chop Chae, Inari Sushi and Okonomiyaki.
Chop Chae is a Korean dish of sautéed beef, peppers, scallions, carrot, mushrooms and spinach mixed with glass noodles and seasonings of sesame oil, garlic, ginger and soy sauce. Inari Sushi is seasoned sushi rice mixed with cucumbers, carrots or other veggies, stuffed into fried tofu wrappers — it's a Japanese dish that's also popular in Korea. Okonomiyaki is a Japanese dish comprised of only cabbage, eggs, flour and a little seasoning, developed in the desperate years following WWII when money and food were hard to come by.  (Note: it's best mixed with your hands because you have to 'feel' how the eggs are blending with the cabbage and flour and, like Margie said, you 'just know' when you've put in enough eggs [so, for those who like precise recipes, this may not work for you (!), but it's fun trying new things]).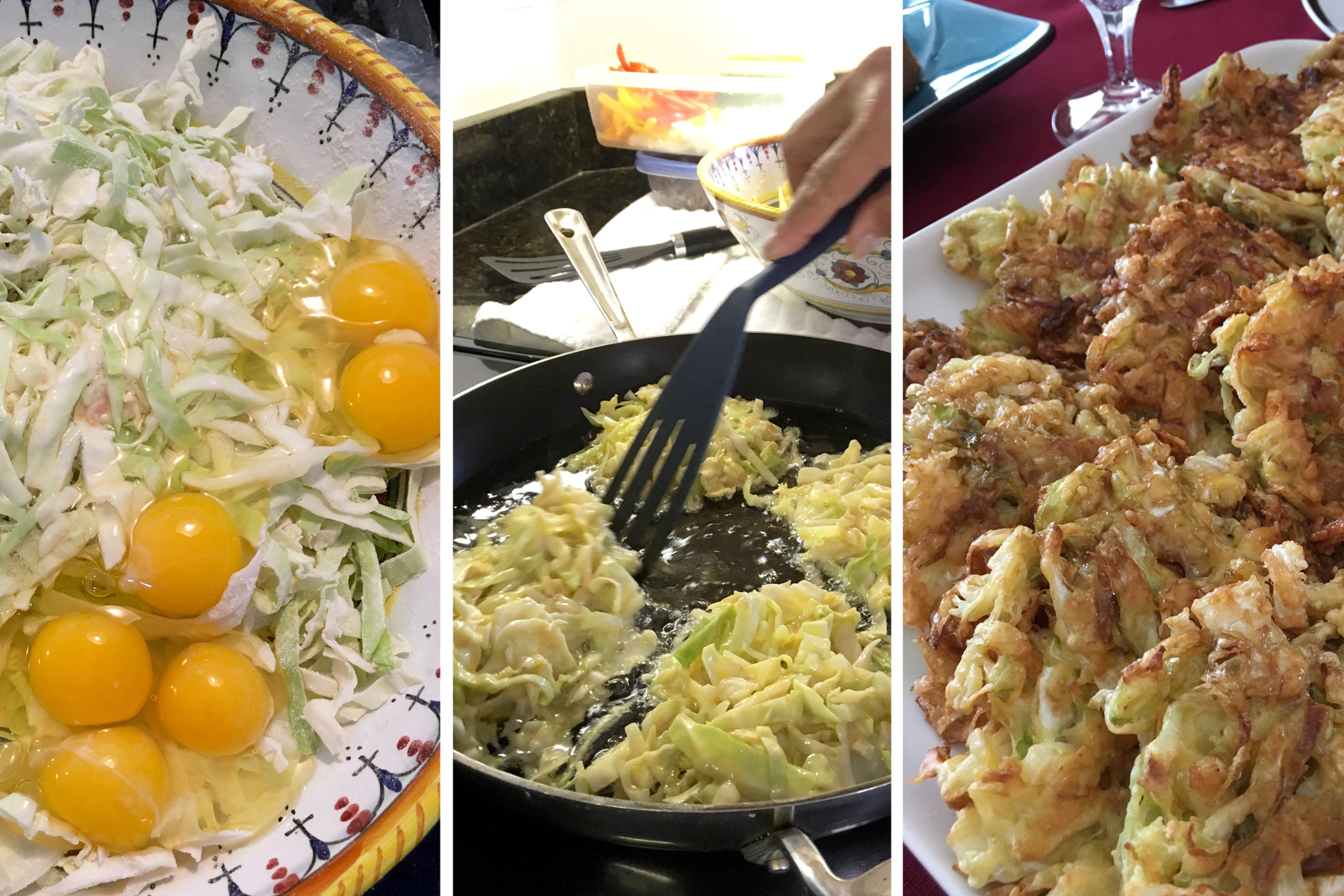 Making this food and sitting at the dining room table to enjoy it was a wonderful way to spend a day with some dear people. So, this holiday season, I hope you find a friend or two to cook with – even if you don't try this recipe, the experience is good for your soul 🙂

Okonomiyaki (Japanese Pizza)
Cabbage, eggs and flour transform into this very old recipe.
Author:
My Delicious Blog
Ingredients
½ large head green cabbage, shredded
1 tsp. ground ginger (or fresh ginger)
1 Tb. dashi/Bonito Flakes
⅓ c. binding flour (all-purpose, rice, or yam flour)
Large eggs (as many as needed to make a thick batter; approx. 5-7)
Canola or other flavorless oil
Toppings (each is optional)
Mayonnaise
Otafuku sauce (equal parts Worcestershire and white Karo Syrup or honey)
Furikake seasoning or Bonito flakes
Instructions
Shred cabbage in a large bowl; set aside.
In a small bowl, combine ginger, dashi and flour; add to the cabbage and fluff to combine.
Add several eggs to the bowl and start to mix into the cabbage with your hands; keep adding in eggs, one at a time, until it's mixed well and feels thick (we used 6 eggs in our batch).
In a large, non-stick skillet over medium heat, add about ⅛" oil.
Place 3-4 large spoonfulls of the cabbage mixture into the pan, slightly flatten each with a spatula to make a pancake shape.
Flip each pancake when nicely browned.
Once browned on other side, place on a serving platter and douse with the Toppings.