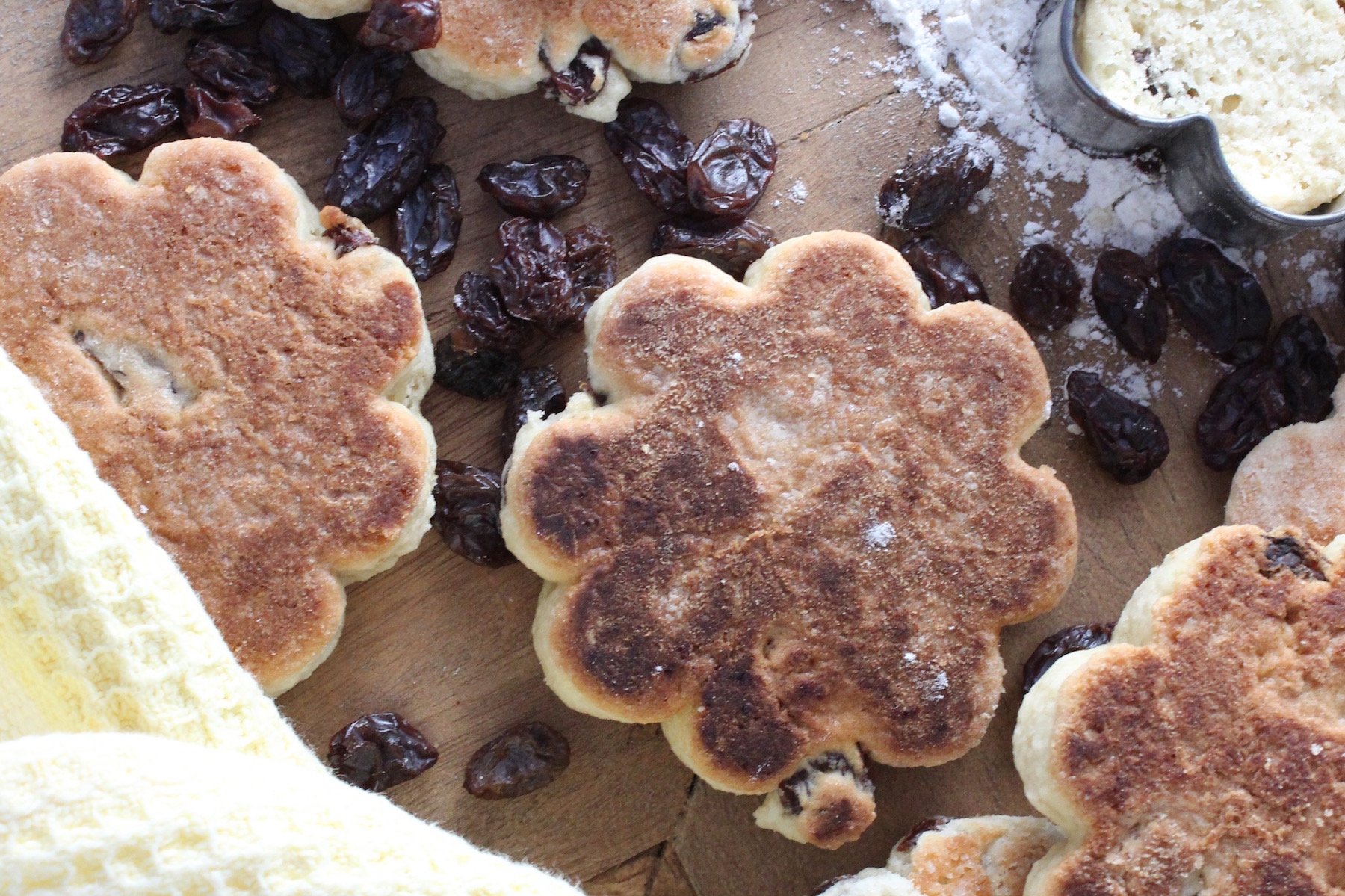 While digging through my grandmother's recipe box, hoping to find inspiration for a post this week, I came across "Gold Rush Griddle Cookies" and my heart warmed. . .
Since I was a kid (early 1970s, that is), my mom made these as breakfast treats. I'm not sure if she found the recipe first, or if my grandmother already had it, but it ended up in her box, too. Either way, one of them got it from the back of a Sun-Maid Raisin box. That makes sense, because these cookies are loaded with raisins, and I would expect the experts to have an arsenal of delicious recipes using their prized product.
To find out how far back the recipes goes, I reached out to the folks at Sun-Maid.  They haven't yet responded (when they do, I'll be sure to update this post!), so I'll assume that 1972 was the year these cookies first hit the scene — that's when they published their "Sun-Maid Recipes" book (which I found online), in which the cookies are described as "A convenient treat inspired by the early gold miners."
Did gold miners actually bake while panning for gold? The only reference I could find about any sort of biscuit or cookie during the 1949 Gold Rush was called "Hard Tack Biscuit" — a simple mix of flour, water and salt — things usually easy to come by in the gold fields. They were typically baked or pan-cooked, but the apparent result was a hard, dry, flavorless biscuit. It satisfied hunger, but that's about it. I'm not quite sure how Sun-Maid could compare their delicious, sweet treats to the food of "the early gold miners," so we'll just move on. . .
These 'cookies' actually have more of a biscuit-y, scone-y texture, and I've even seen them compared to Welsh cakes (I've never had those, but if they're anything like Gold Rush Griddle Cookies, they must be good).
The dough is dense and sweet — an easy recipe that comes together quickly. You cut out the dough using a small cookie cutter, and place them on a hot griddle to cook/brown on both sides.  After a few minutes, you're enjoying soft, tasty treats.  Great all by themselves OR slathered with butter or jam.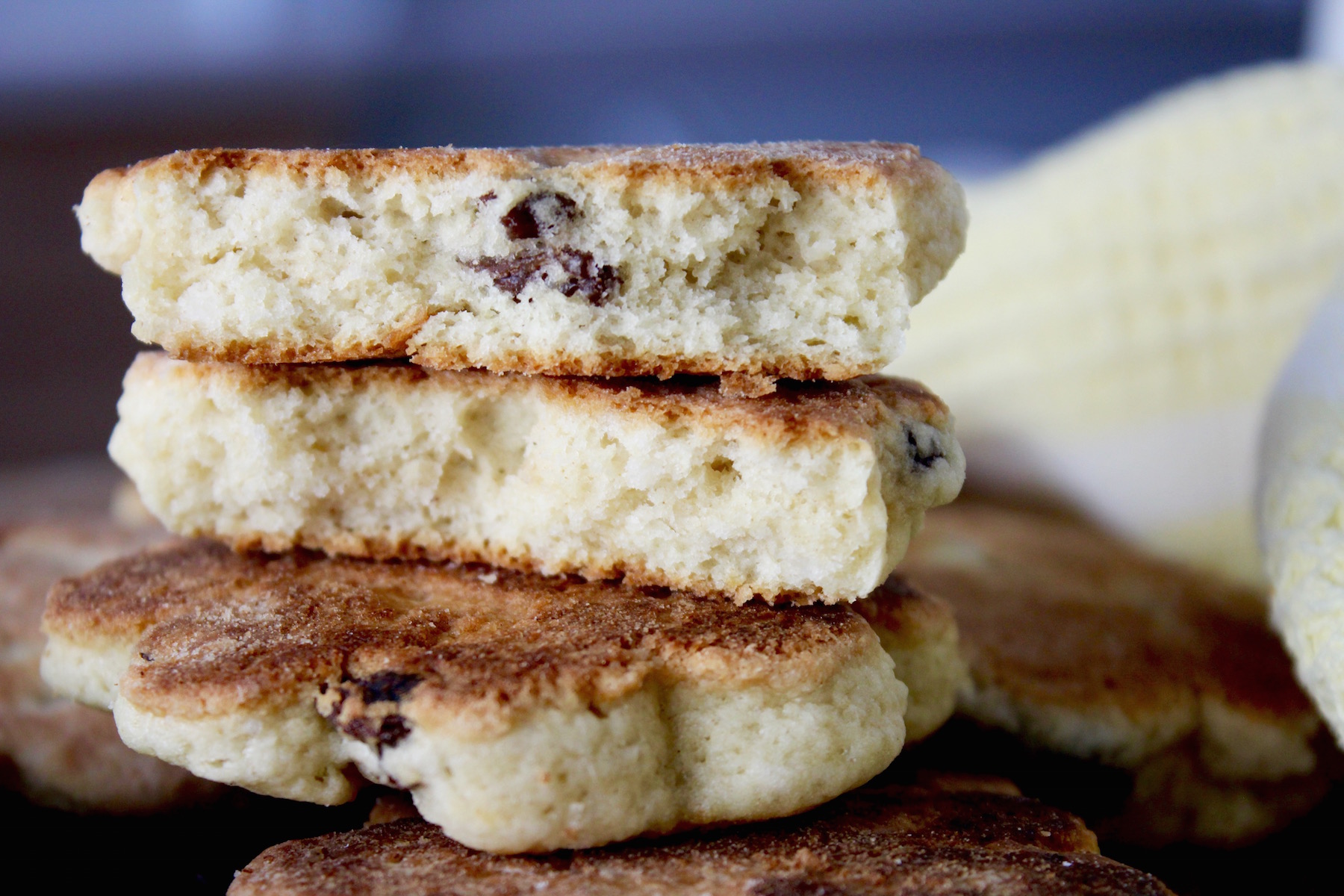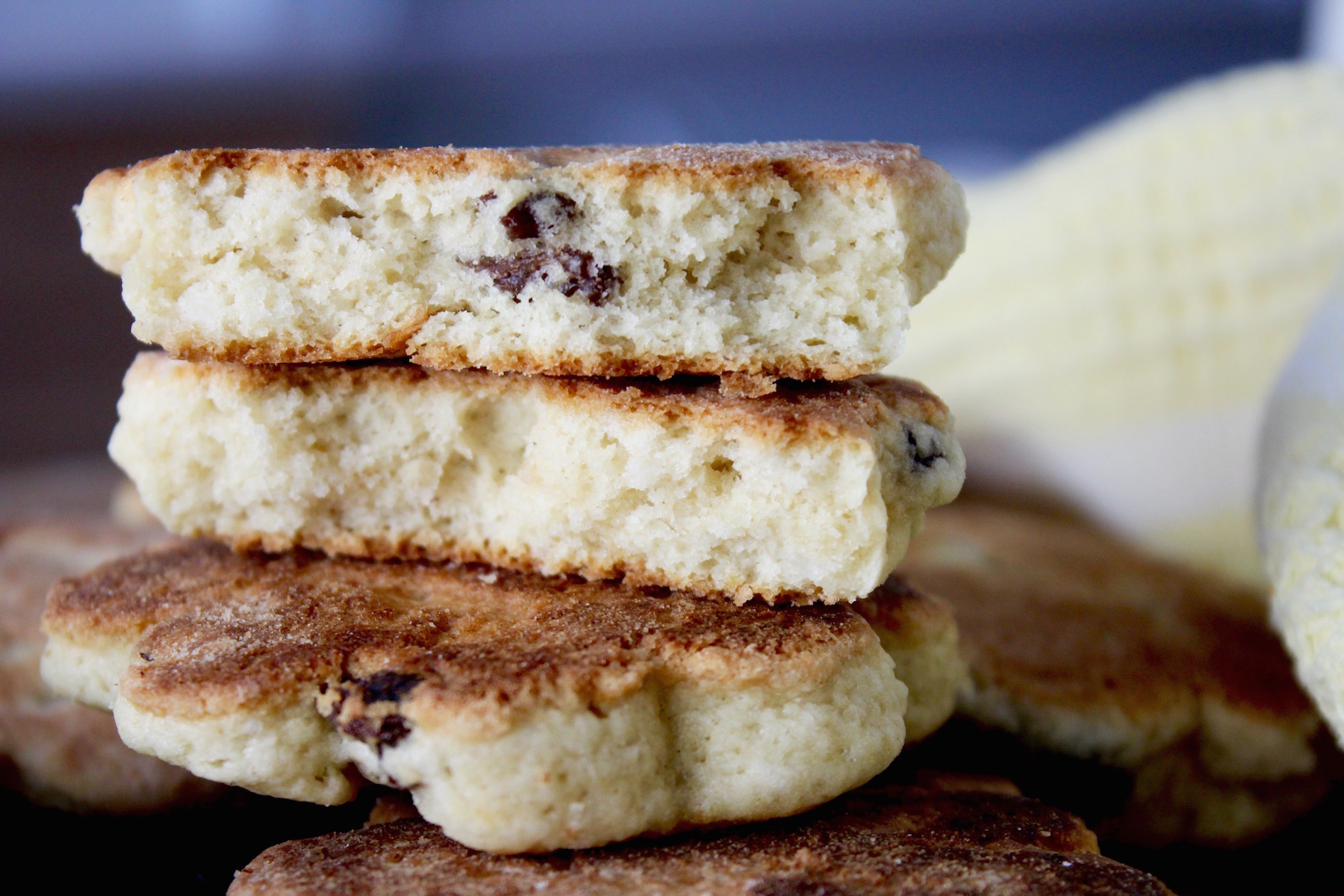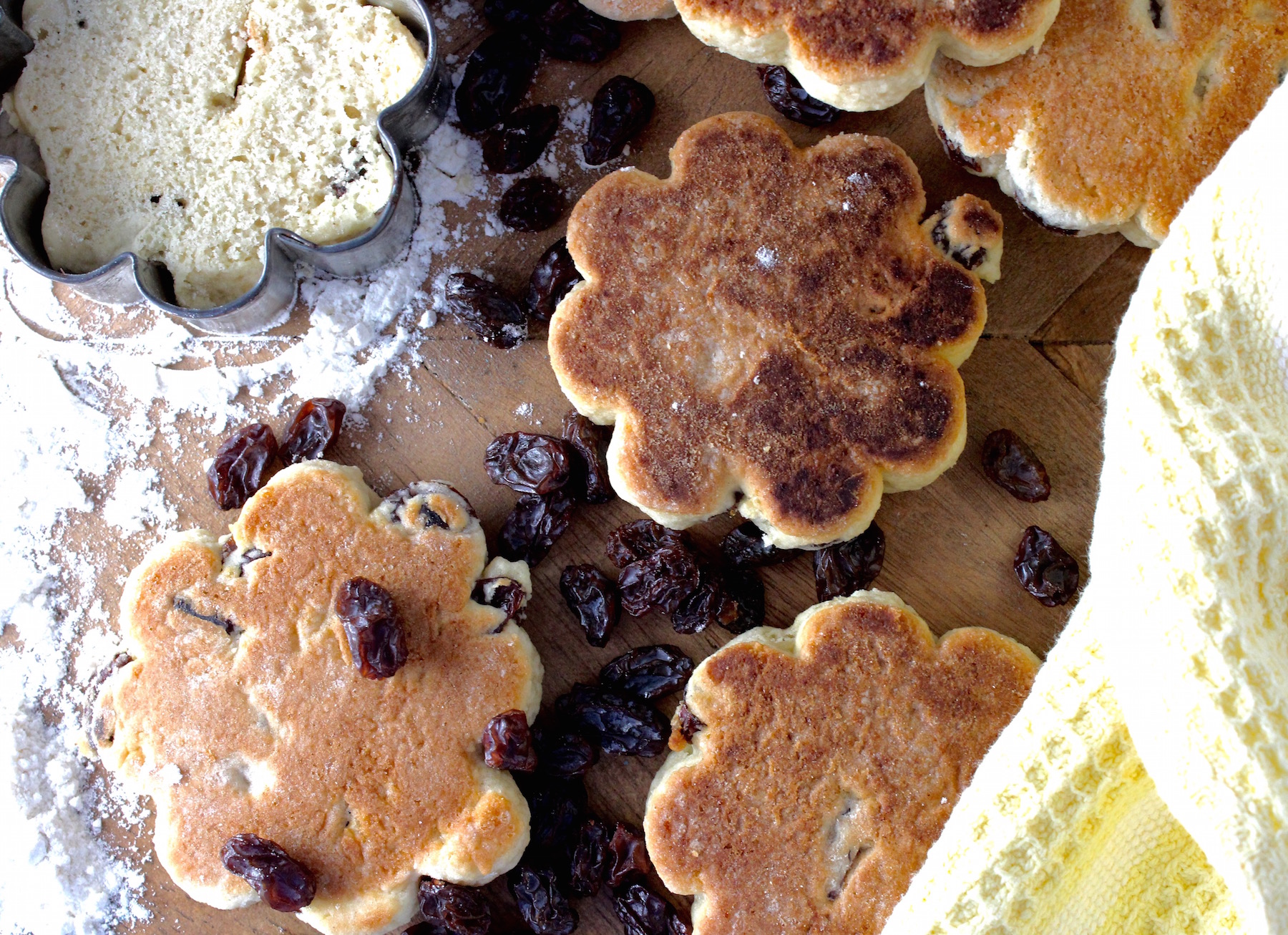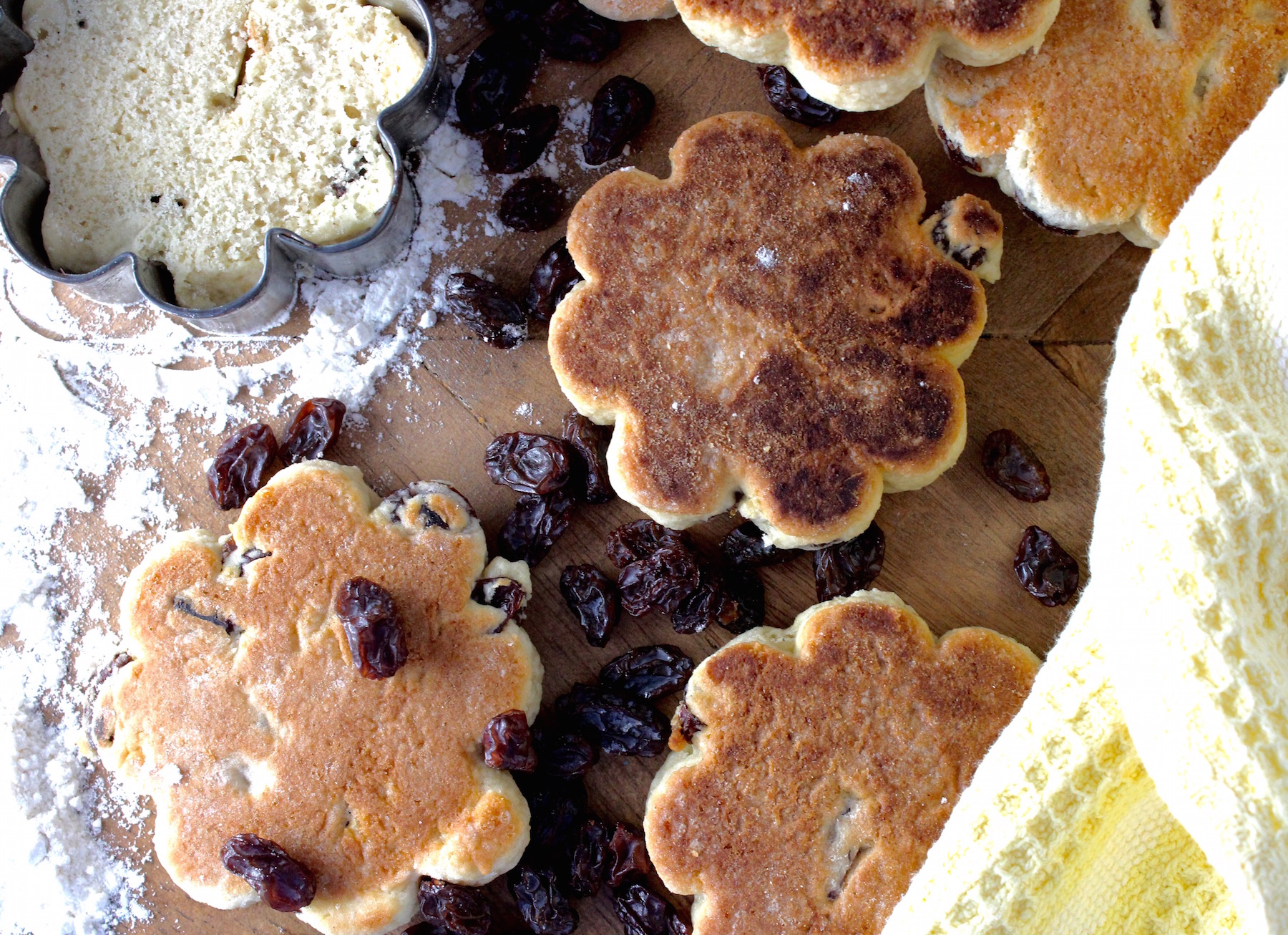 The recipe makes about 4 dozen 2" cookies. If you have a big family, the quantity is great if you're going to cook them all at one time.  In our small family, while we always made the whole recipe, we only cooked small batches at a time, then refrigerated the unused dough. Why? Because these babies are best served warm. When they cool they're still good, but they seem to lose some of their magic. Maybe it's because the heat warms up the sweet raisins? All I know is that I've enjoyed them both warm and cool, and I prefer them right off the griddle.
I made a batch for breakfast last weekend and they brought back lovely memories of childhood, standing near the griddle with my mom, waiting for these sweet treats. Thanks Sun-Maid!

Gold Rush Griddle Cookies
Inspired by Sun-Maid raisin company!
Author:
My Delicious Blog
Ingredients
3½ c. all purpose flour
1 c. granulated sugar
1½ tsp. baking powder
1 tsp. salt
½ tsp. baking soda
1 c. vegetable shortening OR unsalted butter, softened
1 egg, lightly beaten
¾ c. milk
1¼ c. raisins
Instructions
Heat griddle to about 350 degrees.
Sift dry ingredients into a bowl.
Cut in shortening until mixture is mealy.
Add egg, milk and raising and mix only until ingredients are moistened and dough holds together (dough is actually pretty stiff).
Roll out onto floured board to ¼" thickness.
Cut with a 2" cookie cutter.
Dab a little shortening or butter onto the griddle when it's hot.
Place the cut-out cakes onto the griddle.
Turn when brown (about 2 minutes) and brown the other side.
Serve WARM all by themselves, or with soft butter or maple syrup