If you grew up with a garden, like I did, you know what happens near the end of summer, when it seems like everything needs to be picked at the same time! But oh, how glorious it is to simply walk to your garden, pick something beautiful and get it onto the dinner table. One of my favorites was squash — we always had zucchini and yellow Crookneck — and my mom prepared it very simply by slicing it, simmering it in water, then finishing it with butter, salt and pepper. I could have eaten bowls of it because it was sweet, tender and utterly delicious.
But to be perfectly honest, the summer squash family has a high water content (about 95%) and can be 'seedy', so they risk becoming mushy and tasteless if overcooked. They're also tender and have delicate flavor, so I believe the goal should be to retain as much flavor as possible and not overpower them with too many other flavors. And while I still love that old standard way of simmering squash in water (maybe it's because my mom made it that way), I find myself looking for ways to reduce the amount of liquid when I cook them today.
I've experimented with several methods, including slicing it, sprinkling it with salt, then waiting 30-40 minutes to allow the liquid to be drawn out before cooking. That helps, but who the heck wants to wait 30-40 minutes before cooking a simple squash? I've baked and grilled it but, because it's so tender, it doesn't really achieve my desired outcome – it's usually a little dry, overcooked on the edges or rubbery. The regular saute method is tasty but it produces too many brown edges (i.e., flavor bits) and takes away from the squash's true flavor (plus it's not as pretty because it's brown and full of seeds). Not good.
The best method I've found that creates tender, flavorful and vivid-color squash is to shave it into strips using a vegetable peeler. You just keep peeling and rotating the squash as you go, and once you get to the seed area, you simply move onto another section of the squash (i.e., you're not including the seeds). Those strips, when placed in a single layer in a pan with butter or olive oil, cook evenly and quickly. After about 5 minutes, you simply top the squash with a little more butter (of course), salt and pepper, and maybe a little parsley. I think simplicity is best with this type of squash 🙂
This is the exact method I used for the beautiful Zephyr squash I picked up at Geraldson Community Farm in Bradenton recently. Their dedicated volunteers had just picked it the morning I arrived and it was simply gorgeous with its vivid green and yellow colors.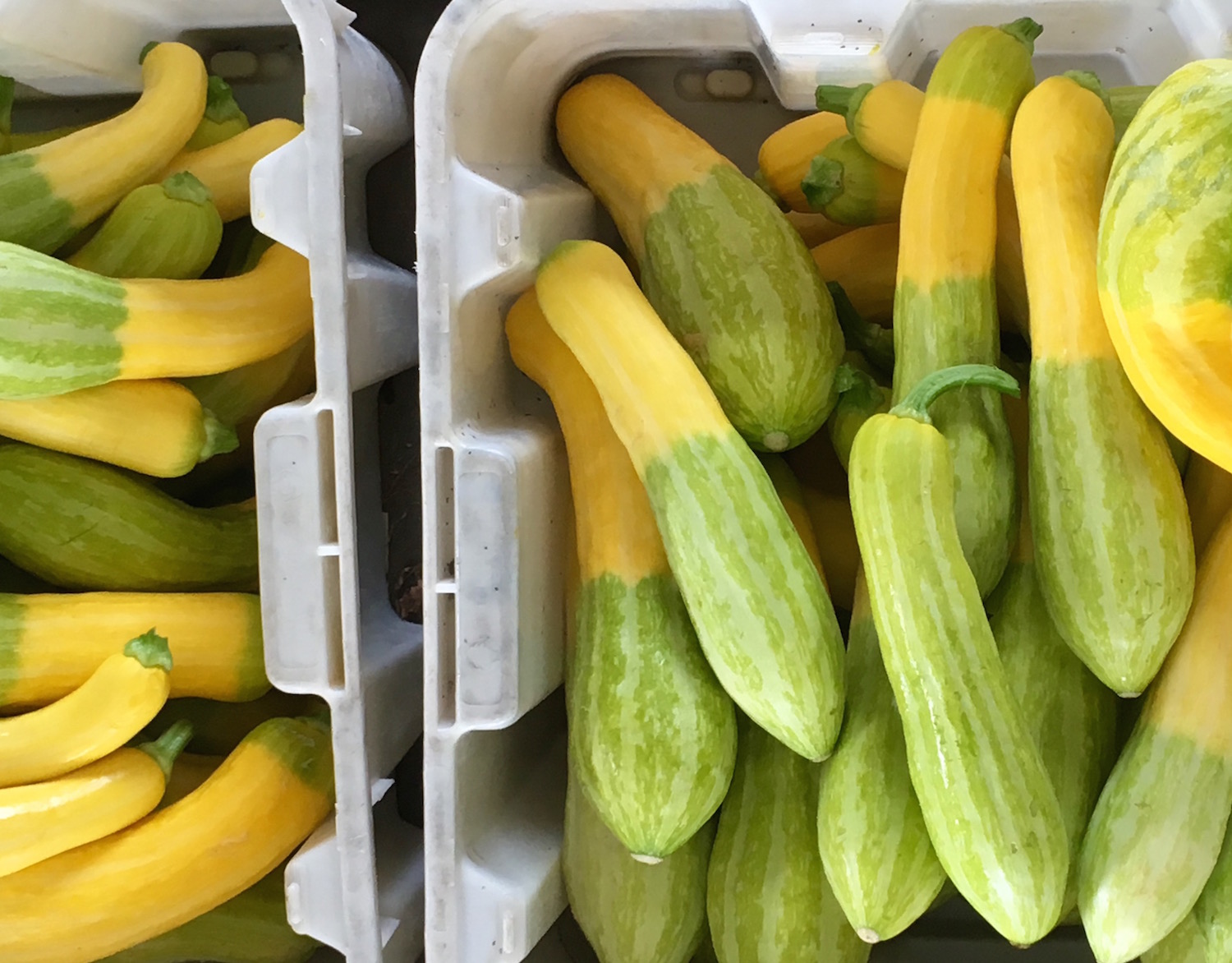 Zephyr is a hybrid of yellow Crookneck and yellow Acorn squash.  Sounds like a strange combo, right?!? It resembles the shape of a yellow squash — not Crookneck, but Straightneck as they're called – and its flesh has a little more density like that of an Acorn. There are fewer seeds, and it still has that delicate flavor, along with a little nuttiness.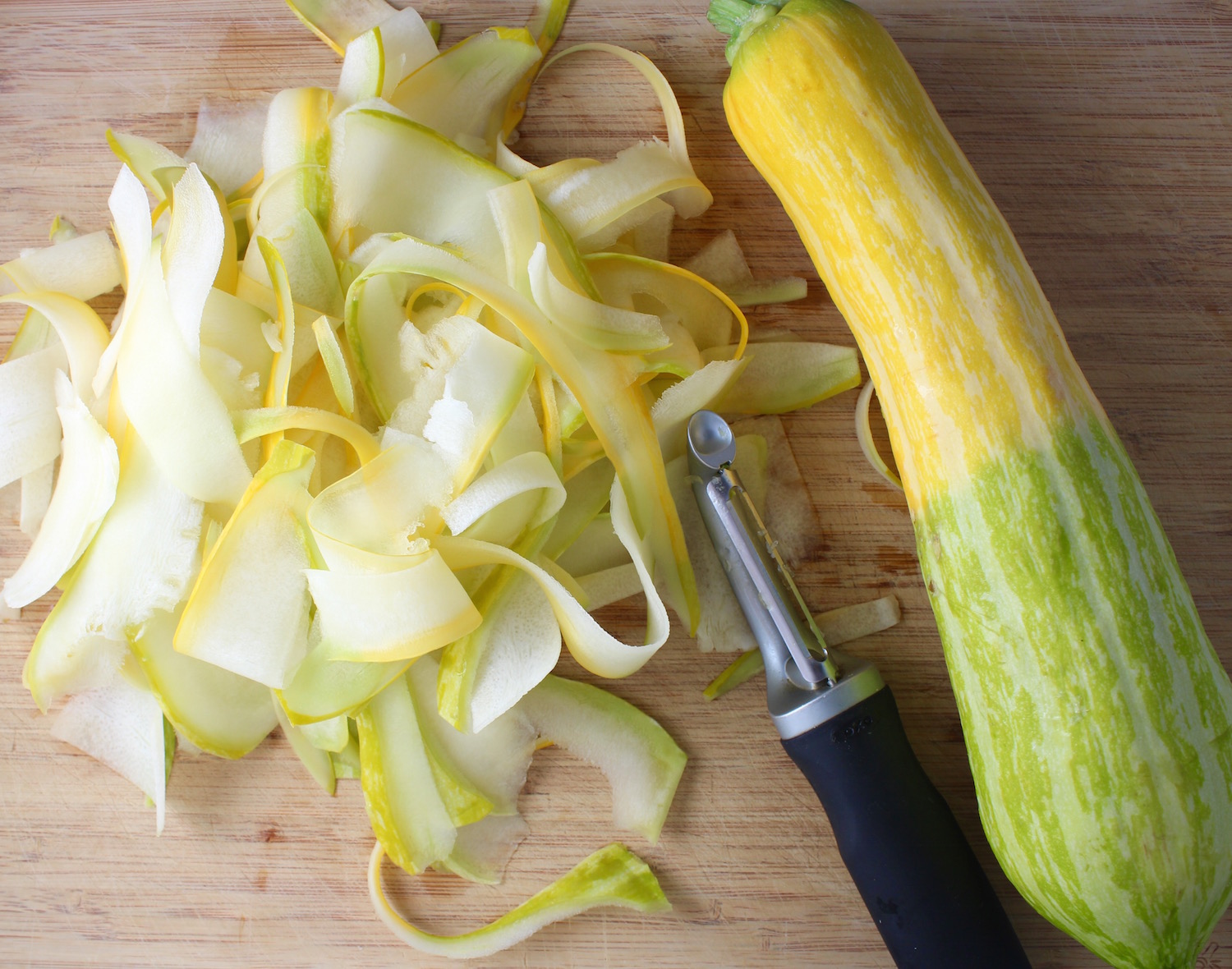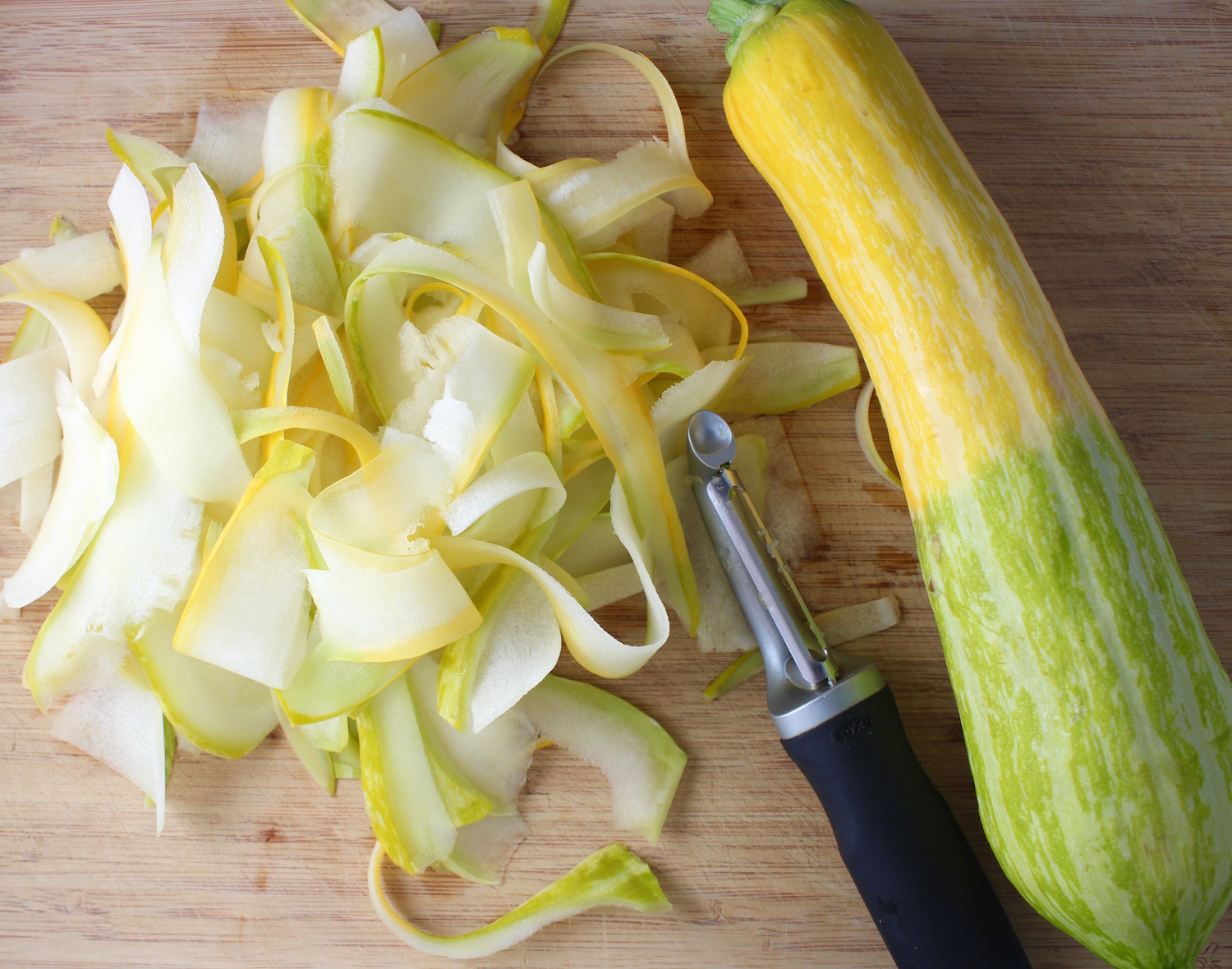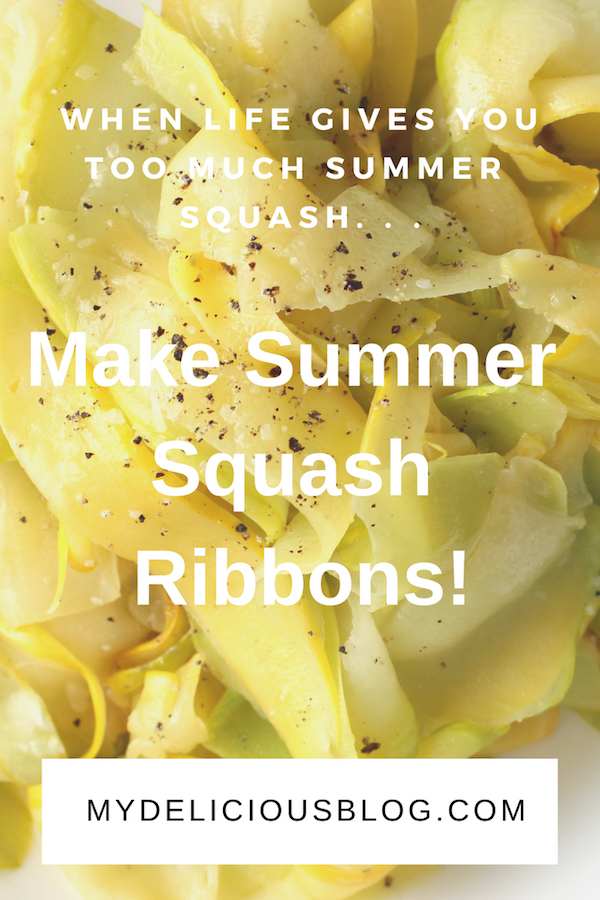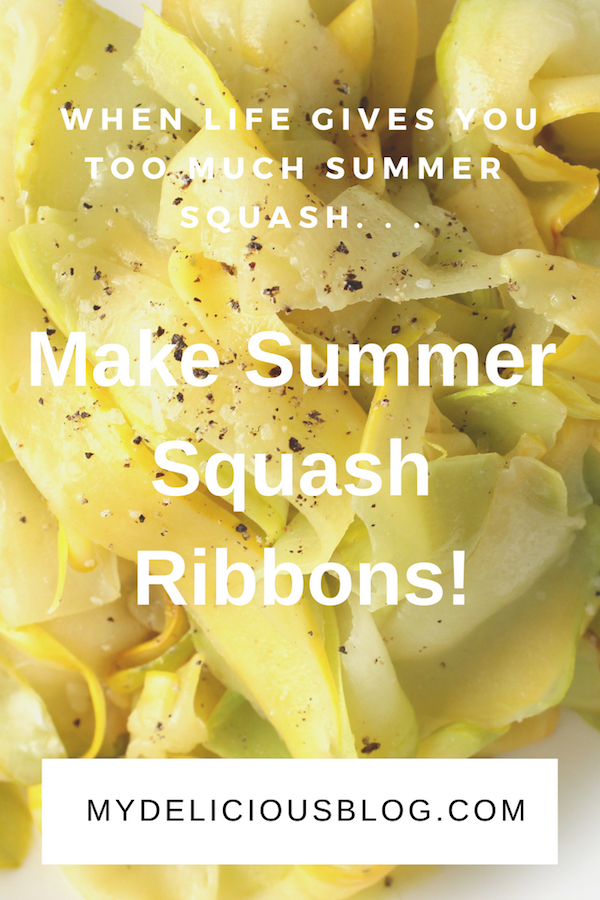 You can find this squash at most of our local farmer's markets (and possibly Whole Foods). If you see it, be sure to give it a try – it's wonderful.

Summer Squash Ribbons
Tender, sweet summer squash is delightful when cook in ribbons, with butter.
Author:
My Delicious Blog
Ingredients
2 medium-large Zephyr squash
2 Tb. unsalted butter (or extra virgin olive oil)
½ tsp. kosher salt
¼ tsp. freshly ground black pepper
2 Tb. fresh parsley, minced (optional)
Instructions
Remove the ends of each squash.
Using a vegetable peeler, start at one end and peel the whole length of the squash to produce a ribbon. Keep peeling until you reach the seedy area, then rotate the squash to avoid the seeds. Keep peeling until you've gotten all the fleshy parts.
Add butter to a large, non-stick skillet. Heat to medium. Place ribbons in pan in one layer. Allow to cook for about 1 minute, then move around squash using tongs to get an even coat. Continue to move squash around for a few minutes, until all pieces are soft. Sprinkle with a dash of kosher salt. This takes 4-5 minutes (reduce heat if edges start browning).
Top with salt and pepper (and parsley, if using) then serve.
Notes
1) I'm not one to toss wholesome food(!), so consider saving the seedy/pulpy flesh to use in a vegetable broth, along with other veggies 🙂