Sunday, April 22 is Earth Day.  It's also my wedding anniversary!  Yup, it was 13 years ago that I married a wonderful guy in a lovely beach ceremony, surrounded by dear friends and family.  When we set our date, we weren't thinking about Earth Day, but we've been glad to share our special day with the planet.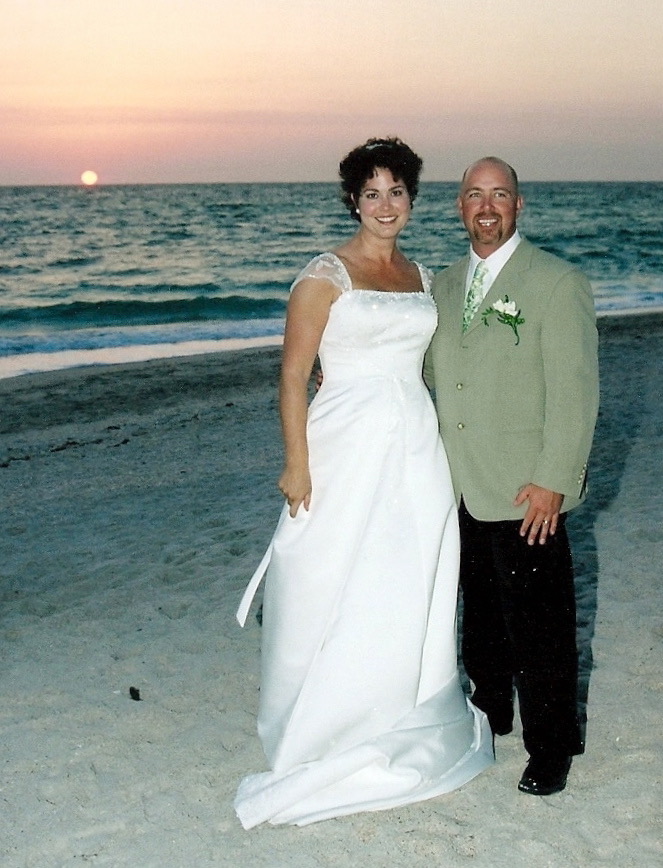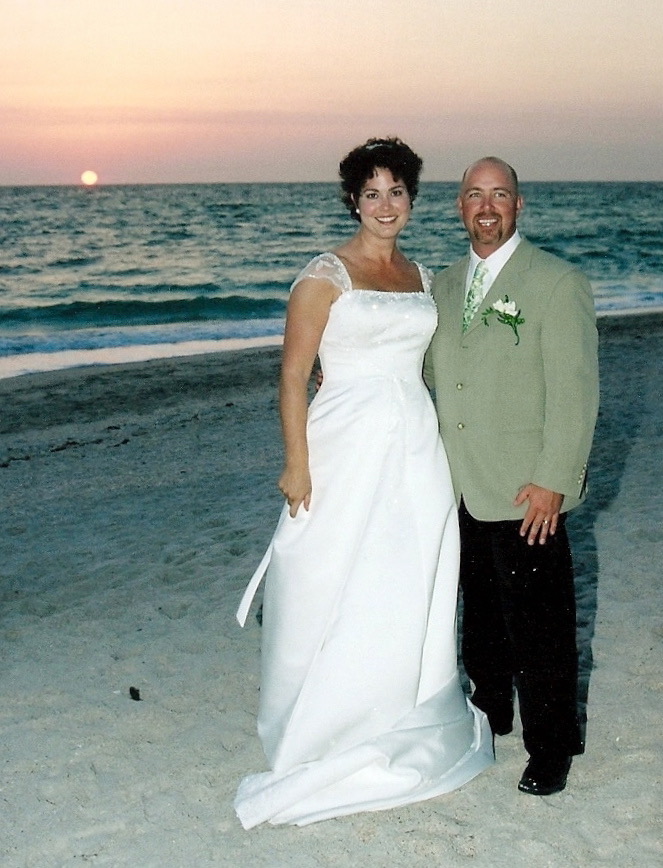 Over the years, our gifts to each other have been plants/trees, gardening supplies, kayak trips, fishing adventures, local food treats, and handmade cards.  For us, the day has been a reminder of the many little things we can do to ensure beauty and sustainability of our planet.
To celebrate these two big events, I'm going GREEN!  No, not by using recycled materials, or getting a hybrid car, or eating organic food, or composting, or leaving a smaller carbon footprint, or using alternative fuels, or taking shorter showers to save water, or even buying a stainless steel water bottle (all good things to celebrate Earth Day, by the way).  Nope, I'm making a salad with all green things — tender lettuce, crispy snap peas, sweet asparagus, delightful micro greens, crunchy cucumbers, bright herbs, creamy dressing, plus a little (well, non-green) pasta!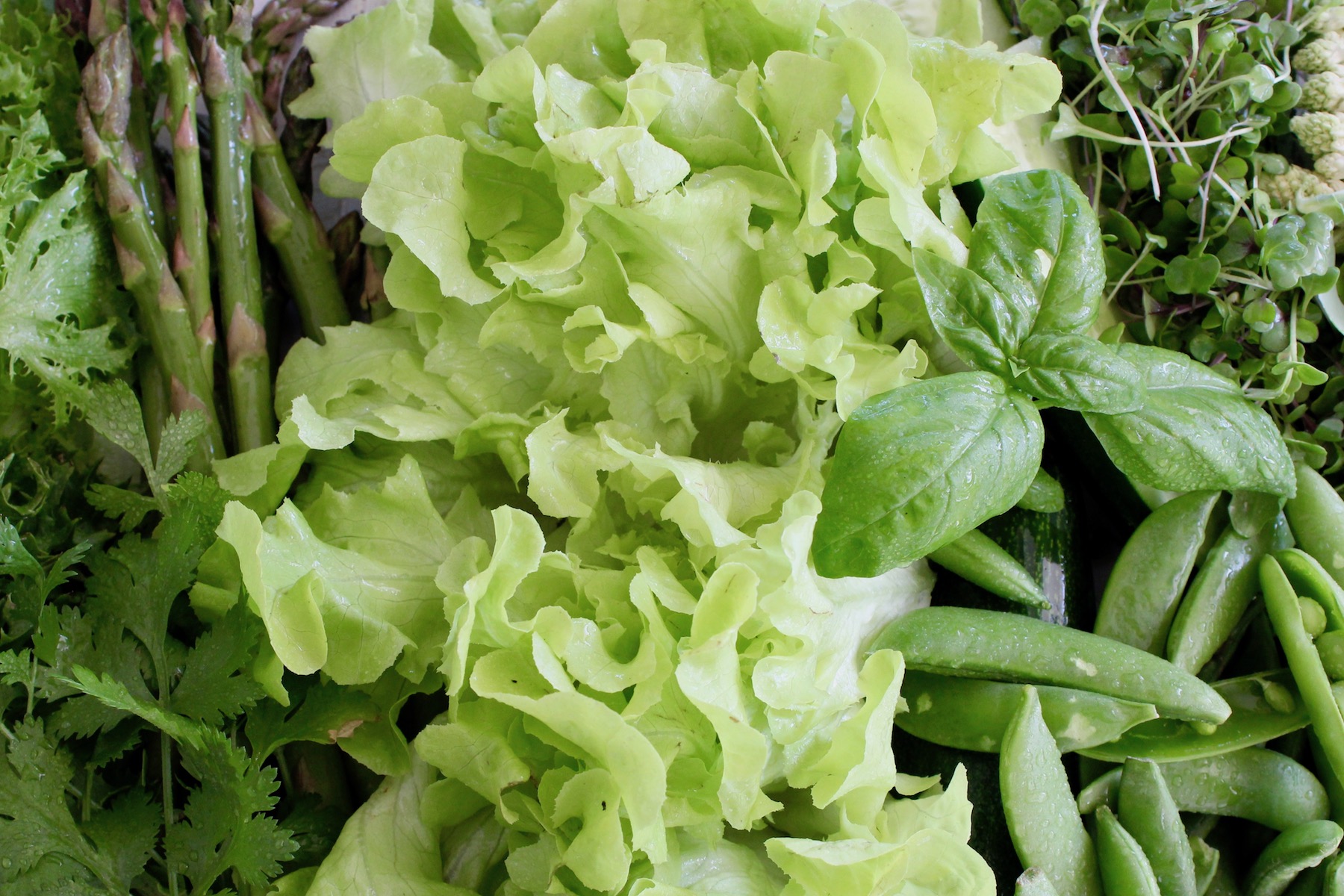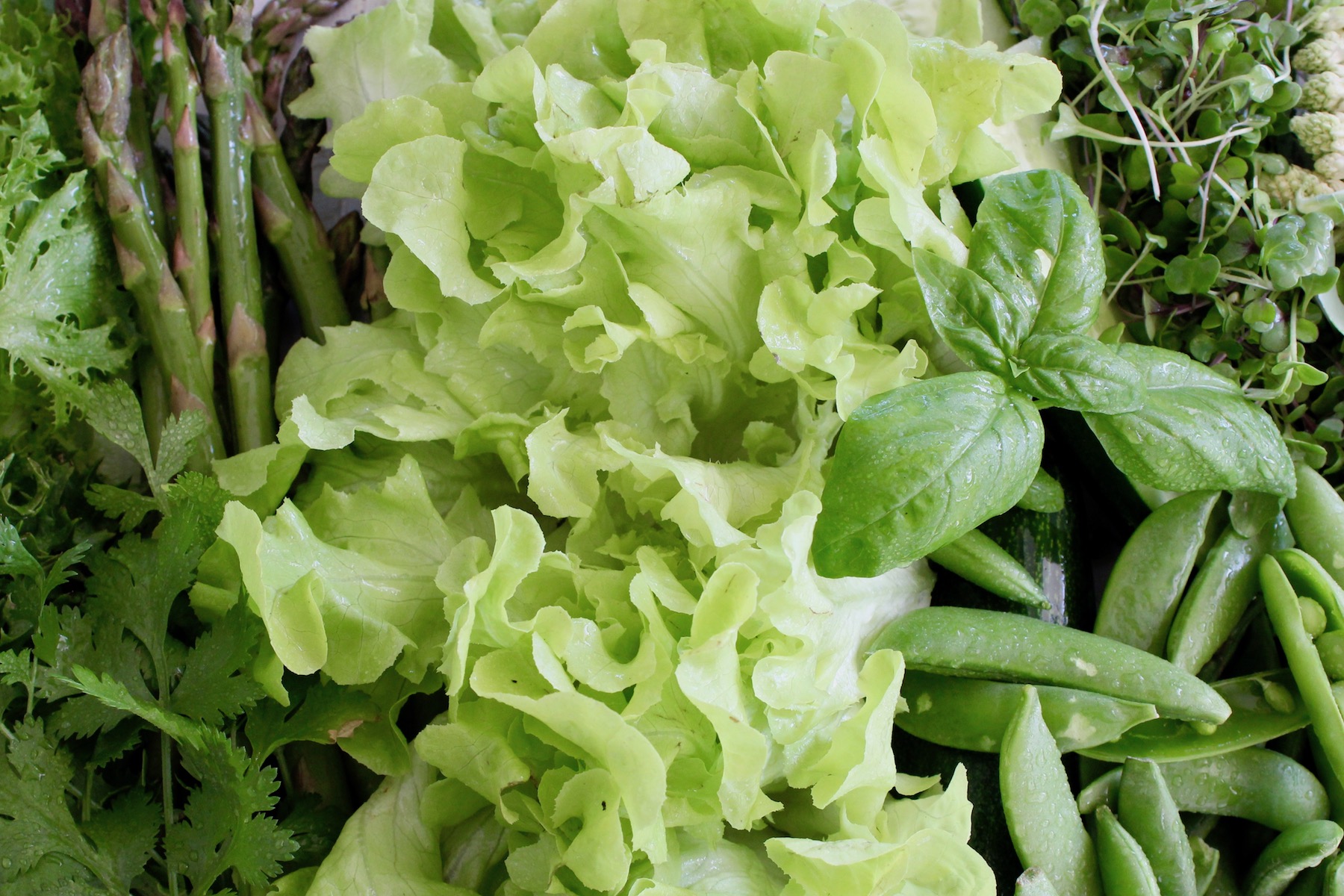 It's Spring, folks, so round up as much green produce as you can — all that lovely stuff grown by our warm sun, rich soil and clean water (including hydroponic veggies).  Toss in whatever you like.  There are no rules, but try to keep the color palette singular by finding as many shades of green as you can.  I think you'll find that, with all the thoughtful choices for your salad, it becomes a work of art, one that honors our precious food and all the hard work it takes to get it to our tables.
At the farmer's market I picked up beautiful micro greens, cucumbers and lettuces at
Homestead Hydroponic Farm
and
Worden Farm
, and I snagged lots of herbs from my own garden.  This creamy dressing is filled with yummy stuff like herbs, lemon juice, scallions and Greek yogurt — it's tasty, light and a perfect complement to the fresh salad.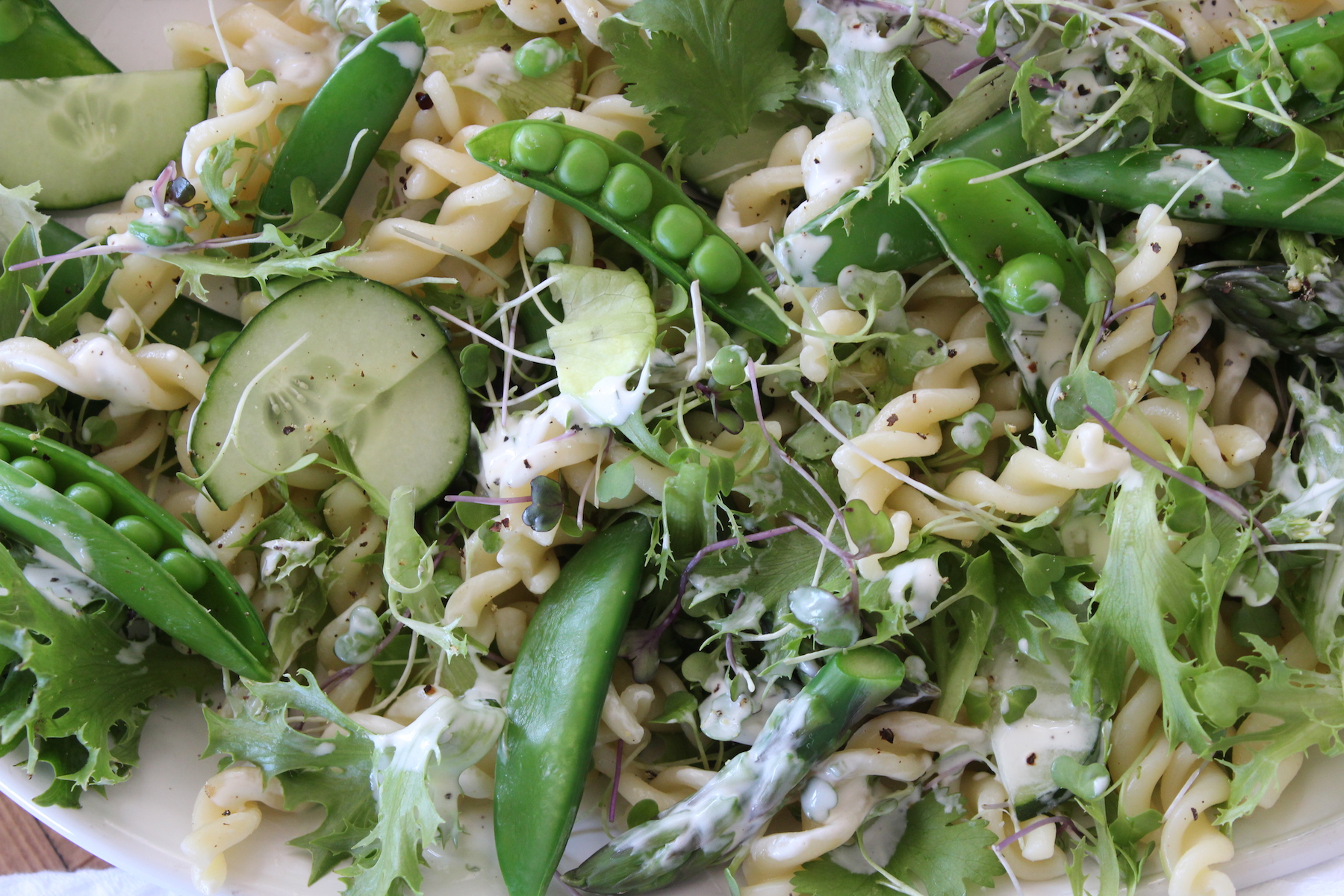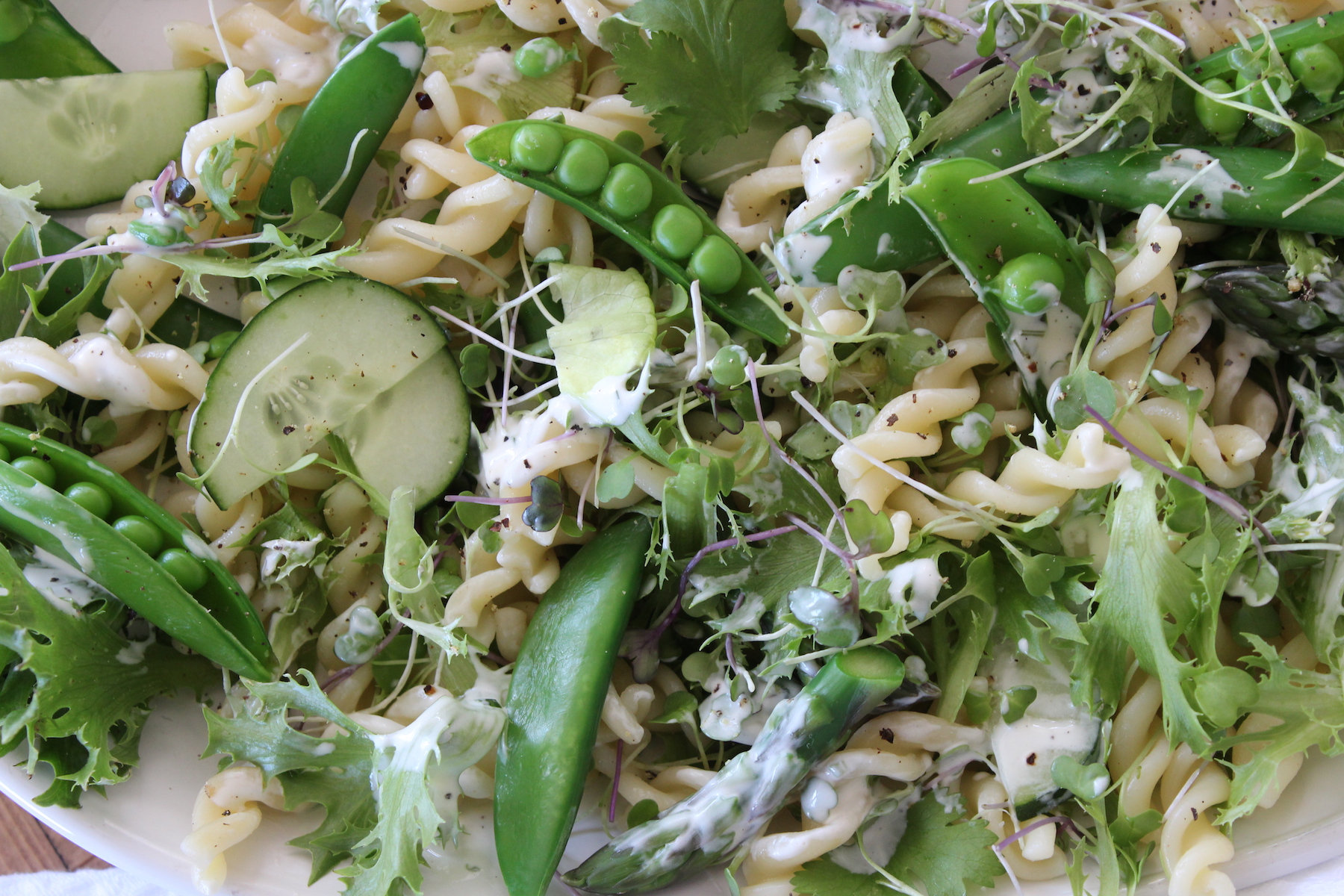 So, Happy Earth Day everyone!  Now I'm off to make my anniversary card for Brendan. . .
P.S. Check out the newest issue of
Edible Sarasota
, dedicated to ways our community is working toward reduce food waste.  I created 3 recipes for the issue under the "Waste Not" title, emphasizing use of as much of our produce as possible: Carrot Top Pesto, Kale & Broccoli Bruschetta, and Celery Leaf & Beet Salad.  Enjoy!
A Big GREEN Salad
Lots of greens fill this salad, all tossed in a creamy, yogurt based dressing, along with fresh herbs.
Author:
My Delicious Blog
Ingredients
Salad
1 c. dry pasta (gemelli, fusilli, elbow, orecchiette, shells, etc.)
2 cups fresh lettuce (whatever you have), rinsed & patted dry
1 c. sugar snap peas, trimmed and strings removed
6-8 large asparagus, stems removed
½ c. cucumber, sliced
1-2 scallions, sliced (optional)
Handful fresh micro greens (if you don't have them, use more lettuce)
Handful fresh herb leaves (I used cilantro & parsley)
Creamy Herb Dressing
3 Tb. mayonnaise
1 Tb. 2% Greek yogurt
1 Tb. rice vinegar
1 tsp. lemon juice
1 scallion, minced
1 small garlic clove, peeled & minced
½ c. chopped chives, basil and parsley (or other herbs you prefer)
¼ tsp. kosher salt
⅛ tsp. freshly ground black pepper
Instructions
In a small mixing bowl, combine Dressing ingredients and whisk until well combined; refrigerate until ready to use.
Cook pasta according to package directions. Near the end of the pasta's cooking time, toss in the snap peas and asparagus; allow them to sit in the water about 1 minute, then remove with a slotted spoon and chill down in a bowl of water with some ice cubes (the blanching process makes them tender/crisp, eliminating any raw flavor) then pat dry and set aside.
When pasta is cooked, pour it into a colander, rinse with cold water and let it sit for a few minutes before assembling with the other salad ingredients.
Assemble salad ingredients (including cooked pasta) in a large mixing bowl.
Add a few small spoonfuls of dressing and mix gently to coat (you don't want to saturate the salad, simply dress it lightly).
Sprinkle with a few grinds of fresh black pepper, then serve.
Notes
This recipe will make more dressing than you need, but you can save it for the next day!