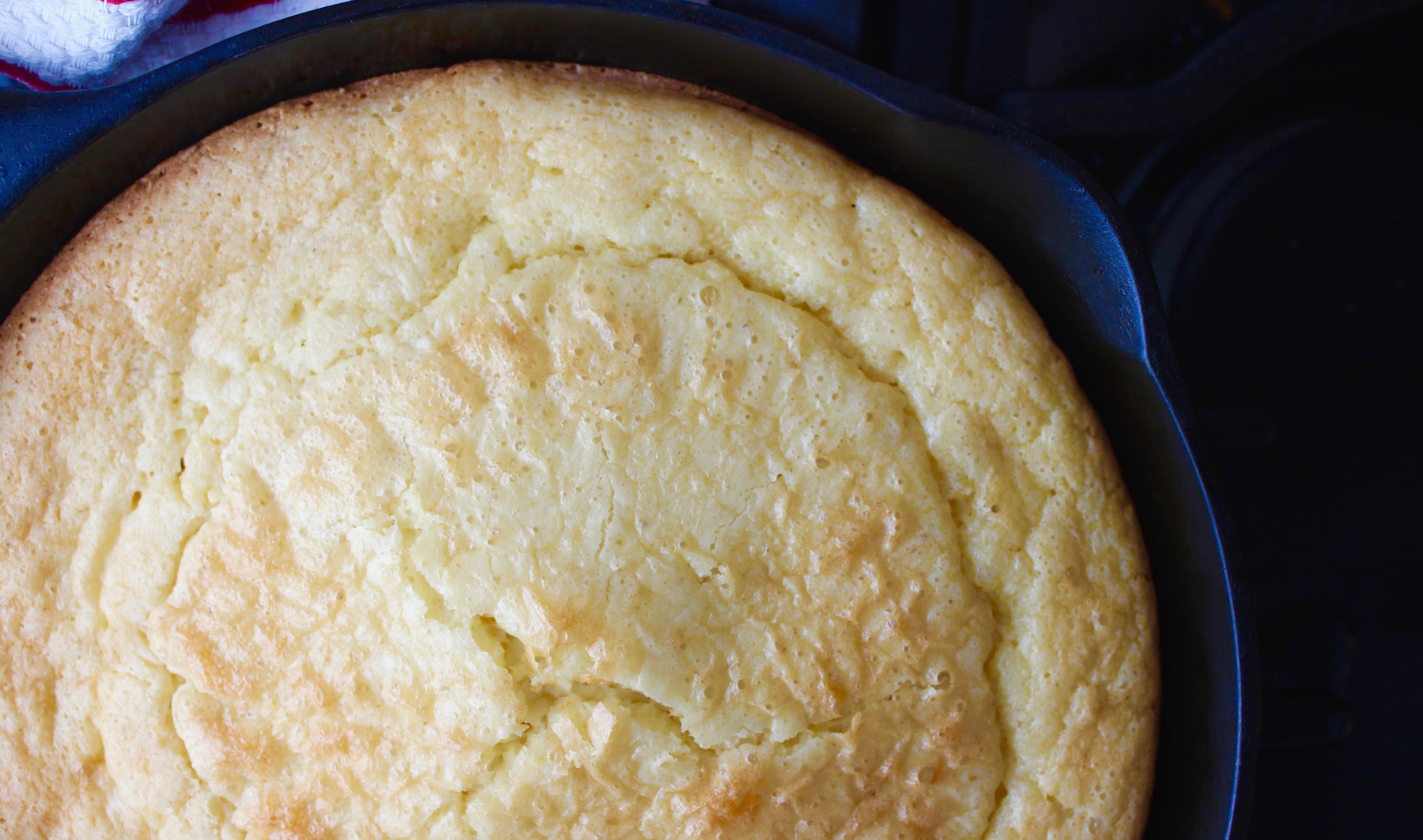 During a recent trip to Nashville to visit dear friends, I finally got to meet one of my blog's biggest fans, with whom I had been corresponding for some time. Jeanette is an octogenarian who was born in Mississippi and has lived much of her adult life in Nashville, so she knows a thing or two about southern hospitality and good recipes, which is why I was so touched when she gave me some cookbooks from her collection. As I've mentioned, I adore vintage cookbooks — they provide insight into what was happening in kitchens of days-gone-by, including glimpses into family traditions and tools used.
This week we've had lots of clouds and rain, so I made a batch of chili, one of my go-to dishes when the weather is gloomy.  And instead of making my regular cornbread, I remembered the recipe Jeanette described as 'delicious and easy' from "The Hermitage Cookbook Old and New" — the book was written by Cecy Reed and, from what I can gather online, it was published ca. 1969.
The recipes celebrate traditions of Andrew Jackson's home just outside Nashville.  After his death, the future of the property was a bit uncertain. But the Introduction of the book tells us that "In 1889, a group of ladies applied for a charter from the State of Tennessee. They were deeded in trust the residence and tomb of Andrew Jackson 'to beautify, preserve and adorn the same throughout all coming years in a manner more befitting the memory of that great man and commensurate with the gratitude of his countrymen'. . .and thus began the Ladies' Hermitage Association." It was the Association that took on the task of honoring traditions of the property, including the culinary ones. The book is fun to read because it gives snippets of recipes from the early 19th century, along with "tried and true" new recipes.
We can thank Ms. Lallie Wallace for submitting her "Blender Cornbread" recipe.  I have no idea where it originated, or how old it is, but I can say it's at least 47 years old since it was published in 1969, and that it had to be relatively contemporary at the time, since it calls for use of a blender.  It's a very simple recipe which uses self-rising cornmeal — something I've never used — fine, white cornmeal blended with a little bit of flour, leavening and salt, so you don't have to add those ingredients separately.
Cornbread is a southern tradition and I'm sure each family (and region) has its own "tried and true" recipes. Based on what I've read, there's a little 'controversy' about whether a proper cornbread uses white or yellow cornmeal, and if it should include sugar or wheat flour (perhaps that's fodder for a whole other post!). But there's one thing I'm sure every good southern cook will tell you — you must cook it in a screaming hot, oiled cast iron pan, which results in those crispy edges everyone craves.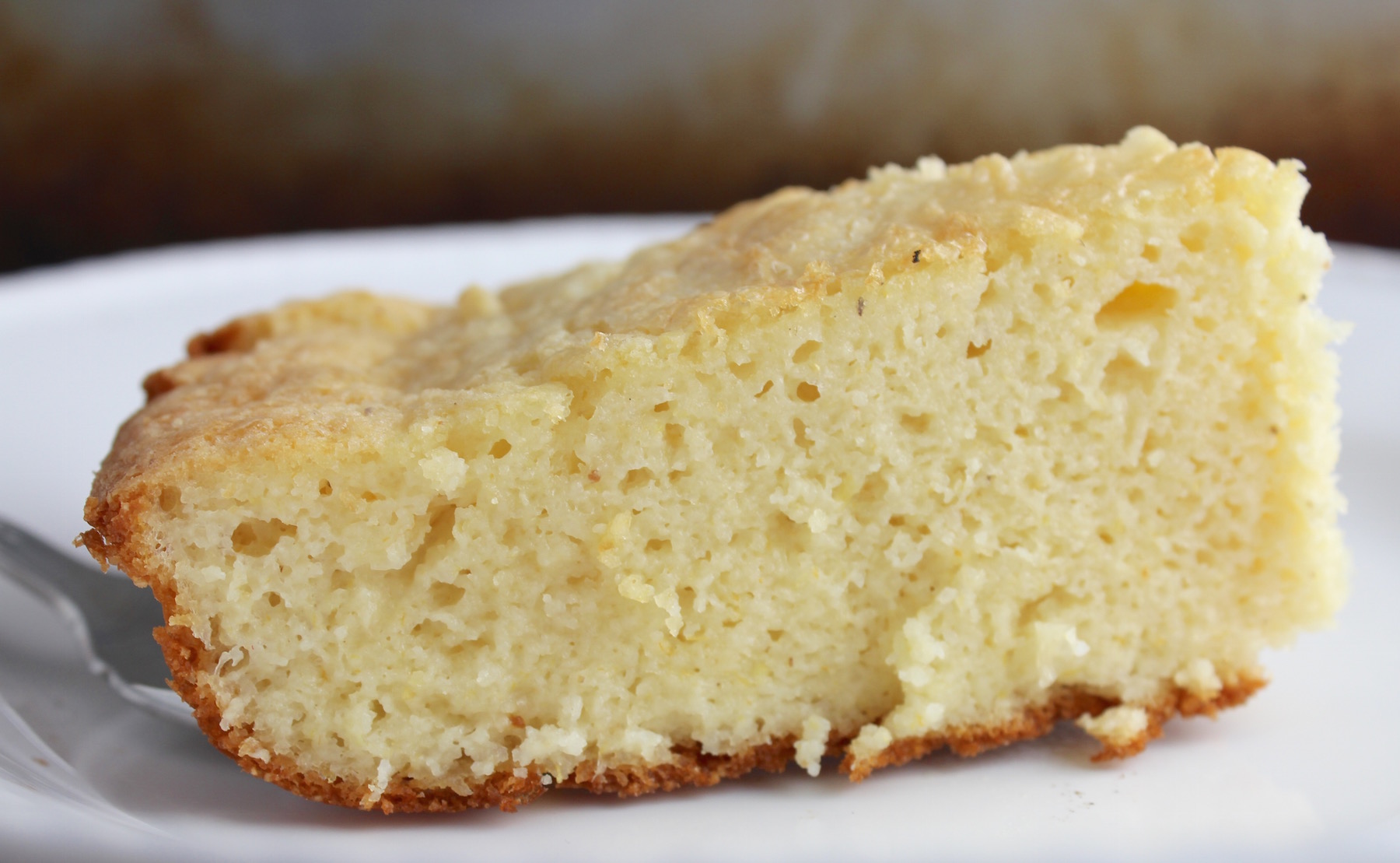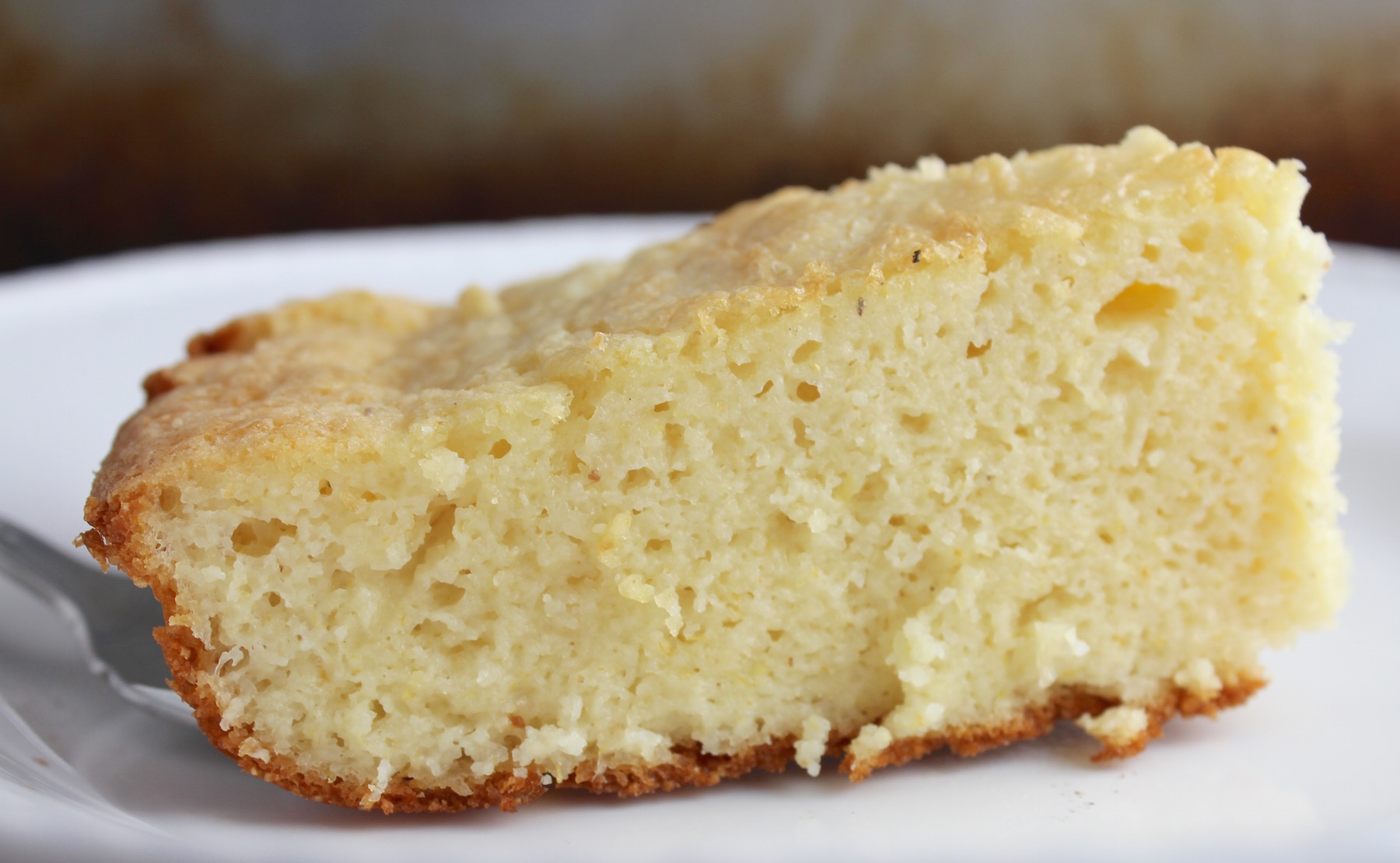 I don't know about you, but I've had my share of dry, tasteless or grainy cornbread. . .you know, the ones that suck every ounce of moisture from you, and make you scramble for any liquid just to wash them down? Well, this one won't do that. It couldn't be any easier — just toss everything in a blender, pour the pancake-like batter into a hot skillet and in about 40 minutes you have a super-tender, moist and flavorful cornbread. Ms. Wallace even described it as "deliciously moist" so I knew it had to be true!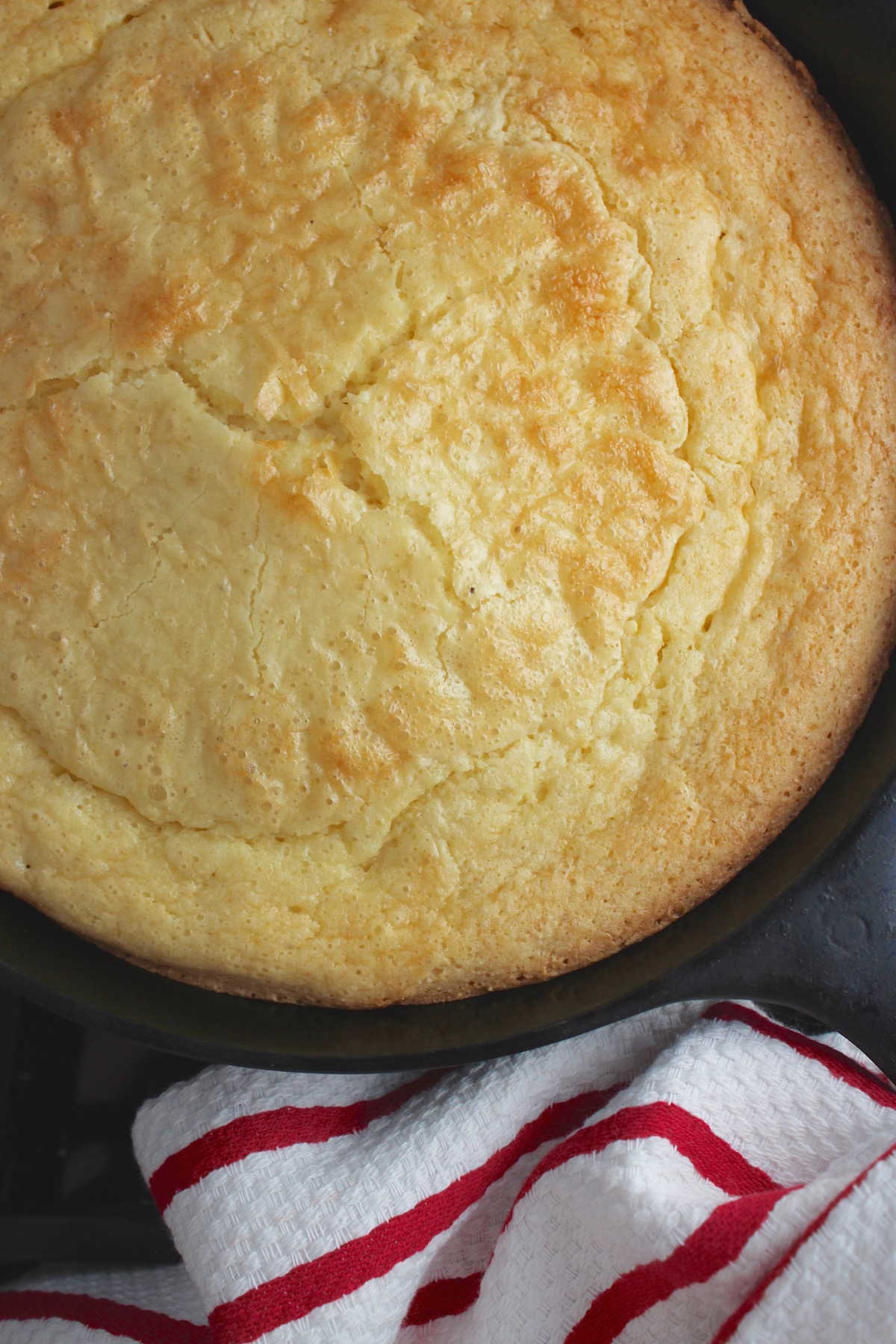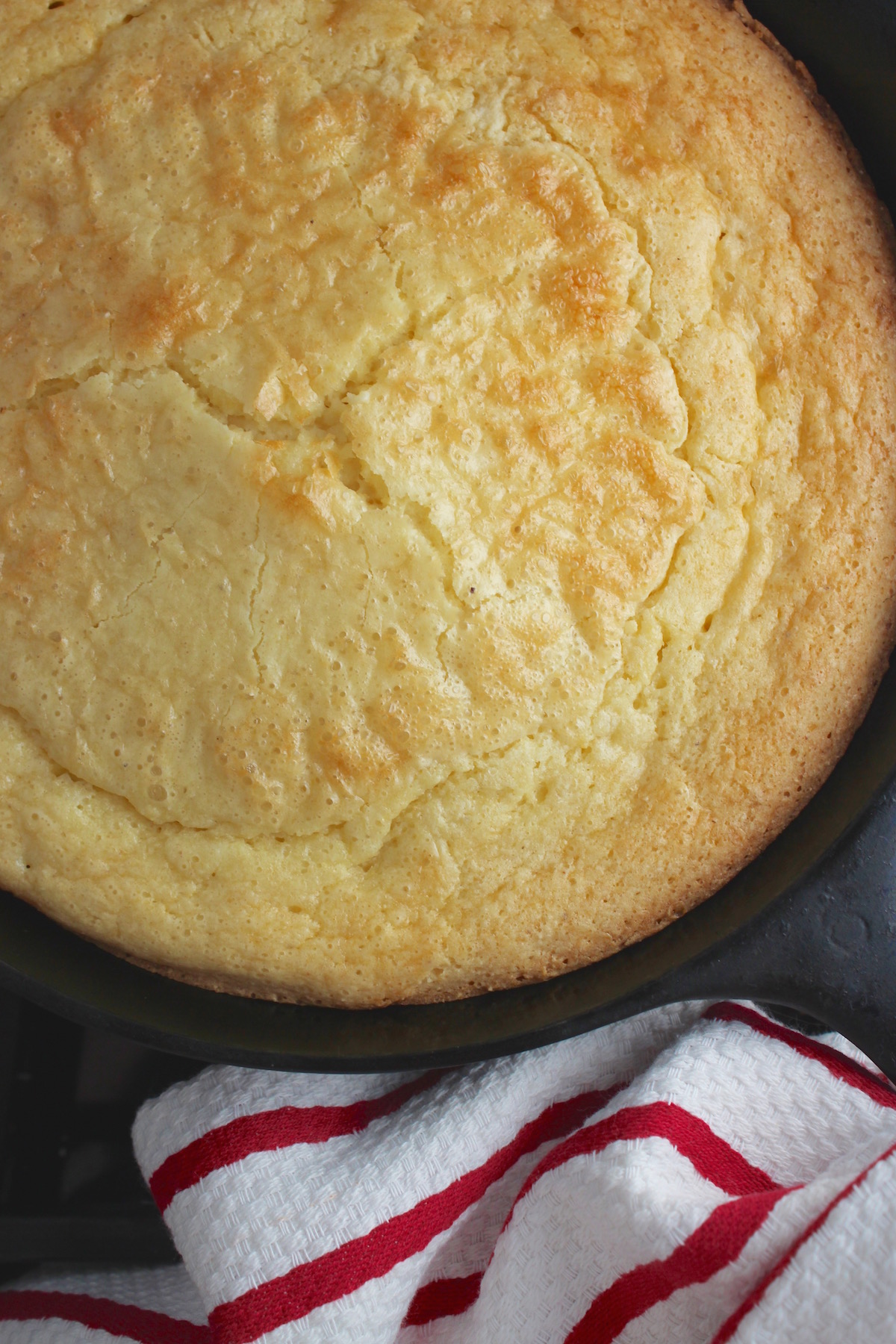 I can see myself working my way through this interesting cookbook. Maybe my next one will be the "Copper Pennies" my wonderful friend Jeanette also recommended 🙂

Southern Style Cornbread
Adapted from Ms. Lallie Wallace's recipe for "Blender Cornbread" submitted in 1969
Author:
Adapted from The Hermitage Cookbook Old and New
Ingredients
1 8-oz can cream-style corn
2 extra large eggs
1 c. sour cream
½ c. vegetable oil
1 c. self-rising white cornmeal (See notes)
Instructions
Heat oven to 350 degrees.
Spread 1-2 Tb. vegetable oil into a 9" cast iron skillet. Place it into the hot oven for about 8-10 minutes.
Add all ingredients to a blender and mix well.
Remove hot skillet from oven and pour batter into it.
Bake about 30-40 minutes; remove when a toothpick inserted in center comes out clean.
Notes
The original recipe called for 'cream style white corn' which I had a hard time finding, so I used yellow creamed corn, which was just fine.
The original recipe called for ½ tsp. salt, but I eliminated it since the self-rising cornmeal has a healthy amount of sodium.
The original recipe did not specify, but I opted to use white cornmeal, since it's a Nashville tradition.