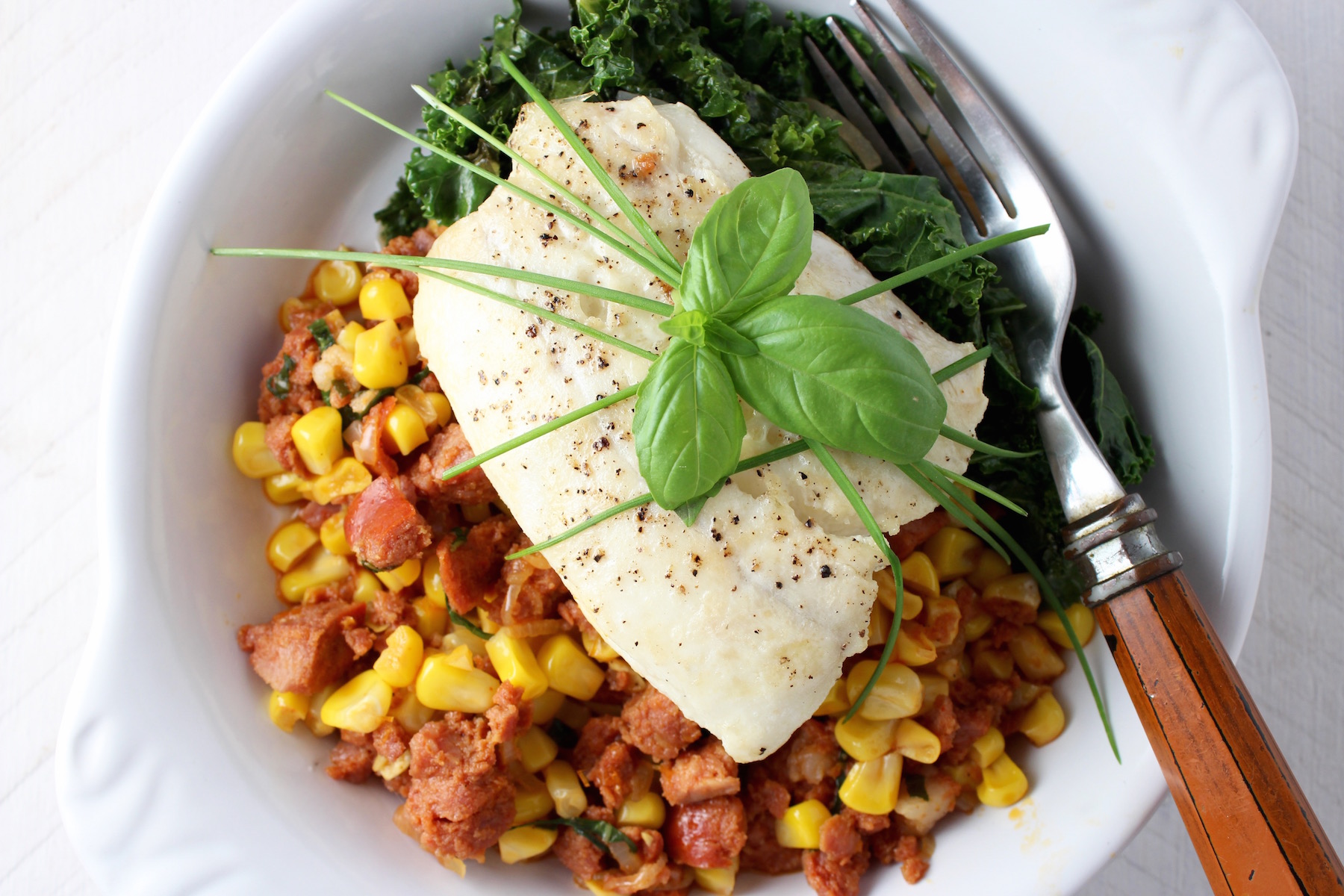 My friend Glenn recently took a trip to Homer Alaska and nabbed huge fish, including Lingcod and Halibut.  Here are just some of the big Halibut those anglers caught (they all look pretty happy, especially Glenn on the far left):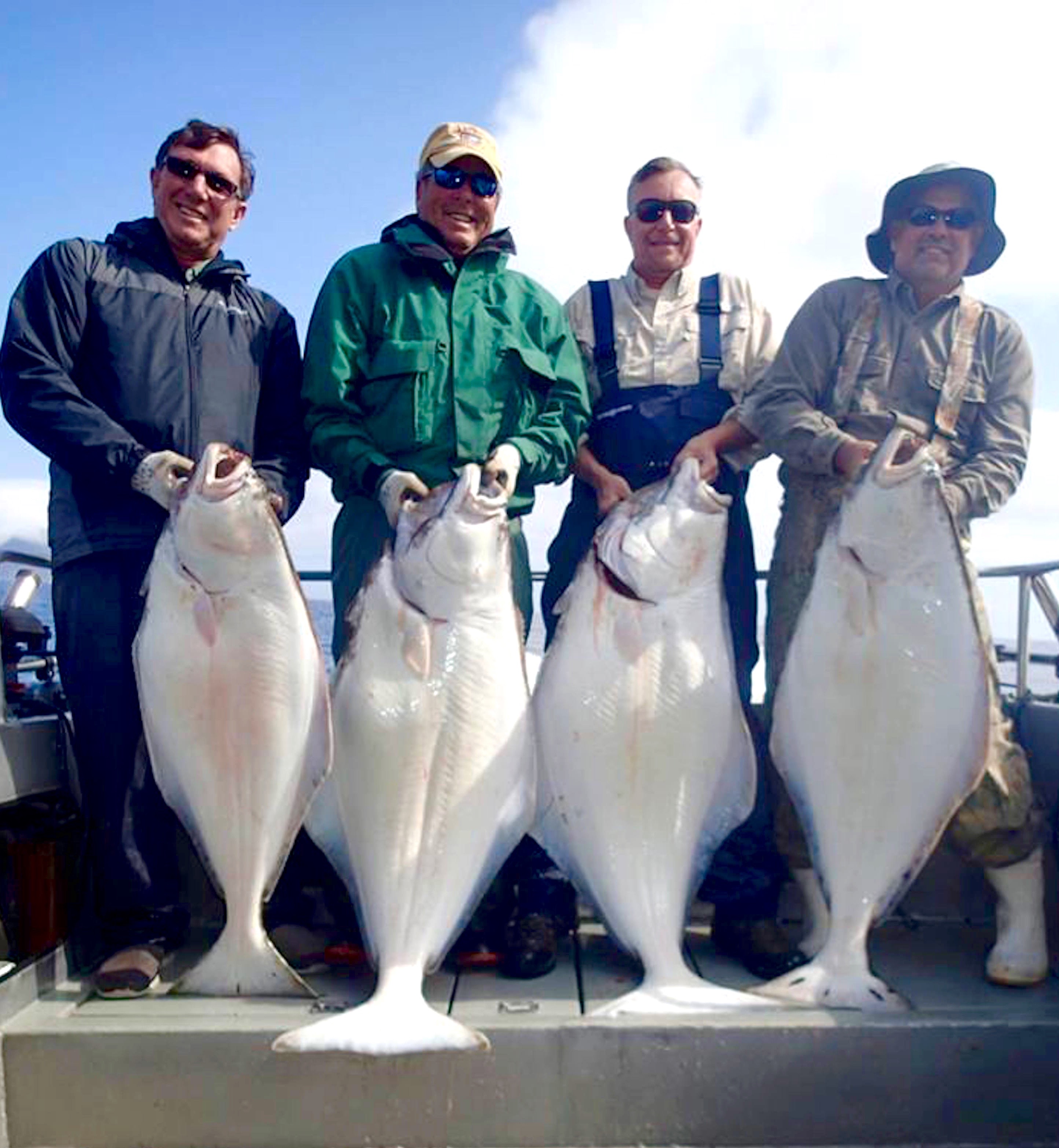 Luckily for me, he shared some when he got home, and I graciously accepted.  This is a delicious flatfish in the Flounder family – mild, white, dense, slightly firm and a little sweet. Truth be told, it's not the prettiest fish you've ever seen, but it's awfully tasty.
I've heard the really big ones (100+ pounds) are called "Barn Doors" or "Whales" and the smaller ones (20 pounds or less) are called "Chickens" — kind of like small Mahi Mahi on this coast. Halibut can get pretty big – I even read somewhere that the largest one caught commercially in Alaskan waters was 459 pounds. I can't imagine pulling that beast onto the boat!
The recently enjoyed Halibut in Sausalito, California on our drive back to San Francisco after an amazing trip to Napa.  I figured there had to be a good seafood restaurant out there.  After asking some locals and digging online (apparently the Food Network did a spot on this place), we went to Fish, which has a reputation for serving sustainable seafood.  We ordered fresh Halibut and fries. Yes — you simply MUST have fish and chips, when it's the house specialty 🙂  It was hot, crispy, flaky and oh-so-delicious.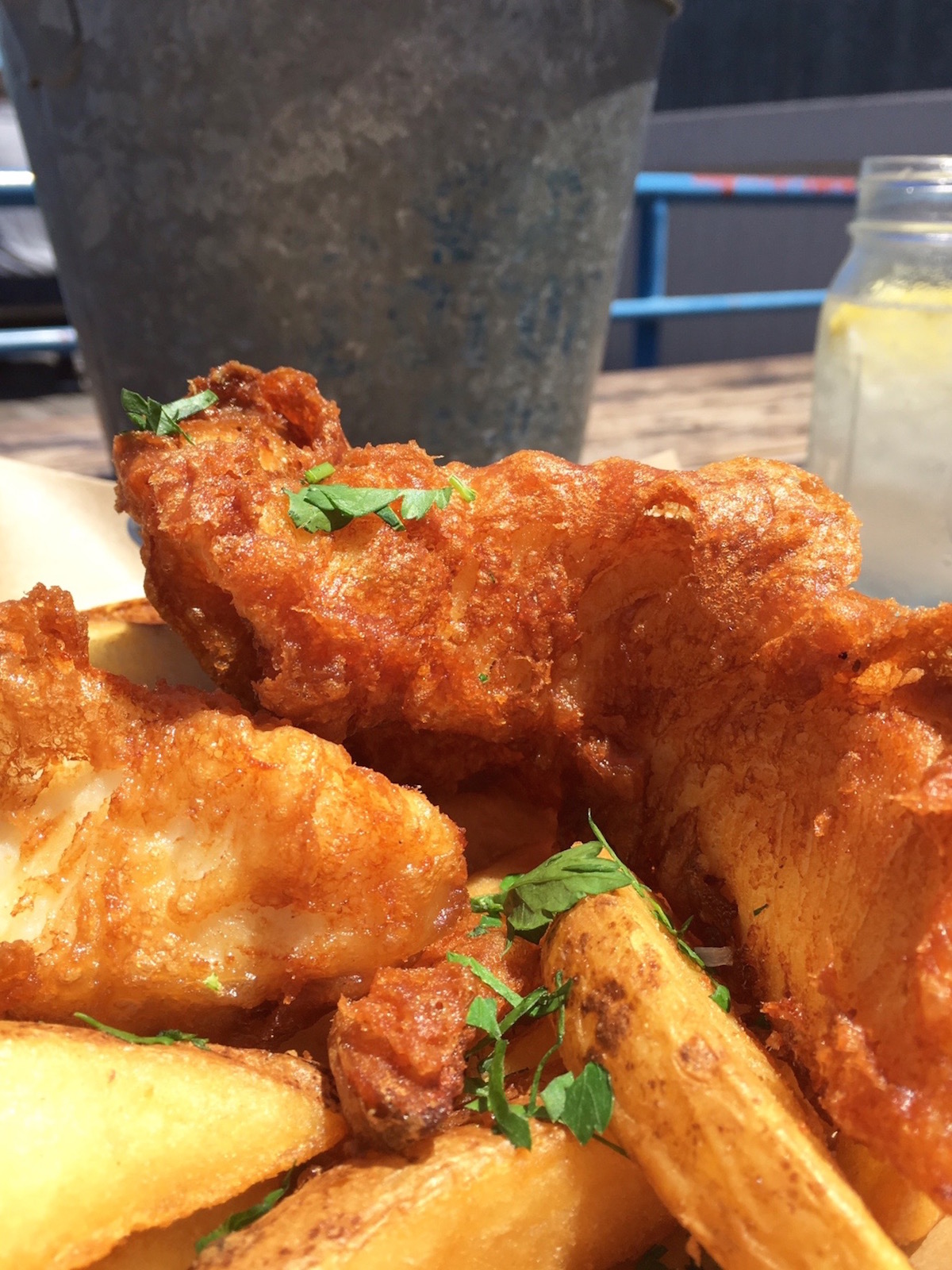 In my kitchen, I didn't batter and fry my newly-acquired fillet 🙂  I decided to pan-sear it and serve it alongside a warm corn and chourico relish and some sautéed kale.  I love chourico.  That spicy Spanish pork sausage really packs a flavor punch. The savoriness of the sausage complemented the sweet fish and corn, and the basil/parsley added freshness to the finished dish.  As I mentioned, this fish is somewhat dense, so it all made for a hearty meal. If you can't find Halibut at your market, you could serve this relish with just about any mild white fish.  I've even paired it with eggs in the morning!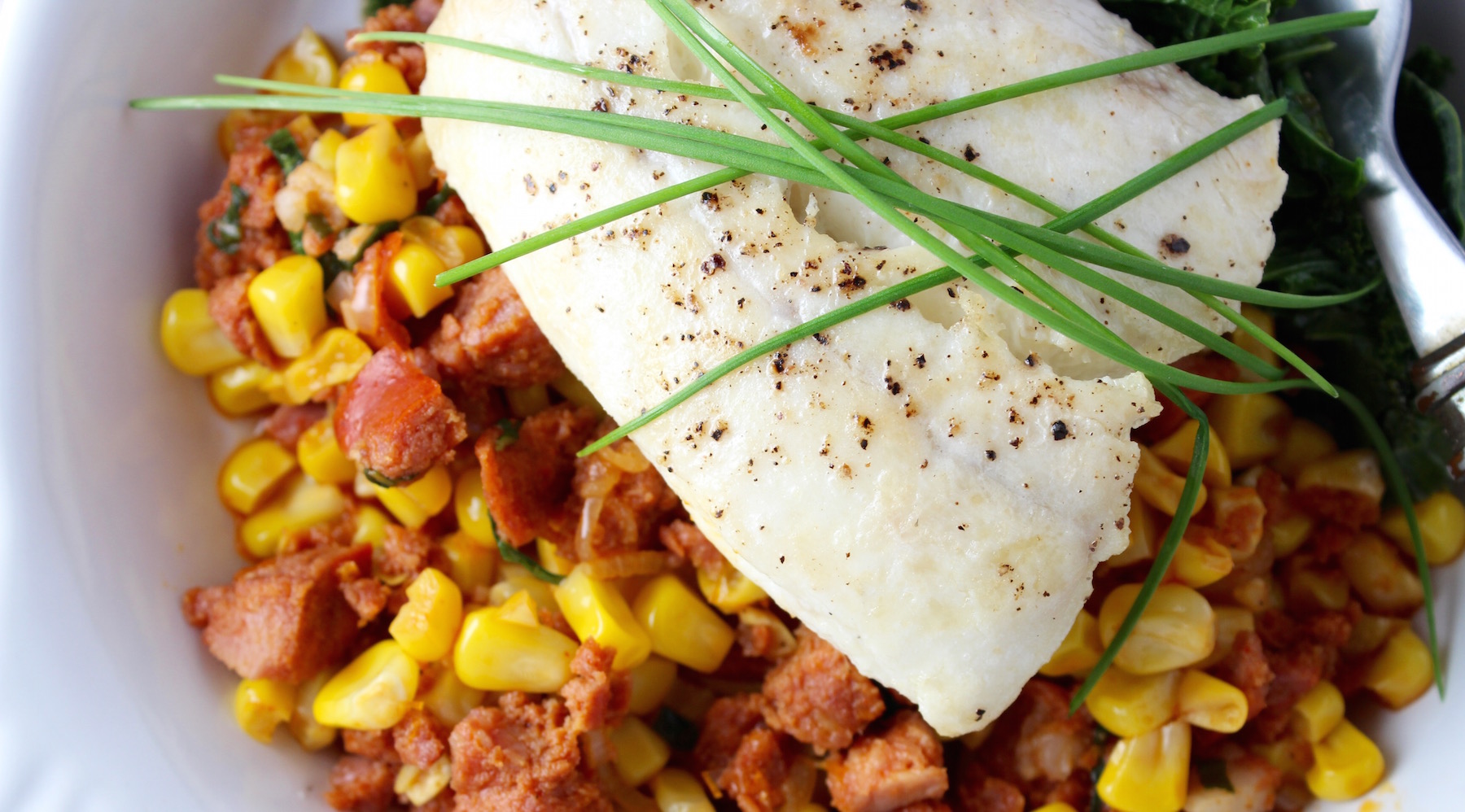 Halibut with Warm Chourico & Corn Relish
Halibut with warm flavors of chourico and fresh corn make a wonderful weeknight meal.
Author:
My Delicious Blog
Ingredients
Chourico & Corn Relish
8 oz. dry cured chourico, casing removed, chopped
1 clove garlic, peeled & minced
1 big ear of corn, niblets removed from husk
1 shallot, sliced thinly
½ c. low-sodium chicken, beef or vegetable both (whatever you have) *
4 Tb. unsalted butter
Kosher salt & freshly ground black pepper, to taste
Handful fresh basil, thinly sliced
Handful fresh parsley, minced
Fish
1 lb. Halibut, skin on OR removed (depending on preference), cut into 4 portions
2 Tb. olive oil
Kosher salt
Freshly ground black pepper
Fresh lemon wedges
Fresh basil or chives (for garnish)
Instructions
Heat oven to 350 degrees.
Place the chourico in a non-stick skillet over medium heat. Allow to cook and release its juices and oils and break down (about 5-7 mins.).
Add garlic, corn, shallot and cook on medium/low for about 8-10 minutes.
Add broth and cook another 5 minutes.
Add butter, basil, parsley, salt & pepper (to taste). Turn off heat and set aside until fish is cooked.
Pat fish pieces dry with paper towel. Sprinkle both sides with salt and pepper.
Heat non-stick/oven proof skillet over medium heat. Add olive oil.
Place fish in pan, non-skin side down (if retaining skin). Flip fish after 3-4 minutes. Allow to cook on stovetop for about 5 minutes, then pop the pan into the oven. Allow fish to cook another 5-7 minutes then remove from oven.
Plate the fish, along with chourico/corn relish. Garnish with lemon and herbs.
Notes
* Add a bit more broth if the mixture seems a little "dry" - the more moisture the better with this dense fish.