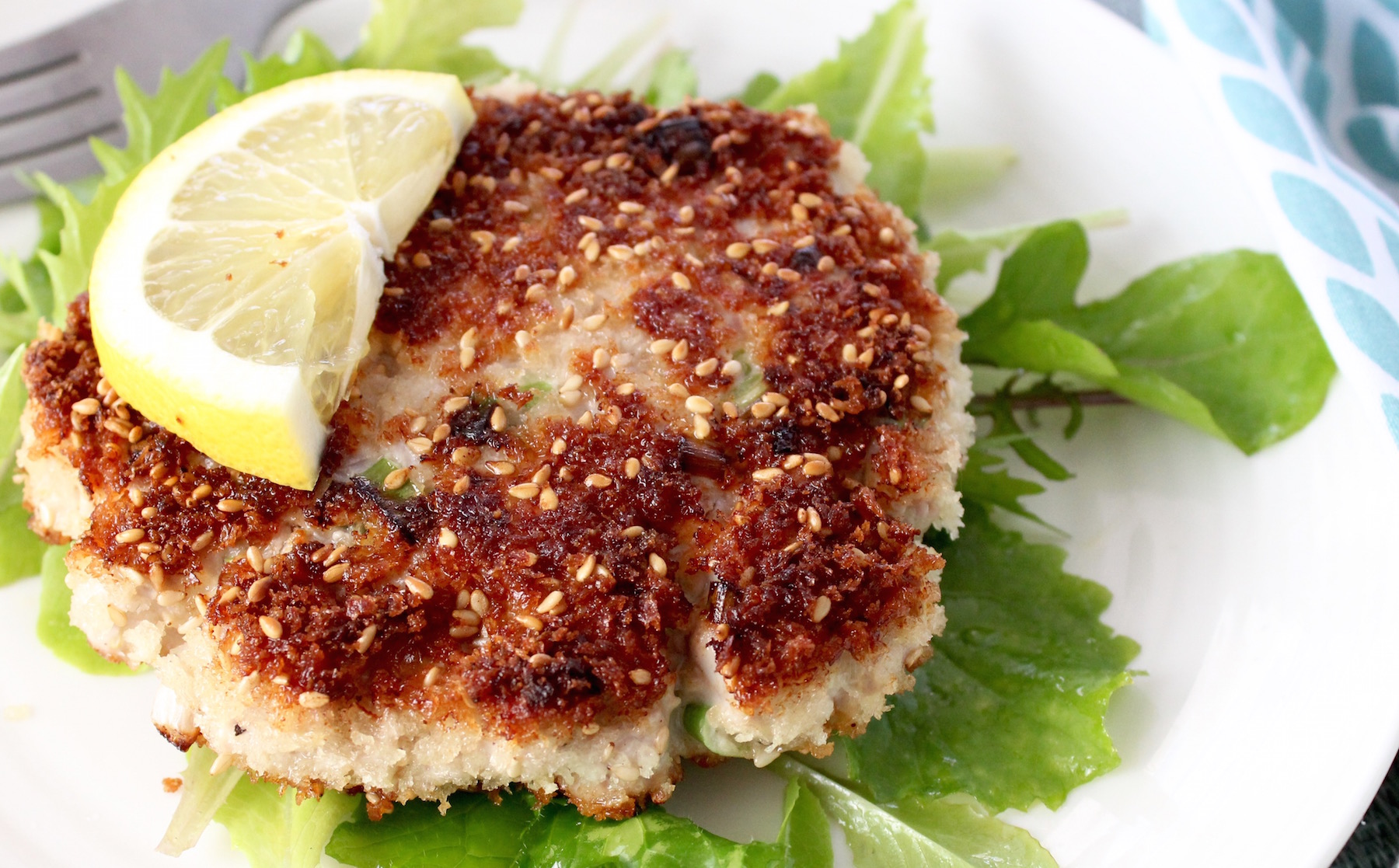 "You Can Tune a Piano, But You Can't Tuna Fish"
Makes you want to keep reading, doesn't it?!?
When I sat down to write this post, I was stumped — I wanted to write about my new tuna recipe, but didn't know how to start. So, I tapped into my fisherman hubby for inspiration, asking if he knew "any tuna phrases or stories" and this is what he exclaimed from across the room. . .To be honest, I had no idea what he was talking about, but learned it's the title to REO Speedwagon's 7th studio album, released in 1978. I didn't know that title, but I certainly remembered the band's classic rock love songs "Can't Fight This Feeling," "Keep on Loving You" and "Say You Love Me or Say Goodnight." Any teenage girl from the late 70s and 80s remembers those 🙂
So, that's how I'm opening this post, and now that the ice is broken, let's talk about tuna!
I'm a big fan of tuna.  Canned or fresh, it finds its way into many of my dishes.  It has been described as a powerhouse food, rich in omega-3 fatty acids, magnesium, potassium, iron, and B Vitamins and, as we've heard from health professionals, eating a diet full of these foods can help with things like lowering blood pressure, losing weight, strengthening bones, and providing energy.
In addition to that healthy stuff, certain varieties of tuna are considered sustainable by Seafood Watch, an advisory program at Monterey Bay Aquarium that provides information about seafood that's "fished or farmed in ways that support a healthy ocean, now and for future generations."  They consider it sustainable if it's sourced using hand operated pole and line or trolling methods employed by skilled fishermen who basically catch fish one at a time, making it hard to overfish a species.   To learn more about their rating system of "Best," "Good" or "Avoid," and to get a printable resource, check out their site.  As consumers, information helps us make better decisions when standing in line at the fish market, or ordering at a restaurant 🙂
I recently got some Yellowfin tuna from friends Jim & Wendy, who caught the fish in the Bahamas over the last several months.  They've been making tuna burgers, courtesy of a recipe from Williams Sonoma, so I decided to challenge myself to come up with my own recipe!  And as I looked at the insanely large lemongrass plant in my garden, I decided on an Asian-flavored burger with lemongrass, ginger, garlic, soy sauce, sesame oil, and mayo (not Asian, but it acts as a binder and provides moisture). Note: if you're not used to working with lemongrass, check out this post or you can buy it prepared at an Asian market.
Here are a few of my tips for success with these babies: 1) it's important to not over-process/handle the raw fish, so chop it finely with a sharp knife vs. using the food processor, 2) coat the patties in Panko bread flakes and sesame seeds for crunch/color (since the fish is colorless when cooked), 3) to have more control over the heat and avoid overcooking the delicate fish, sear the patties in a hot, nonstick pan on the stovetop, rather than putting them directly on a grill.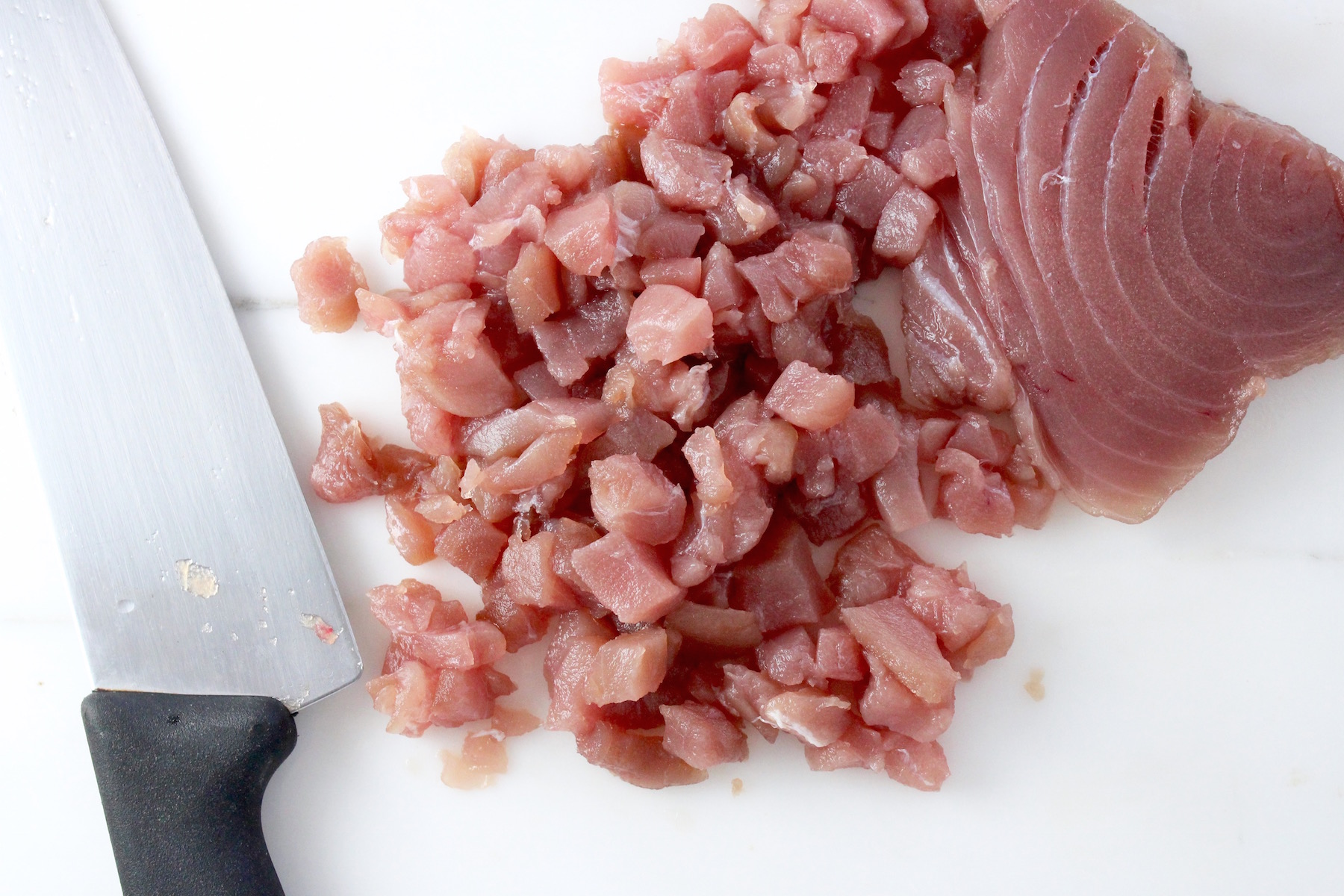 Since I'm cutting down on carbs, I served mine atop lightly dressed greens (lemon, olive oil, salt and pepper) and everything was SO delicious.   While great all by themselves, I'm sure these burgers would be even better on buttered, toasted buns, along with a tasty sauce or slaw from one of these recipes: Asian Grouper with Red Pepper and Scallion Slaw, or Ahi Tacos with Cuke Mango Salsa and Wasabi-Cilantro Sauce, or maybe mayo with Sriracha, or remoulade sauce.  You can't go wrong in any scenario.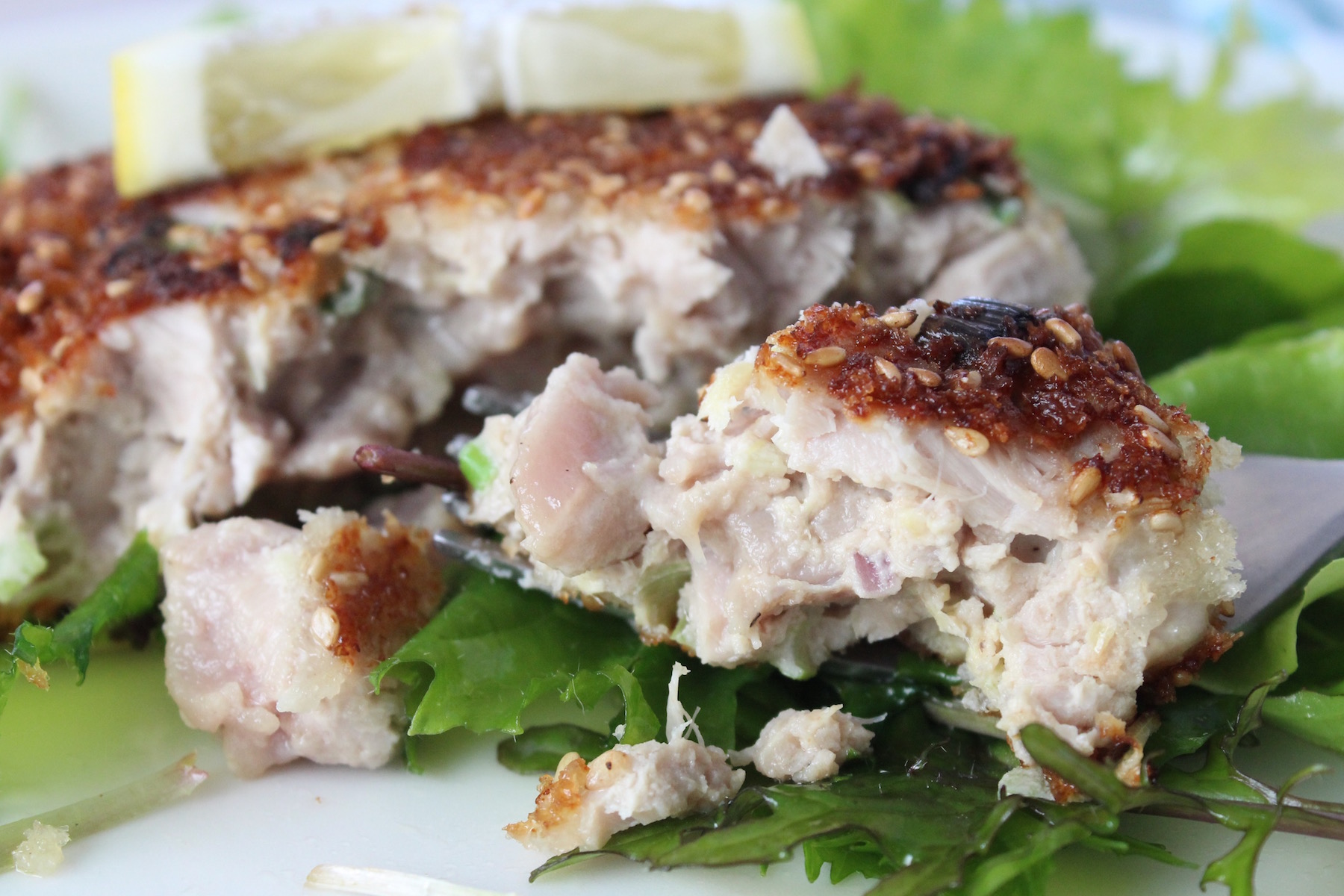 So, now, in addition to tuna melt, tuna salad, seared tuna, sushi and tuna casserole, you've got a burger recipe.  You're welcome.  Now, I'm off to tune the piano. . .

Asian-Inspired Tuna Burger
Transform fresh tuna into a burger patty and top it with a flavorful, Asian flavored sauce.
Author:
My Delicious Blog
Ingredients
~1¼ lbs. fresh tuna
4 scallions, minced (mostly white parts)
1 clove garlic, peeled & grated
1" piece fresh ginger, peeled & grated
5-6 stalks fresh lemongrass, peeled, mashed & minced (use the inner core, not the tough outside layers)
1 tsp. lemon zest
2 Tb. mayonnaise
1 Tb. toasted sesame oil
2 tsp. reduced sodium soy sauce
¼ tsp. kosher salt
Several grinds fresh black pepper
2+ Tb. coconut oil, olive oil or grapeseed oil
½ c. Panko bread flakes
2-3 Tb. sesame seeds
Instructions
Keep tuna refrigerated until ready to prepare.
Chop tuna into ½" pieces with a very sharp knife; transfer to a mixing bowl.
Add scallions, garlic, ginger, lemongrass, lemon zest, mayonnaise, sesame oil, soy sauce, salt and pepper. Mix gently to combine. Refrigerate about 20 minutes before preparing patties.
When ready to cook, add oil to a large non-stick pan and heat to medium/high.
In a shallow dish, add Panko and sesame seeds (along with a pinch of salt) and mix to combine.
Divide the tuna mixture into 4 portions and form patties for each,
Place one patty at a time into the Panko mixture - coat each side well. The patties will be soft, but with gentle handling, they'll do fine.
Add each coated patty to the hot oil (depending on the size of your pan, it may be best to cook 2 at a time so they cook evenly).
Cook 1st side about 2 minutes, then flip carefully (the 1st side should be nicely browned). Cook the other side about 2 minutes, then serve immediately. (Note: if you like your tuna with a lot of pink inside, simply reduce the cooking time for the 2nd side. Because these are relatively thick patties, there should still be a fair amount of pink color on the inside, but it's all based on personal preference. I like mine a little on the 'more done' side).
Notes
If you cannot find fresh lemongrass, just use 1-2 more teaspoons of lemon zest.