Recently, some friends hosted a birthday dinner on the beach for me and my hubby. . .it seems that the both of us have magically hit the mid-century mark, so it was a good reason to celebrate! We enjoyed a gorgeous Florida Spring evening – beautiful sunset, cool breeze, white sand and delicious food and wine. Heck, turning 50 isn't so bad. I had in my refrigerator some gorgeous Yellowfin Tuna caught this week in the Bahamas by dear friends Jim and Wendy. These two dedicated souls worked really hard to bring in 3 amazing fish, and I was honored that they wanted to share it when they got home!  Here's a pic of Jim with one of the beauties (photo credz to Wendy):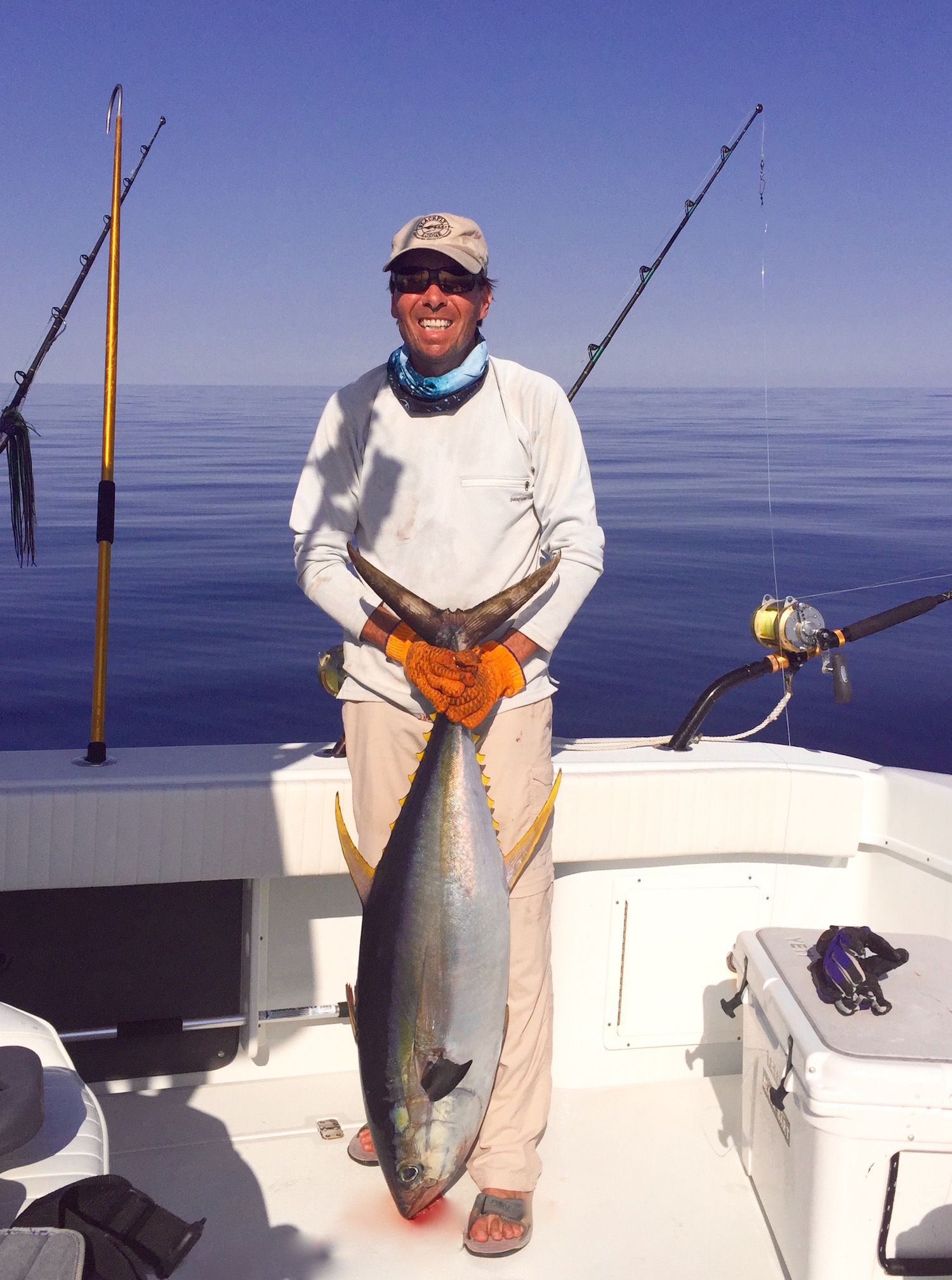 I decided to continue the "sharing streak" and asked my friend Dave to make his amazing blackened tuna with creamy cilantro sauce. I couldn't think of anything more perfect for my birthday, and he was happy to oblige.  Check out this video of the
Seared Yellowfin
– the sound of pure deliciousness. This fish, along with its amazing sauce, literally melted in our mouths and within minutes there wasn't a scrap of tuna or a drop of sauce anywhere to be found! When fish is this fresh there's nothing better. If you're lucky enough to get your hands on some (i.e., catch it yourself, or buy it from a good fish market), grab it and run to the nearest grill. It will undoubtedly be pricey — especially if you have to buy a boat and all the gear and fuel to get it — but it's worth it because of the deliciousness factor. Life is too short to deny yourself amazing tuna! This is my friend Dave's recipe, well-honed after many dinners. It comes together very easily, and it's always a crowd pleaser. As a matter of fact, I wish I had some right now 🙂
Seared Yellowfin Tuna
Fresh tuna is super awesome with this magical, creamy sauce.
Author:
Adapted from Dave Webber's Recipe
Ingredients
Tuna Steaks:
4 1" thick fresh tuna steaks (Yellowfin, preferably)
1 tsp. sea salt
2 Tb. blackening spice (we use Paul Prudhomme's Redfish Magic)
1 Tb. all-purpose flour
2 Tb. olive oil
Sauce:
1 shallot, minced
1 Tb. olive oil
1 pint heavy cream
1 Tb. Pernod
½ c. fresh cilantro, chopped
4 Tb. unsalted butter
Instructions
For the Fish:
In a shallow dish, combine blackening seasoning with flour.
Sprinkle both sides of tuna steaks with sea salt.
Dredge tuna steaks in seasoned flour; set aside.
Heat a heavy iron skillet over very high heat (a hot grill works best).
Pour olive oil into pan and place tuna steaks in pan.
For the Sauce:
In a sauce pan over medium heat, sauté shallot with olive oil until it begins to soften.
Add cream and stir constantly, continuing to cook over medium/low heat to reduce the liquid by about ⅓ (it should be quite thick).
Add Pernod and cilantro and simmer another minute or so.
Stir in butter; remove from heat.