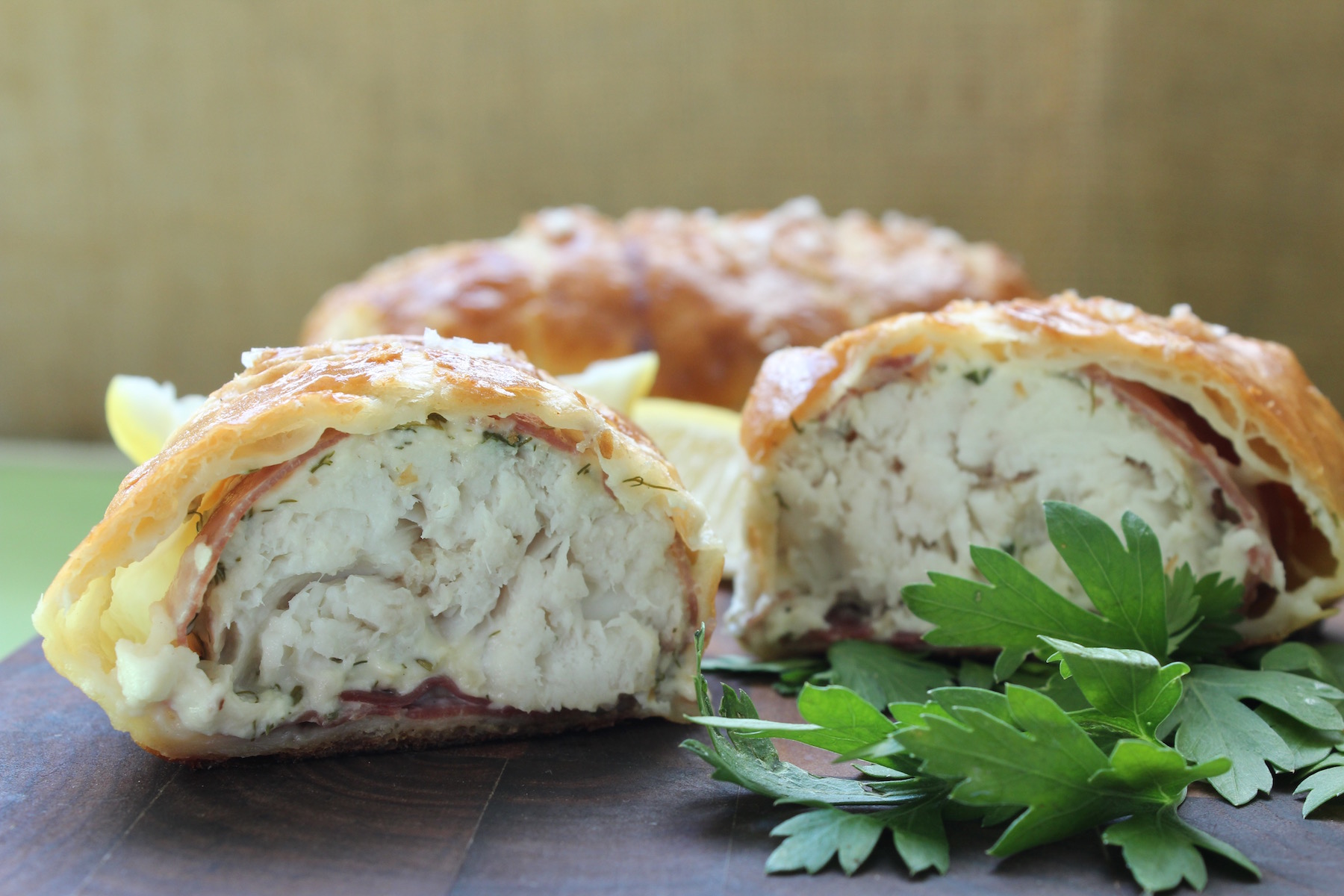 My husband and I work from home, so we get to share lots of meals together. And it's usually during lunch (or sometimes even breakfast) that he asks "What are you thinking of making for dinner?"  Ok.  Does anyone else think it's funny that he's already wondering about his next meal, while enjoying his current meal?
I usually don't plan that far in advance for dinner — most of the time I wing it and make something based on what I feel like cooking or what's easily available, and I'm sure I'm not alone.  So, when he asks me this question, most of the time my answer is "Gosh, I don't know – I'm just enjoying this salad (or cereal, or sandwich) right now." But sometimes I actually DO have something in mind that requires a bit of planning and, on this day I proudly proclaimed "Fish Wellington!"
So here's how it all happened. . .
While rummaging in my freezer that morning I spotted Mutton Snapper that was fast-approaching its 'expiration date'. I also spied a box of puff pastry.  So I put on my creative hat and started thinking about what I could make that would be different from my standard repertoire. Then it hit me! I thought of how delicious it would be to wrap that white, flaky fish in the puff pastry, along with a yummy filling, and bake it — like a Beef Wellington (you know, beef fillet layered with duxelles [mushrooms] and pate, wrapped in pastry?).  Wow.  I thought that I must be one BRILLIANT person to come up with such an amazing idea. My next step was to do a Google search to see if there was anything out there with my concept, but I was sure there wasn't 🙂
You can imagine my disappointment once I spotted several recipes for pastry-wrapped fish (a lot of salmon, by the way). I guess I'm not as brilliant as I thought I was!  No matter — while it may not be an original concept, it's still my version and it was really good.
I whipped up some cream cheese with fresh herbs and lemon zest for a creamy complement to the fish, then added a thin layer of prosciutto for a salty bite.  Something different, for sure, but now this is on my list of go-to fish recipes because it was SO yummy, albeit, not the most low-calorie. While there are a few steps to the recipe, it's actually pretty easy and the finished dish is beautiful, and I think it would be great to serve for dinner parties or special occasions.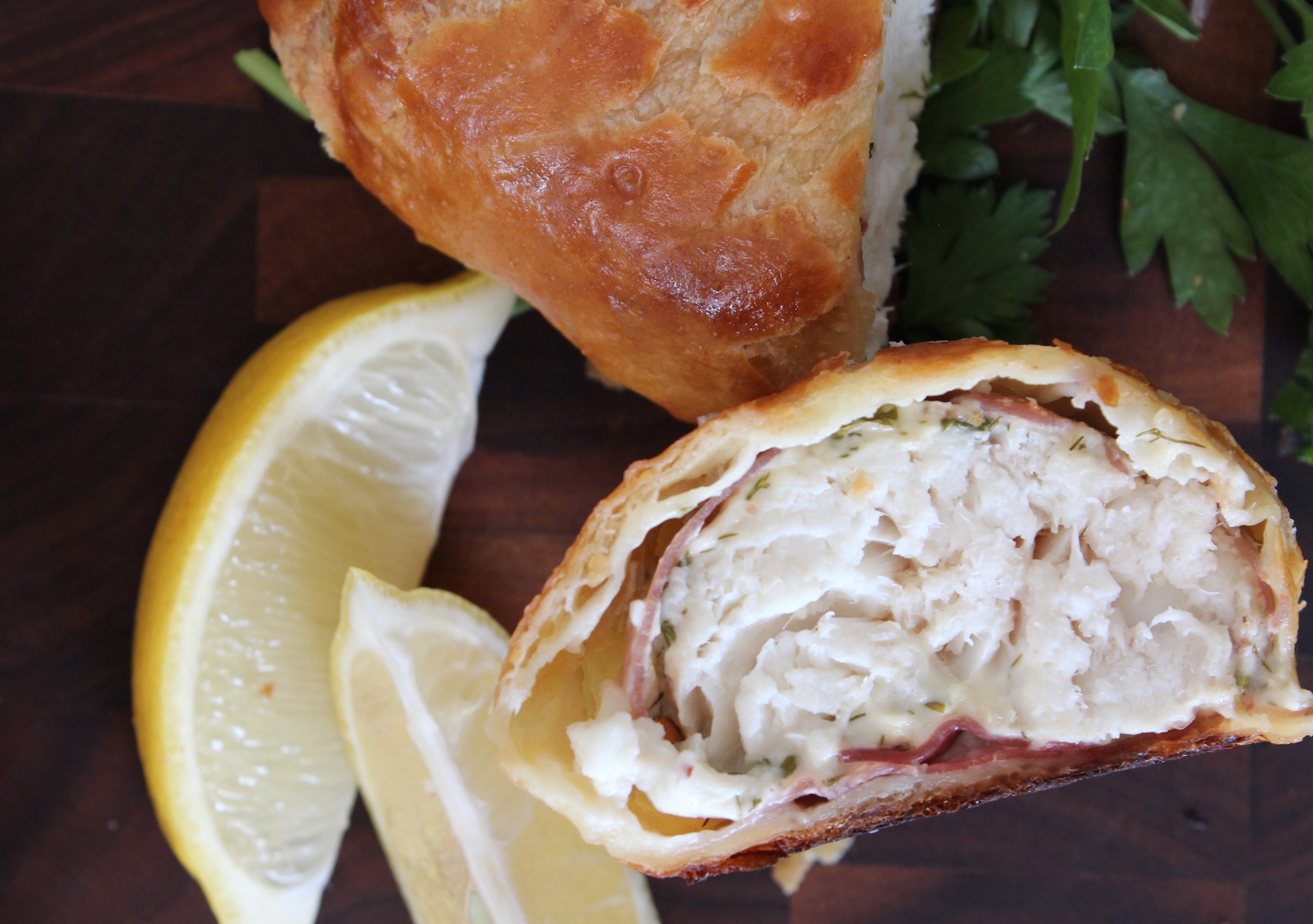 Some considerations if you make these: 1) I found that making single servings was easier to manage, considering the size of the puff pastry sheets.  2) In order to ensure a crispy bottom pastry and prevent sogginess, I suggest using a white, flaky fish (or salmon) that's been dried with paper towels VERY well.  It's also a good idea to use fillings that have minimal moisture.

Fish Wellington with Herbs and Prosciutto
What a fun way to prepare fish, like the traditional beef Wellington!
Author:
My Delicious Blog
Ingredients
Herb Cream Cheese
4 oz. cream cheese, room temperature
1 Tb. fresh dill, chopped
1 Tb. fresh parsley, chopped
1 Tb. chives, chopped
zest of 1 lemon
Several grinds of fresh black pepper
Fish Bundles
1 lb. Snapper (or other flaky, dense white fish)
4 slices prosciutto
1 sheet of puff pastry, thawed
1 egg, beaten
Instructions
Prepare Herb Cream Cheese by combining all ingredients in a small bowl; blend well. Set aside until ready to use. If making in advance, refrigerate until ready to use, but allow to come to room temperature for about 20 minutes for easier spreading.
Preheat oven to 400 degrees.
Line a baking sheet with parchment paper.
Clean and de-bone fish. Cut into 4 portions, about 3.5 - 4" in length (about the width of the Prosciutto slice). Thoroughly pat dry all the portions and set aside.
Lay out 4 pieces of plastic wrap on your counter, in an assembly line format (about 12" each).
On each piece of plastic wrap, place a slice of prosciutto in the middle.
Spread a layer of cream cheese over the prosciutto - staying within its borders.
Place a piece of fish in the middle of the cream cheese.
Use the end of the plastic wrap closest to you to start rolling the prosciutto end toward the center of the fish and tightly roll/wrap the fish/prosciutto into a tight 'cigar' shape. Wrap the plastic tightly around all sides (but not so much that cream cheese oozes out) and twist the ends of the plastic like a piece of candy. Refrigerate the tightly packed rolls for about 20 minutes.
Lightly flour a work surface.
Place the thawed puff pastry sheet on the floured surface and roll out gently with a rolling pin (try to get it about 1" larger all around). Flip over and repeat.
Cut the pastry into 4 squares.
Remove fish rolls from refrigerator and unwrap.
Place one in the middle of each pastry square (you may need to try placing it in either direction to ensure there's sufficient length of pastry to cover the fish).
Using a pastry brush, dab all four edges of the pastry with the egg wash.
Wrap the fish roll in the pastry and tuck the ends under, ensuring that the egg wash is coating all seams. Place each on the parchment lined baking sheet and refrigerate for about 20 minutes.
Remove from refrigerator and brush the pastry bundles all around with egg wash.
Make a few shallow/decorative slices in the top of each bundle and place into the preheated oven.
Bake for about 30 minutes, until golden brown.
Remove from oven and allow to cool about 15 minutes on the baking sheet.
Use a serrated knife to carefully cut through the Prosciutto layer and slice each little bundle.
Notes
Note: I did not add salt or pepper to the fish or cream cheese, considering the salty Prosciutto, but you can experiment with it, to your taste. It's also optional to sprinkle sea salt or finishing salt on top after brushing each with the egg wash.