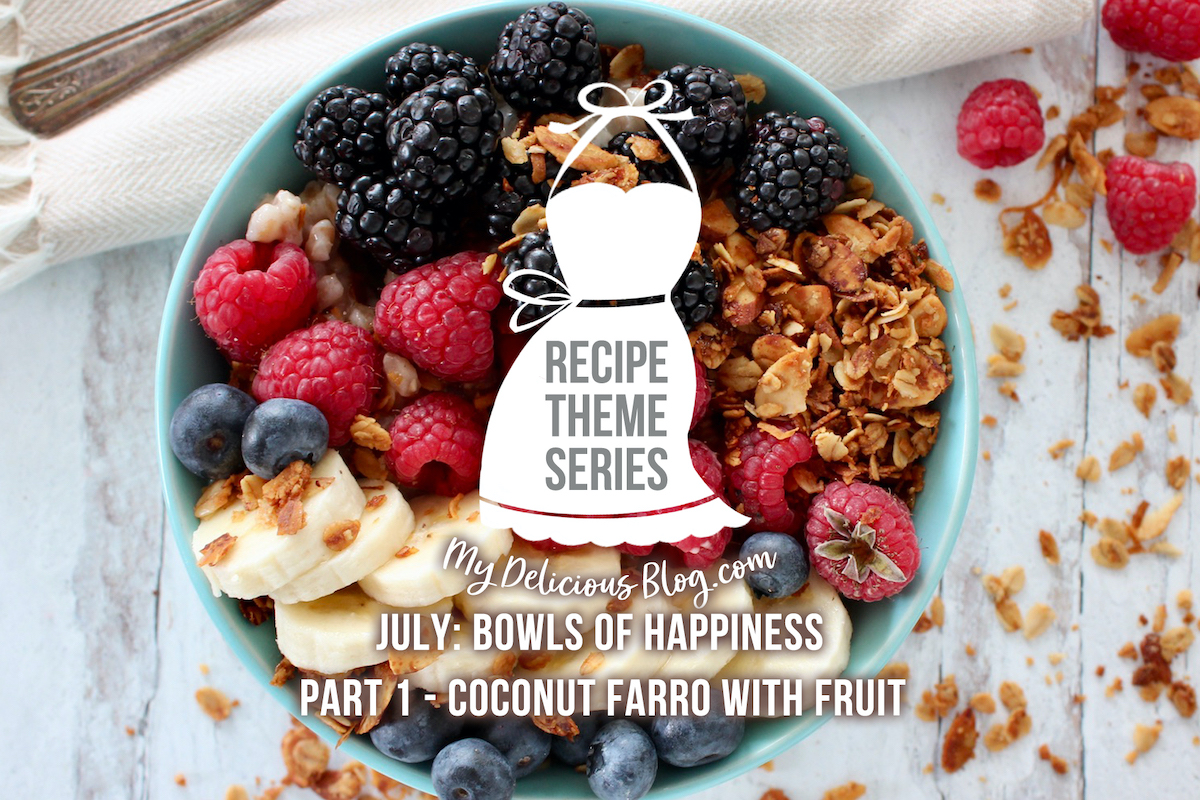 We've lived through tumultuous days over the last year. Thankfully, life seems to be slowly coming up to speed.
That said, I'm still not feeling myself, struggling to find my 'new normal.' Add in many gray days filled with much-needed rain, and that means I'm craving comfort food.
Comfort food is the stuff we shouldn't eat regularly 'cause it's full of fat, sugar and carbs – you know, all the good stuff. Personally, I love comfort food served in a bowl and eaten with a spoon, like tiny pasta with meat sauce, oatmeal with raisins, mashed potatoes and meatloaf, fried rice with savory pork, or ice cream (the king of bowl-worthy treats).
This month I'm highlighting stuff in bowls, a.k.a. "deliciousness you can hold with two hands" and today it's a warm breakfast treat. I usually reach for oatmeal, or eggs with sautéed chard and mushrooms, but today I cooked 
farro,
an ancient wheat full of nuttiness, vitamins, protein and fiber. Its chewy texture is satisfying in sweet or savory dishes, and it's perfect as a morning porridge.
I slow-cooked the farro in coconut milk, spooned it into a bowl and topped it with fruit and homemade granola filled with oats, coconut, almonds and honey. Every creamy spoonful was nourishing and satisfying.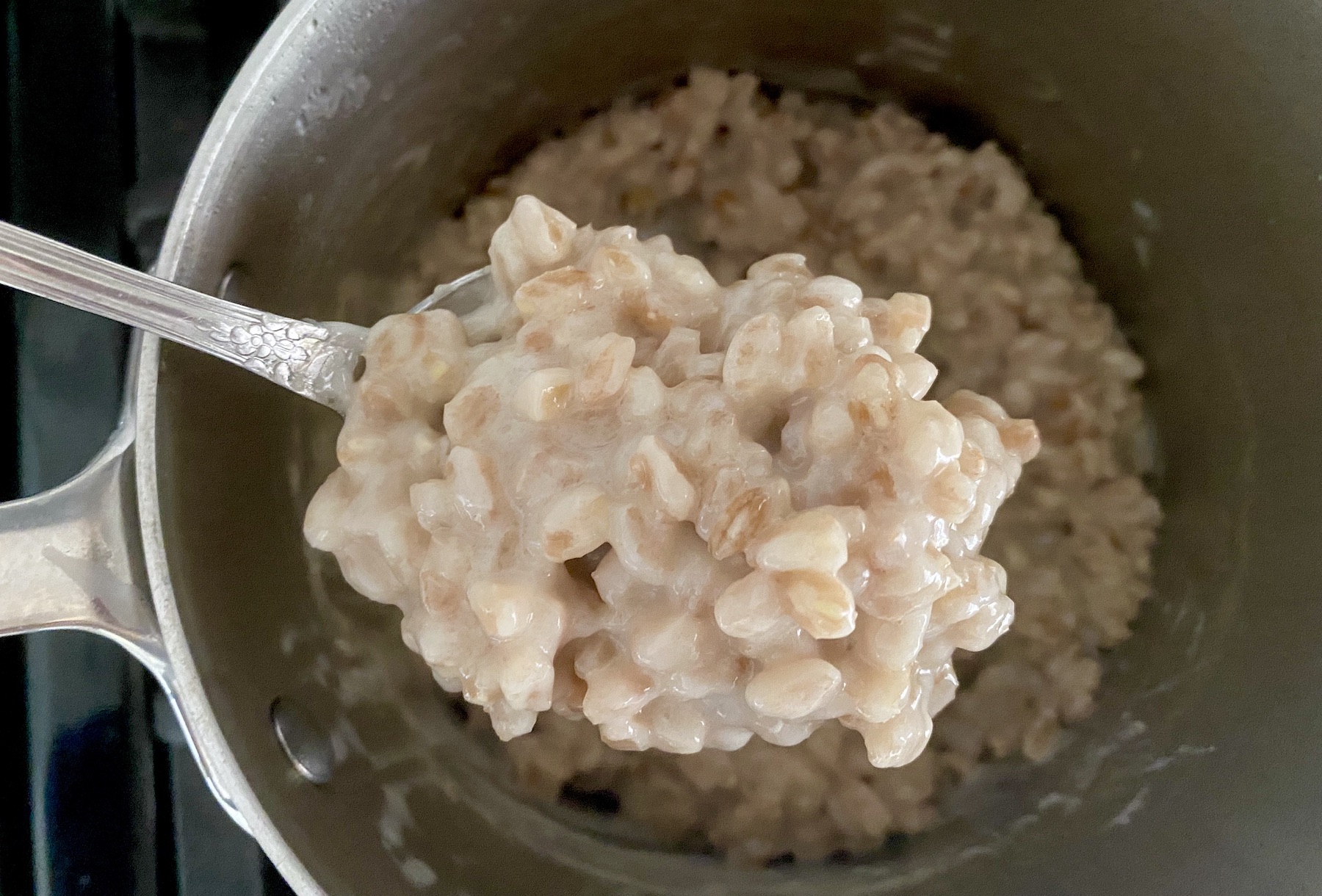 As my cat watched me dig into that deliciousness, I actually forgot about my sense of malaise, so I guess the farro did its job today. I hope you give it a try – especially if you're having a hard time getting back into life.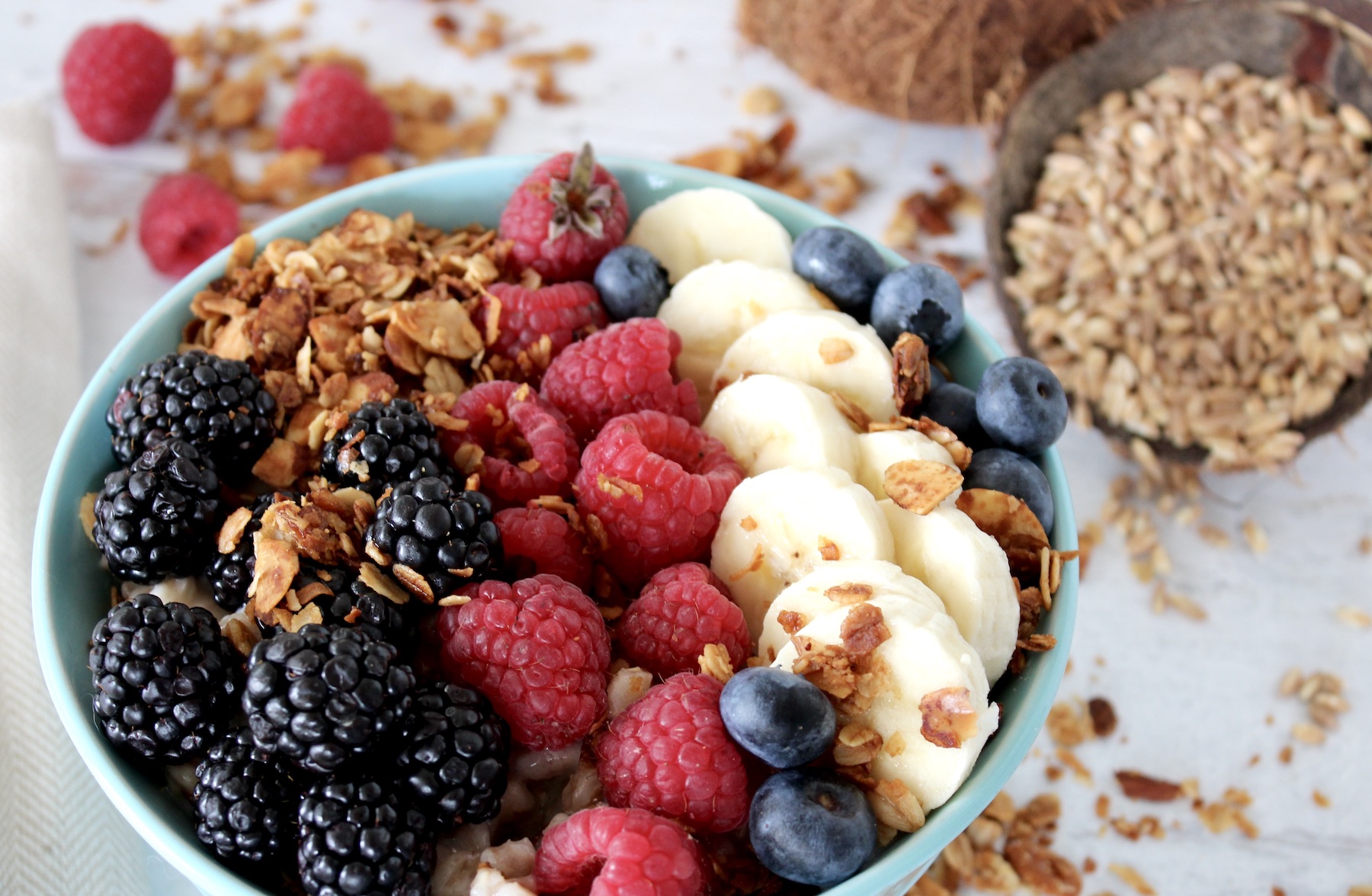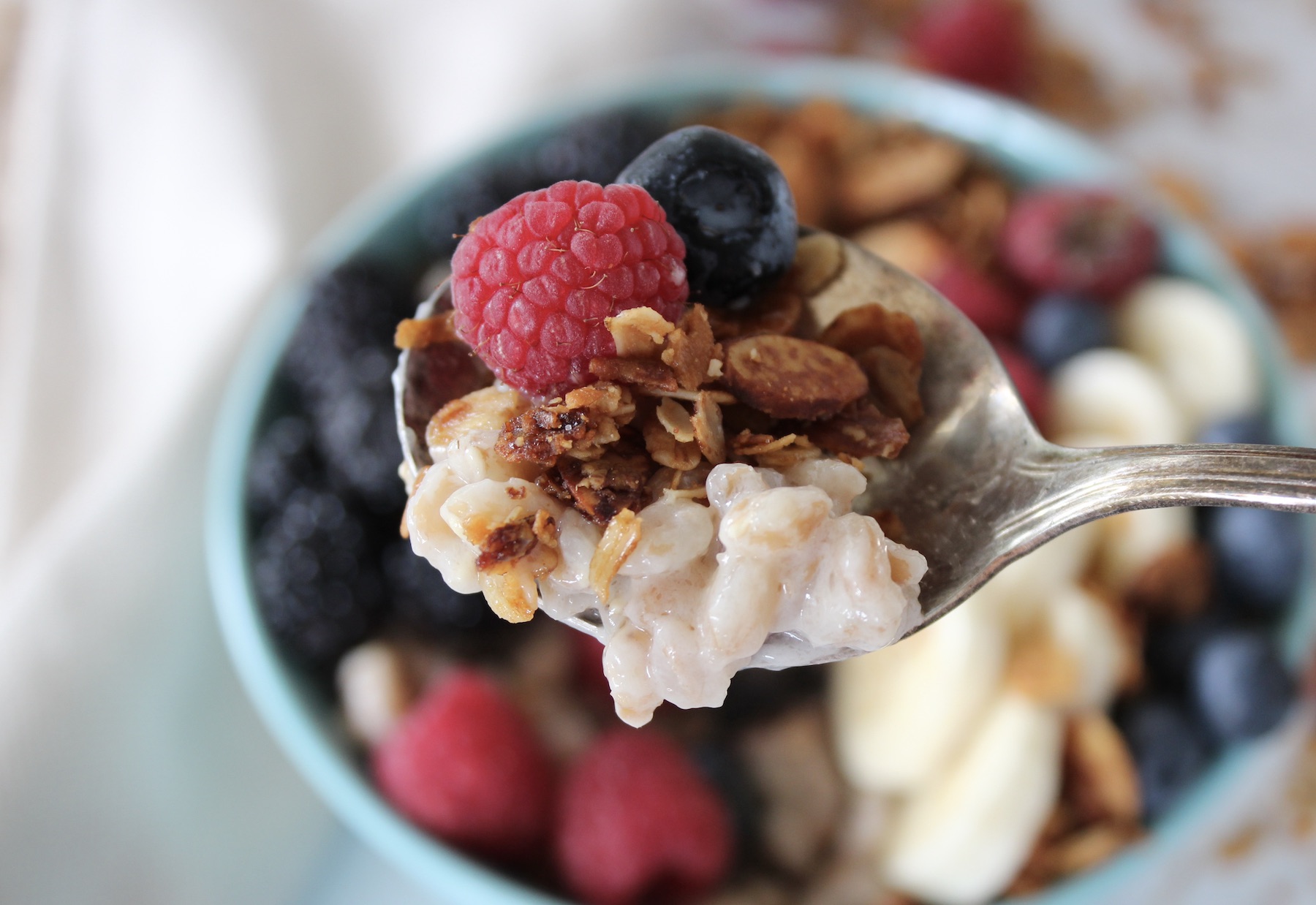 P.S. for a
savory
farro recipe, try this yummy
salad
with preserved lemon, basil, mint, edamame and Feta 🙂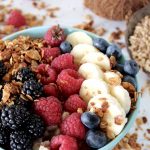 Print Recipe
Coconut Farro with Berries and Granola
A delicious blend of creamy farro slow-cooked in coconut milk, topped with fresh berries and crunchy granola.
Ingredients
1

13.5 oz. can

Coconut milk

I used full fat, but you can replace with a light version

3/4

c.

Pearled farro

Supermarket varieties are usually pearled which cook quicker than whole grain varieties

1/2

c.

Water

2

Tb.

Pure maple syrup

1/2

tsp.

Kosher salt

1-2

c.

Mixed berries

1-2

Bananas, sliced

1

c.

Granola

homemade or store-bought
Instructions
Combine coconut milk, farro, water, maple syrup and salt in a small sauce pan. Bring to boil then reduce heat to low, cover and slow-simmer 45-50 minutes, until farro is tender/chewy.

When done, turn off heat, remove cover and allow it to sit and continue to absorb the liquid for about 10 minutes.

Scoop farro into a bowl then top with berries, bananas and granola.