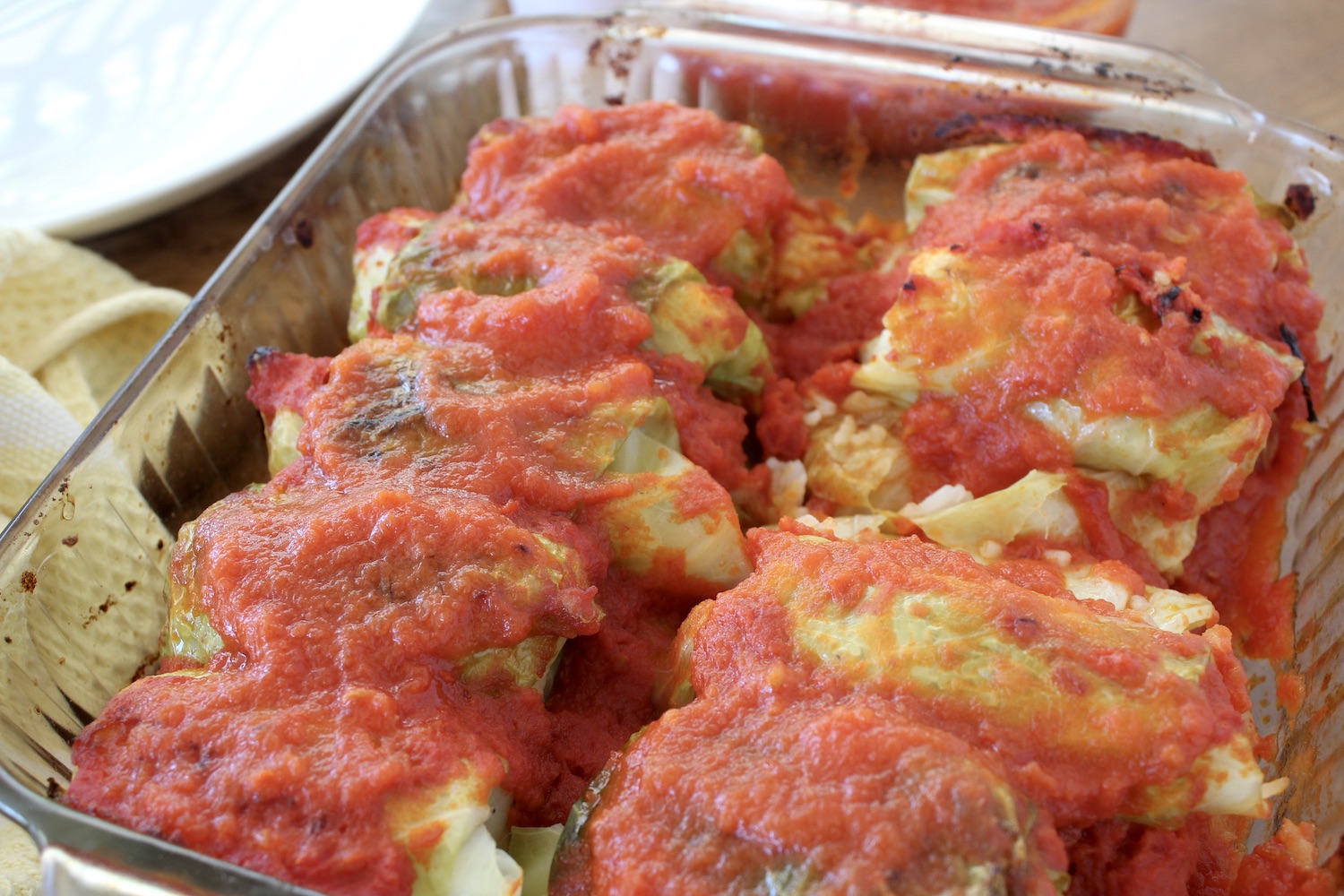 With all that's happening in the world, I decided to learn more about Ukrainian food. . .
Borscht, sweet bread, chicken Kyiv and briny potato salad are some popular dishes. But one that especially caught my eye is Holubtsi, stuffed cabbage, or "little pigeons," as they're called. 
I've always loved stuffed cabbage/grape leaves, or any leafy green with a delicious filling. When I was growing up, my mom made them because they were economical, easy, and good for us. And because she was resourceful, I'm not surprised she even found a grapevine at the end of our street – one hanging over a fence behind a lumberyard! She stuffed them with ground beef and rice and baked them with tomato sauce – one of my favorite meals.
Ukrainians fill them with meat, rice/onions, or a combination, depending on region. Typically, they add grain – in western Ukraine, folks use corn grits; in eastern parts, buckwheat groats. Most are cooked in tomato sauce; some in cream sauce. There's even a 'sour' version using pickled cabbage leaves.
There are many online sites to learn about them, but my favorite is from Raisa Stone, author of Baba's Kitchen: Ukrainian Soul Food. Raisa takes on the 'voice' of her own grandmother, teaching us how to make cabbage rolls. Here's an excerpt:
"Holubtsi mean dear little pigeon. You probably call cabbage roll. This sound not too romantic. When I make holubtsi, men line up on village street. They say, "Oh Baba, can I be little pigeon in your hand, too?" I send them chop wood. They come back and give me foot massage with big rough hand. . .I show you how to make holubtsi like real Ukrainian. First, get neighbor to come over and help. This long job. Also, taking core from cabbage is boring. Stalin steal our cow and pig, and for long time I only make without (meat)."
The book looks wonderful, and I'd really like to meet Raisa some day 🙂
I made mine with a classic mix of rice and buttery onions, topped with my favorite tomato sauce – Marcella Hazan's. Why mess with perfection? Food52 offers a good link to it.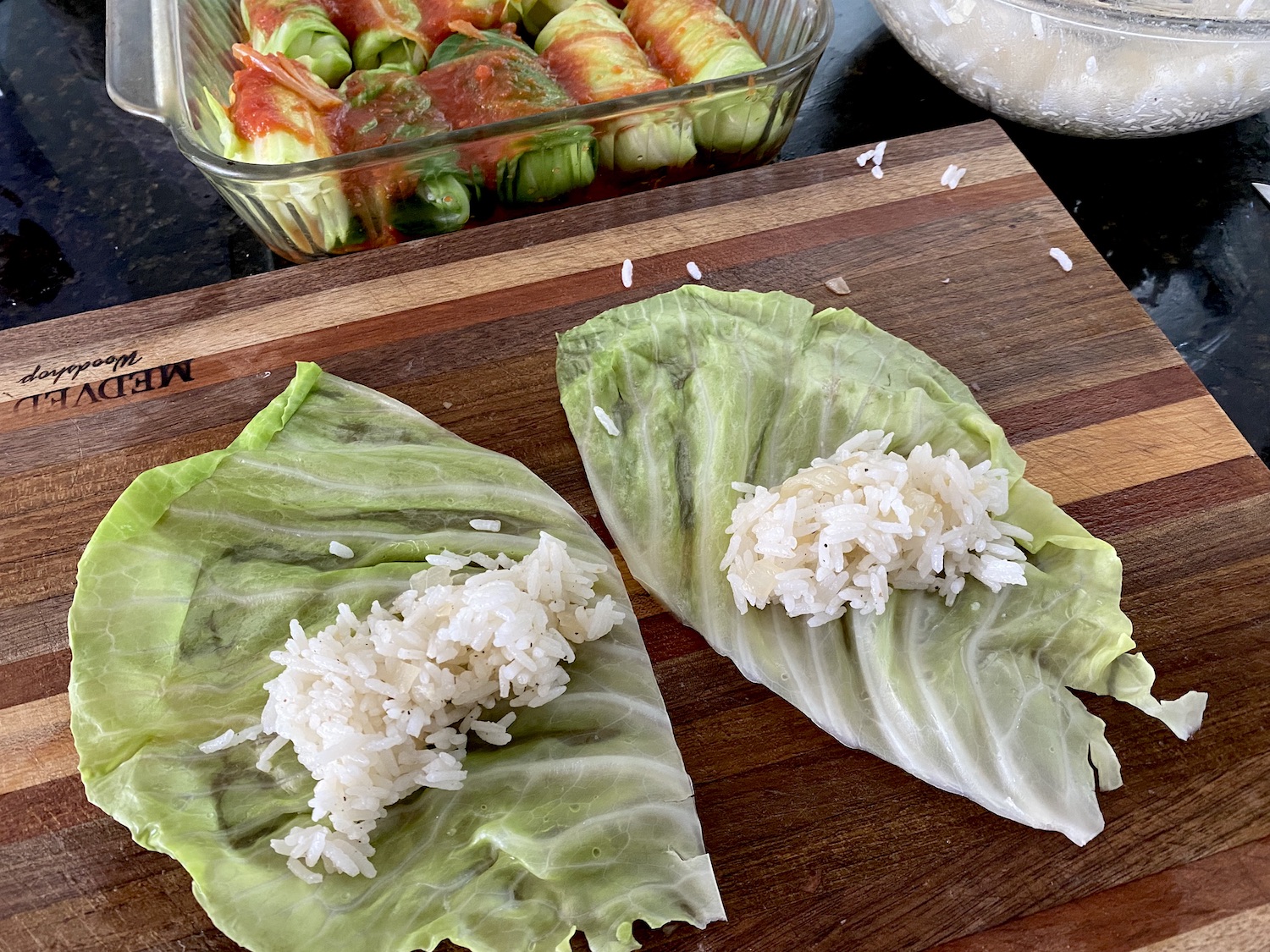 Sometimes simple foods can not only transport us in time, but also, allow us to honor the beloved flavors of fellow humans across the Atlantic.
P.S. For another 'stuffed' inspiration, check out this Ricotta-Stuffed Chard recipe 🙂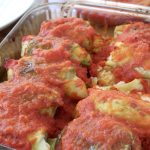 Print Recipe
Cabbage Rolls (Holubtsi)
Humble cabbage leaves, stuffed with rice and buttery onions, baked with tomato sauce (courtesy of Marcella Hazan's recipe) -- a classic version of Holubtsi, Ukrainian cabbage rolls. SO good and SO comforting.
Ingredients
2

c.

Dry, long grain rice

I used Jasmine (yield ~ 5 cups)

2

Tb.

Unsalted butter

1

large

Onion, peeled & chopped

1/2

tsp.

Kosher or sea salt

1/4

tsp.

Freshly ground black pepper

~12

Green cabbage leaves
Tomato Sauce
2

c.

Canned whole tomatoes, crushed or pureed

5

Tb.

Unsalted butter

1

medium

Onion, peeled & halved

1/2

tsp.

Kosher or sea salt
Instructions
If making from scratch, prepare tomato sauce by placing all ingredients in a heavy-bottom pan and simmering over medium-low heat ~45 minutes. Turn off heat, taste for salt, then set aside until ready to use.

Cook rice according to package directions but be sure to slightly under-cook it, since it will finish cooking in the oven. (Note: 2 cups of my jasmine rice cooked with 3 cups of water yielded about 5 cups of rice).

While rice cooks, add 2 Tb. butter and the chopped onion to a medium saute pan and cook over low heat until onions are translucent, 3-4 mins. Turn off heat then add ~3 cups of the partially cooked rice and mix with 1/2 tsp. salt and a few grinds of black pepper. Set aside until ready to use.

Heat oven to 350 degrees.

Fill a large pot with water, bring to boil then reduce to simmer.

Fill a large bowl with cold water; set aside.

Remove as many outer leaves of the cabbage as you easily can. Carefully add the head of cabbage to the water and let it sit for ~1 minute. Remove with tongs then drop into the bowl of cold water. When cool enough to handle, pull off more leaves, trying to get 12 whole leaves. If you're having difficulty, pop it back in the water and repeat. Transfer leaves to a dry kitchen towel.

Line the bottom of an 8X8 baking dish with about 1/2 cup of tomato sauce.

To assemble: cut each leaf in half and remove any tough/thick parts of the stem. Place a heaping tablespoon of the rice/onion mixture near the bottom of the leaf. Roll up while pinching in the sides to form a little roll/bundle. Place each roll in the baking dish so they fit snuggly together. After the first layer, spoon on some tomato sauce. Repeat for the second layer. Top with more sauce, then cover with foil and bake about 1 hour, or until the cabbage leaves are tender when tested with a knife. Allow to cool slightly, then serve.
Notes
Save the inner parts of the cabbage for cole slaw, soup, or whatever you like.
With any leftover rice, keep it in the fridge and use it for another recipe, like fried rice!
Don't hesitate to use jarred marinara sauce or another favorite for this dish, in order to save some time. Homemade is always best, but jarred sauce can be a lifesaver when time is short!