In our neck of the woods, Grouper is a fish we regularly see on menus. It's popular because it's deliciously mild, flaky and meaty. And in our house, we're lucky to catch it regularly (or have friends who like to share), so I'm always thinking of interesting ways to prepare it.
Every time I make Grouper, I think of my very first deep sea experience, 12 years ago. I was with my husband and some friends and, up until then, had only done sight fishing and casting for inshore fish. I really didn't know what I was in for, but I was game for a new adventure. In our friends' high-powered boat, we traveled at what seemed lightning speed 50 miles off the coast of Venice, FL. When we stopped, my eyelids finally sprang back into place, and we were in about 150 feet of water.  My friend handed me a rod with a huge reel on it and said "OK, just drop it straight down." Of course, the inquisitive side of me asked "Well, then what do I do?" and he said "When you feel a tug, hold on tight and reel." Being the girl who had just "mastered" the art of casting and jigging, this made absolutely no sense to me. I pressed on and asked "That's it?!?  It's that easy?" My husband was laughing as he chimed in and said "Well, if you're in the right spot it is!" That ended up being a fantastic fishing day because we all caught our limit of Grouper and my inaugural deep sea trip was a resounding success!
Here's a more recent pic of me and Brendan at the dock holding our Red and Gag Grouper.  We were two tired and hot fishing souls, but definitely happy after catching some amazing fish 🙂
Grouper is a hearty fish, so you can do just about anything with it. For this dish, I marinated the thick fillets to infuse some flavor, tossed them on the grill, and topped them with a Red Pepper & Scallion slaw. Fair warning, this slaw has a good amount of heat to it from the jalapeño, garlic and ginger, but you can decide how much to put in, depending on your taste. Because the fish is mild in flavor, the slaw provides a cold, crunchy zing — and it's pretty, too.
By the way, here's the wine we enjoyed with dinner – a gift from our new friends at Paradigm Winery in Napa Valley.  It was a perfectly refreshing addition to our spicy dish 🙂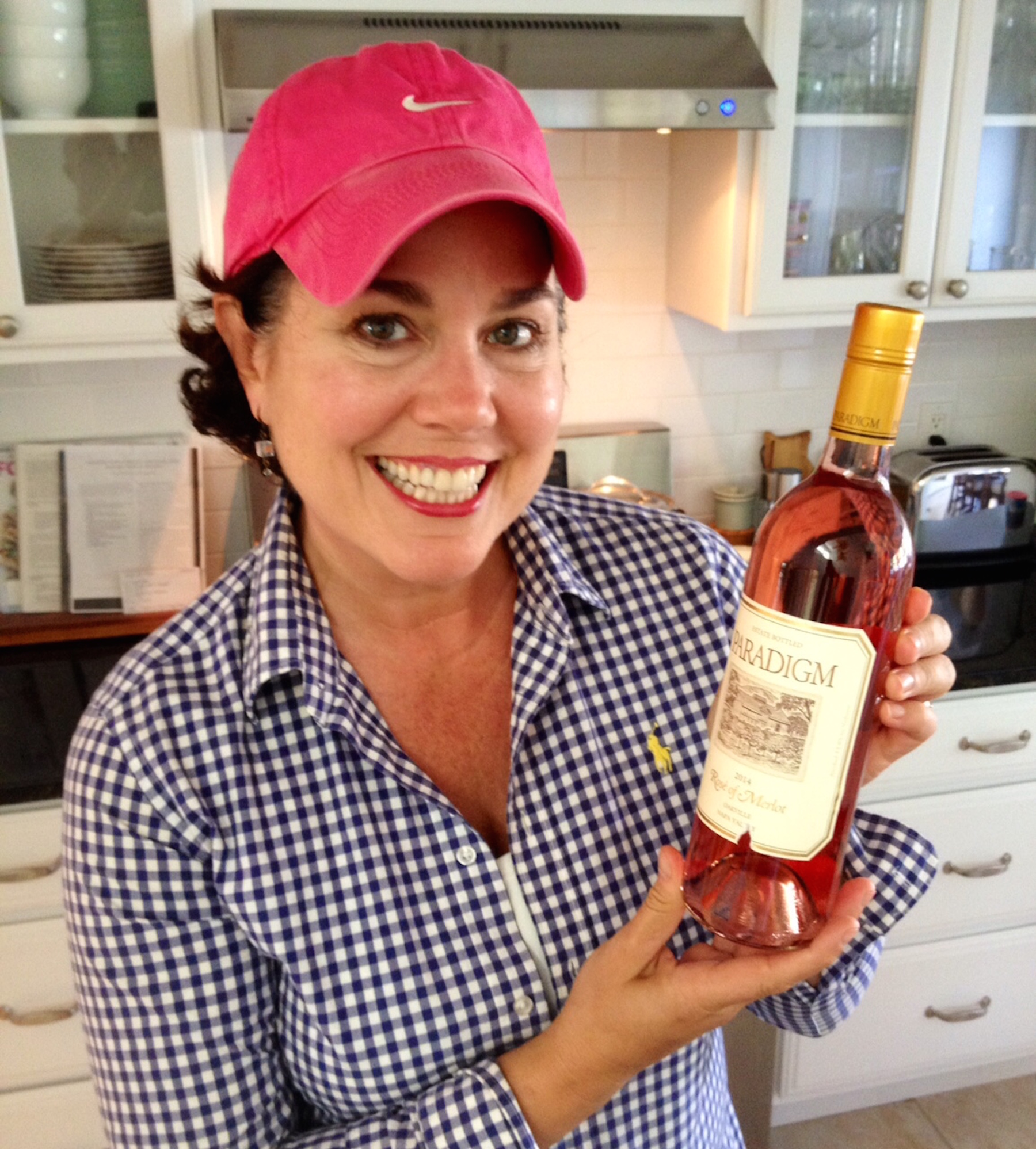 Asian Grouper with Red Pepper & Scallion Slaw
Flaky white fish is great with these Asian flavors.
Author:
My Delicious Blog
Ingredients
For the Marinade:
¼ c. orange juice
2 Tb. low-sodium soy sauce
1 Tb. lemon juice
1 clove garlic, grated
1 tsp. fresh ginger, grated
1 tsp. olive oil
2 (10-12 oz) skinless grouper fillets
For the Red Pepper & Scallion Slaw
½ red pepper, sliced very thinly
2 scallions, cut into 3" pieces and sliced length-wise, very thinly
½ small jalapeño, sliced very thinly (or less to taste)
½ medium seedless cucumber, sliced length-wise, very thinly
1 Tb. fresh lime juice
1 tsp. honey
1 tsp. toasted sesame oil
Handful of flat leaf parsley, chopped
pinch kosher salt (more to taste)
pinch freshly ground black pepper
Instructions
Prepare the Marinade:
In a shallow dish, combine all ingredients through the olive oil.
Add fillets (covering both sides) and refrigerate at least 30 minutes.
Prepare the Slaw:
Combine all ingredients.
Refrigerate at least 1 hour before serving (the longer it marinates, the spicier it gets).
For Grilling:
Heat grill to high.
Place fillets directly on the grill and cover (lid down) about 1 minute.
Open cover and flip fillets.
Cook 2-3 more minutes then remove and serve.
Notes
If marinating isn't your thing, simply rub some olive oil, salt & pepper on each fillet, then place them directly on the grill.