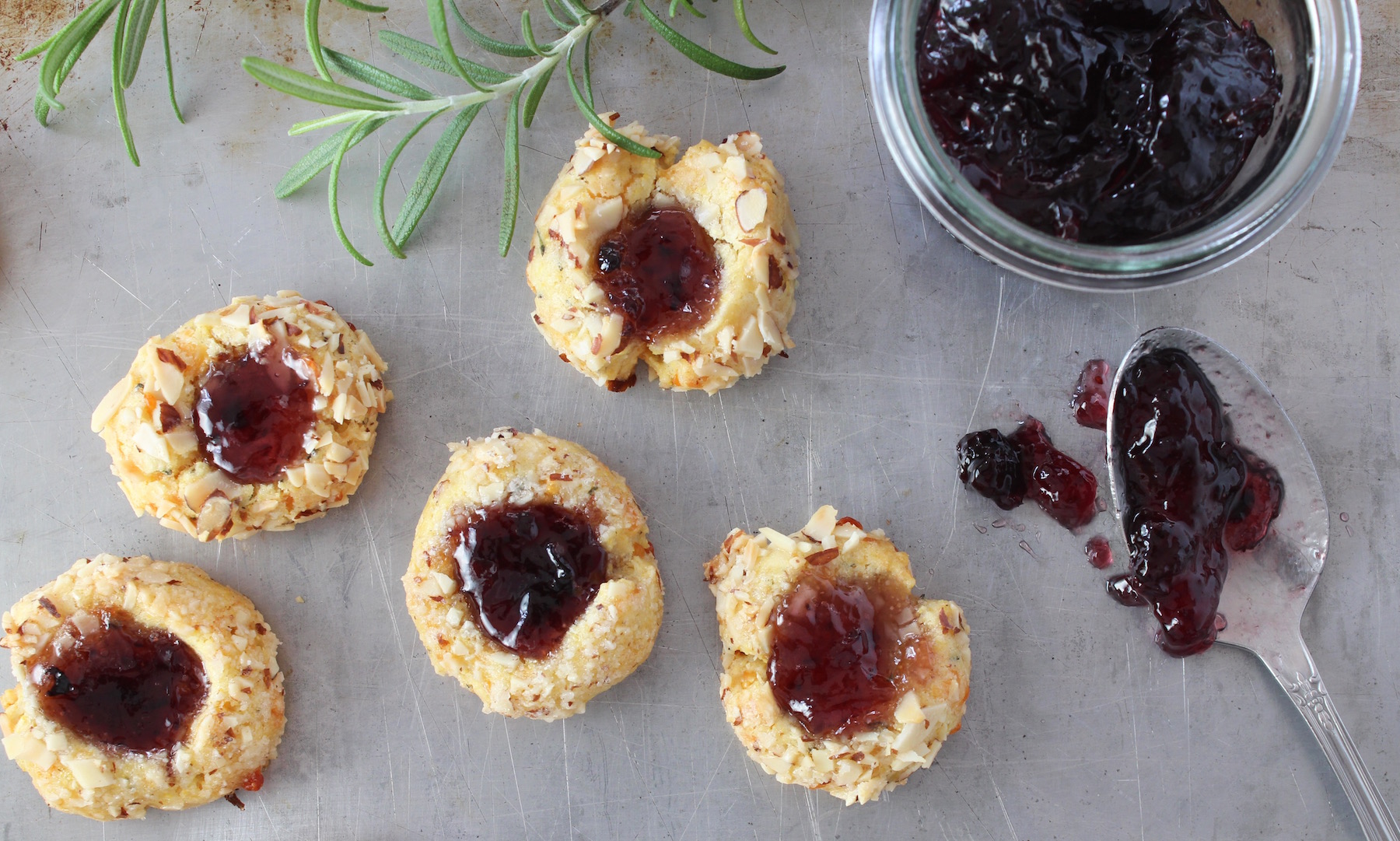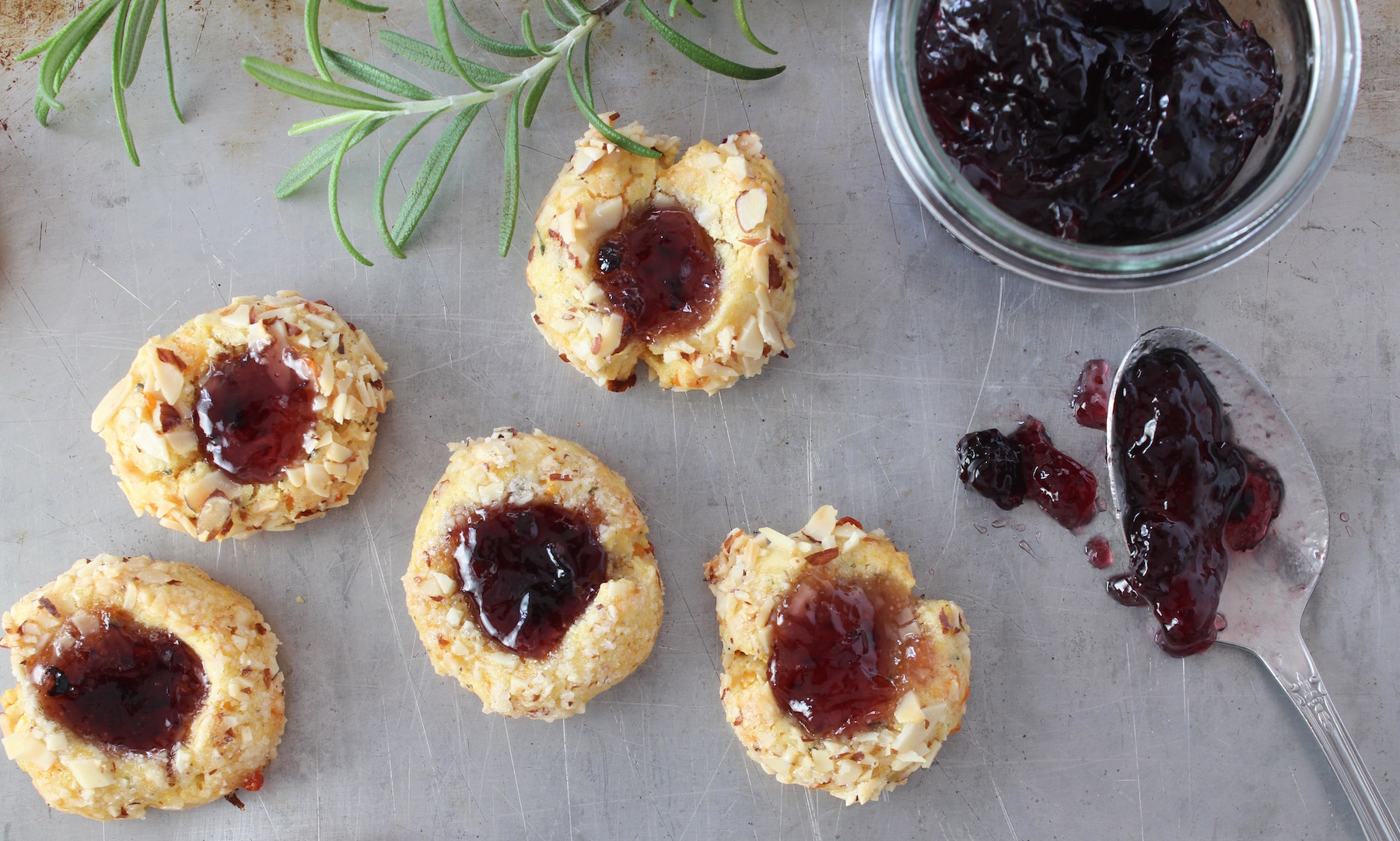 Homemade cookies are my weakness. I love baking and eating them, and I'm sure I'm not alone.
Each year at holiday time, I plan to bake just one cookie recipe for gift-giving. My strategy is that by making only one type of cookie, it reduces the chances that neither my cookie-loving husband nor I will eat too many. Honestly, it doesn't usually work, but at least I try.  However, when I find myself at someone else's house where cookies are being served, I simply must get my hands on jam thumbprints if there are any available.  They're my favorite, classic holiday cookie — soft and buttery, tasty homemade jam with crunchy, nut-filled edges.  SO good.
These sweet dessert cookies are definitely awesome, but how about a savory version of a jam thumbprint? You know, something to nibble on while sipping a cocktail?!? To answer this burning question, I dug into my kitchen to find what might work and came across cornmeal, rosemary, cheese and some tasty jellies made by my friends at Bluesberry Farm. These folks know everything there is to know about blueberries, and when their fresh berries aren't in season, they package them into pepper jellies – jalapeño or habanero to be exact. I've paired them with a variety of dishes and they're always delicious and easy to work with, so I knew they'd work for my savory cookies.
I've always thought cornbread and spicy peppers were meant to go together, so I made a cornbread batter flavored with cheddar and rosemary, and filled the little wells of the cookies with spicy blueberry jelly (some with habanero [a little hotter], some with jalapeño). Sounds good, huh?
These little guys were "really yummy," per my official household taster – the cornbread was flavorful, tender and moist, with a bite of that spicy jelly and the crunchy, sweet almonds. Let's just say it was easy to reach for another. . .
So now I guess I need to host a cocktail party so hubby and I don't eat every one of these tasty morsels!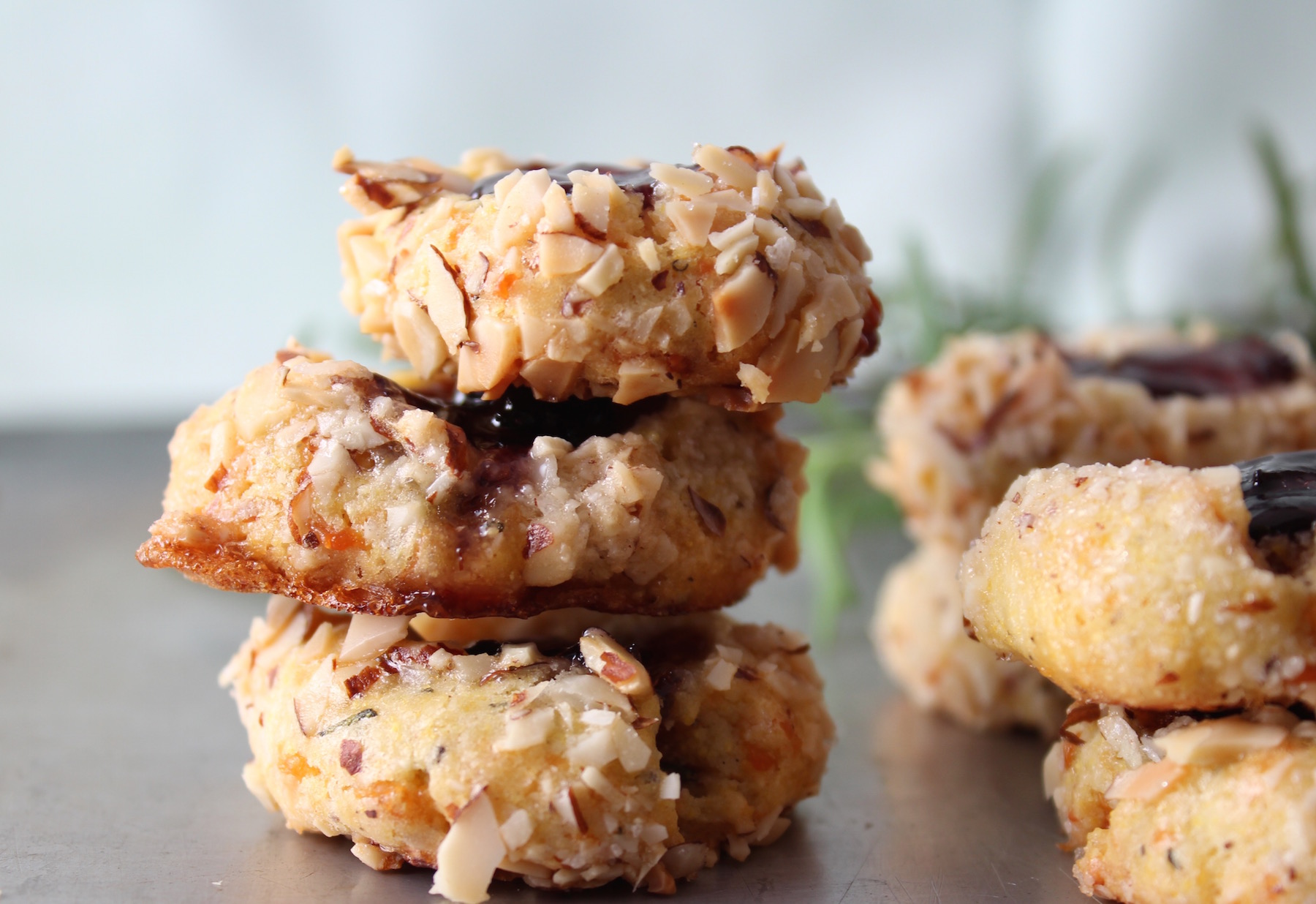 Bluesberry Farm jellies are currently labeled in partnership with Brimstone Originals. Here's a link to find out where you can buy them currently (and I know more locations are in the works).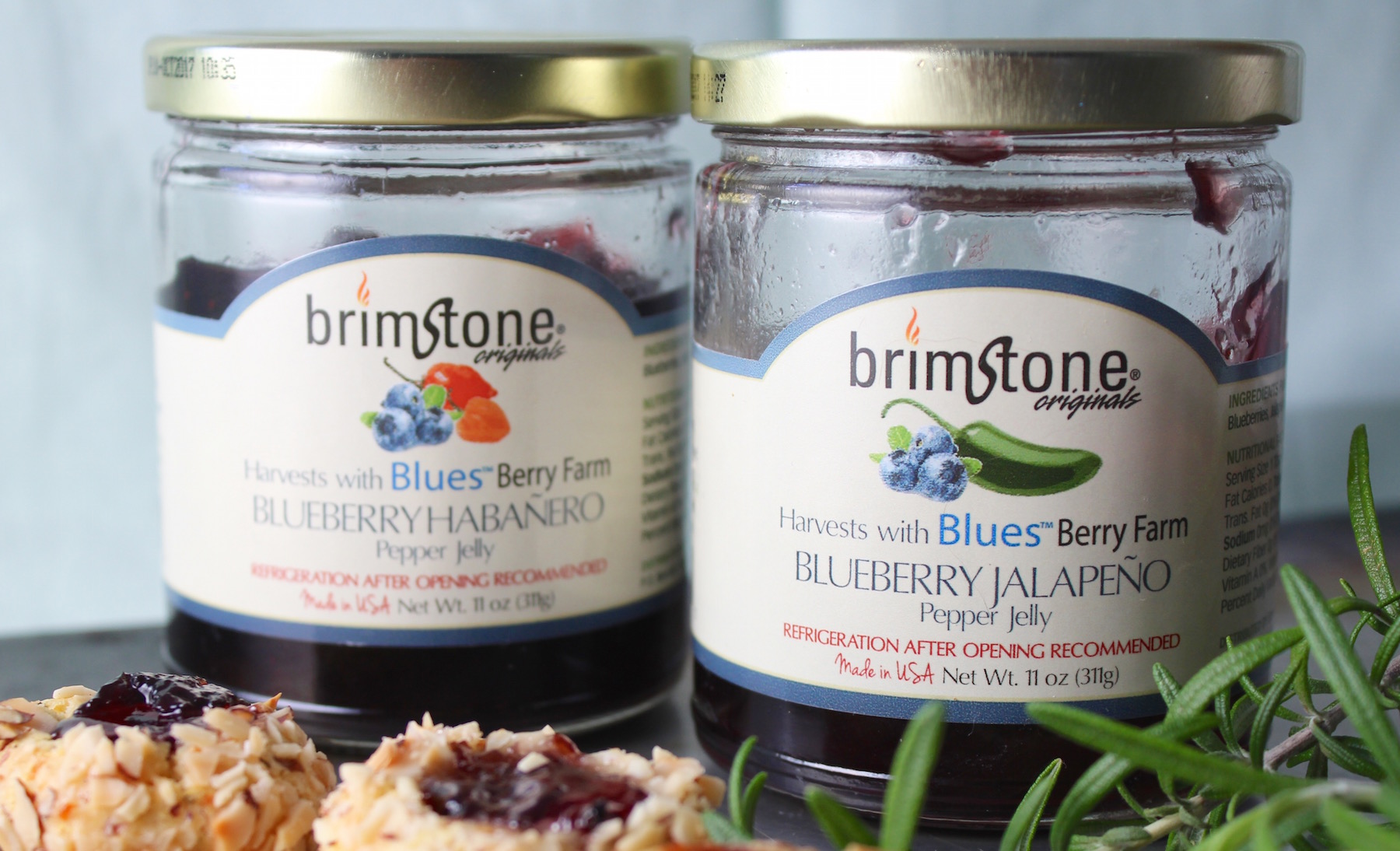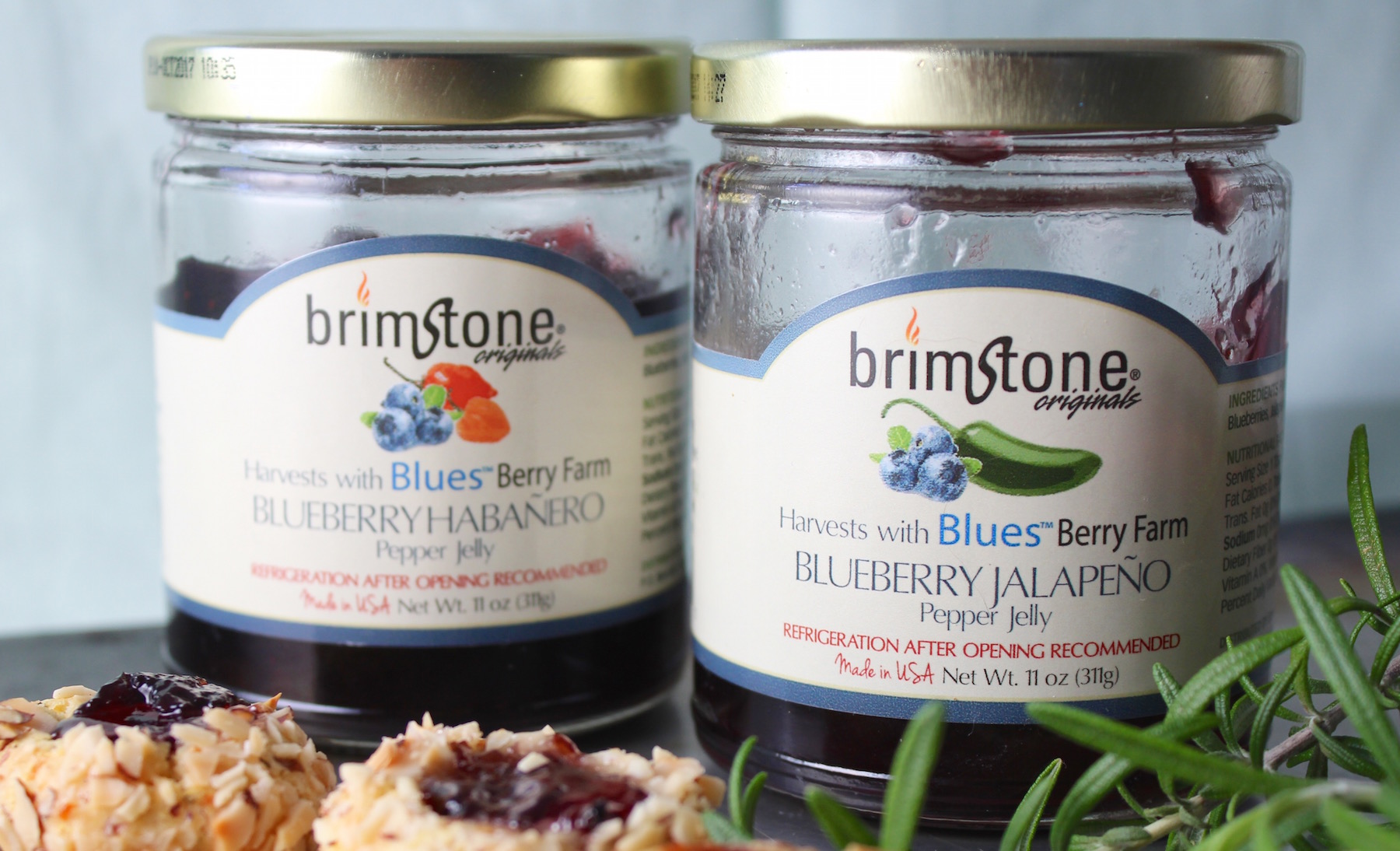 If you can't find these particular jellies, try any savory variety from a specialty store, like caramelized onion jam or tomato jam.  Ooh, those sound good!

Cheddar, Rosemary & Bluesberry Jelly Thumbprints
Blueberry jam makes the perfect pairing with these savory thumbprints.
Author:
My Delicious Blog
Ingredients
½ c. unsalted butter, room temperature
¼ c. powdered sugar
1 egg (separate egg white & refrigerate until ready to use)
¾ c. all-purpose flour
¾ c. fine yellow cornmeal
1 tsp. lemon zest
1 tsp. fresh rosemary, minced
¾ c. cheddar cheese, grated
½ tsp. kosher salt
½ c. slivered or whole almonds, chopped finely (you may need more, depending on type of nuts)
2 tsp. granulated sugar
Instructions
Cream butter and powdered sugar until smooth/light yellow.
Add egg yolk and mix to combine.
In a separate bowl, combine flour, cornmeal, lemon zest, rosemary, cheese and salt. Stir with your fingers until the mixture is fluffy and well-combined.
Add the flour mixture to the butter mixture and blend a few times until well-combined.
Remove batter onto a floured surface and knead a couple of times to bring the dough together.
Shape into a flat disk; cover in plastic wrap and refrigerate at least 2 hours.
When ready to assemble cookies, heat oven to 350 degrees.
Line two baking sheets with parchment paper.
Combine the nuts and sugar in a small bowl.
In another small bowl, whisk egg white.
Roll 1" pieces of dough into small balls. Dip each ball into egg white, then the nut/sugar mixture and place on the baking sheet about 1" apart.
When all balls are formed, press your thumb into the middle of each ball to form a little well.
Place in oven and bake 10 minutes.
Remove from oven; tap each well a little to push them down after the initial baking, then spoon a dab of jelly into the center well.
Place back into oven to cook for another 10 or so minutes (until the edges start to get slightly browned).
Remove from oven and cool sufficiently before serving, since the jelly retains its heat.