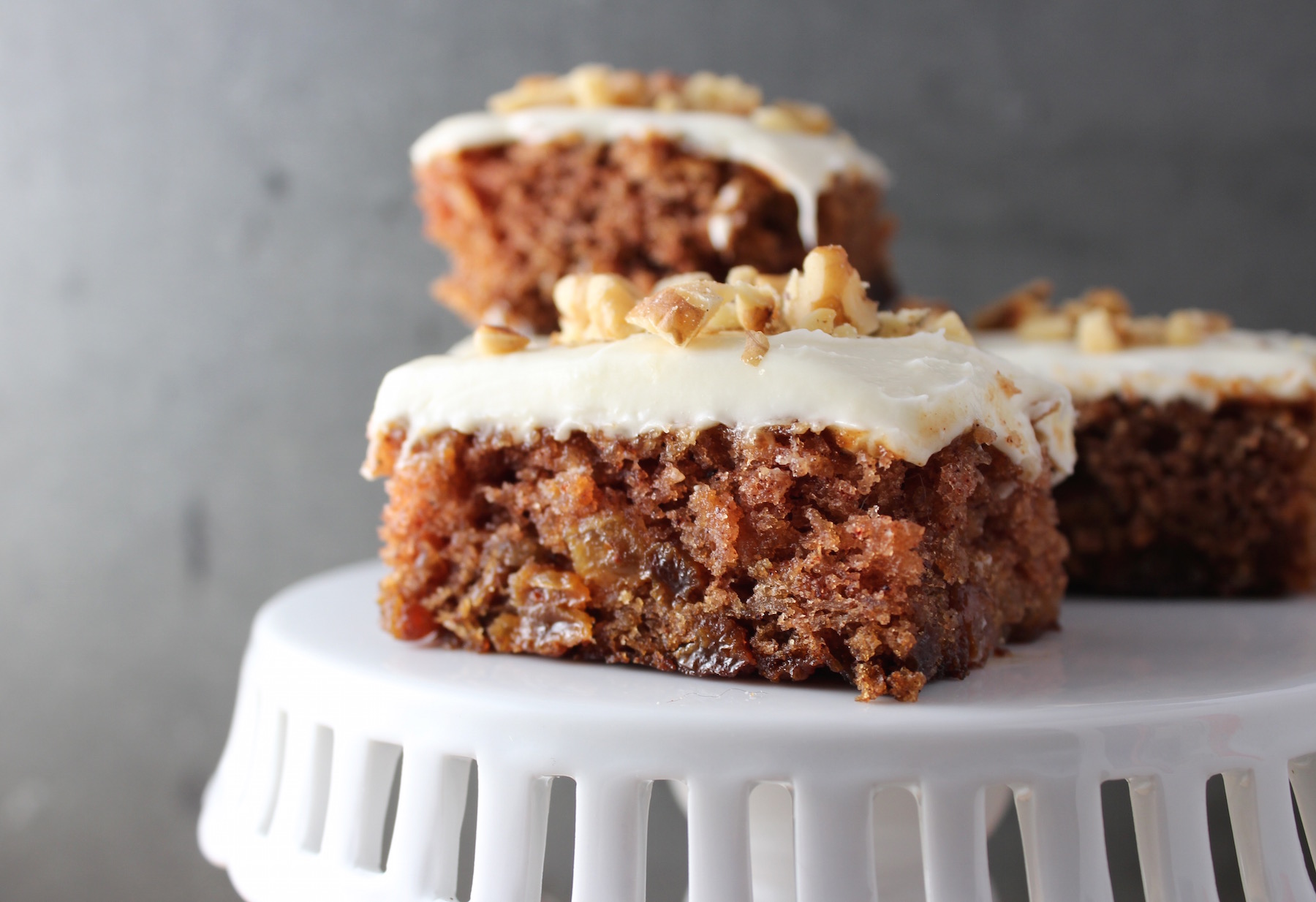 Folks who know me best have heard me say "Anything is better with cream cheese frosting or bacon," and a combination of the two is simply over-the-top deliciousness, in my book.
Today we're talking about cream cheese frosting.  I simply adore it, especially when it's on my favorite Apple Cake.
I've written about this cake before in my post Apple Cake with Cream Cheese & Bourbon Cream — that one was topped with a tasty whipped cream, which is also quite delicious. As I wrote last November, this recipe has been in my family for as long as I can remember. It's loaded with crisp/juicy apples, cinnamon, nutmeg and golden raisins, so it's super-tender and flavorful. But what makes it extra special is pairing it with cream cheese frosting. OMG – that creamy, tangy, sweet concoction goes oh-so-nicely with the bursts of spices and juicy raisins, and it's really hard to put your fork down.
I recently made this cake for a holiday dessert event at A Savory Palate in Sarasota, a store that specializes in premium olive oils and balsamic vinegars. Their sister store is The Spice and Tea Exchange, which carries some beautiful products, too. I used their Vietnamese cinnamon in the cake, but this was no ordinary cinnamon. . .it has a higher oil content that makes it super-vibrant and aromatic, and it truly enhanced this cake. But if you don't have access to that, don't fret, it will still be delicious with the bottle of ground cinnamon in your pantry 🙂
If you're curious about which type of apple works best in this cake, I prefer Macintosh or Cortland – they're soft but crisp and have just the right amount of tartness.
This is an easy cake to make, aside from a little extra work of grating the apples but, heck, baking isn't for the feint of heart! I baked it in a square pan, then slathered on that delicious frosting and topped it with some chopped walnuts.
If you serve this at a holiday party, or if you make it all for yourself, be prepared to have a difficult time stopping yourself from reaching for another piece. Fair warning. . .
and Happy Holidays!

Apple Cake with Cream Cheese Frosting
Spicy apple cake with cream cheese frosting is simply divine.
Author:
My Delicious Blog
Ingredients
Cake
3 medium apples
1 large egg, beaten
¼ c. vegetable oil
1 c. granulated sugar
1 c. golden raisins
1 c. all-purpose flour
1 tsp. baking soda
1 tsp. ground cinnamon
1 tsp. ground nutmeg
Frosting
3 oz. cream cheese, room temperature
1 stick unsalted butter, room temperature
1 tsp. vanilla extract
2 c. confectioner's sugar, sifted
Instructions
For the Cake
Heat oven to 350 degrees.
Grease an 8X8 baking pan; set aside.
Peel and core apples, then grate on a box grater (or use your food processor's attachment).
Add apples to a large mixing bowl, along with beaten egg, oil, sugar and raisins. Mix well.
Sift flour, baking soda and spices.
Mix dry ingredients into apple mixture until just combined.
Pour batter into prepared pan.
Bake for about 20-30 minutes, or until toothpick comes out clean (check around the 20 minute mark, just to be safe).
For the Frosting
Add cream cheese and butter to a mixing bowl; mix on high speed until well combined.
Add confectioner's sugar a little at a time until smooth and creamy, then blend in the vanilla. If it seems too 'loose' add a bit more confectioner's sugar to desired consistency.