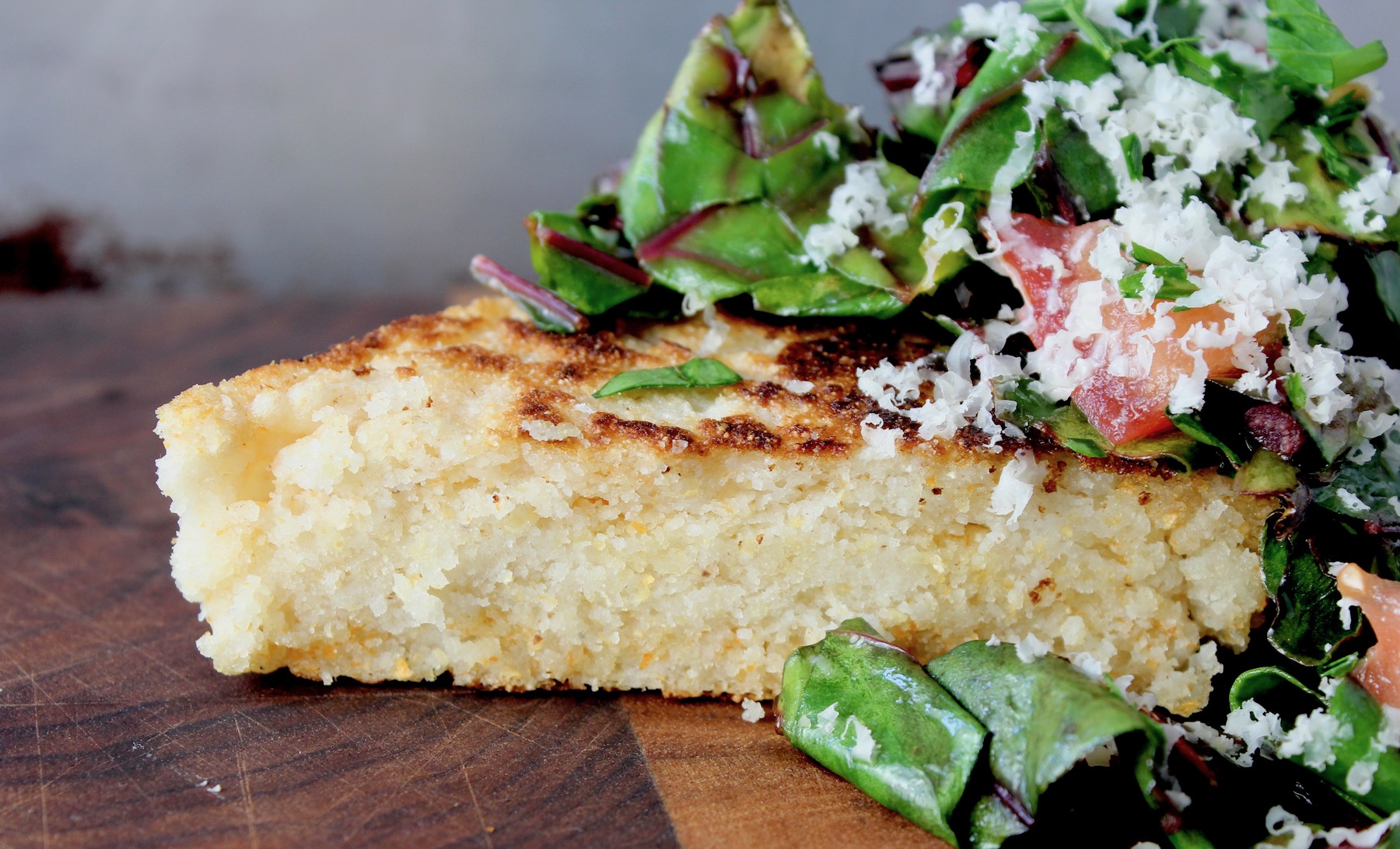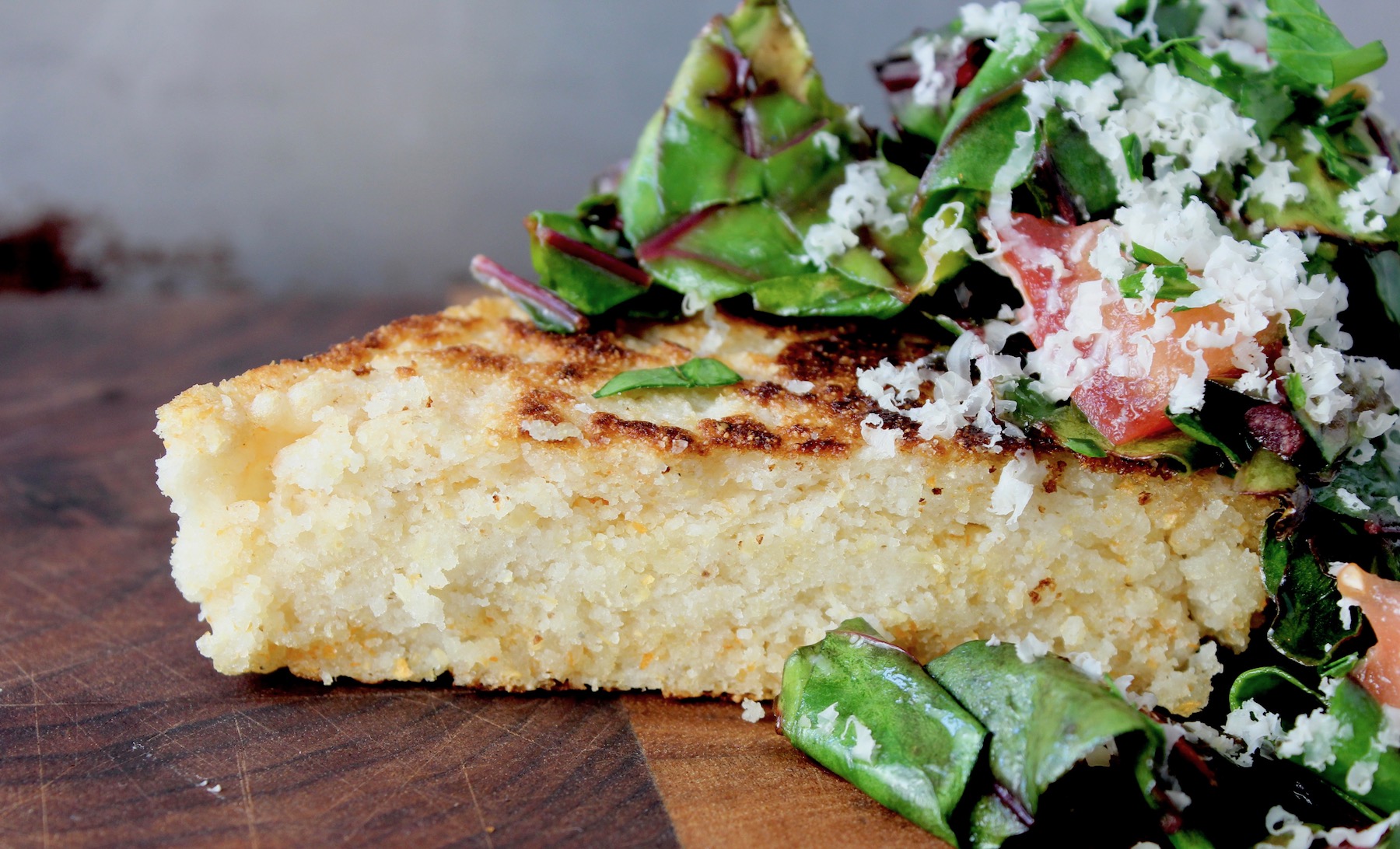 I first read 
The Yearling
 by Marjorie Kinnan Rawlings when I was 12 years old.  I just read it again, ending in a puddle of tears.   This story about a family of early settlers in Florida after the Civil War really pulls at the heartstrings!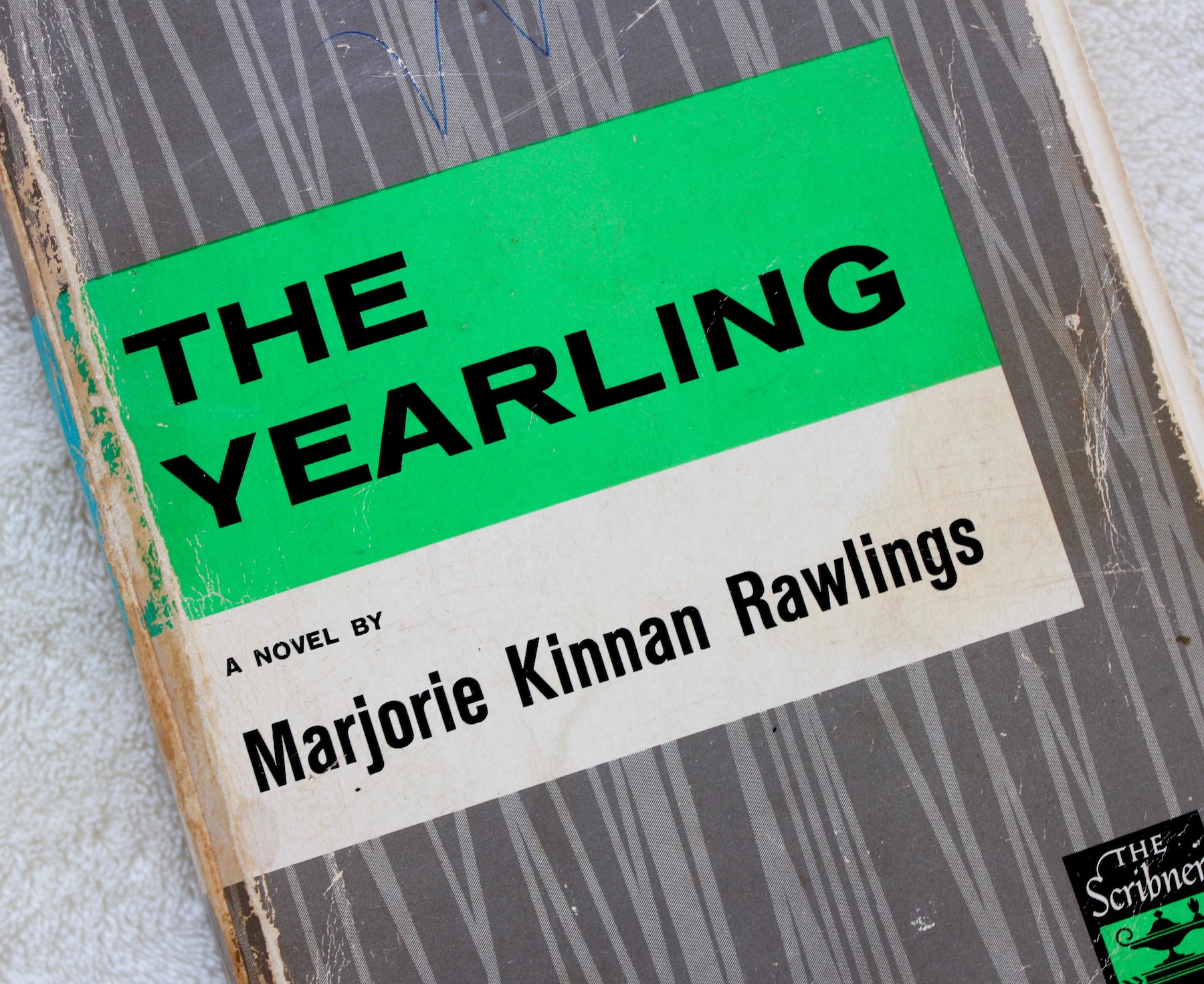 Jody was the only surviving child of Penny & Ora Baxter.  He regularly got into trouble, but he was a good kid.  He was also a bottomless pit when it came to eating, much to the dismay of his mother, since food was sometimes scarce.
Back then, families cooked what was available, but they usually had a good supply of bacon grease, cornmeal, and beans and veggies able to survive storms.  Because corn was plentiful, Jody's mother made corn pone which he gobbled up, saying "I'm eatin' it quick. . . but I'll remember it a long time." According to the author, corn pone is somewhere between a hoe cake (cornmeal, salt and boiling water, cooked on a griddle or on an actual hoe) and corn bread (cornmeal, eggs, flour, milk, etc.), but nowhere near the fineness of spoon bread (a soft pudding of sorts).
While researching recipes, I found they're all over the board. Historians say corn pone goes back to Native Americans, others reference soldiers in the Civil War mixing cornmeal, water and grease from salt pork or bacon, fried over a campfire. Some say a 'pone' must be made with only cornmeal, water and salt.  Some are made as small rounds (like pancakes), others, one big cake, cut into wedges. But in its most basic form, corn pone is a type of corn bread.
I wanted to try it, so I pulled out 
Cross Creek Cookery
, also authored by Marjorie.  Here's how she describes her recipe, the one she made at her farm in Cross Creek, Florida.  (
Note:
don't get lost in all the commas.  I myself yearned for a period!
):
"One-half cup of flour is used for every cup of cornmeal, a little more salt, milk, or part milk and water used instead of water, two teaspoons of baking powder for every one and one-half cups of the dry mixture, if sweet milk is used, or one-half teaspoon soda if sour milk or buttermilk. The milk or milk and water is not heated for corn pone. Two tablespoons of melted shortening are added after mixing the other ingredients. Country folk use the fat from white bacon (salt pork), but I prefer a vegetable shortening such as Crisco. The pone is cooked in a deep iron skillet over a slow flame, the batter, just thick enough to hold together, is spread to a depth of one to one and one-half inches, the pone flipped over when well-browned on one side, and browned very slowly on the other. It is cut in triangular pieces like a pie."
It took a little experimenting on my part to come up with exact measurements, but that was fun.  It makes a thick batter, which you pour into a hot cast iron pan (slathered in bacon grease, of course), cook about 3 minutes, then flip for another 3-4 minutes.  Fresh out of the pan, it's crispy, warm, tender and quite delicious.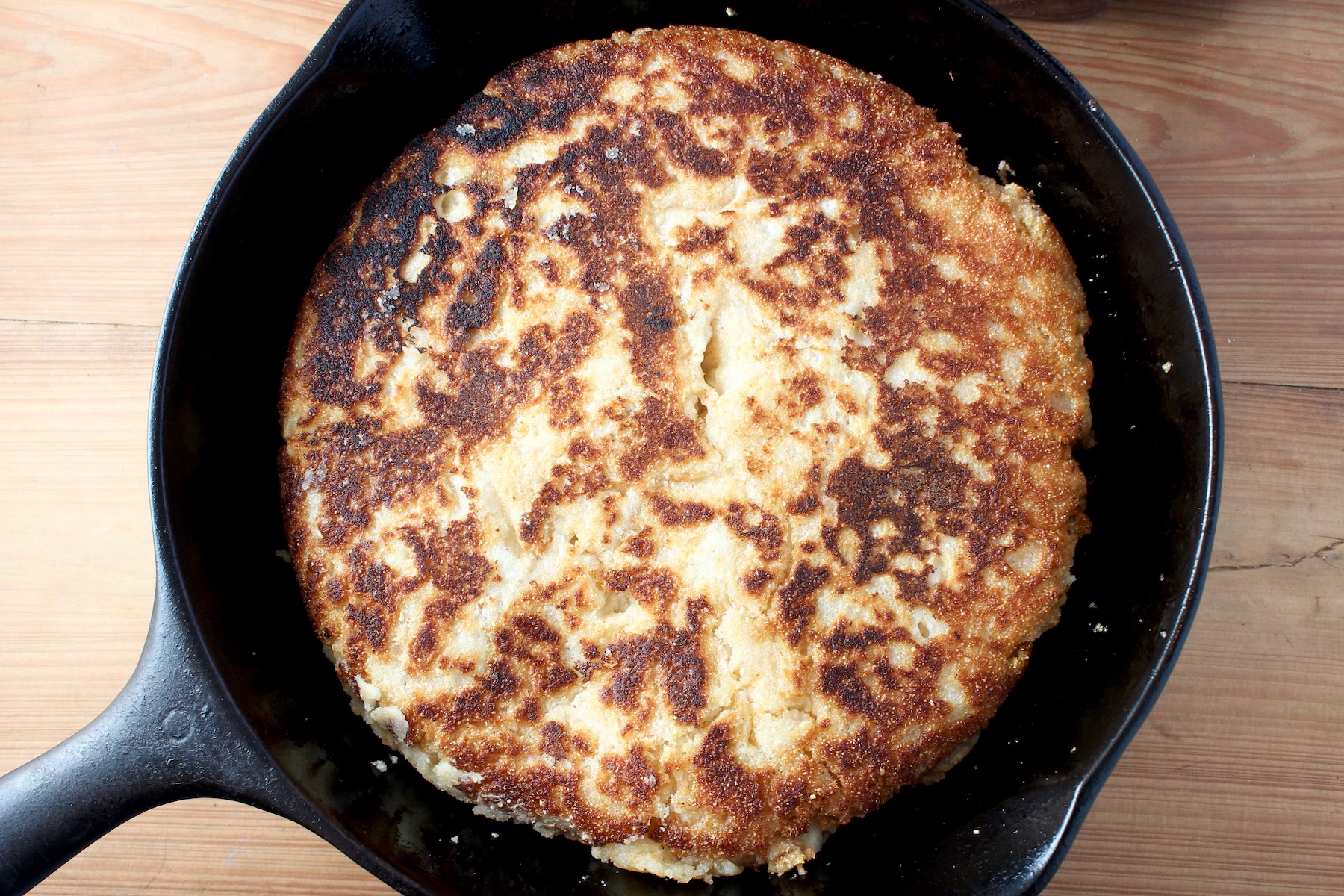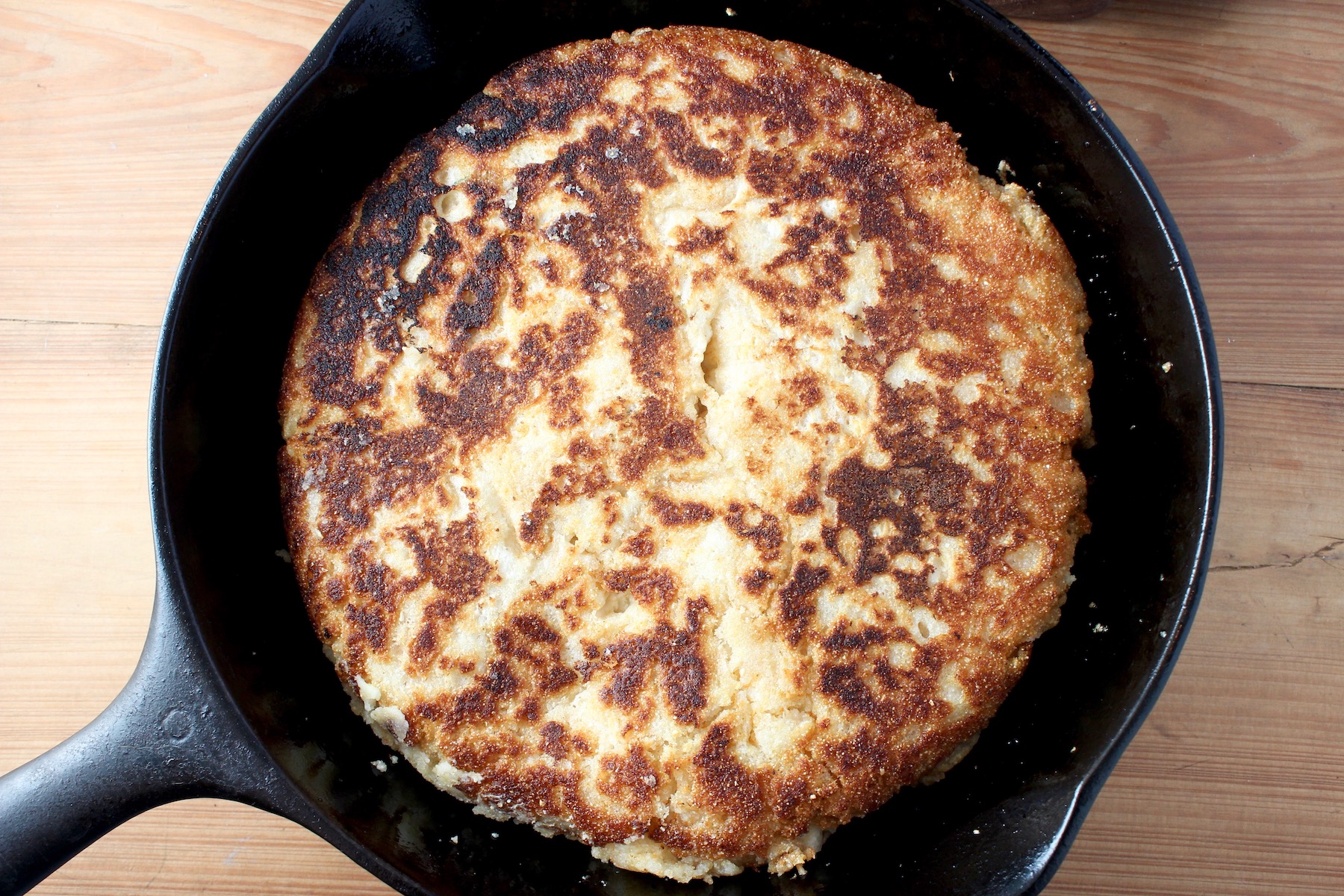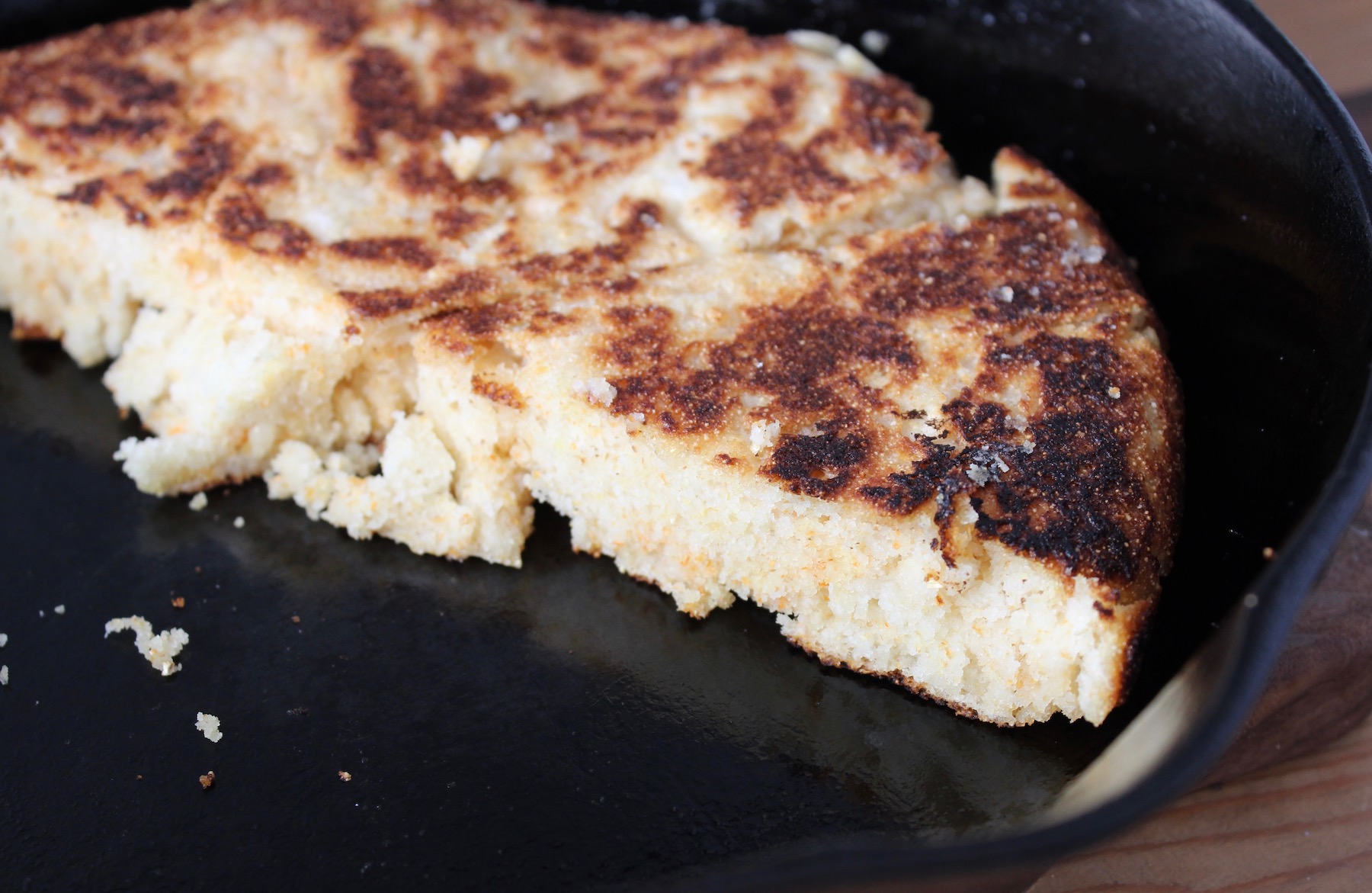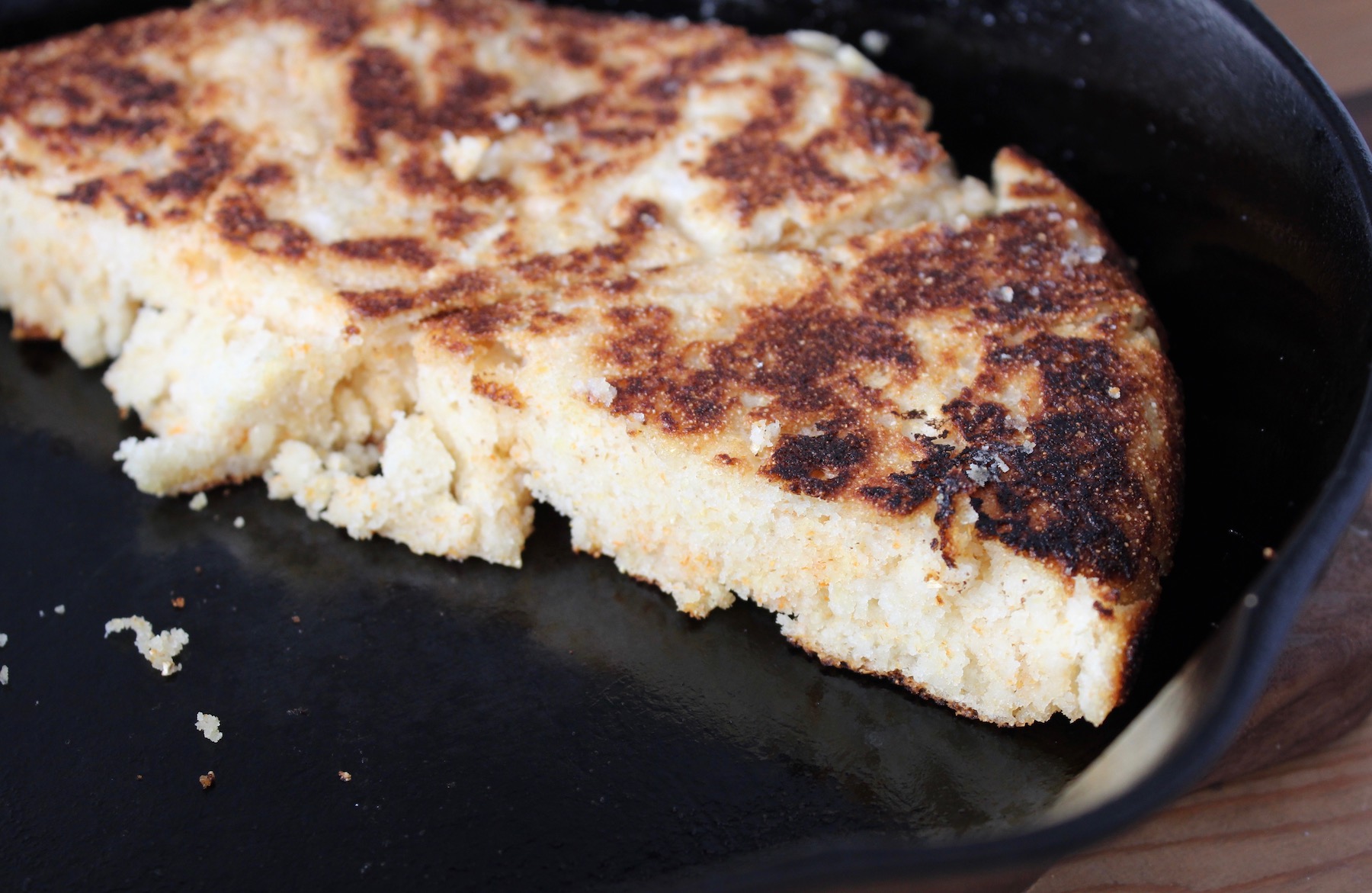 To add a few more vitamins, I paired it with sautéed Swiss chard, tomatoes and a little cheddar.  It makes a delicious meatless meal, but you could pair it with fried chicken (drizzled with honey), spicy shrimp in gravy, grilled fish, or a melange of beans and greens.  Or, simply enjoy it dotted with butter as a side 'bread' with a meal.   Any way you serve it, just know you're continuing a historic culinary tradition 🙂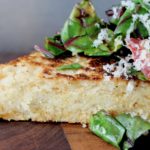 Print Recipe
Corn Pone with Swiss Chard & Tomatoes
Simple corn pone, adapted from the recipe in Cross Creek Cookery by Marjorie Kinnan Rawlings, makes a delicious dish served with sauteed Swiss chard, tomatoes and a little cheddar.
Ingredients
Corn Pone
1

cup

cornmeal

(I used white, fine ground, but try any kind you have)

1/2

cup

all-purpose flour

3/4

tsp.

kosher salt

1/2

tsp.

baking soda

1 1/4

cups

buttermilk

2

Tb.

vegetable shortening, melted

(I used Crisco, as MKR recommends)

1

Tb.

bacon grease

(Or coconut or olive oil, but bacon flavors best!)
Swiss Chard/Topping
1

bunch

Swiss chard, large stems removed, leaves chopped

1

Tb.

olive oil

1

clove

garlic, peeled & thinly sliced

1

pinch

red pepper flakes

1

cup

tomatoes, chopped

3-4

Tb.

cheddar cheese, shredded
Instructions
Add dry ingredients for corn pone to a mixing bowl; whisk to combine.

Add 2 Tb. Crisco to a small (microwavable) bowl and microwave about 1 minute to melt; set aside.

Spoon bacon grease (or other preferred fat) into a seasoned 8" cast iron pan (or nonstick pan) and bring to high heat on the stovetop.

As pan heats, add buttermilk to dry mixture, stir to combine, then add melted Crisco and stir until incorporated (it will be thick).

Spoon corn mixture into the hot pan, pushing the batter toward the edges, but not letting it touch the edges. Reduce heat to medium and cook 3-4 minutes, until bottom is nicely browned (check periodically to ensure it's not burning - if so, reduce heat).

While pone cooks, heat a saute pan over medium heat, add olive oil, garlic and red pepper flakes. When garlic is brown, remove from pan. Add chard to pan and saute about 1 minute, mixing to combine with the garlicky oil; reduce heat to medium/low and cook another 1-2 minutes until wilted. Turn off heat and let sit until pone is ready.

Flip the pone carefully with a spatula then cook another 3-4 minutes (check periodically to ensure it's not burning). When nicely browned, turn off heat and transfer to a cutting board.

Cut pone into 4 wedges; top with chard, tomatoes and cheese, and serve immediately (corn pone is best served hot and crispy!).