Update July 23, 2021.  I'm heading out for a much-needed vacation after being cooped up in my house too long (stay tuned for a new 'Field Trip Friday' highlighting my adventure).   So I'm giving this vintage post a little bit of love today in order to highlight this yummy topping, which would be great on any fish or poultry 🙂
_______________
When Chicago friends told me they were coming to Sanibel, Florida and asked if I knew a fishing guide to take us fishing, I immediately thought of Captain Bill Hammond of Endless Summer Charters!
It's nice to let a pro take you to his best spots so you can catch great fish in his local waters, and Captain Bill didn't disappoint.
Even on the heels of a full moon, low tide, and a storm brewing offshore, we caught everything but the kitchen sink, and I can't event count how many times all four of us were simultaneous hooked! Redfish, Trout, Snook, Jacks, Flounder – you name it, we got it.
Four hours of non-stop fishing made for an exhilarating, beautiful, fun day on the water.  Here's a pic of me with Captain Bill and my respectable trout: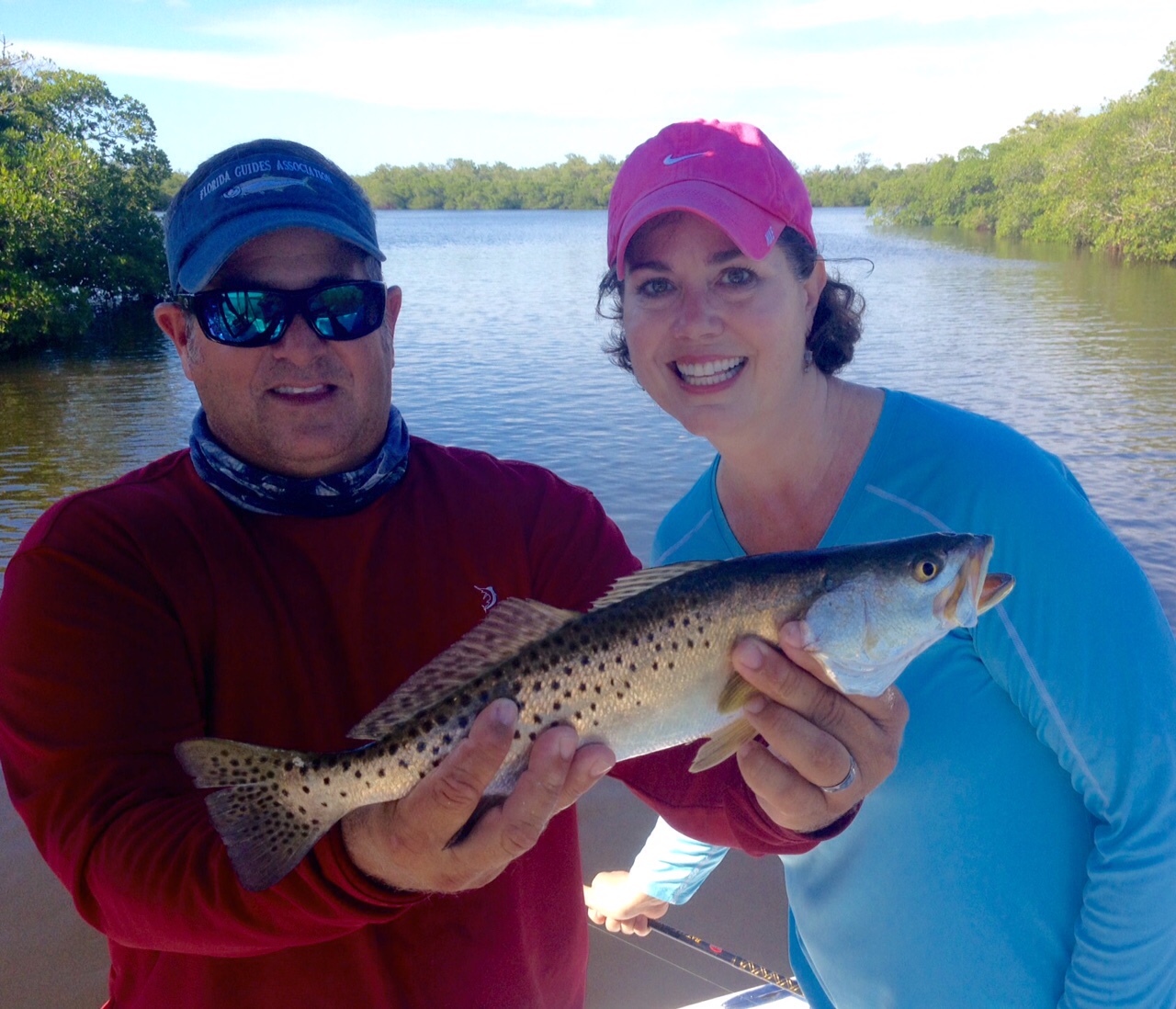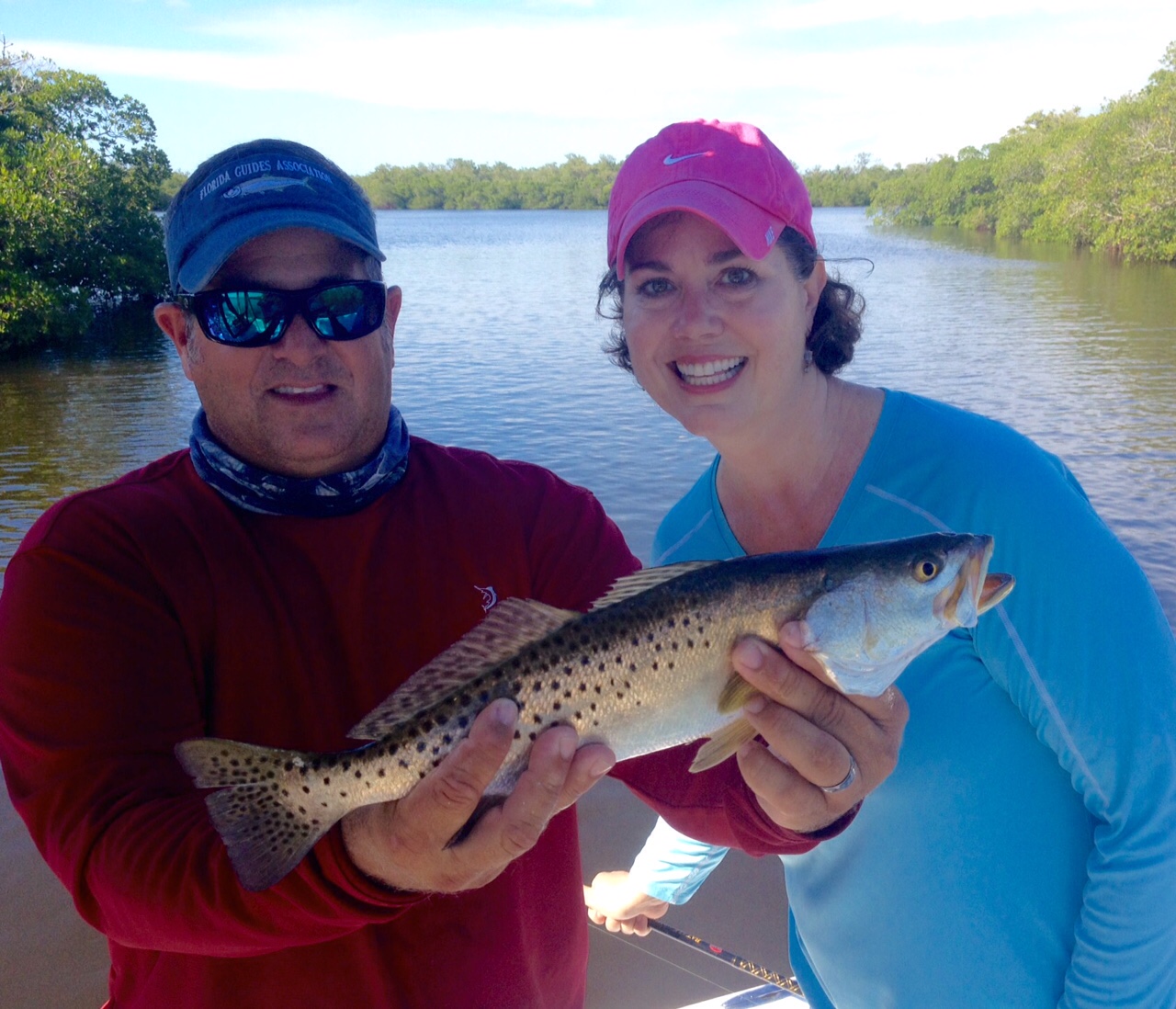 Spotted Sea Trout (also known as Speckled Trout) is a pretty fish full of color and its meat is delicate, sweet, light and flaky. Basically, delicious.
We've probably all had that tasty dish called "Trout Amandine" — the fish cooked in butter until crispy, then topped with lemon and toasted/slivered almonds.  For my dish, I wanted to capture flavors of that classic recipe, but add a little freshness, too.
The crust that I topped the seared fish with combines breadcrumbs, basil, parsley, lemon, ground almonds and melted butter – a crunchy and tasty topping for this flaky Trout, but I'm sure would be equally good on just about any fresh fish.  I served it with zucchini noodles (a.k.a. "zoodles") with corn, tomatoes and basil.  My husband rated it a 10 on the 'Coudal Scale' – a winner.
P.S. if you like fish topped with tasty, crunchy toppings, try this one with Panko, parmesan and butter 🙂

Trout with Lemon & Basil Herb Crust
This flavorful combo of the flavors of Trout Amandine, is perfect when transformed into a coating for fish.
Author:
My Delicious Blog
Ingredients
For the Herb Crust
¼ c. whole or slivered almonds, toasted & ground
½ c. fresh bread crumbs* (or Panko)
Zest of 1 lemon
8-10 fresh basil leaves, minced
Small handful of fresh parsley, minced
2 Tb. unsalted butter, melted (or 1 Tb. butter + 1 Tb. olive oil)
¼ tsp. kosher salt
⅛ tsp. freshly ground black pepper
For the Fish:
2 Trout fillets (or any white, flaky fish)
1 Tb. unsalted butter
1 Tb. olive oil
Instructions
Make the Herb Crust:
Toss almonds into non-stick skillet and toast them on LOW heat until fragrant (approx. 5-6 mins.).
Remove from stove top and allow to cool about 10 mins.
Add almonds to food processor and pulse several times until you have a finely ground texture.
Combine all ingredients into a mixing bowl.
Prepare the Fish:
Heat oven to 375 degrees.
Heat a non-stick/oven proof skillet to medium/high heat.
Add butter and olive oil.
Lightly sprinkle fillets with salt and pepper.
Place fillets in hot skillet. Allow to sit about 2 minutes, until edges get crispy, then flip.
Top each fillet with the herb mixture (really pack it on there!).
Place the skillet in the oven and allow fish to finish cooking - about 2-3 minutes, so topping also browns.
Remove from oven and serve.
Notes
To make fresh breadcrumbs, toss 2 pieces of white bread into a food processor and pulse until course crumbs form.