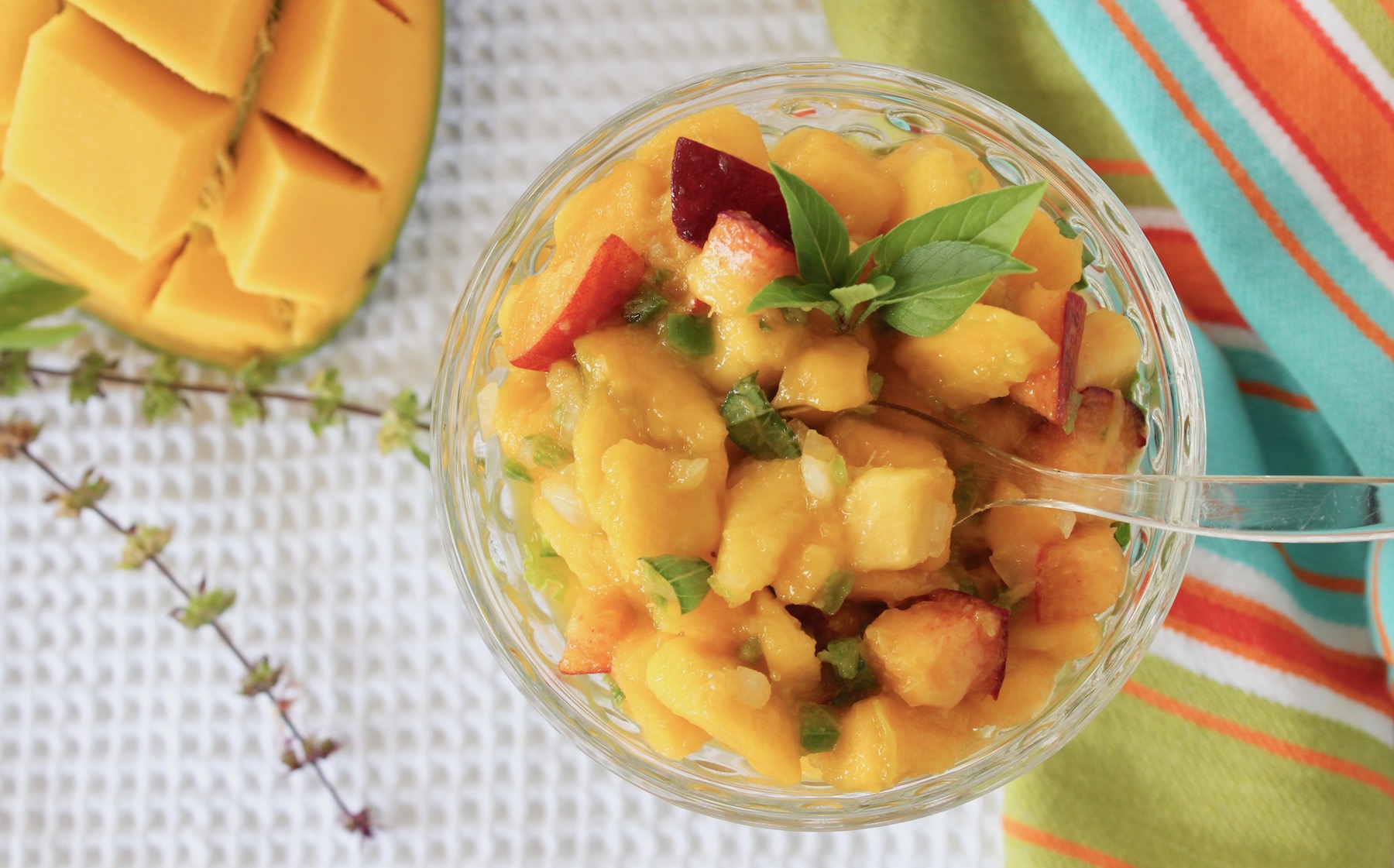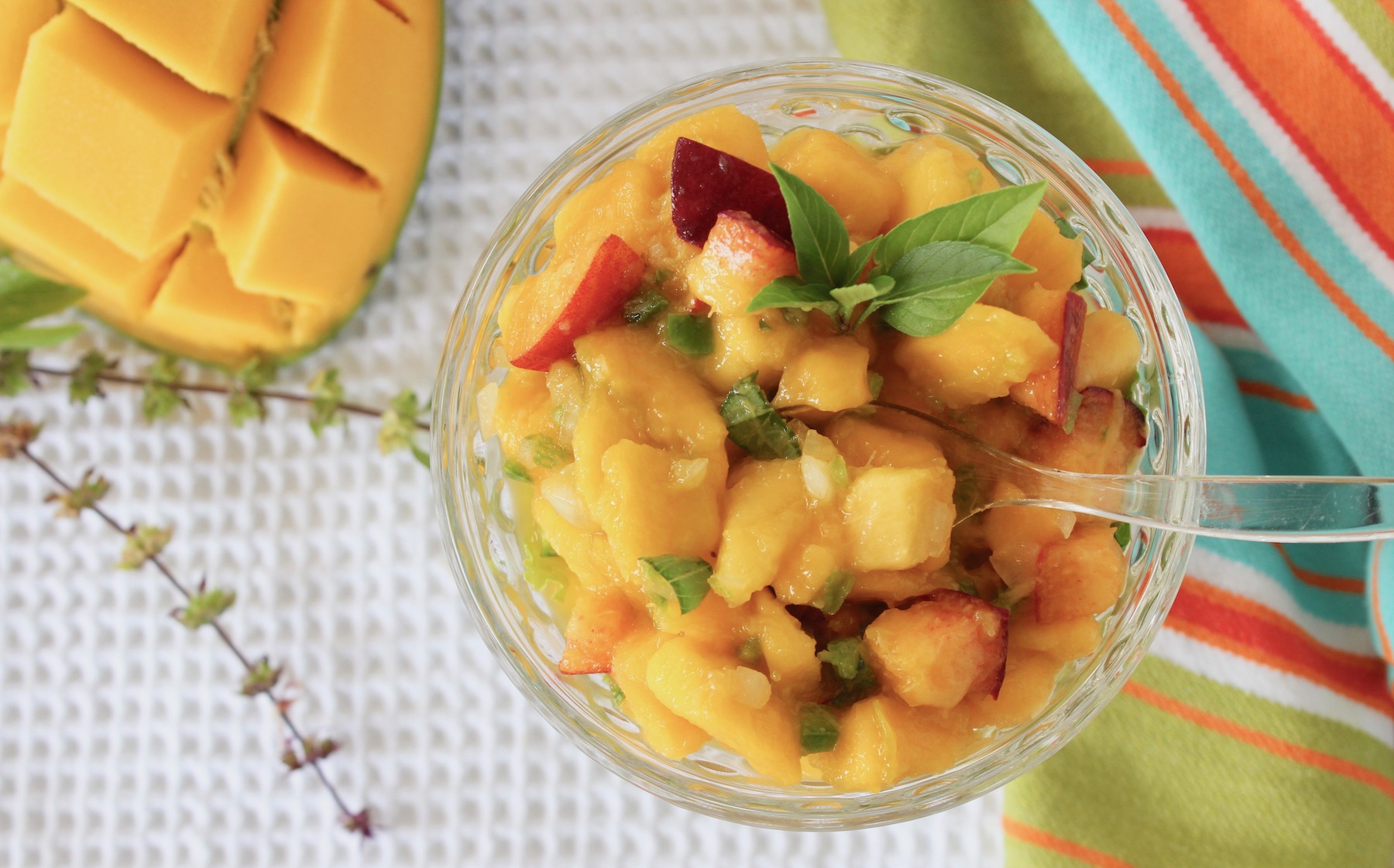 It's mango season in Florida, when we see them on trees, at roadside stands, in supermarkets, at farmers markets, and in bags carried by neighbors sharing them with friends, like these beauties I got recently: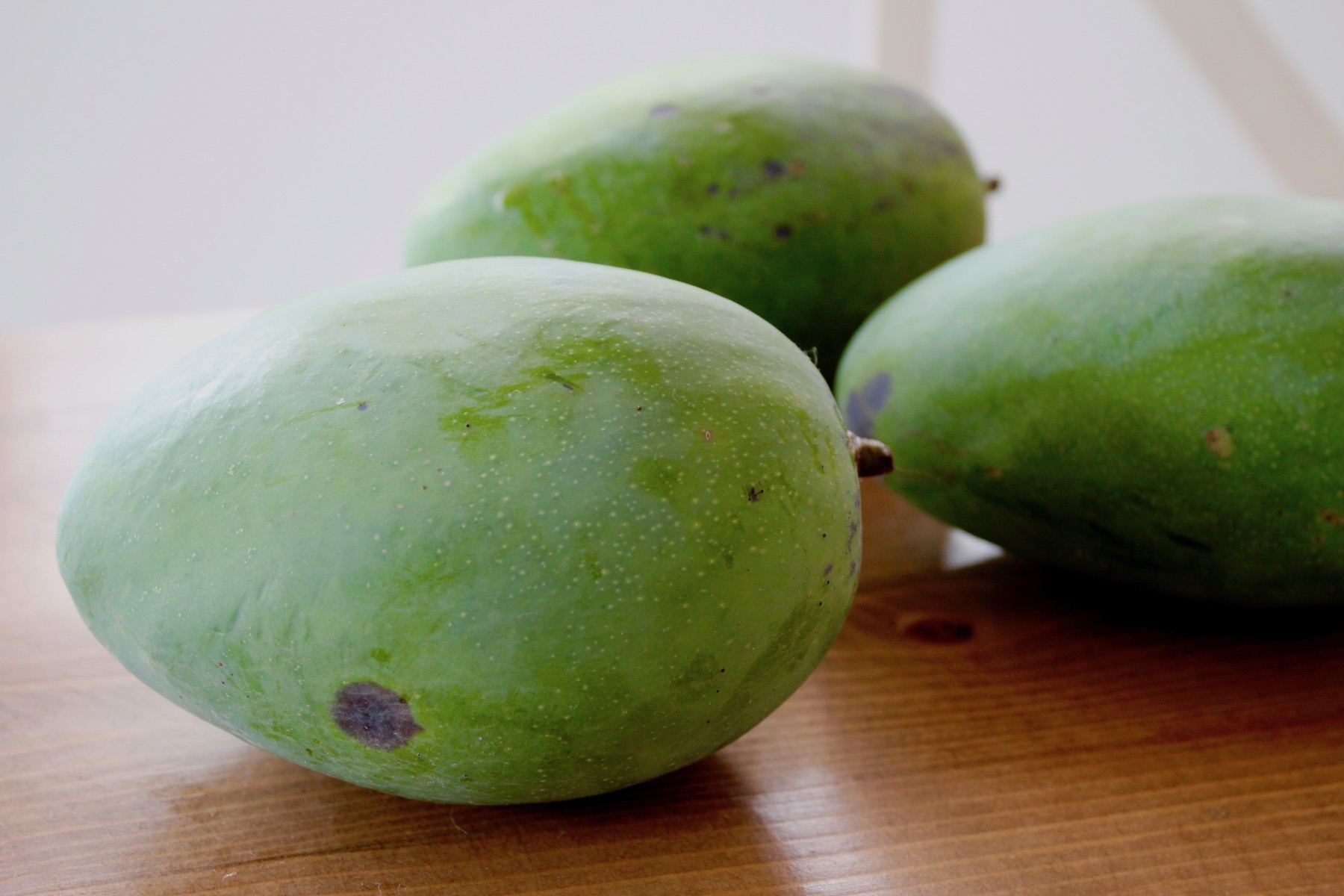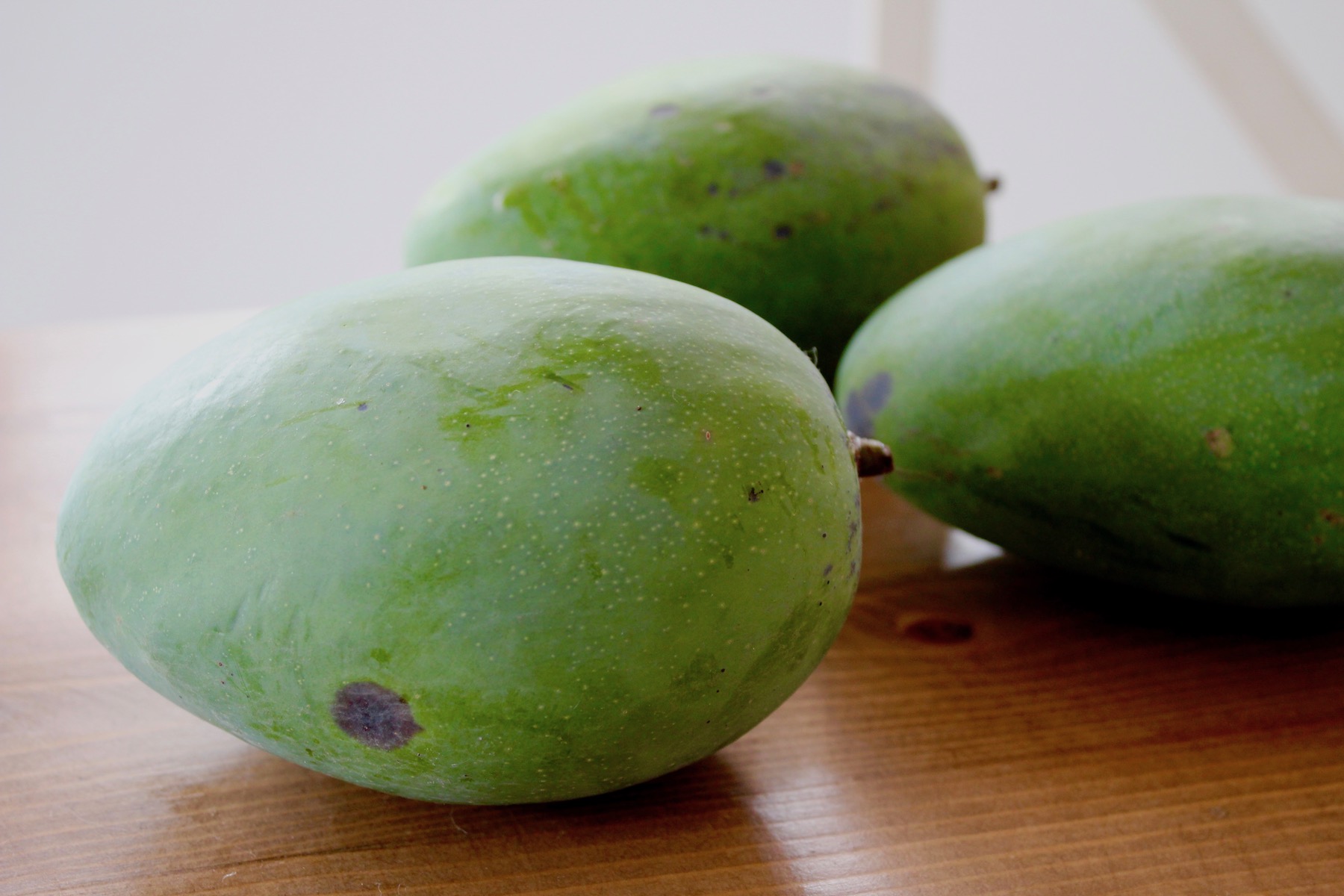 Those who have trees know that the timing of when to pick them is sort of delicate, because the longer they stay on the tree to ripen, the bigger the risk that squirrels will steal them!  So folks who treasure their mangoes keep a careful eye on them, and some even pick 'em while they're still green, to avoid tragedy.
Wherever you get them – from your tree, or from the market – and you can't wait until they ripen on your kitchen counter, don't fret, because you can enjoy those green mangoes in salads, slaws, chutneys and salsas. They offer a sweet/tart flavor with a firmer, less juicy texture, so they work great in those dishes, because they can be mixed with sweet and savory components, all highlighting the subtle flavors of the unripe fruit.
With my green mangoes, I planned to make a salad with Asian flavors like ginger, sesame oil, Thai Basil, and lime – something to top fish, or be enjoyed as a side salad. But sometimes those green beauties can be deceiving, and when I broke mine open, I found it was ripe, juicy and sweet, so I tweaked my plans. . .
I mixed the ripe mango with a sweet peach and made a yummy salsa with all those great flavors I mentioned. The combo is juicy, sweet, a little tart, with a bit of heat from the ginger and jalapeño, and it all works well as a complement to grilled fish, chicken, pork or even veggies.  I think it would have also been delicious with the tart mango 🙂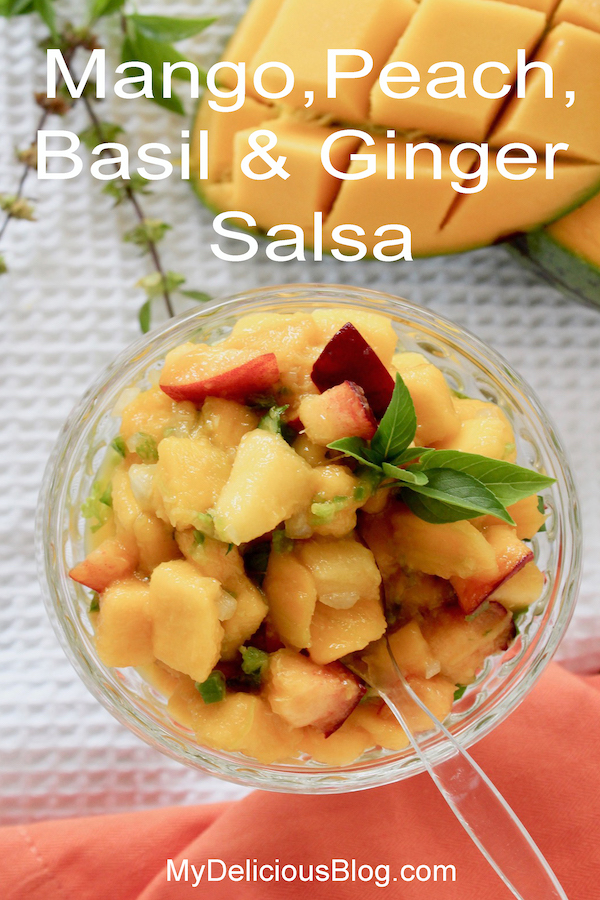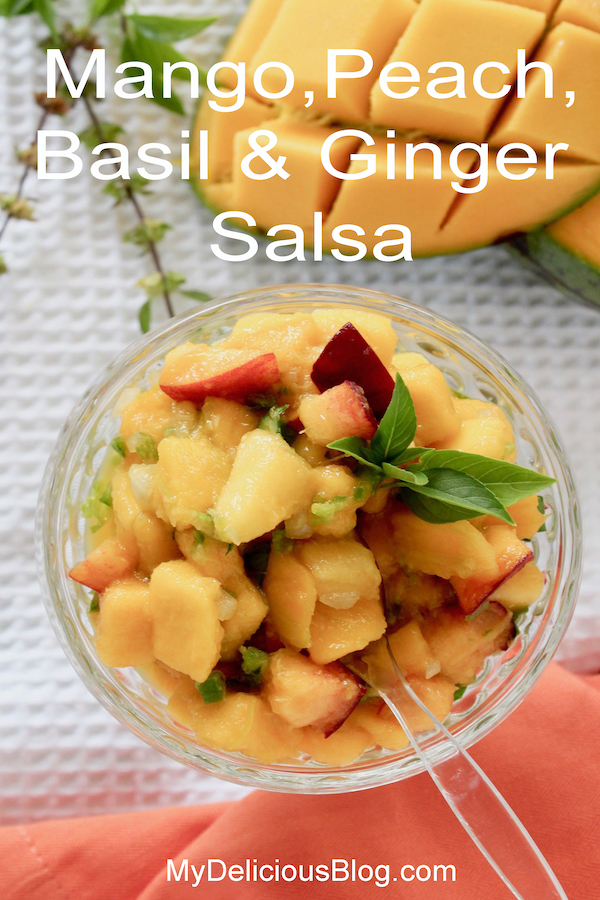 Mango Peach & Basil Salsa
Fresh mango, peach, jalapeño and other tasty stuff make this a delicious salsa.
Author:
My Delicious Blog
Ingredients
1 large ripe or green mango, peeled and chopped into small cubes
1 ripe peach, pitted and chopped
2 Tb. sweet onion, minced
1 tsp. fresh jalapeño, seeded and minced
1 Tb. fresh Thai Basil (or sweet basil) chopped
1" piece fresh ginger, peeled and grated
1 Tb. honey
Juice of ½ lime (use more if mango is unripe)
Pinch kosher salt
Instructions
Combine all ingredients in a medium mixing bowl.
Stir to combine and allow to sit at room temperature about 10 minutes.
Taste for seasoning, then serve with fish, chicken, pork or roasted vegetables.
Notes
1) Simply cut back on the ginger or jalapeño if you'd prefer it more mild.
2) This salsa is also delicious chilled after about 1 hour in the fridge.