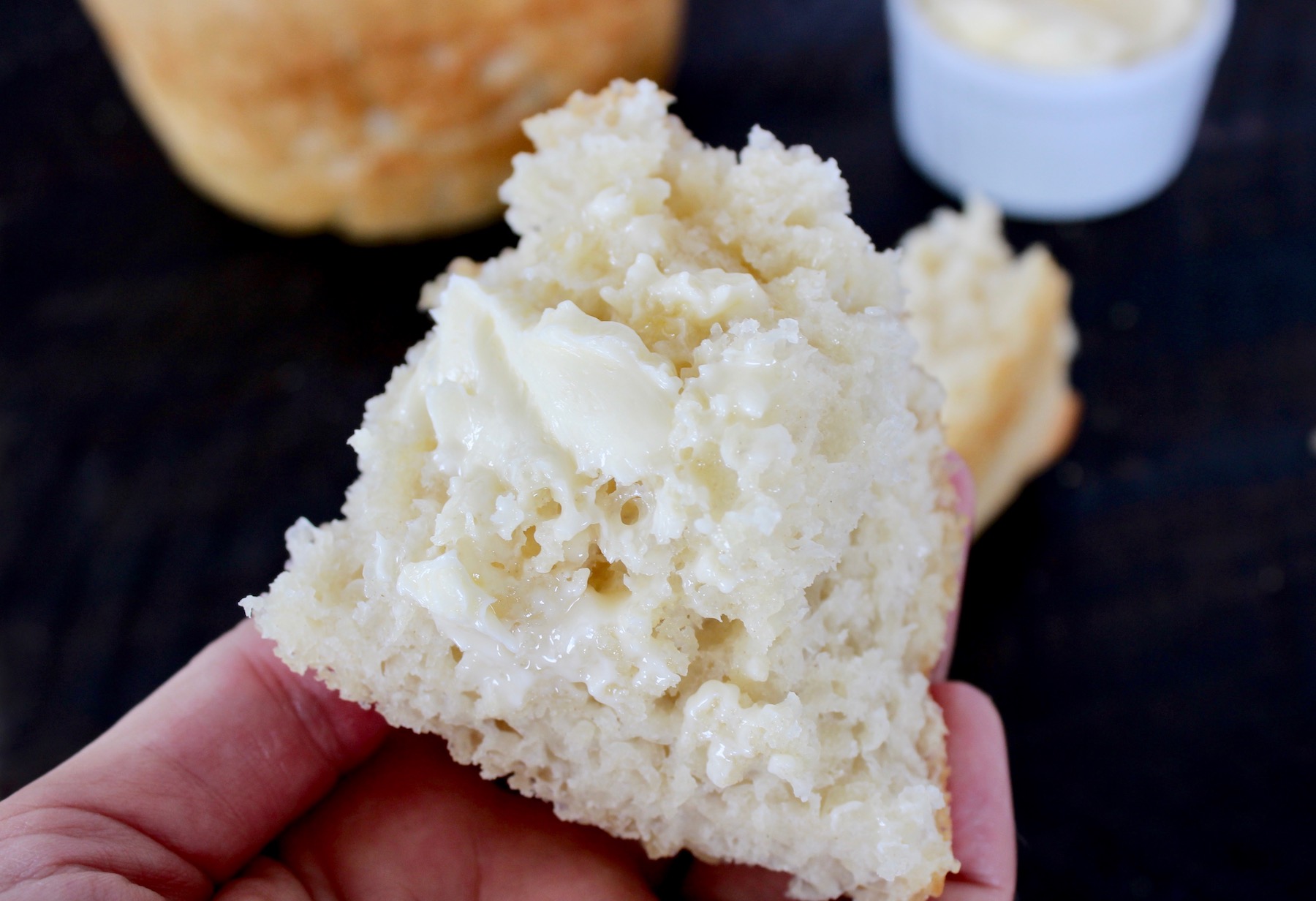 If I'm offered crusty, chewy bread, it's hard for me to say 'no, thank you' and move on.  And during times of stress, it's my favorite thing, toasted and topped with salty butter.
I was reminded of my lifelong love of bread this week while reading a post from my friend Jessie at
Life As A Strawberry
 announcing the release of her book which is all about 
bread
.  She wrote: "Bread is my love language.  Flour and water are the things I reach for when the world swirls heavy around me.  I can't control a pandemic, or the health of my friends and family, or the actions of a neighbor.
 But I can make bread
."   I love that.
We all know what helps us manage stress — knitting, reading, taking a bath, cleaning/organizing, playing board games, exercising, yoga, or whatever — touchstones when life seems uncontrollable.  For me, it's cooking, and with a well-stocked house and lots of time, it's the perfect recipe for stress management 🙂
Inspired by Jessie, I decided to make 
bread
 this week.   For years I've been holding onto a recipe for "
No Knead Bread
" published by the New York Times in 2011.  It was created by Jim Lahey at Sullivan Street Bakery in New York City, and readers loved it so much that it's still one of the paper's most popular recipes.  His recipe is simple – mix a few ingredients in a bowl, let it proof for 12 hours, then bake it in a screaming hot/covered pan for about 1 hour.  It results in what's described as amazing bread with crusty edges and a tender, chewy crumb.  From the looks of it, it's basically a version of 
peasant
 bread which folks have been making for centuries using simple, readily-available ingredients, without kneading.  The bread is usually baked round and has crusty edges with a chewy, tender middle — easy to prep for dinner or any time you want fresh bread.
Not having the patience to wait 12+ hours (some day I'll tackle that recipe!), I decided instead to use
Alexandra Stafford's
popular recipe for peasant bread.  It's published in her book 
Bread Toast Crumbs
 and it's a recipe her family has been making for decades.  Her recipe is also easy, but it only takes
2
hours!  I had all-purpose flour, active dry yeast (see Notes) and sugar in my pantry, but my biggest challenge was finding the right cooking vessels (Alexandra uses small, vintage Pyrex glass bowls).  I could have used my loaf pan, but I wanted to have the 'feel' of peasant bread, so I was determined to cook in something round.  Since I don't have Pyrex bowls that are oven-safe, I resorted to a 1-quart Pyrex glass storage container and a 1-quart Pyrex glass measuring cup.  Be sure to use oven-safe materials! Here's how it went down:
I mixed the ingredients in a bowl, resulting in a wet and sticky dough: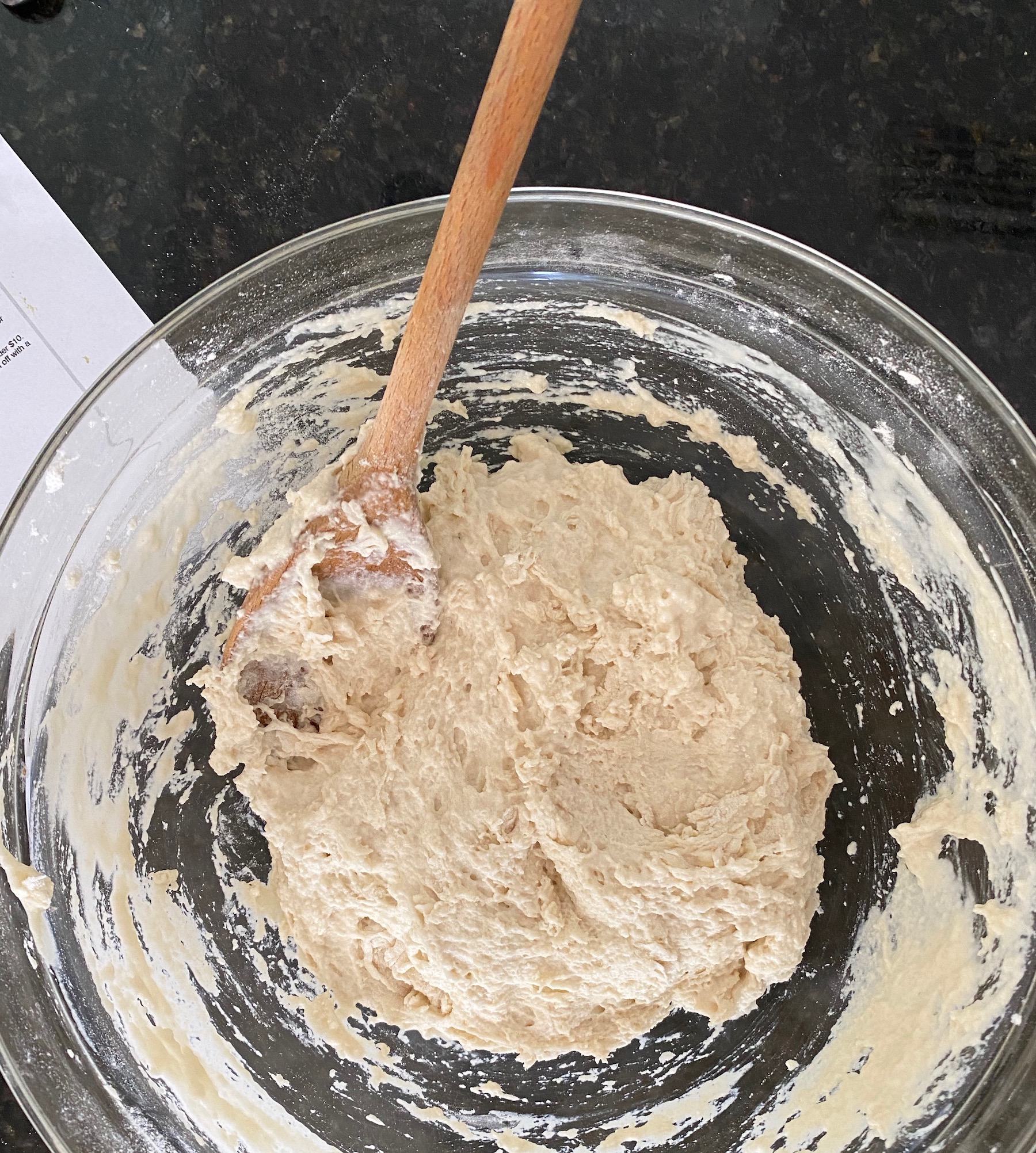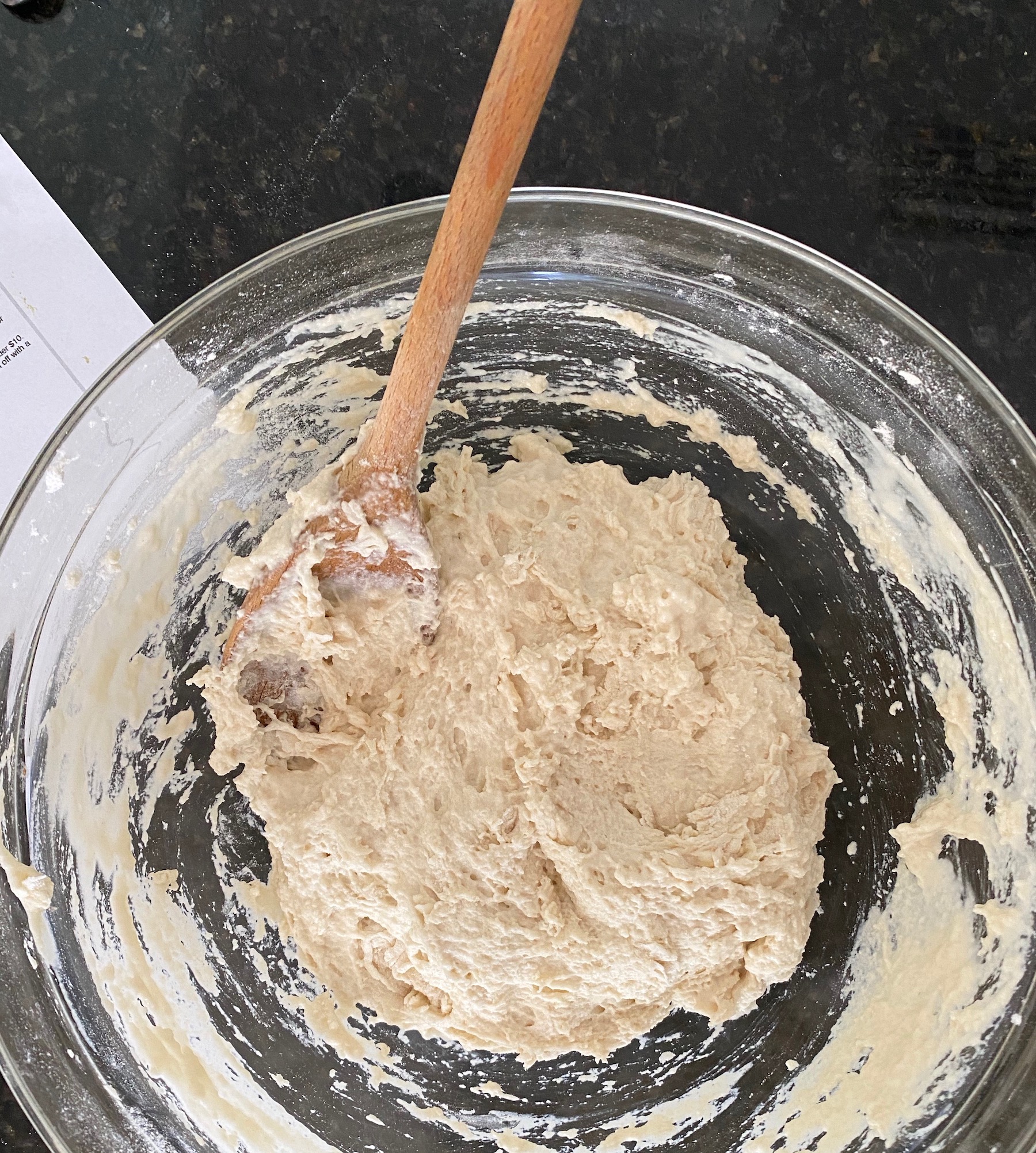 I covered it (is that a
Delicious Dry Goods
towel I spy?!?) and put it in a warm area to rise for about 1 hour: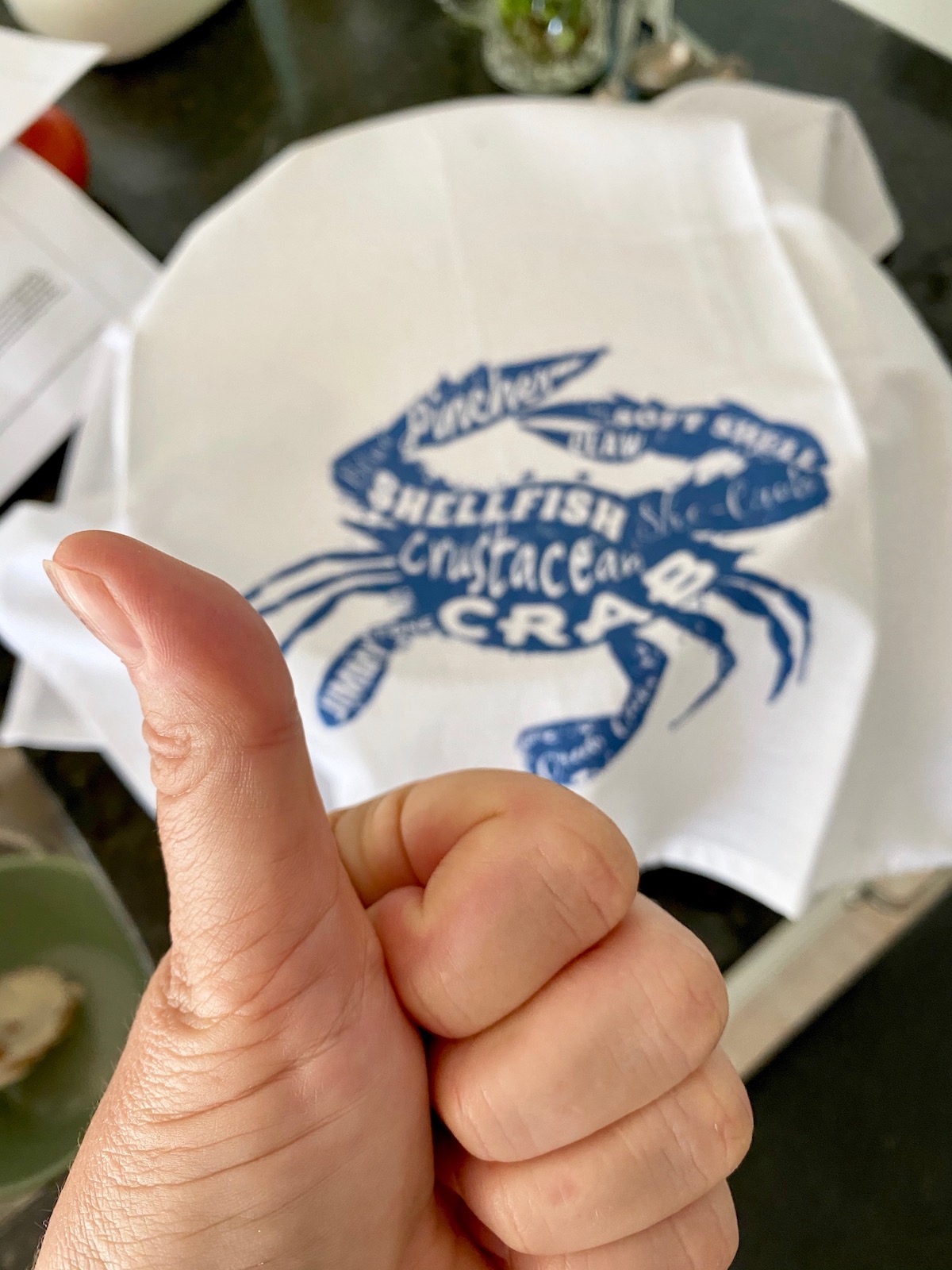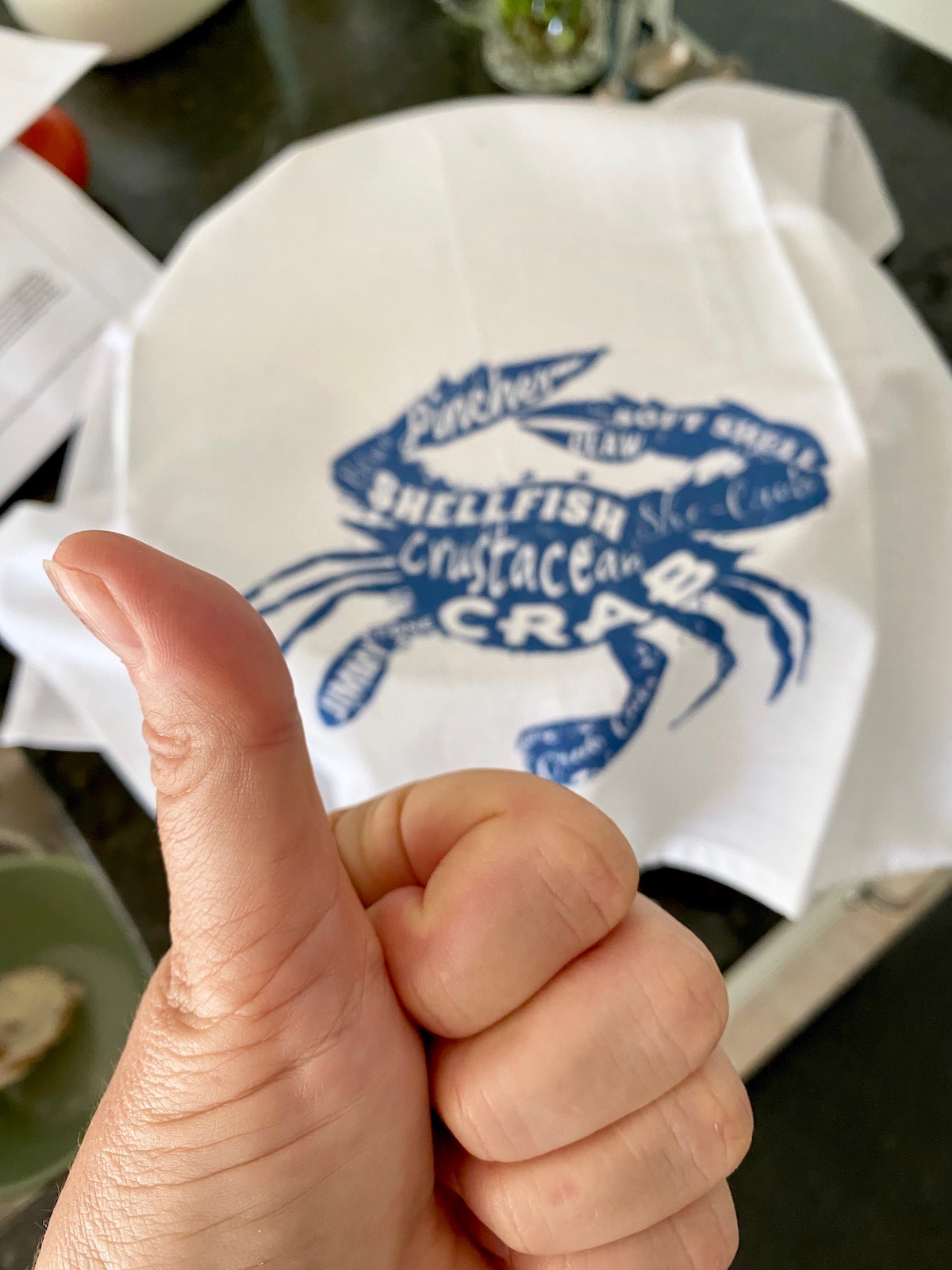 When it doubled in size, I punched it down with two salad forks, then cut it in half and placed the dough in buttered bowls: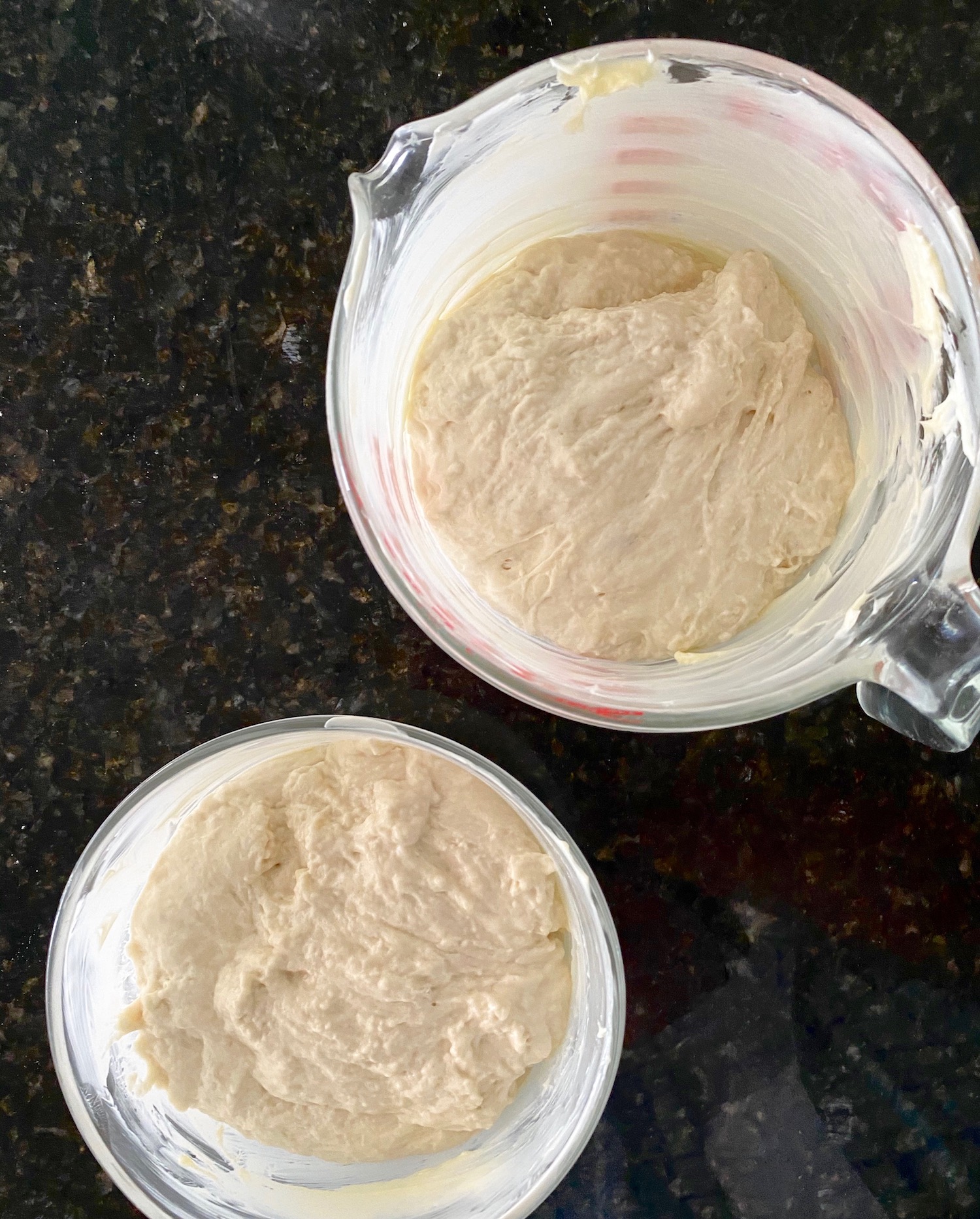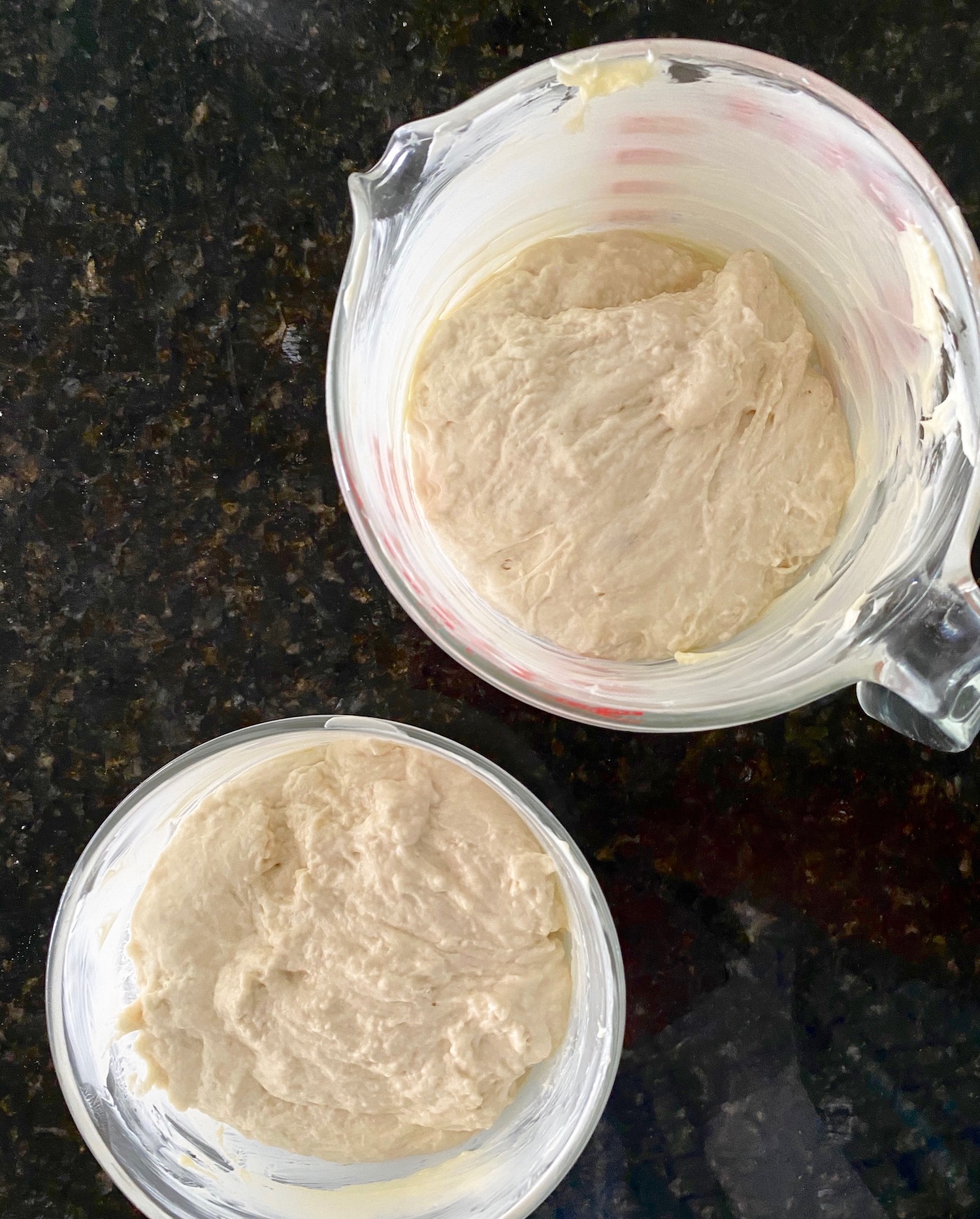 I popped the bowls in the hot oven:
Then transferred them to a cooling rack (not pictured – the turned out bread itself) and served it when cool!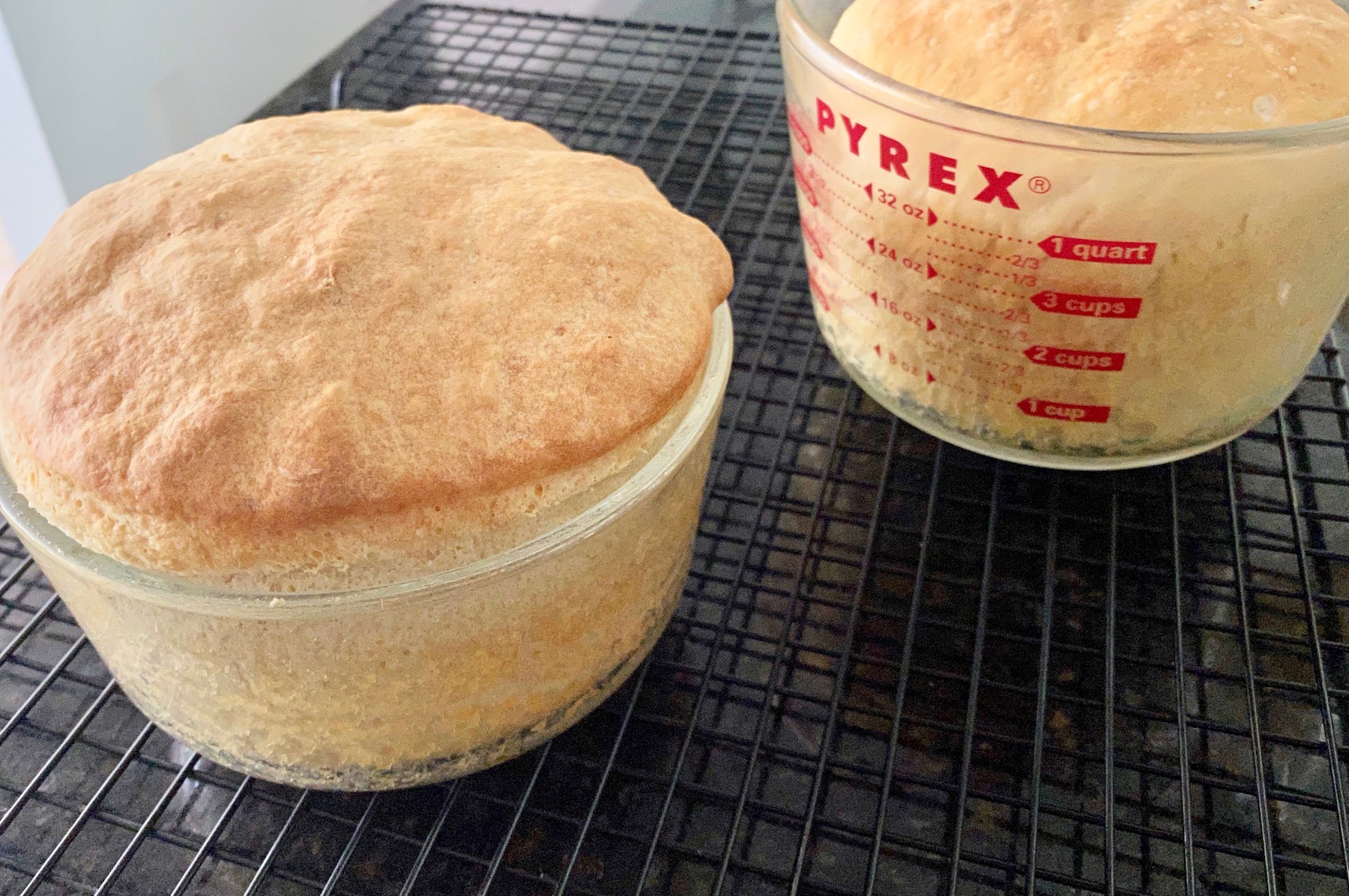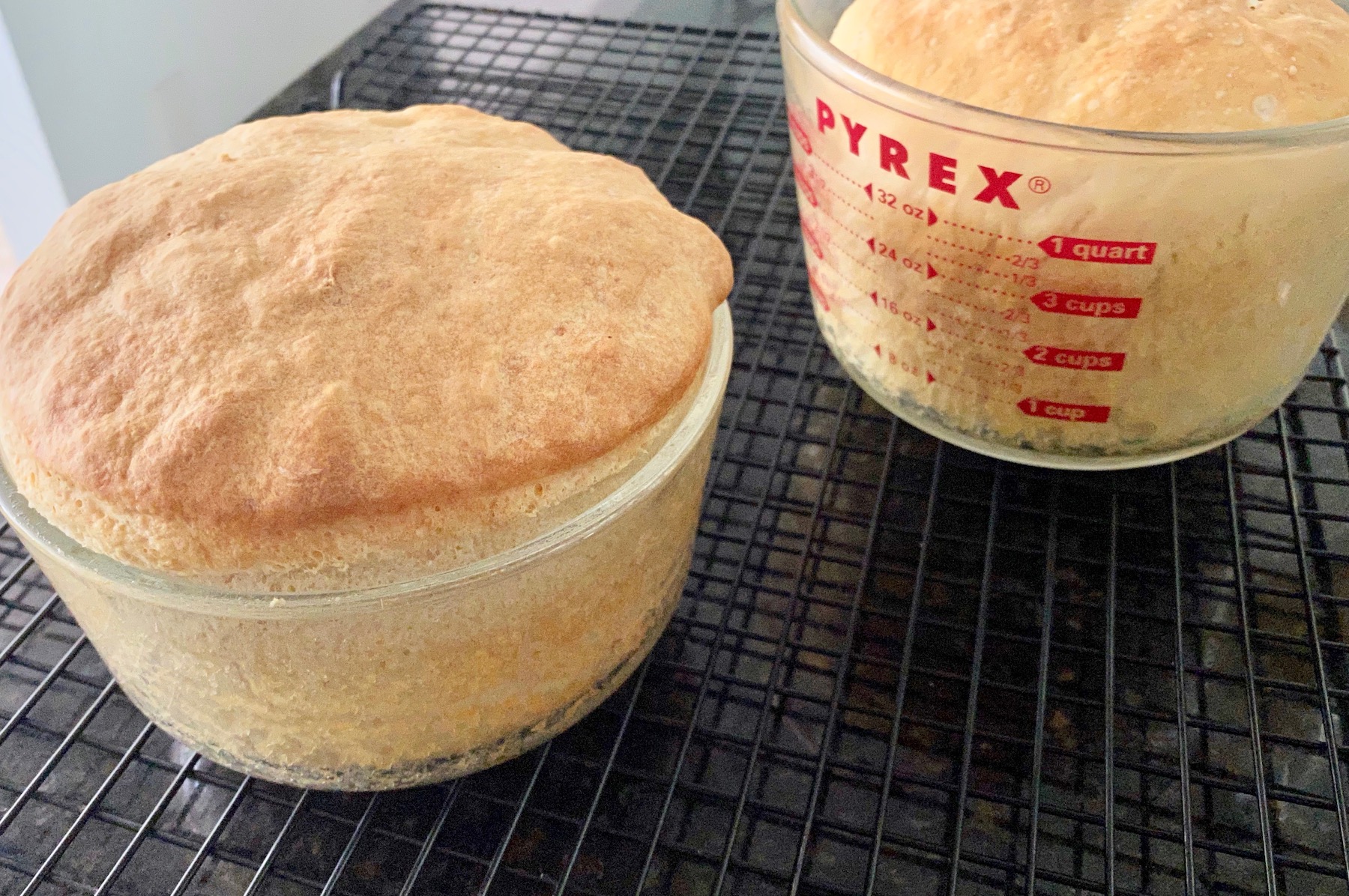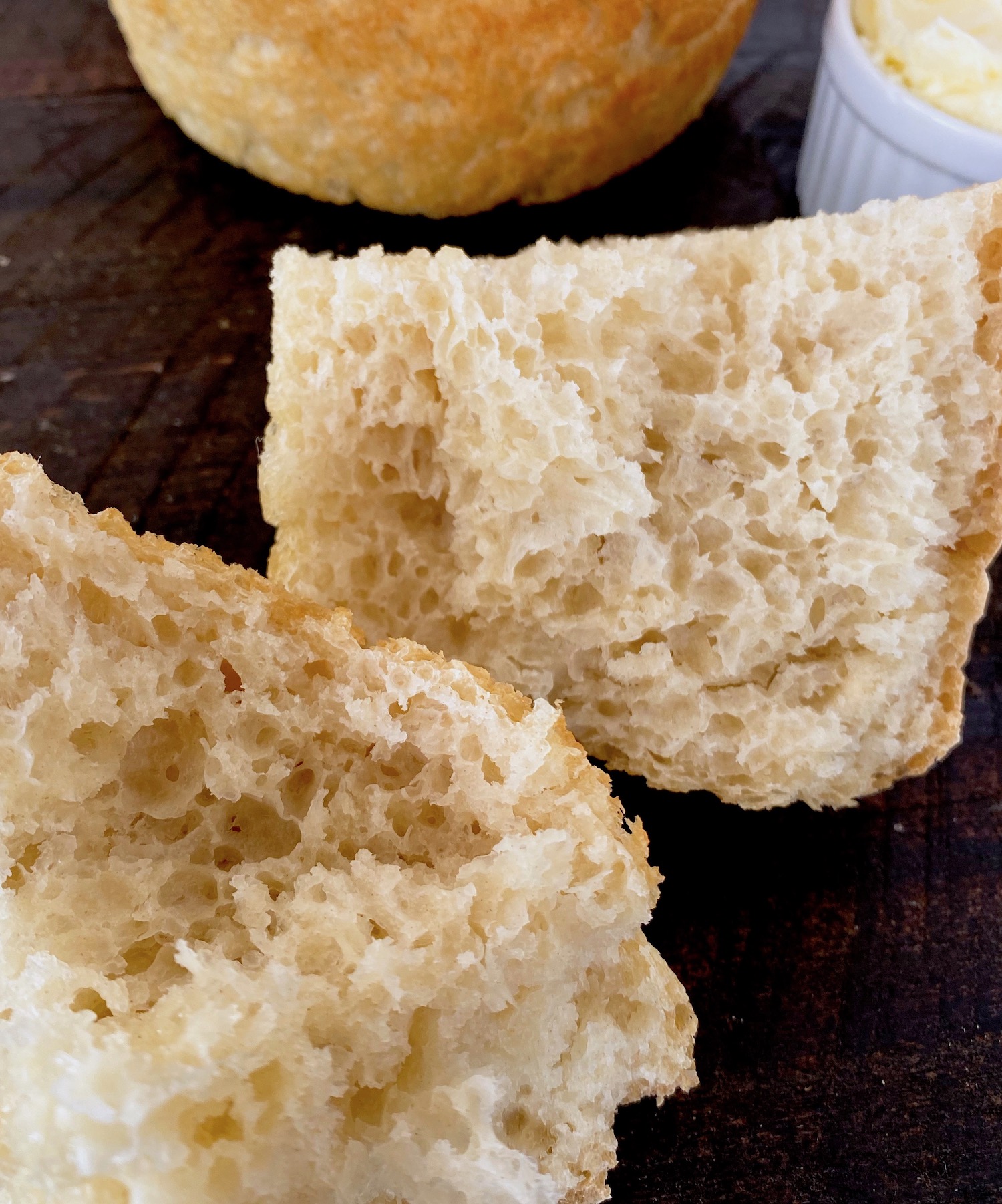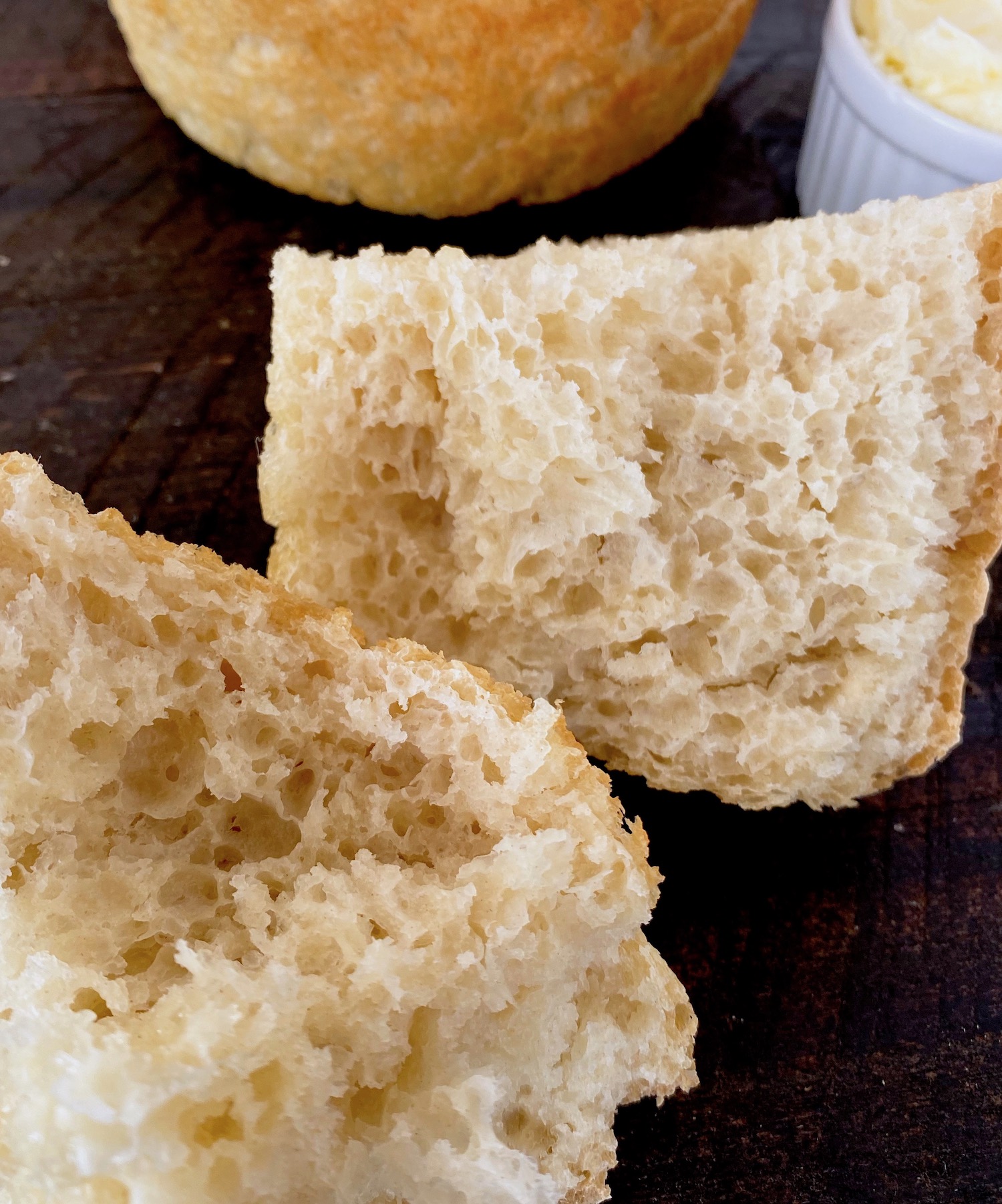 What a fun project to tackle if you have some time on your hands.  You can also try variations of the recipe – Alexandra offers tips on her site, including replacing white flour with others, incorporating spices, and adding seasonings to the butter just before baking.
There's not much better than the smell of homemade bread baking.   It's comforting. . .and the toast is out of this world 🙂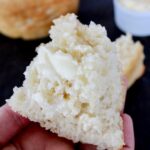 Print Recipe
Easy, No-Knead Bread
Using Alexandra Stafford's easy recipe, I made homemade bread in about two hours, and it was delicious!
Ingredients
4

cups

All-purpose, unbleached flour

(or bread flour)

2

tsp.

Kosher salt

2

cups

Lukewarm water

(1 1/2 c. cold water + 1/2 c. boiling water)

2

tsp.

Granulated sugar

2

tsp.

Instant yeast

(or active-dry yeast - See Notes)

2

Tb.

Unsalted butter, room temperature
Instructions
If using instant yeast, add flour, salt, sugar and yeast to a large mixing bowl and whisk to combine (*If using active-dry yeast, see Note below). Add the lukewarm water to the bowl and mix until the dry ingredients are absorbed. The dough will be very sticky.

Cover the bowl with a towel (or plastic wrap) and place in a warm area to rise about 1 hour.

After it has risen to twice its size, preheat oven to 425 degrees and grease two 1 or 1.5 quart oven-safe bowls with 1 Tb. of butter in each bowl.

Using two salad forks, punch down the dough and scrape the dough down from all sides of the bowl. Using the forks, separate the dough into two even portions (it may be tricky since it's very soft and sticky). Carefully lift one half out of the bowl into the first buttered bowl, then transfer the other to the second buttered bowl. Try to just scoop it up quickly and dump into the bowls (yes, it will be messy).

Let dough rise another 20-30 minutes, in a warm place, covered with a towel or plastic wrap. The dough should rise to just above the lip of the bowl, or just below it, if it's a little deeper (like a 1.5 quart bowl).

Place bowls directly onto the rack of pre-heated oven and bake for 15 minutes.

Reduce heat to 375 degress and bake another 15-17 minutes.

Remove from oven and turn onto a cooling rack (the loaves should pop out easily).

Cool for about 10 minutes before cutting/serving.
Notes
If using active-dry yeast, start the process by adding the lukewarm water to a small bowl and dissolve the sugar in it.  Then sprinkle the dry yeast into the bowl (no need to mix it) and leave it alone for 10-15 minutes until foamy and/or bubbly (this ensures it's active).  When ready, add it to the dry ingredients and follow the recipe as written.  (P.S. if the yeast doesn't respond as expected, try another batch).  
Using instant yeast saves you about 10 minutes of preparation time 🙂