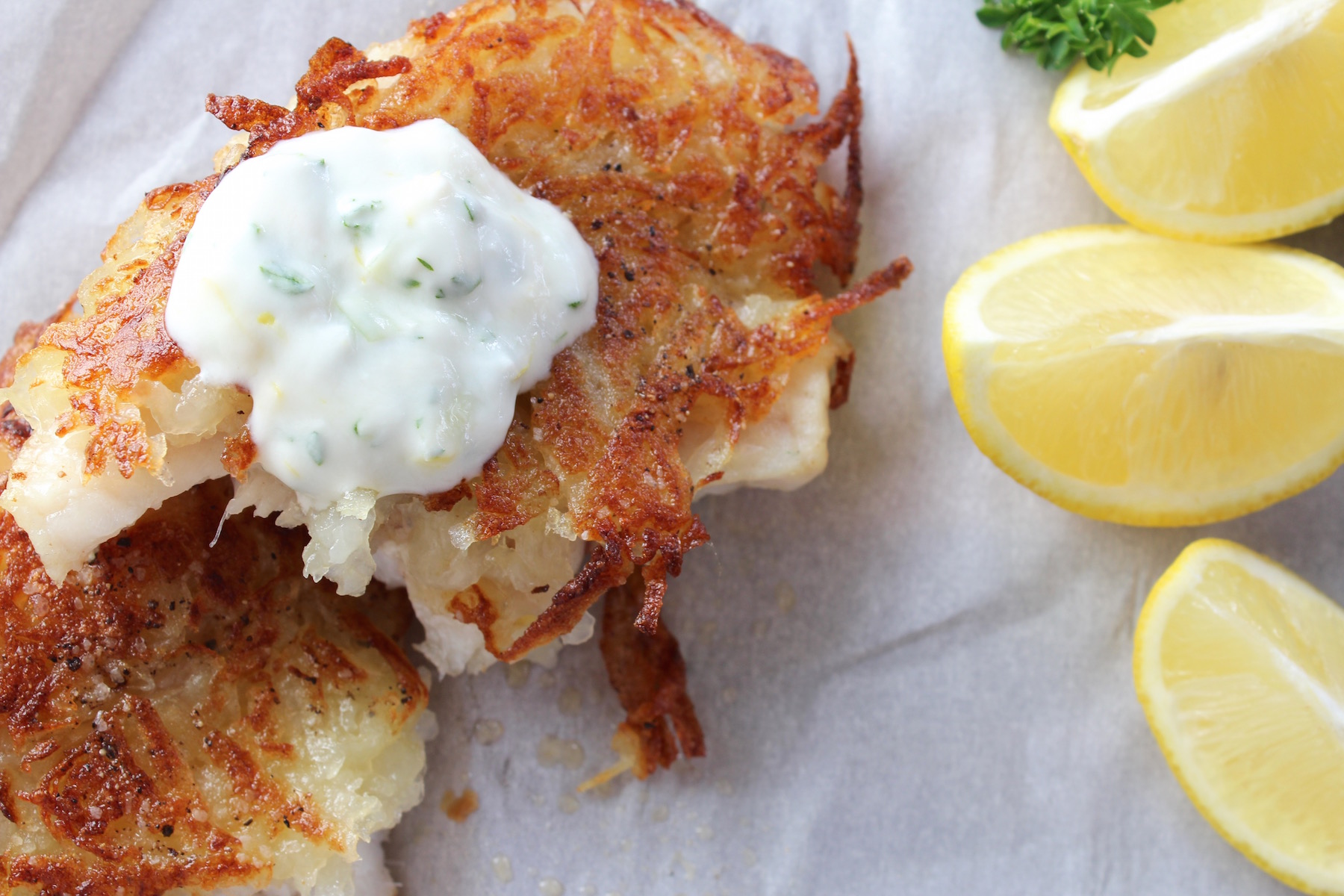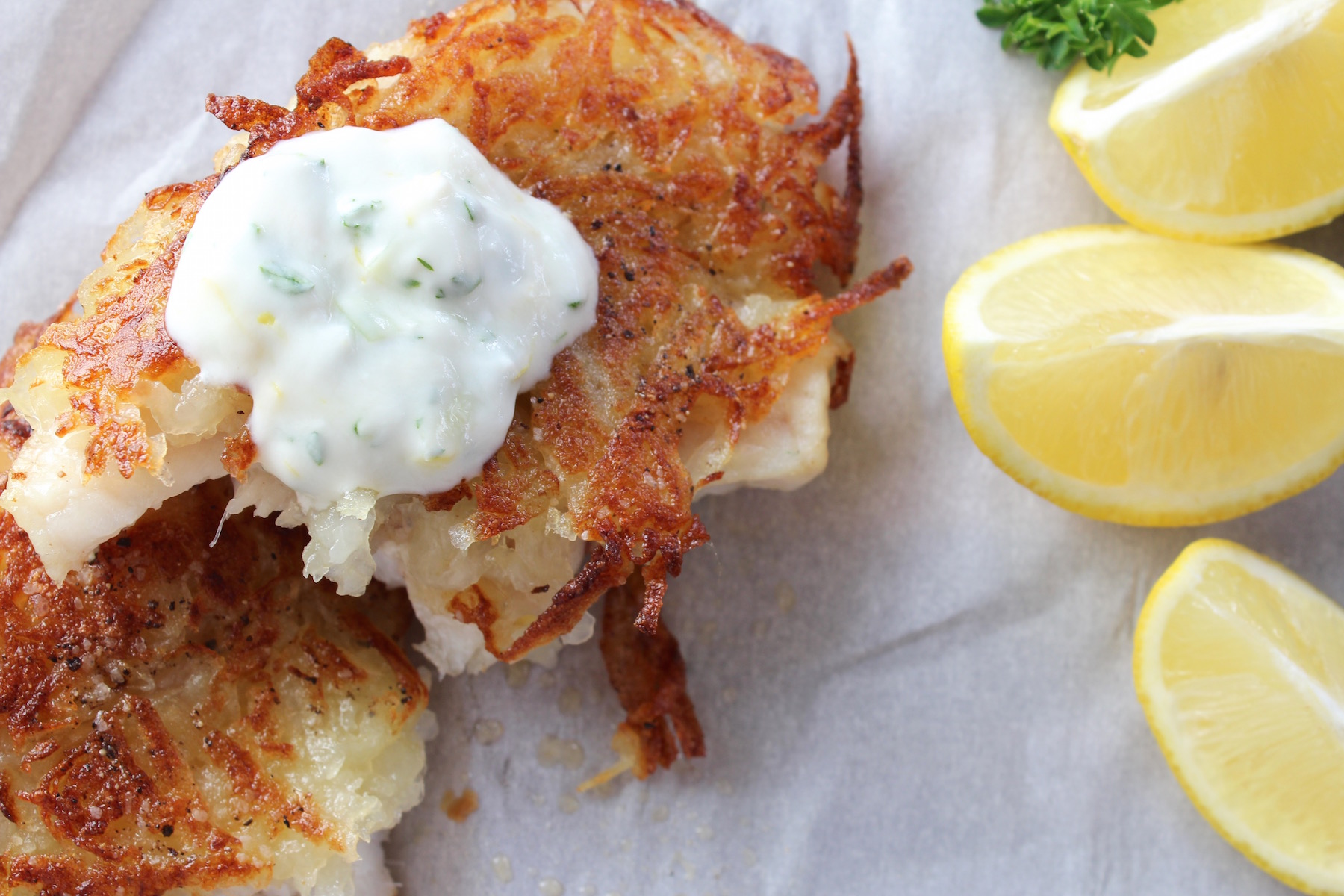 There are lots of recipes for 'potato encrusted' fish that use either instant potato flakes, mashed potatoes, a layer of "shingle-looking" thinly sliced potatoes (a beautiful presentation, by the way), or grated potato (like hash browns). I've tried several methods with varying degrees of success. . .and don't even get me started on my experience with a mandolin to achieve perfectly thin potatoes. . .my thumb is still healing!
Why add a potato layer to the fish, anyway? I, for one, certainly love tender, flaky fish but, slapping on a layer of crunchy potato definitely adds texture and flavor dimensions that you can't get with a fillet on its own. It can be served elegantly or country-style, depending on what you pair it with, such as homemade tartar sauce, lemon/butter sauce, a tomato-based something, or whatever strikes you as interesting — think of what goes well with potatoes and fish (sort of like fish and chips) and your creative juices will start to flow.
Today's post is about my recent grated potato version using Red Grouper.
I love hash browns, so this recipe reminds me of crunchy, tender hash browns I love to order on the rare occasion I go out for breakfast. I used a plain potato layer (i.e., I didn't mix it with anything) for simplicity.  But, in the skillet, I added some subtle flavors to the hot oil before adding the fish – a clove of garlic and a sprig of fresh rosemary. These classic flavors added a touch more dimension to the crispy potato crust.  Plus, the cool sour cream/lemon/herb sauce was a refreshing addition alongside the crunchy, hot fish.  All in all, it turned out quite yummy.
This is a do-able method for just about any flaky fish you have access to, so hopefully you'll experiment.
See how crunchy and tasty this looks!  Mmmm. . .if only you could be in my kitchen right now 🙂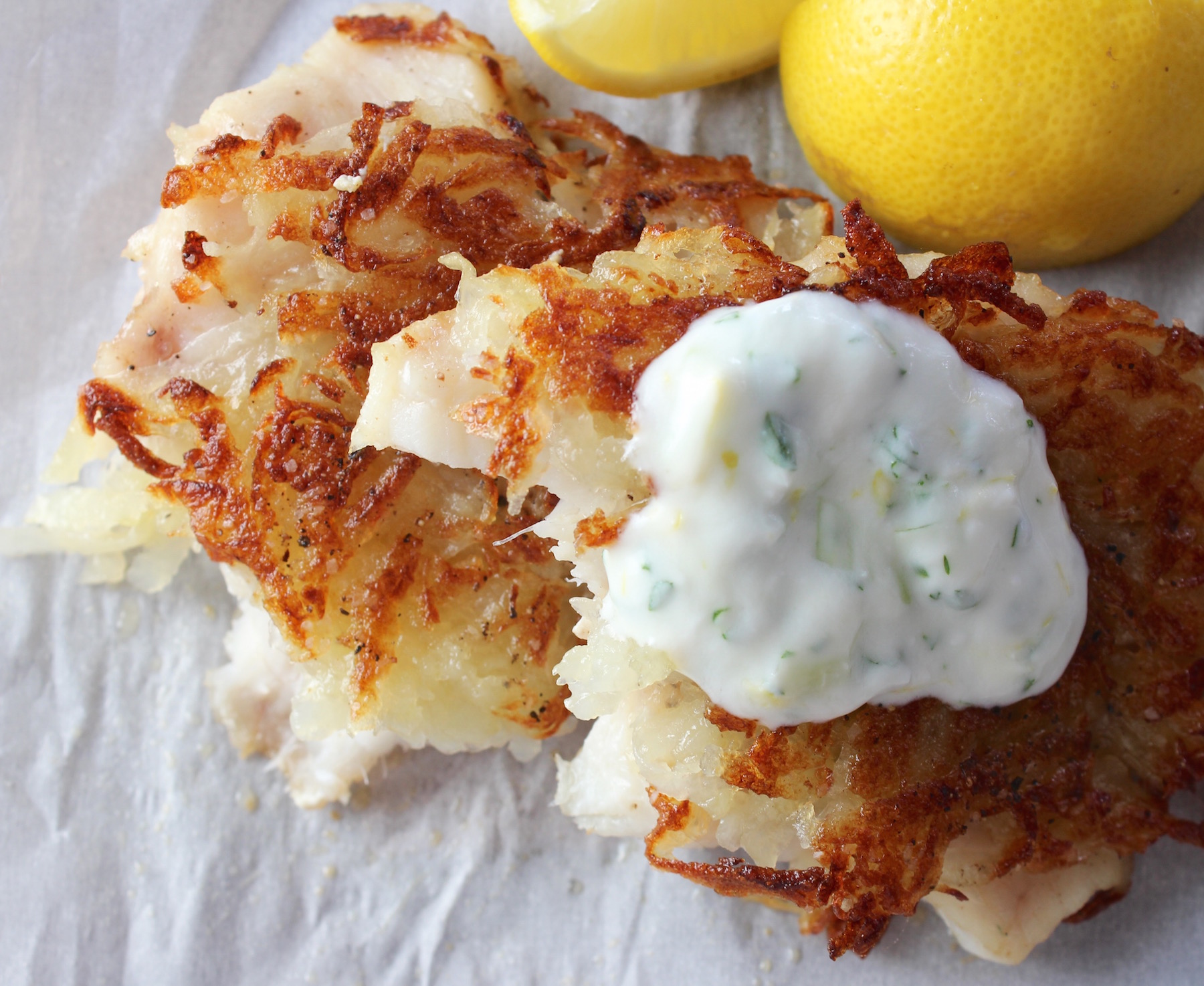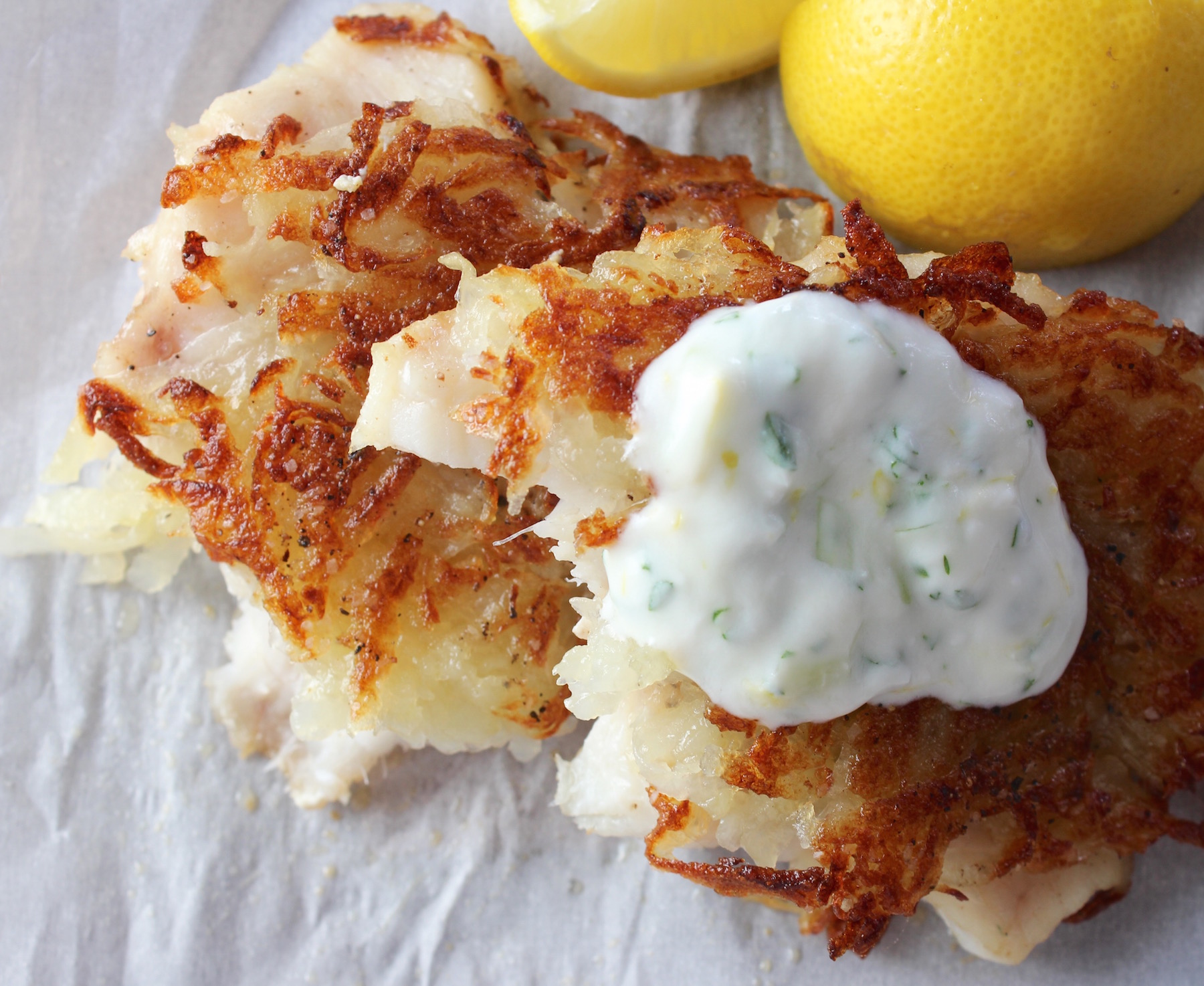 Rosemary-Garlic Potato Encrusted Grouper
A crunchy, flavorful coating wraps this delicious Grouper fillet.
Author:
My Delicious Blog
Ingredients
2 medium Grouper fillets (or any other flaky fish) about 1" thick
~2 Tb. olive oil
1 sprig fresh rosemary
1 clove garlic, halved
1 large Russet potato, peeled
kosher salt & freshly ground black pepper
Sour Cream/Herb Sauce:
2 Tb. sour cream
1 tsp. fresh parsley, minced
1 tsp. scallion, minced
1 tsp. fresh chives
1 tsp. lemon zest
Instructions
Heat oven to 350 degrees.
Rinse fillets and remove any bones. Pat dry with a paper towel and set aside.
Using a box grater, grate the potato into a small bowl. Using your hands, squeeze the bulk of the liquid out of the potato, then wrap in a paper towel to remove residual liquid.
Sprinkle both sides of the fish with a little salt and pepper (Optional: spray olive oil or cooking spray onto one side of the fish as an extra "glue" for the potato).
Top one side of the fish with a handful of potato - press around the edges to ensure it's all on the fillet. Set aside.
Heat a non-stick skillet over medium heat. Add olive oil, rosemary and garlic. Reduce heat to low (to avoid burning the garlic). After about 1 minute, when the rosemary starts to brown, remove the rosemary and garlic.
Increase the heat in the pan, then carefully plan the fish, potato side down, into the pan.
After about 30 seconds, reduce heat to medium to avoid burning. Cook another minute, then check under the fish to ensure your crust is browning (but not burning). When it looks sufficiently browned, flip carefully.
Cook another minute, then remove from burner and place pan in oven to finish cooking (approx. 3-4 minutes, depending on thickness of your fillets).
While the fish is in the oven, make the Sauce by simply combining all ingredients in a small bowl.
Remove carefully from pan, top with Sour Cream/Herb Sauce, and serve 🙂
Notes
1) Don't grate the potato until you're ready to top the fish, otherwise, it will turn brown.
2) Don't rinse the potato after grating, otherwise the necessary starches that provide crunchiness and a good sear will be washed away 🙂
3) I suggest using medium sized fillets so you have an easier time flipping them in the pan. If your fillets are too large, simply trim them to manageable size before coating with potato.