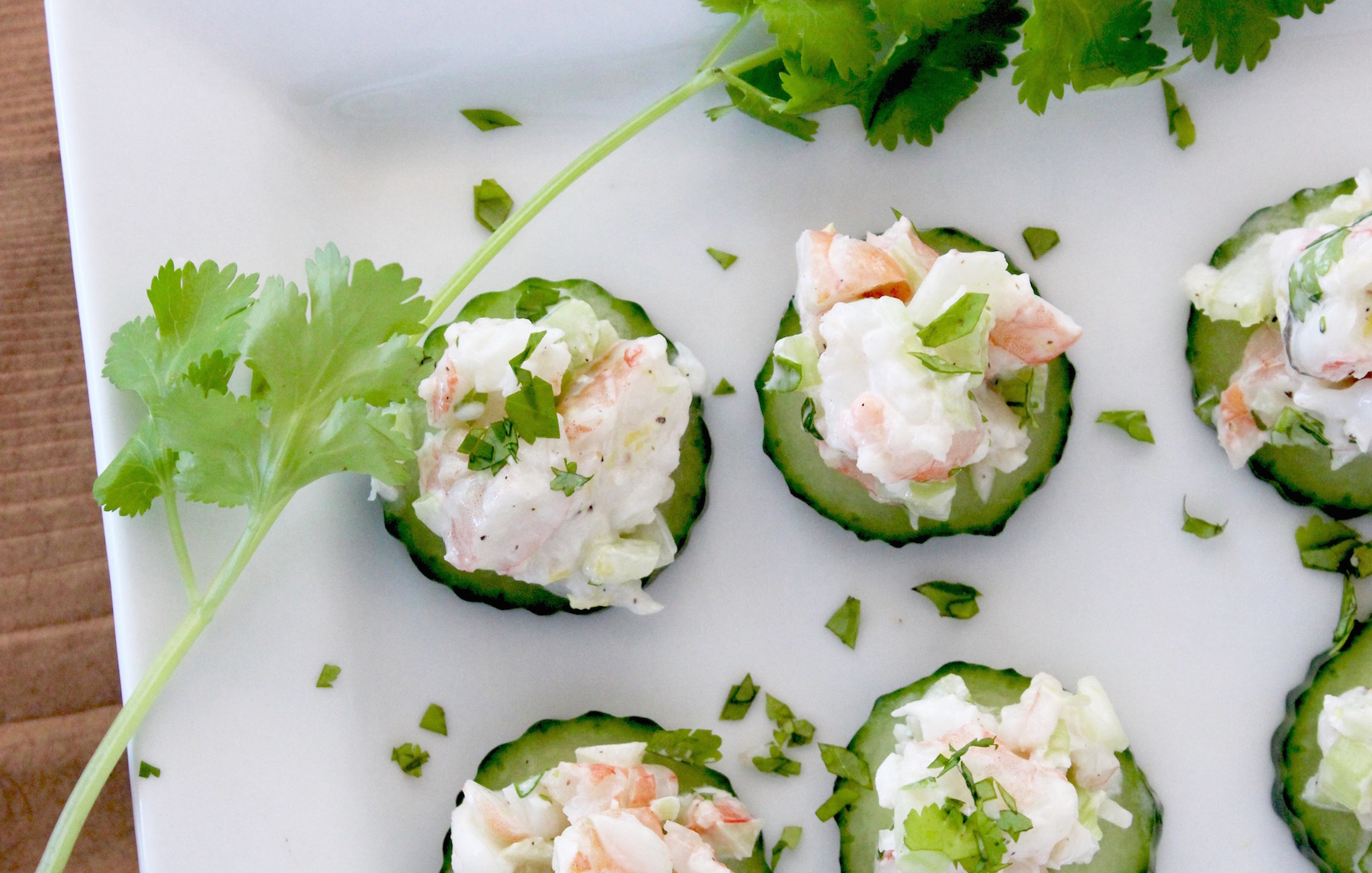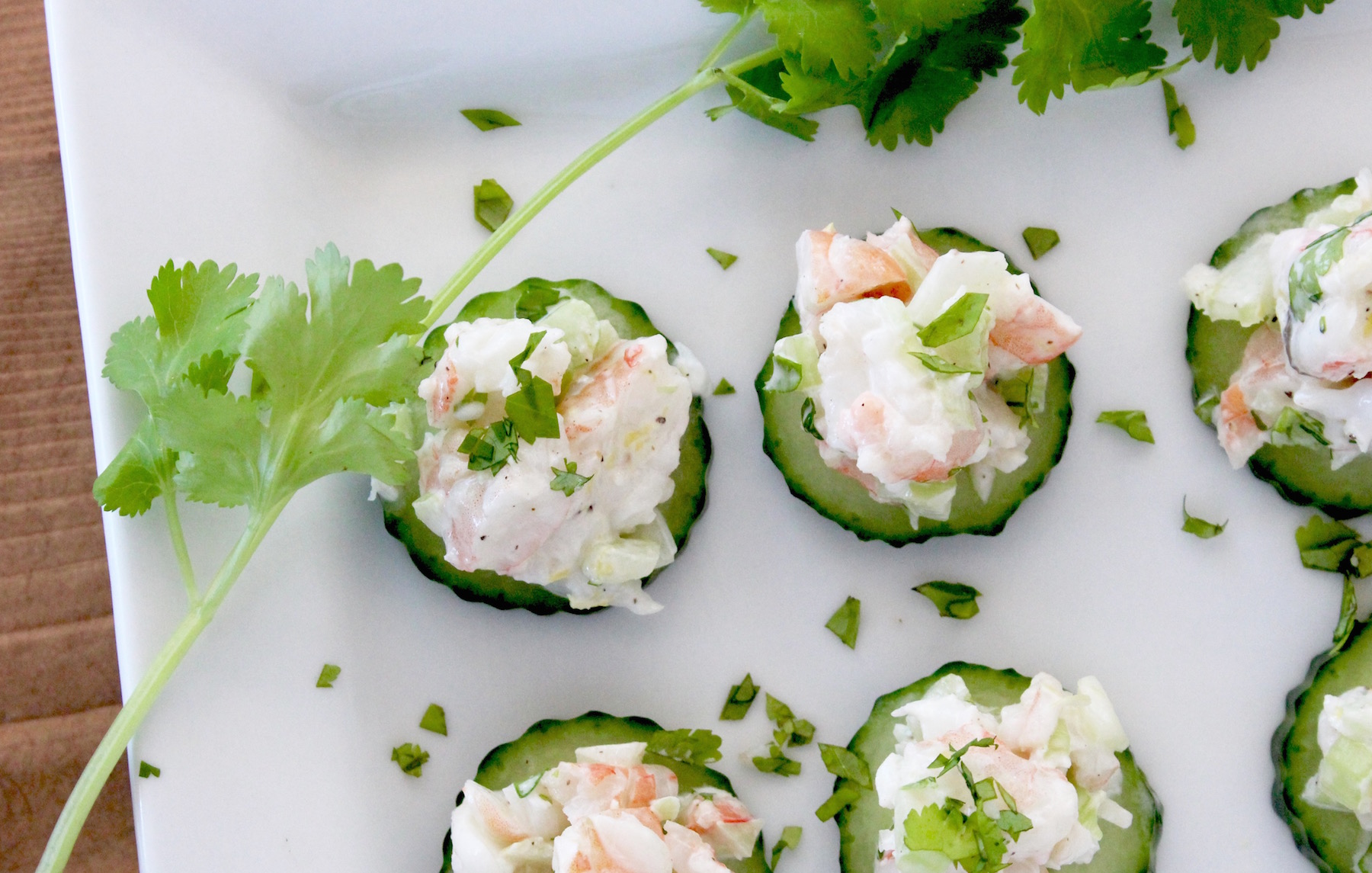 Having a recipe in your arsenal that you can use in a variety of ways depending on what's in your kitchen, how many guests unexpectedly show up at your door, or the number of calories you want to consume, comes in handy. This shrimp salad is one of those recipes. . .
Shrimp is the star of the dish, so it's important to keep the ingredient list short (the same is true when making lobster salad, which any self-respecting New Englander will tell you).  Usually, I combine shrimp, mayonnaise, celery, salt & pepper.  Classic.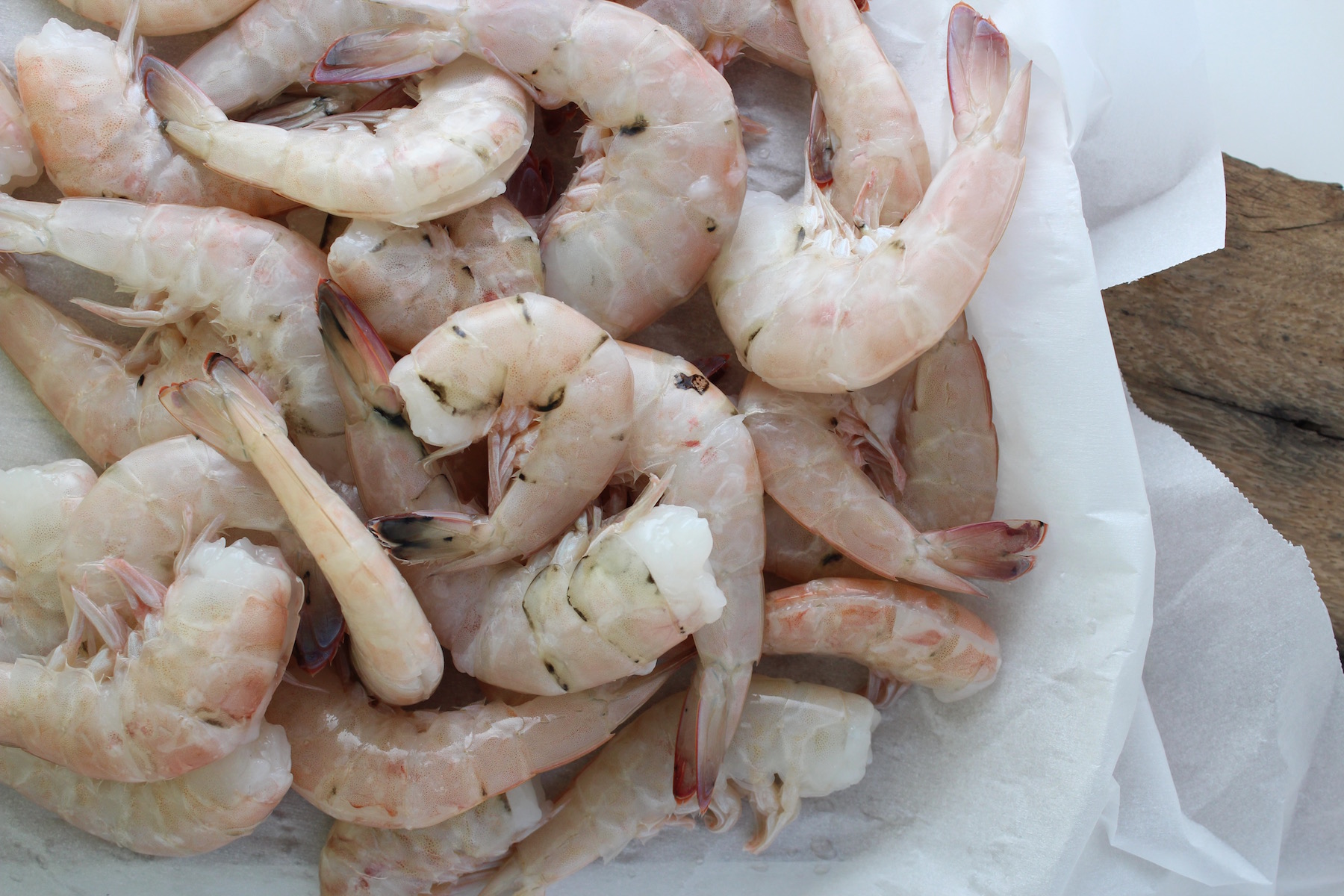 If you've never made it, here are some tips on making a good shrimp salad:
1) It's ideal to use fresh shrimp (i.e., never frozen), but if you only have access to frozen, use the best you can find. But definitely, and I mean definitely, do NOT use canned shrimp!
2) To cook, try poaching gently in a bath of water, maybe a little white wine, a bay leaf, peppercorns and lemon peel. Poaching over low heat makes them moist, not overcooked/rubbery, and gives a subtle flavor boost. Honestly, if you poach or steam them in plain old water, they'll still be delicious, especially if very fresh.
3) Experts will tell you that, for ultimate flavor, you should make the mayonnaise. It's not like it takes a ton of time, and it certainly IS delicious, but really, in this day and age when there are people who make nothing but mayonnaise, so folks don't have to make their own, why not go with that? In the absence of homemade, just use the best you can find. And if you're concerned about calories or fat, try equal parts mayonnaise and Greek yogurt, giving you creaminess, with less of that stuff.
4) As for celery, some like to use celery salt for the 'essence' of celery, but I prefer minced, fresh celery because it offers a little bit of crunch. If you don't like it, but still want crunch, try sweet onion or scallion (use sparingly, so it doesn't overpower the shrimp).
Today I'm breaking out of the classic mold, adding lemon zest, lemon juice and a bit of fresh cilantro. Yup – cilantro. But don't worry, if you're not a fan, just use fresh parsley and it will also be delicious. Cilantro and lemon give the salad brightness, and even cilantro-haters should not find it overwhelming because it's used sparingly 🙂  If you don't have lemon, try lime — it's good to have some acidity to help cut the richness of the mayo and shrimp.
Once you've made your salad, here are some tasty ways to use it:
1) Top cucumber slices for an appetizer that avoids the carbs (or gluten) from crackers. Garnish with cilantro, minced chives or green onion, and you're good to go. If hankering for a cracker, try a good old Ritz – buttery, flaky and delicious with shrimp salad.
2) Spoon it into a lettuce cup or a hollowed out tomato. Maybe top with a little bit of crumbled Feta?
3) Mix it with fresh greens, along with avocado, tomato and cucumber and drizzle with olive oil, lemon juice, salt and pepper. A refreshing, light salad for lunch or dinner.
4) If you have crusty bread, toast up a slice (buttered/grilled is even better), spread on the salad, sprinkle with chopped chives.
5) For a more substantial salad, toss in a cup of cooked/cooled, small pasta shells (you might need to add a bit more mayo and lemon juice to thoroughly combine). Top with fresh parsley (or cilantro), maybe a bit of grated parmesan or Feta. I like to serve mine in a bowl with a big spoon 🙂
These are just a few to get you started.  If you have any other ideas, leave me a comment below!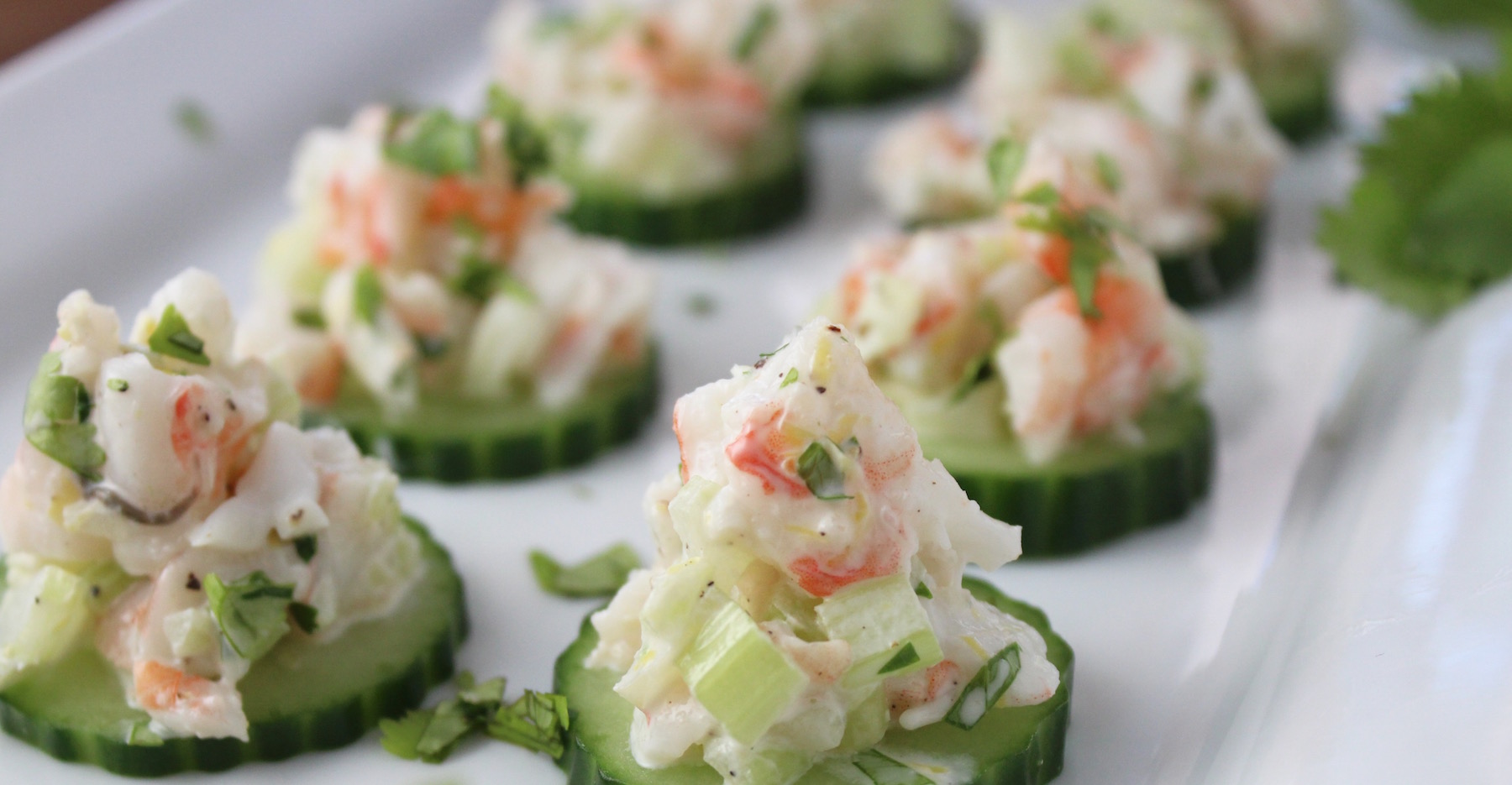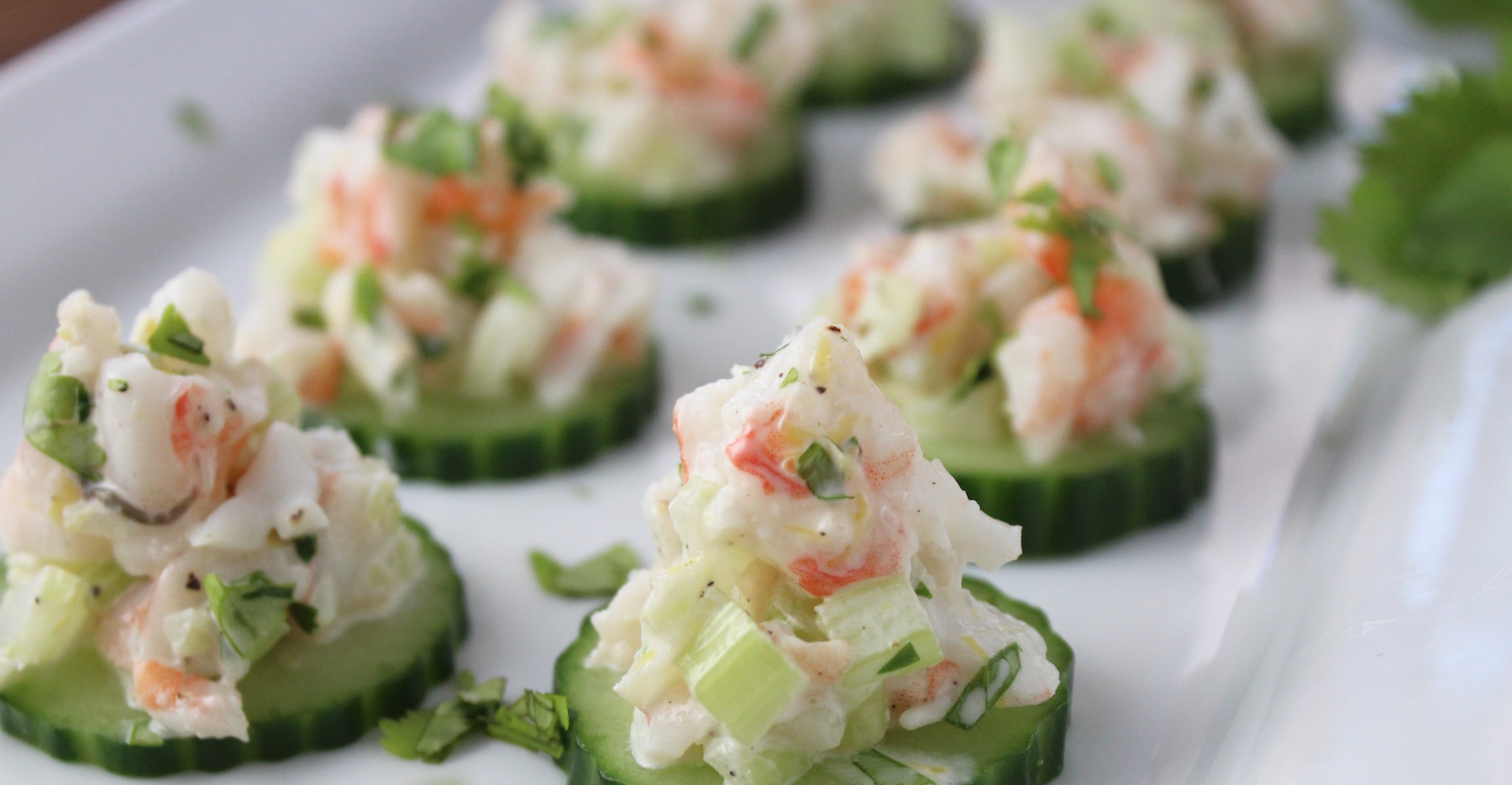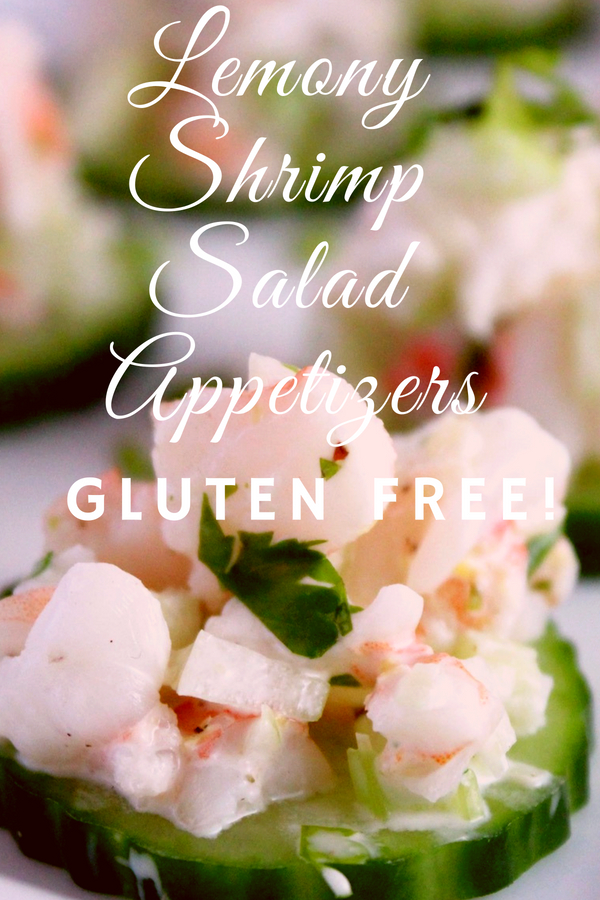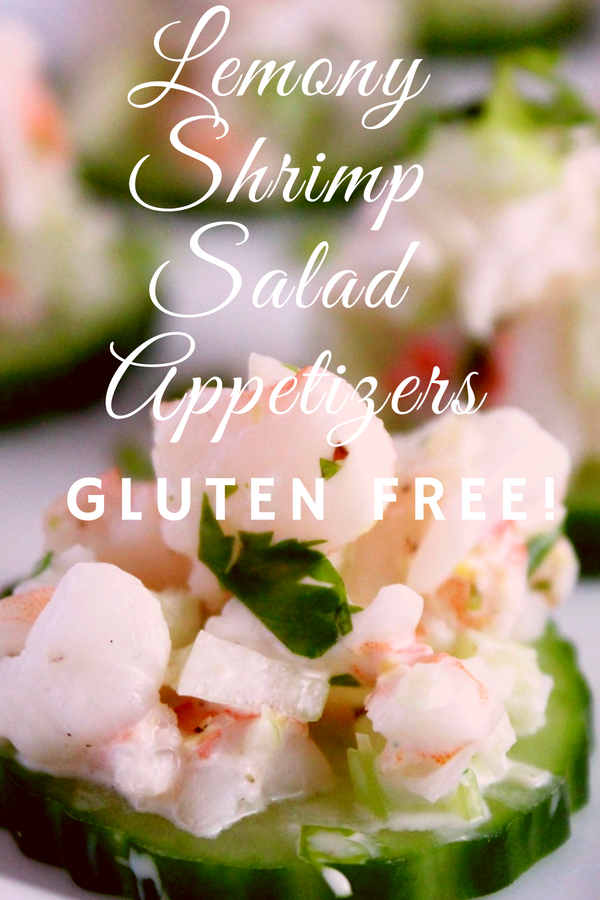 Classic Shrimp Salad
Shrimp salad on a crunchy, cool cucumber makes the perfect appetizer.
Author:
My Delicious Blog
Ingredients
Poaching Liquid
1 c. water
6-8 whole peppercorns
2 lemon peels
1 bay leaf
Dash kosher salt (optional)
Shrimp Salad
1 lb. medium (31-35 size or smaller) shrimp, peeled & deveined
2 ribs celery, minced
2 Tb. mayonnaise
1 tsp. lemon zest
½ tsp. lemon juice
1-2 tsp. fresh cilantro, minced (+ more, for garnish)
Kosher salt and fresh ground pepper, to taste
1 English cucumber, ¼" slices
Instructions
In a large saucepan, add the poaching liquid ingredients.
Bring to boil, reduce heat to medium and add shrimp in one layer (if it's too crowded, make two batches). The water doesn't necessarily have to cover the shrimp. . .
Gently simmer until shrimp are pink -- this should take only a couple of minutes. Turn off heat and, using a slotted spoon, transfer shrimp to a plate in one layer and refrigerate 10-15 minutes (be sure to remove all the peppercorns - they're sneaky!).
When chilled, roughly chop shrimp (don't mince or you'll have pulp); transfer to a mixing bowl, then add celery, mayonnaise, lemon zest, lemon juice, and cilantro. Mix to combine and season with salt and pepper, to taste.
Top each slice of cucumber with about 1 teaspoon of salad. Garnish with minced chives, or a cilantro leaf, then serve.