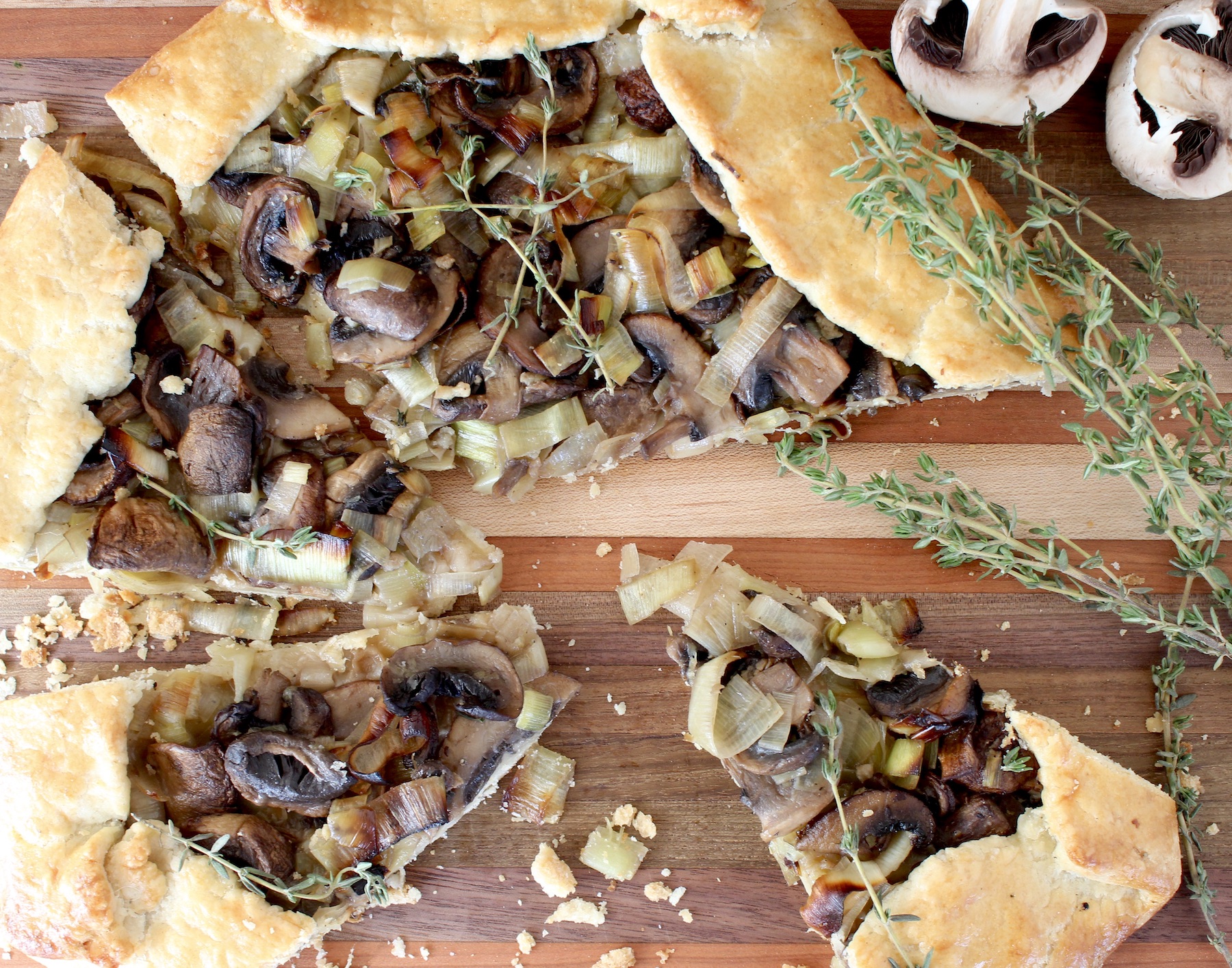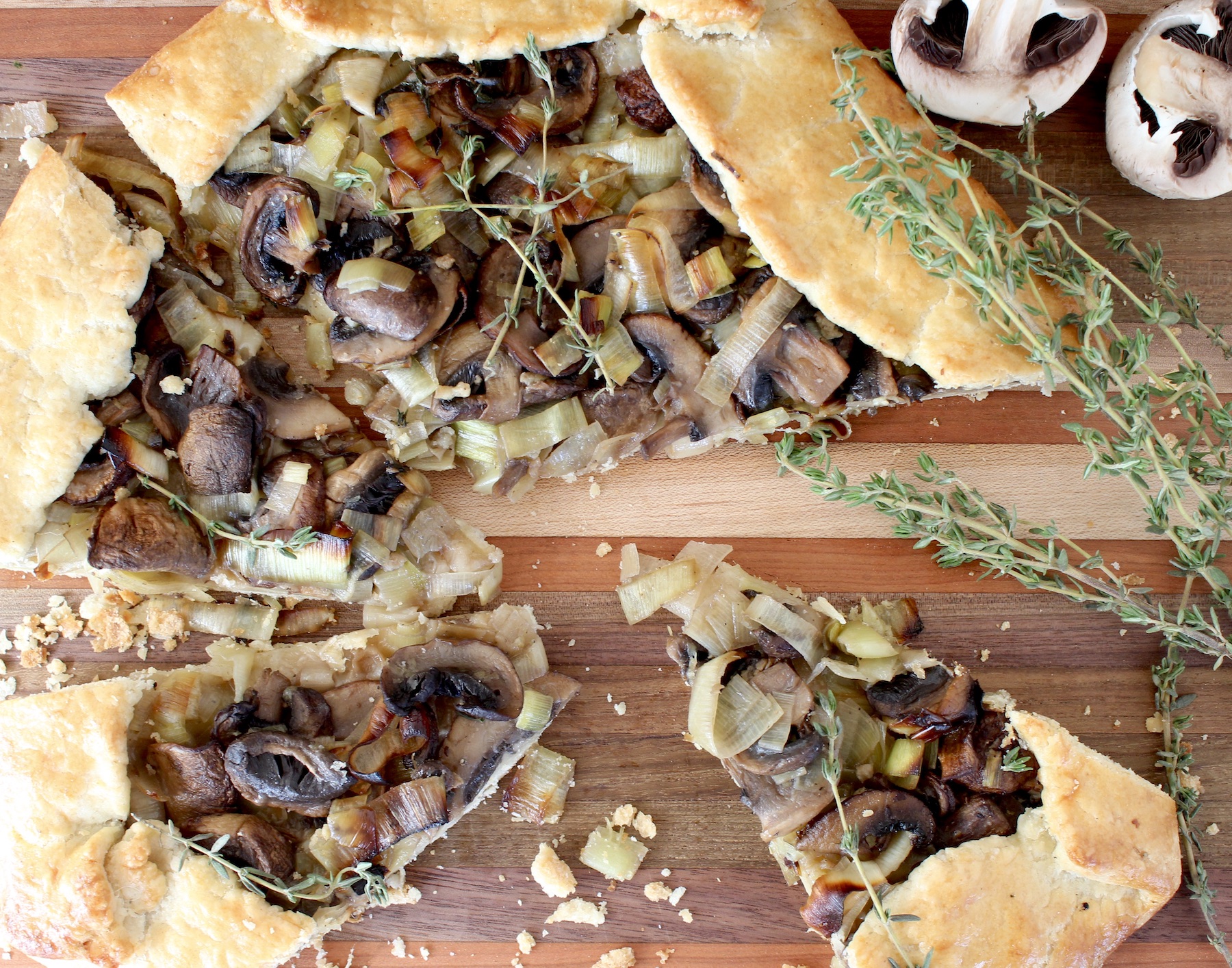 If you don't like mushrooms, you may want to move on from this post, because it's all about the delicious fungi, and I simply cannot hide my adoration for them!  But if you decide to keep reading, that would really be great 🙂
In my effort to reduce meat intake, I've been poring through vegetable-forward cookbooks and online recipes, all filled with inspiration.  I especially love my Yotam Ottolenghi books (including "
Plenty
") filled with beautiful, vegetarian dishes.  If you haven't yet found Ottolenghi, pick up one of his books because they're wonderful, especially if you like to experiment with flavor combinations.  His cooking style is built around layering flavors, using lots of fresh herbs, and simple methods to make individual ingredients shine.
This week, temperatures have dropped, humidity levels are low, and it actually feels a bit like Fall here in southwest Florida, so I decided to bake!  I found some lovely baby Portobellos at the market, making them my inspiration ingredient.  Since I love mushrooms AND I love pie, I made a free-form pie (a.k.a.  'galette' or 'crostata') filled with mushrooms, leeks, garlic, fresh thyme and Monterey Jack cheese.  Look at those beautiful leeks, sautéing in butter and thyme, and the mushrooms (below) getting nicely browned: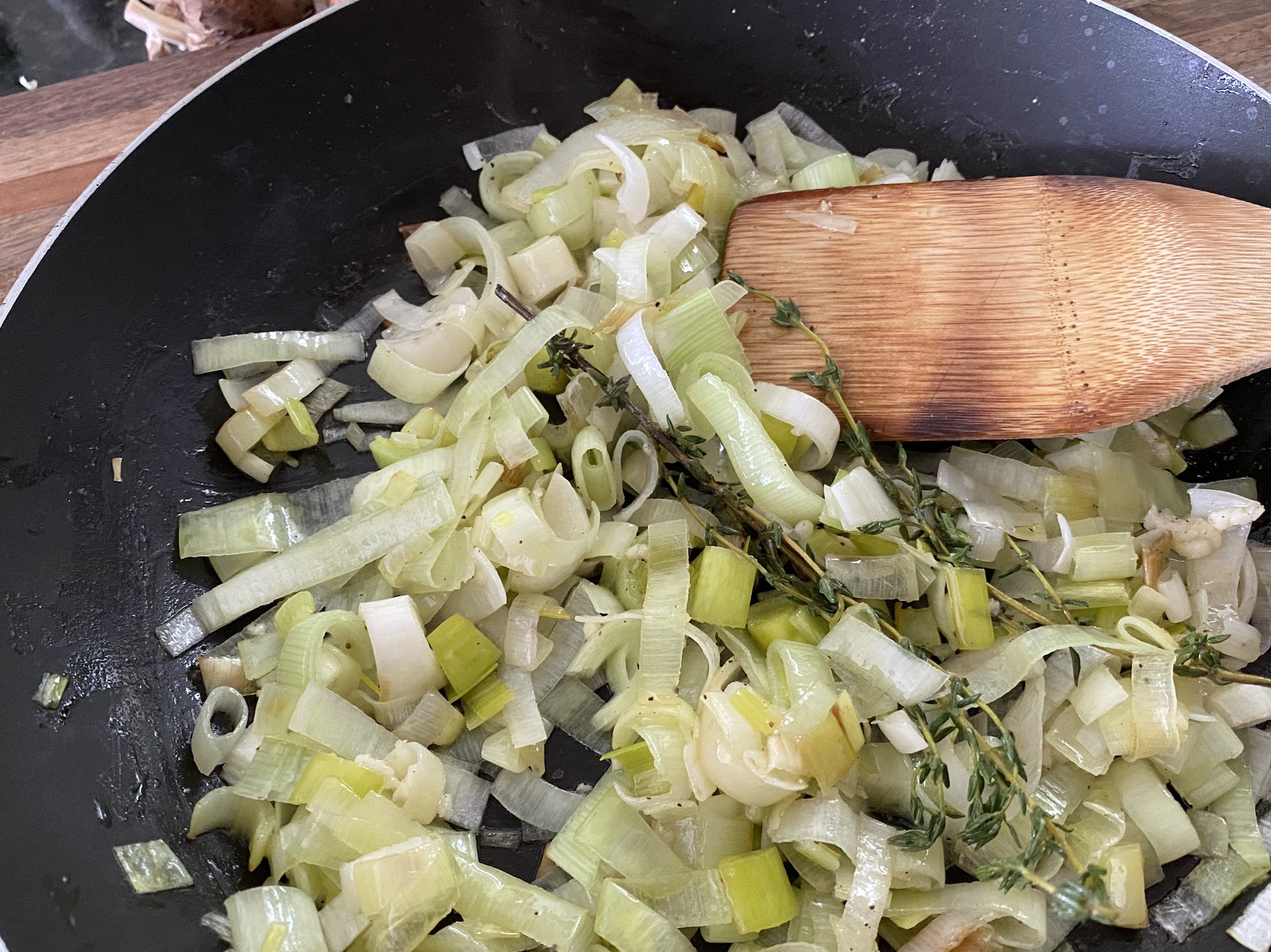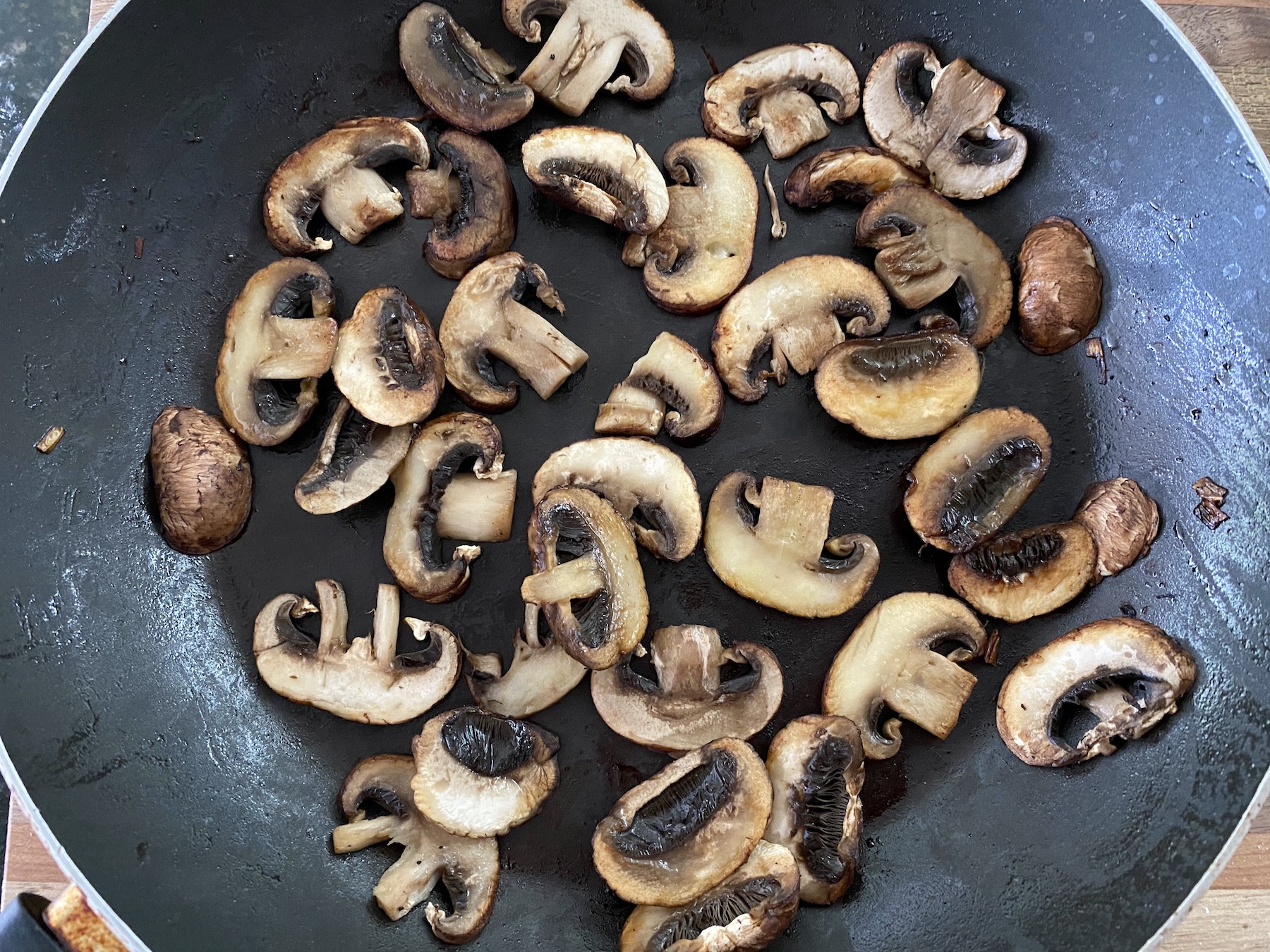 This is another one of those dishes in which you can use just about any herb you've got on hand – like rosemary, parsley, sage, basil or tarragon – they all do well with mushrooms – or you could use scallions or shallots instead of leeks (or leave out the onions family altogether, or substitute with spinach, or chicken, or whatever else that cleans out your fridge).  So, don't feel limited to what's in this recipe, because the savory crust (which even includes flavor enhancements of salt and pepper) goes great with just about any savory components.
The house smelled divine while it cooked, and even the dog and cat were hanging around the oven until it came out.  Let me warn you, though, once it's ready to dig into, you'll have a hard time stopping at one piece.  When I asked my husband if he liked it, he said "Why wouldn't I love a mushroom pizza, all wrapped up in a pie?!?"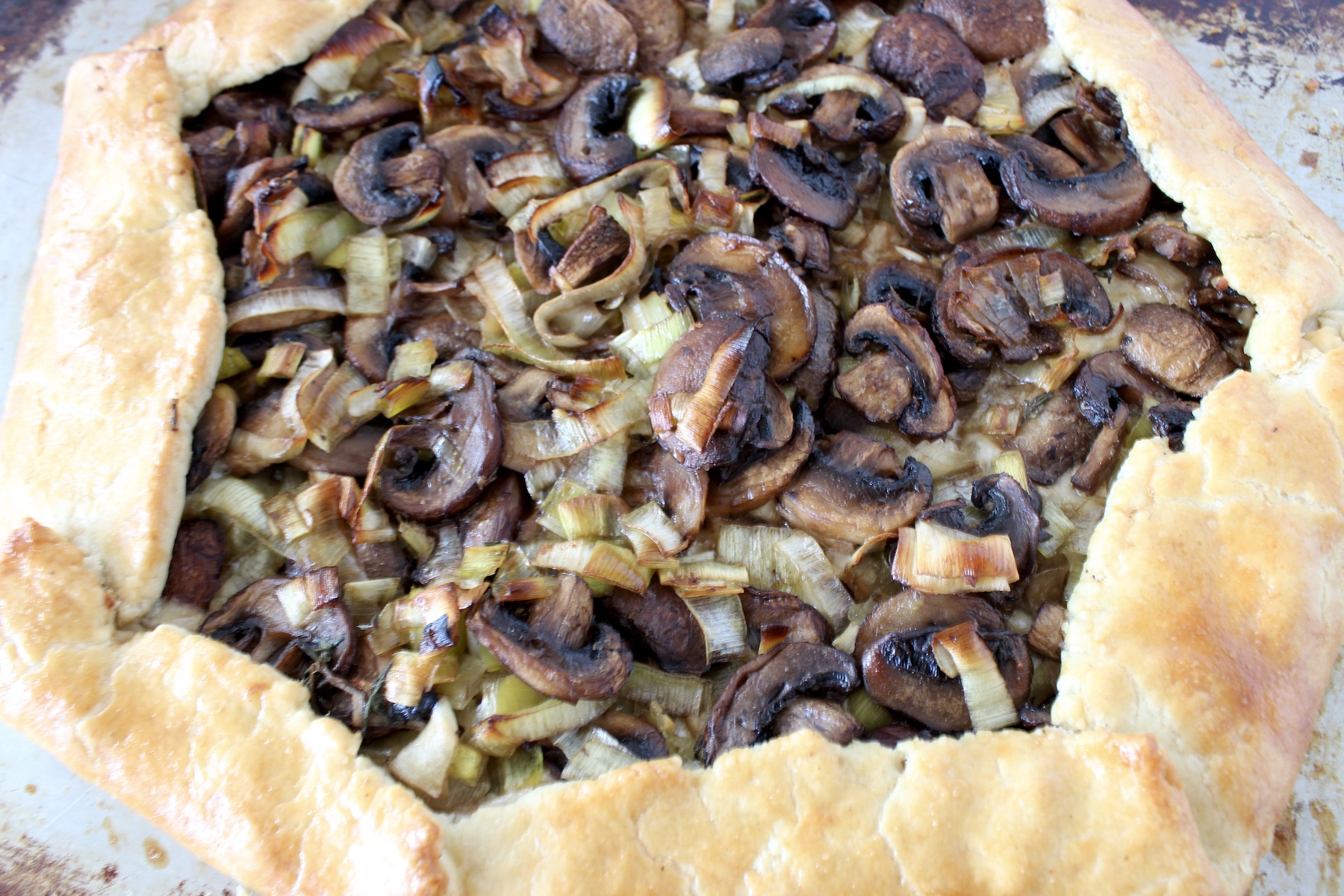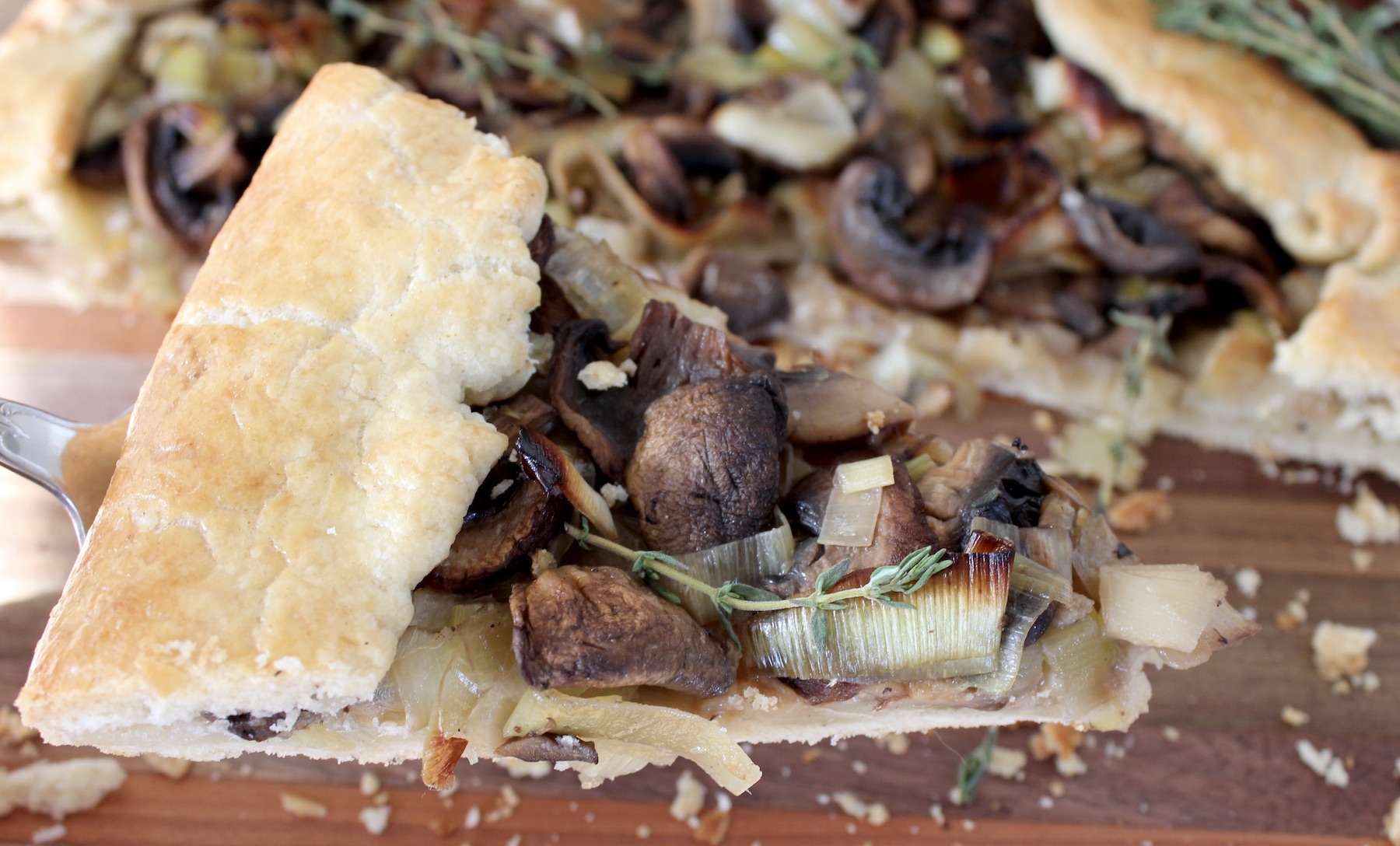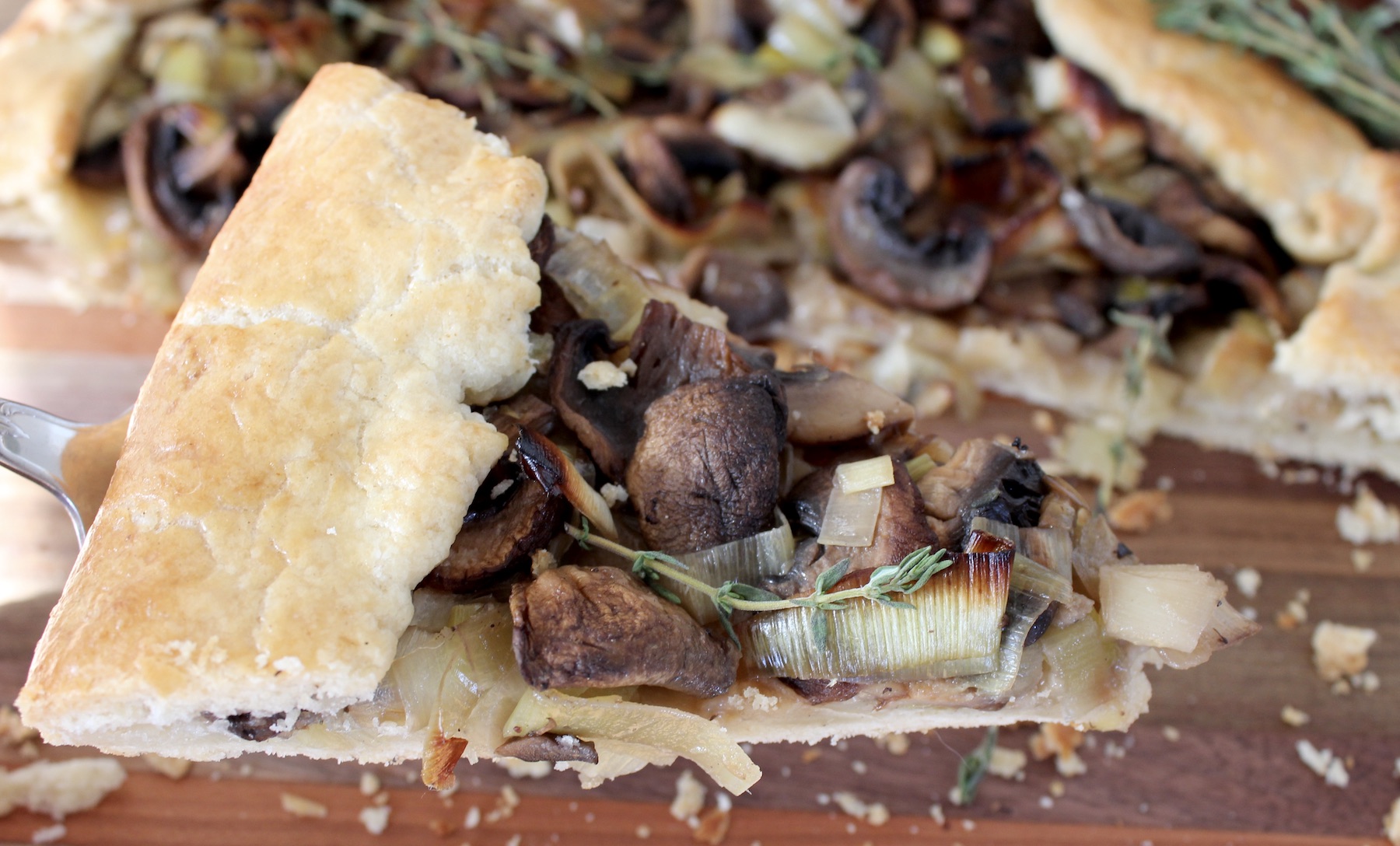 Print Recipe
Mushroom and Leek Galette
Mushrooms, leeks and fresh thyme deliciously pair with this savory crust - perfect for lunch, appetizer or dinner!
Ingredients
Dough
1 3/4

c.

All-purpose flour

3/4

tsp.

Kosher or sea salt

1/4

tsp.

Freshly ground black pepper

10

Tb.

Unsalted butter, cold, cut into small pieces

1/3

c.

Water, icy cold
Filling
4

Tb.

Unsalted butter

1-2

Tb.

Olive oil

1

Large leek, cleaned & chopped (about 1 cup)

2-3

sprigs

Fresh thyme

1

Clove garlic, peeled & minced

16

oz.

Mushrooms (Portobella or Button), sliced

1

tsp.

Lemon zest

1+

c.

Montery Jack/Cheddar/other cheese, grated

1

Egg (for egg wash)
Instructions
Dough
Add flour, salt and pepper to the bowl of a food processor. Pulse 1-2 times to combine. Add butter and pulse several times until the mixture looks coarse, but you can still see pieces of butter. Remove the lid, pour ice water over the flour mixture, return the lid and pulse several times just until the dough comes together. Dump the mixture onto a floured work surface and gently bring the dough together to form about an 8" round. Cover in plastic wrap then refrigerate at least 1 hour.
Filling & Assembly
In a large saute pan, over medium heat, add 1 Tb. butter and 1 Tb. olive oil. Add leeks and thyme sprigs, along with a pinch of salt and pepper. Cook 2-3 minutes then stir in garlic and cook another 1-2 minutes, until leeks are very soft. Transfer to a large mixing bowl.

In the same pan, over medium heat, add 1 Tb. butter, then place mushroom slices in one layer (you'll likely need to work in batches unless you have a very large skillet, because you don't want to steam them). Cook until mushrooms start to exude their liquid, then flip each piece (you'll see they're nicely browned). Transfer each batch to the leek bowl, and repeat the process until all mushrooms are browned.

Add lemon zest to the mushroom/leek mixture and stir to combine. Set aside until the crust is ready to be filled.

Remove dough from refrigerator and allow to sit at room temperature about 5 minutes.

Line a rimmed baking sheet with parchment paper, then lightly dust a work surface with flour. Roll out dough to about 12" and about 1/4" thick (big enough to fit on your baking tray) and transfer it carefully to the parchment lined sheet.

Return dough to the refrigerator for 10 minutes (to ensure it's very cold before baking) and heat oven to 450 degrees.

Remove dough and sprinkle on the cheese, leaving about 1.5" border. Top cheese with mushroom/leek mixture. Fold the dough edges toward the filling.

Make an egg wash by whisking egg with 1 tsp. water. Brush onto all outer edges of the crust. Place in oven and bake about 30 minutes, until the crust is nicely browned and the filling is slightly bubbly. Remove from oven and allow to sit 10-15 minutes before serving.
Notes
1) If you don't have time to make your dough, just pick up one of those store-bought varieties that's already rolled out.  It will likely be a bit smaller than this homemade version, but you can adjust your process accordingly.
2) Be sure to sauté mushrooms in batches so they cook in one layer, able to achieve a nice sear (and sear, as we know, equals flavor, which equals delicious).  Julia Child was right when she said "Don't crowd the mushrooms!"  We want them to roast, not steam 🙂